return to Ukraine Canada Corps exchange, and other travels
PS21 - New York City
January 24th, 2007: New York City - getting there
from the journal:
On the subway in Toronto, I got a message from Ladan. She'd run into some difficulties and would not be going to New York as planned. I got home after 0100 and was so tired that I just decided I'd sleep on it and make a firm decision in the morning.
The sun came up, and I sat at the computer looking at the bus schedule. I had already bought travel insurance and had my suit dry-cleaned in expectation of this trip. All my relatives would be assuming I was coming. Those were reasons to go, but it would mean a long and not inexpensive bus trip. Would this adventure be worth it?
So I made a rash decision – I'm going! With barely two hours until departure I set the wheels in motion. By the time I was finished getting ready (and considering taking the bus and subway, which would have been a bad idea), Alex was home for the afternoon (he'd be flying out with Ruth-Ann in a few hours) and able to recommend a cab company. Before long we were soaring along the Don River. I bought a return ticket at the Coach Terminal, and just like that I was off to parts unknown! As we pulled out of the terminal, I thought back to my trip to Poland, which was almost equally sudden and rash (but at least had the transportation method decided upon much sooner!).
My rush had its drawbacks, of course; while we cruised the Gardiner Expressway I occupied myself by trying to contact my relatives in New York and cultivating a strong feeling of pride for how I was able to get this together on zero notice and how well I was able to pack my things so quickly…
My things.
Wow, look at those beautiful new apartments facing Lake Ontario. Let's just get my camera out, set the white balance-
My camera.
It wasn't there.
NOOOOOOOOOOOOOOOOOO
Okay, don't pani- ALEX!! Yes! Maybe he can find my camera and bring it to New York! So I got on the cell again (handy thing) and he pleasantly hopped down to the basement rec room and rooted through my things while holding the cordless phone. Ta-da! So there was one major problem solved.
[Thanks again, Alex.]
I actually got to see the Falls, which were a wholly unexpected treat, not to mention I'd never seen them before. I had no idea we'd be crossing the Rainbow Bridge; I'd expected we'd go over one of the highway bridges to the north or south. So I caught a good long glimpse of the Falls as we approached US Customs & Immigration. That last, I can't say I was looking forward to. I was excited, of course, but I was excited in the same way that you are when you're caught between the crossfire of a mob shootout. I didn't think I'd be turned back at the border, but if I ended up being that 1%…
Get off the bus, take all your things, and line up inside. I was nervous, and all the worst stereotypes and anecdotes of US border control were running through my head. Missed flights. Strip searches. Red flags. Hitching a ride back to Toronto. Good thing I had one of Ruth-Ann's house keys…
I was second last in line, and after helping a woman get her things through the door, we saw an officer approach with a yellow Labrador. The dog approached the bag of the person in front of me and took a few long sniffs, prompting the officer to ask if that person was carrying food. Yes, they were, and it was this-and-that, for reason such-and-such. Anyway, officer and dog moved on, and the dog got a biscuit and a pat on the head. Then they went out and searched the bus.
I was sharing a conversation with the woman behind me about how specific (not to mention forceful) the questions we were overhearing were, and we had a few laughs to ease our tension. A mild-mannered fellow of Oriental descent was at the left counter having this conversation:
"What do you do?!"
"I'm a computer engineer."
"What platform?!"
"Macintosh."
LOL. Soon I was at the front of the line, and to my mild horror, I too had to go to the left counter. We exchanged civilities and had a short, friendly, yet through discussion about where I'd been recently (Poland and Ukraine), and why I was there. But I'm getting ahead of myself. This happened first:
"Where were you born?"
"Souris, Prince Edward Island!" I said with glee.
"And where are you going?"
"The Bronx."
"Where are you staying?"
"I'm staying with my first cousin once removed. We're going to Manhattan tomorrow for my grand aunt's 100th birthday!"
"Oh, ha-ha…" he laughed dryly. "I like how you got that 'first cousin once removed' in there. 'Cause everyone on PEI's related, you know?"
I thought this was pretty funny and shared it with some of my family members when I finally arrived in Riverdale. Unluckily for me, they thought it was funny too, and I had to repeat this story each time a new relative appeared on the scene. I think I escaped with only a few dozen tellings. And I'm getting ahead of myself again.
I had time to get myself straightened up and refreshed before re-boarding the bus, as there were a few people held back for one reason or another. One foreign national didn't even have his required visa, but even he made it on the bus after some processing time, as I seem to recall. Anyway, my present impression of the US customs officers is overwhelmingly positive, although this may change if I do something silly like change the colour of my skin or get a late-model cell phone with highly accurate GPS and spend my first days in the USA suspended on tenterhooks in a meat freezer while Jack Bower shouts unequivocal obscenities while holding a paring knife to my right eyeball.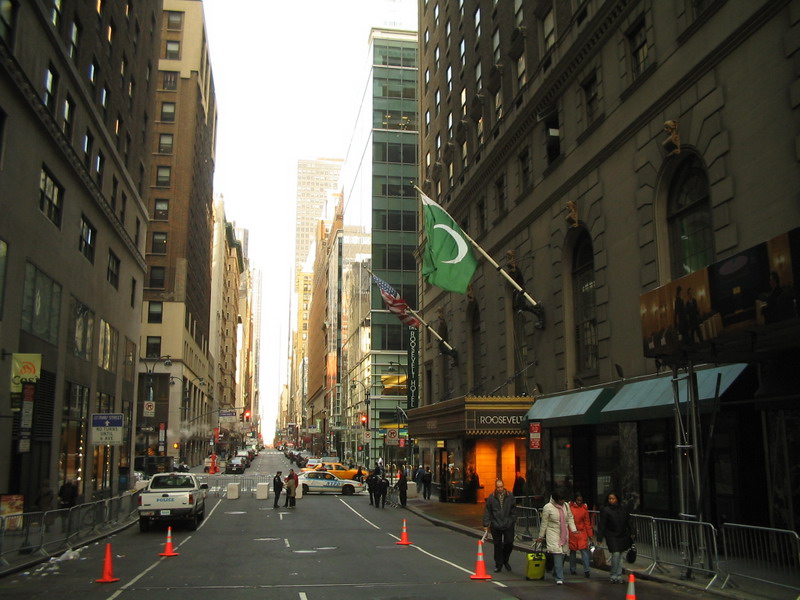 I arrived in New York late at night at the Port Authority and took a Yellow Cab up to BJ's house in Riverdale. The next morning, Mary used a group ticket she had to get us all on the commuter train to Grand Central, where we met Ruth-Ann and Alex (who gave me my camera!). Here's the Roosevelt, where Ruth-Ann and Alex were staying, and probably concurrently with a delegation from Pakistan.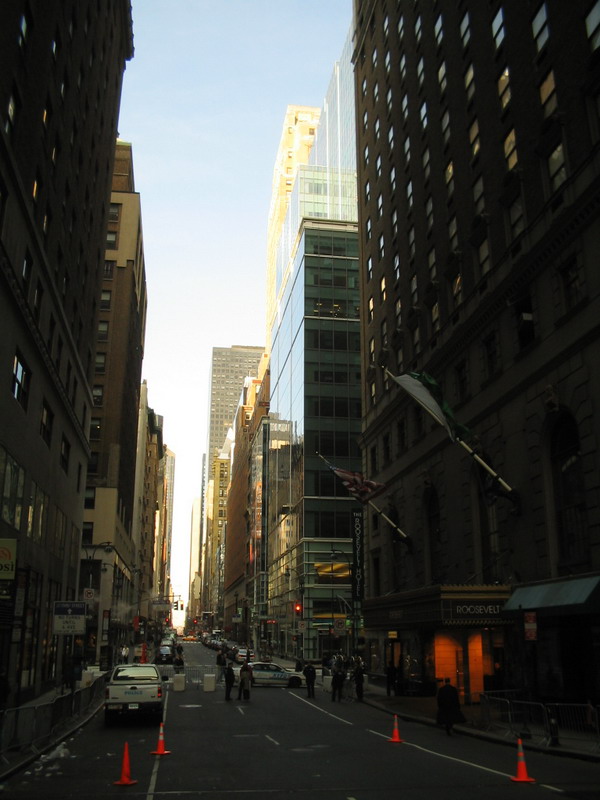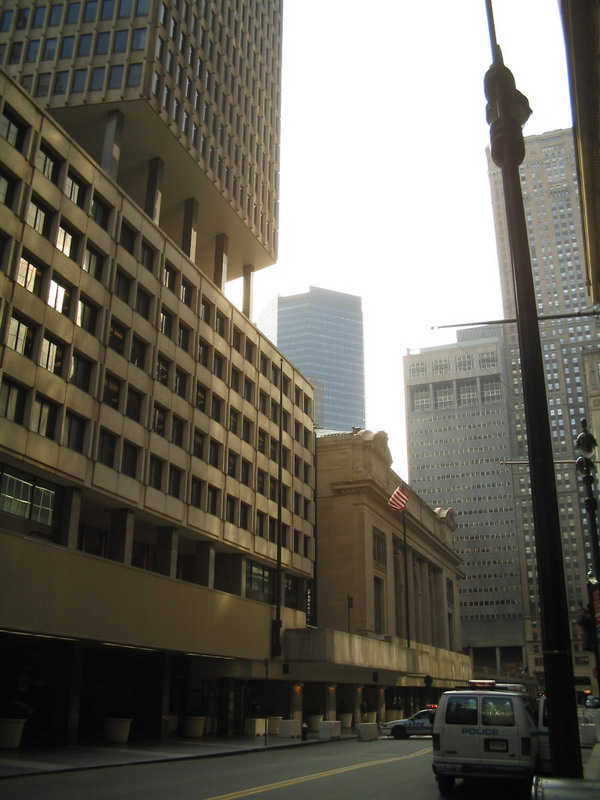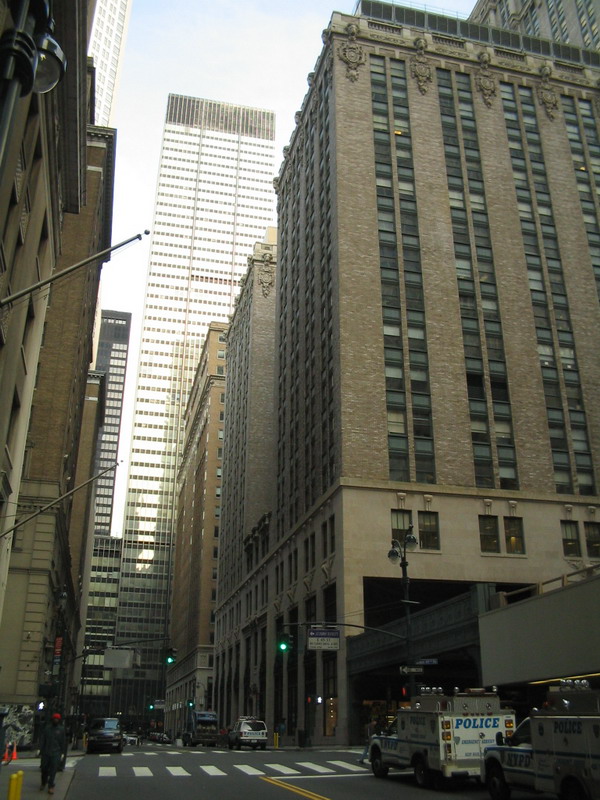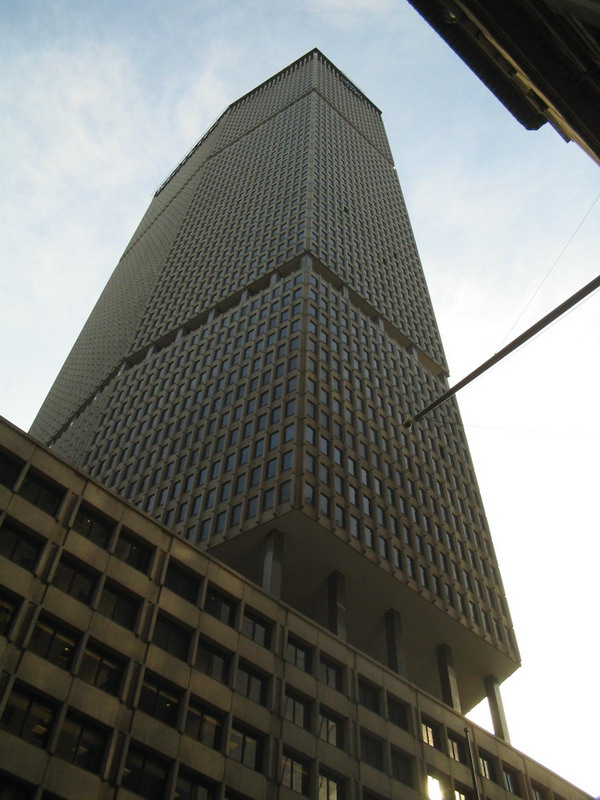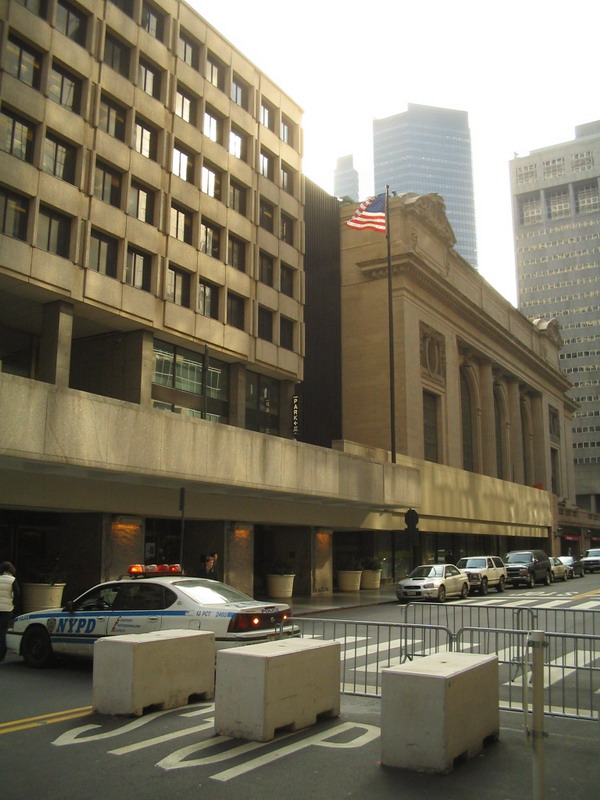 Street view facing Grand Central Station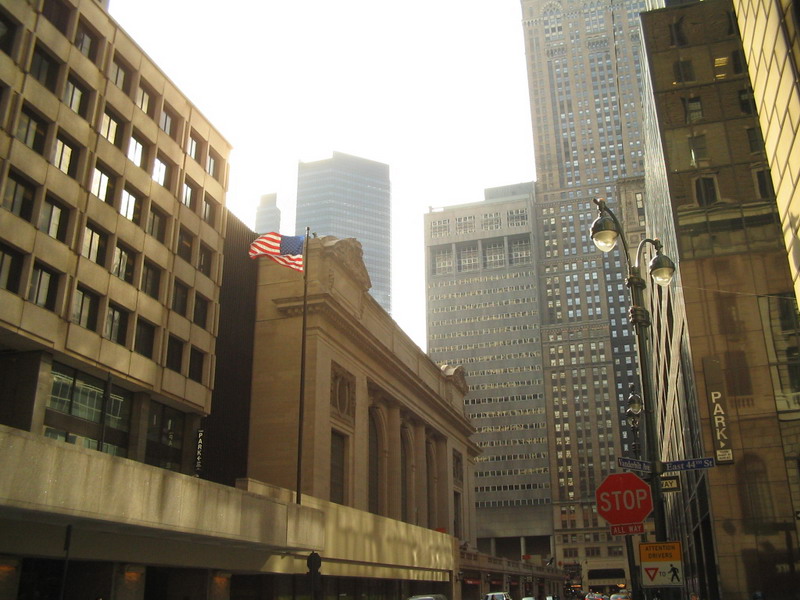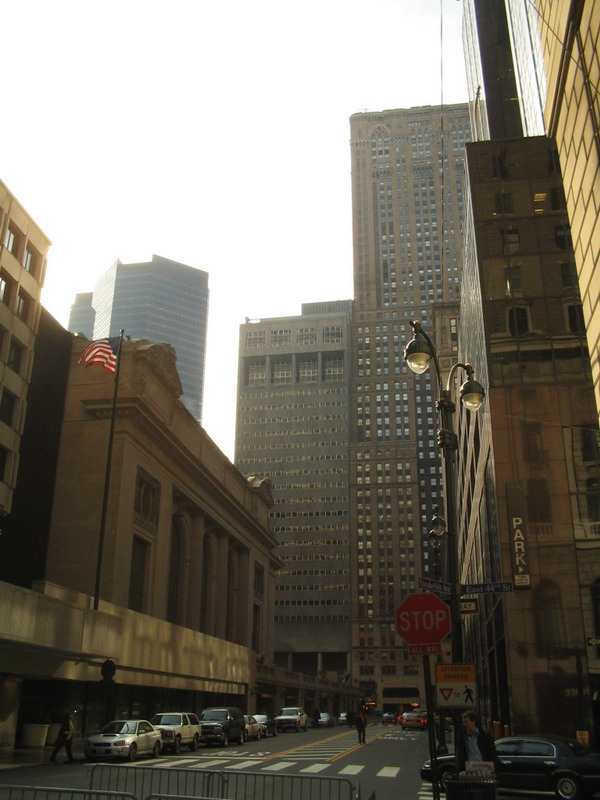 Celebrating Muriel: 100 years, Yale Club, Manhattan: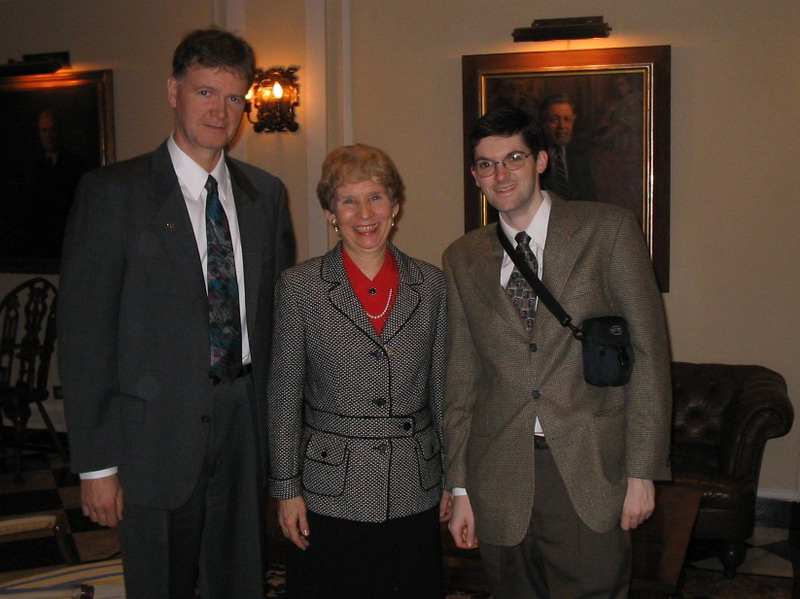 Dad, Muriel C. (daughter of the alpha Muriel), Will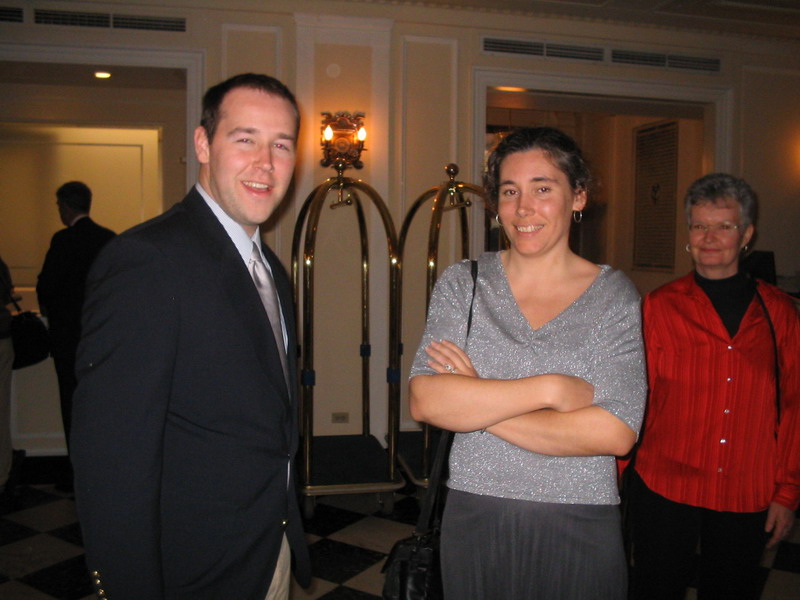 Jimmy, Ruthie, Flora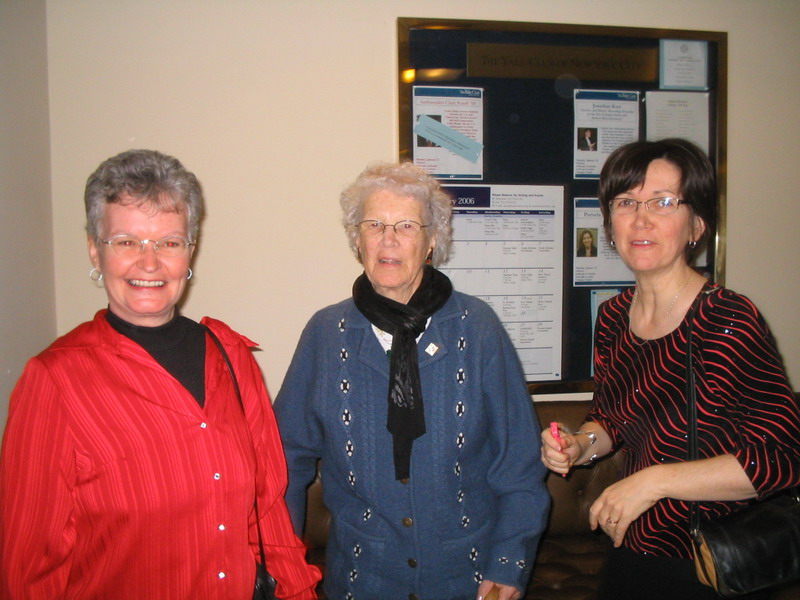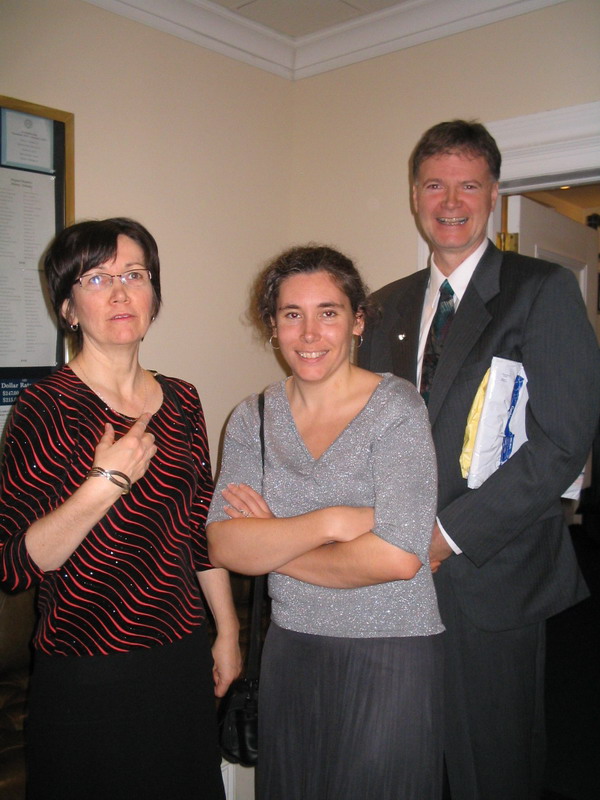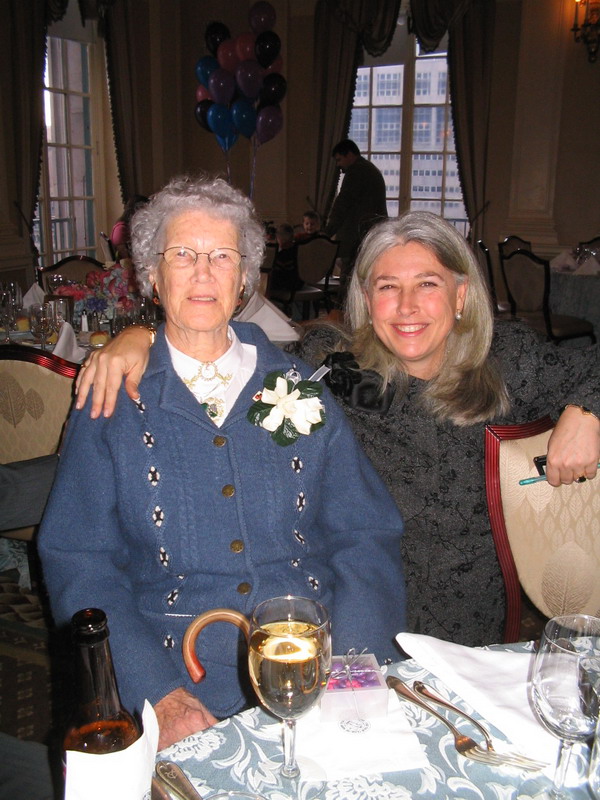 Grandma and Elizabeth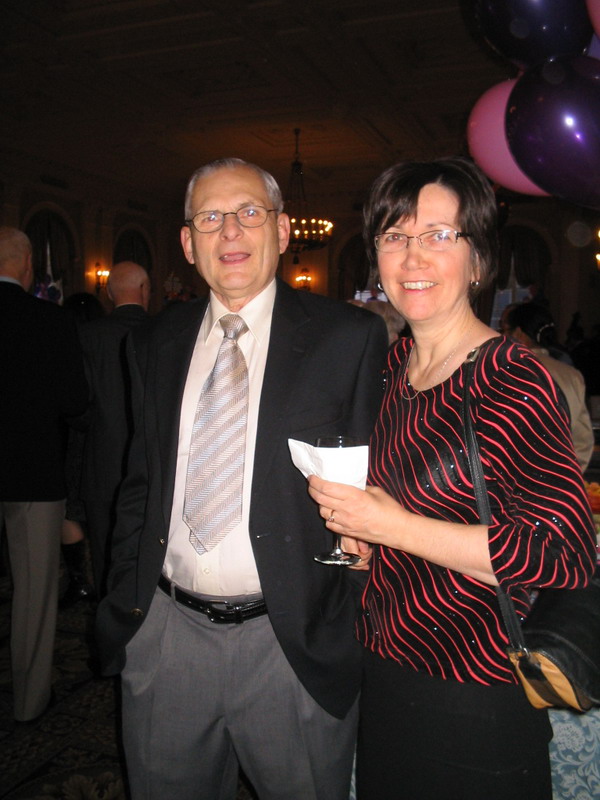 Glendon and Aunt Shirley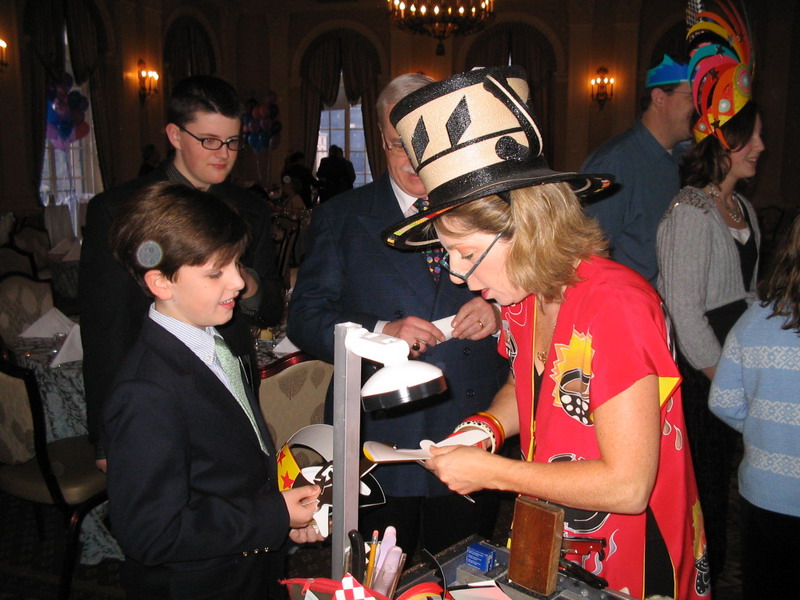 Elizabeth had this very talented entertainer come in and do what she does superbly - making paper hats and witty remarks.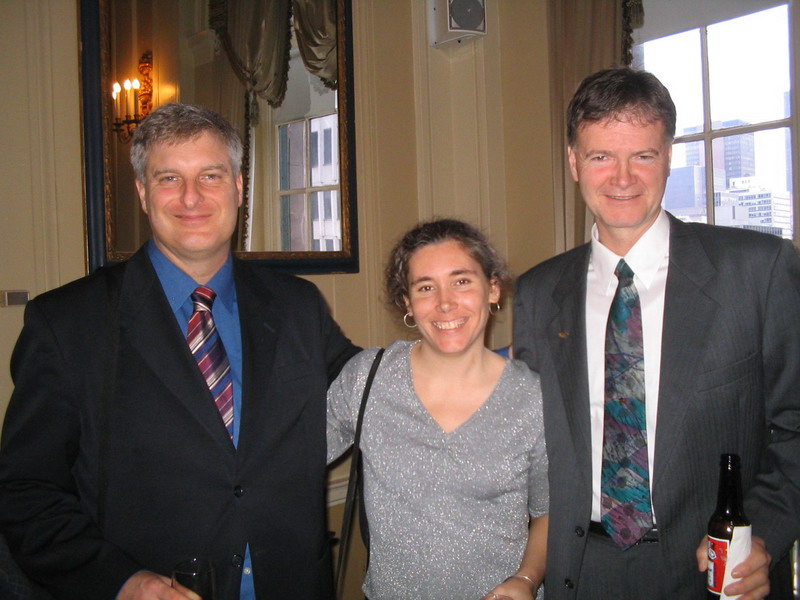 Ross, Ruthie, Dad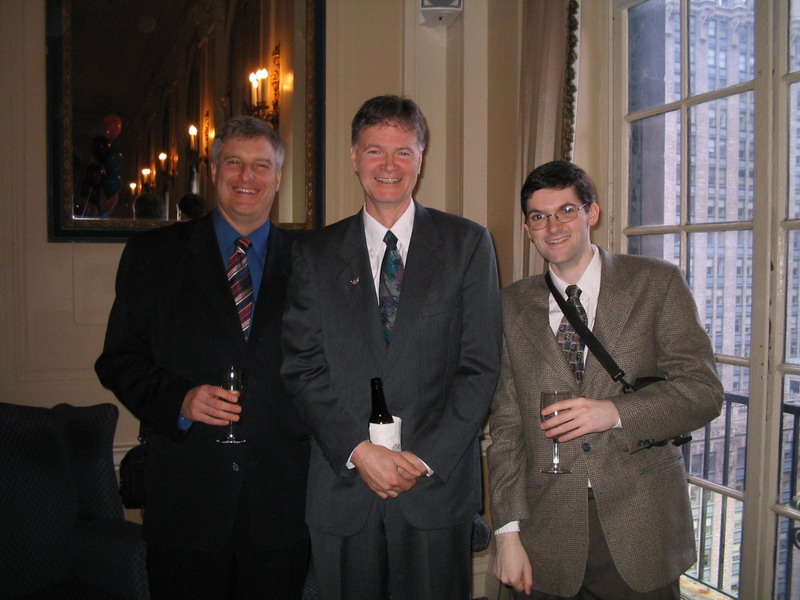 Nobody believes me when I say that I'm the runt of the family. In the future, I will just show them this picture.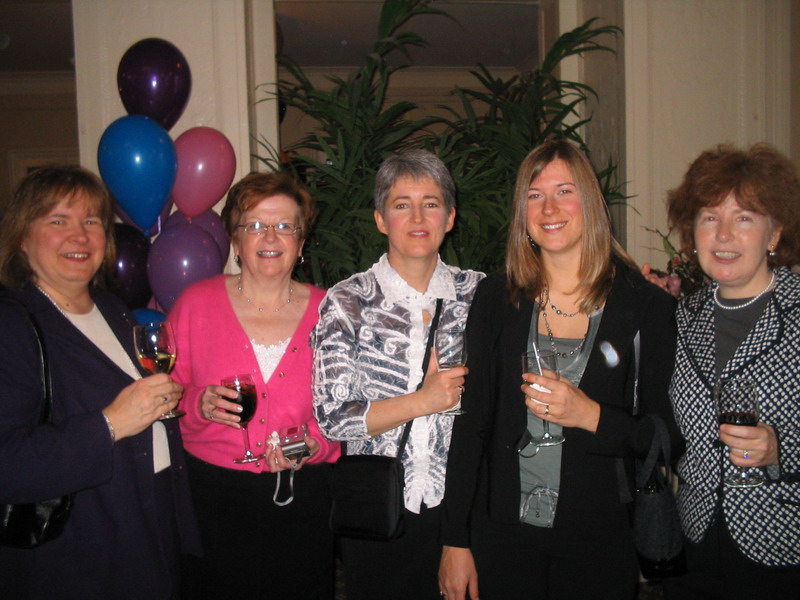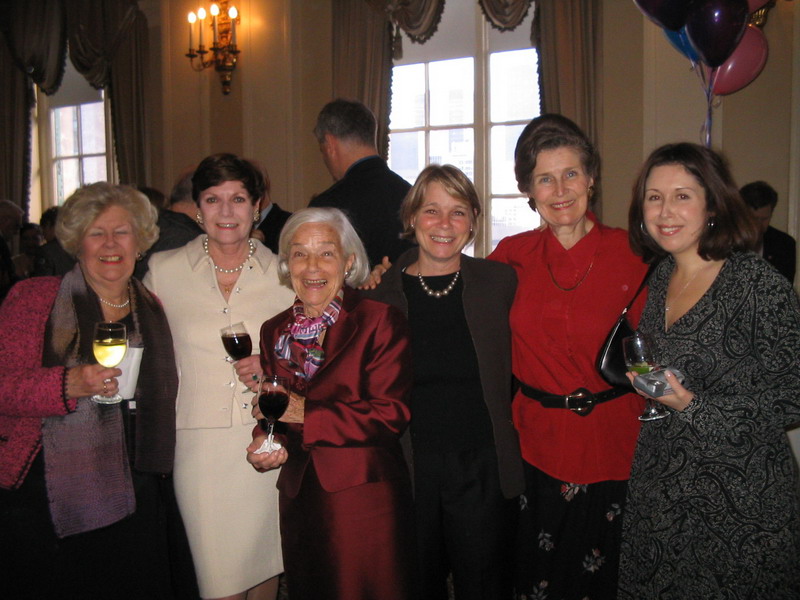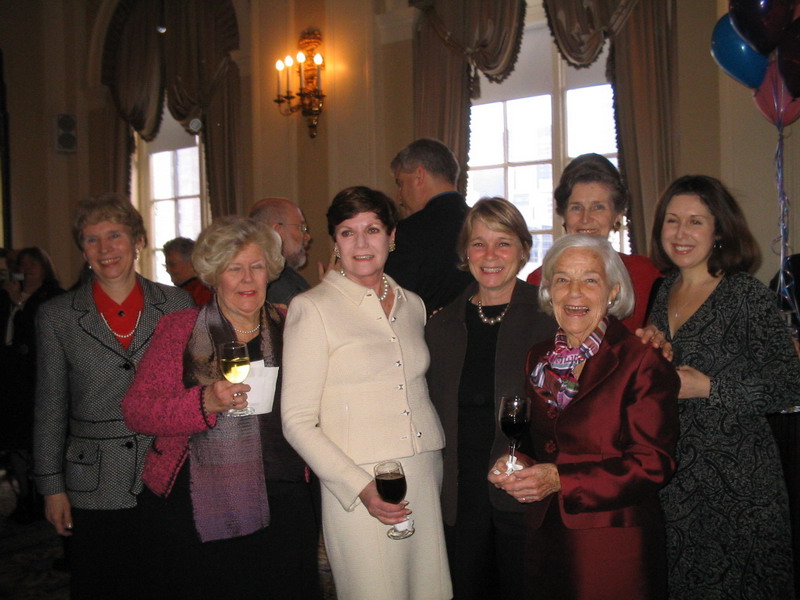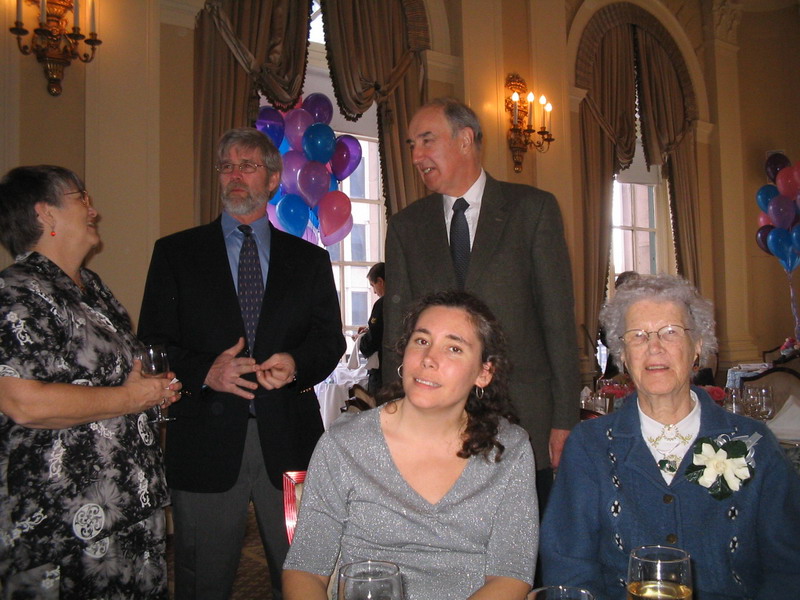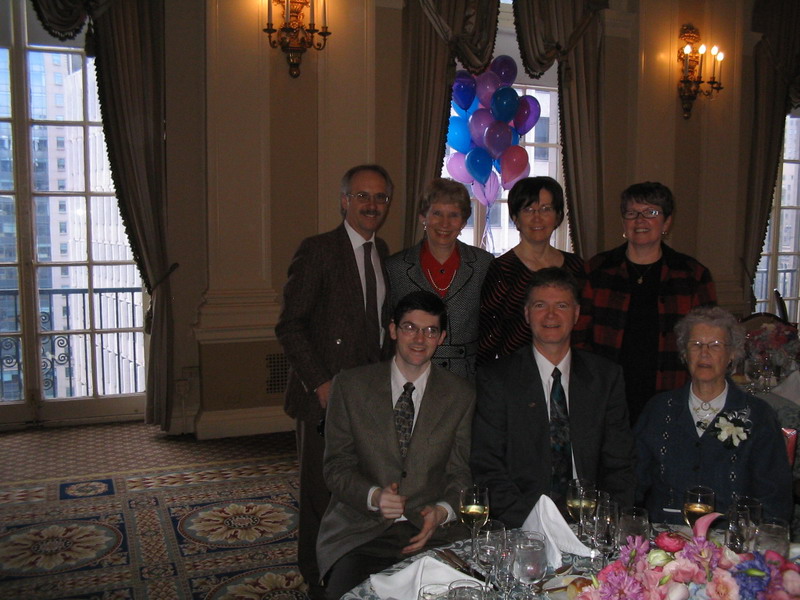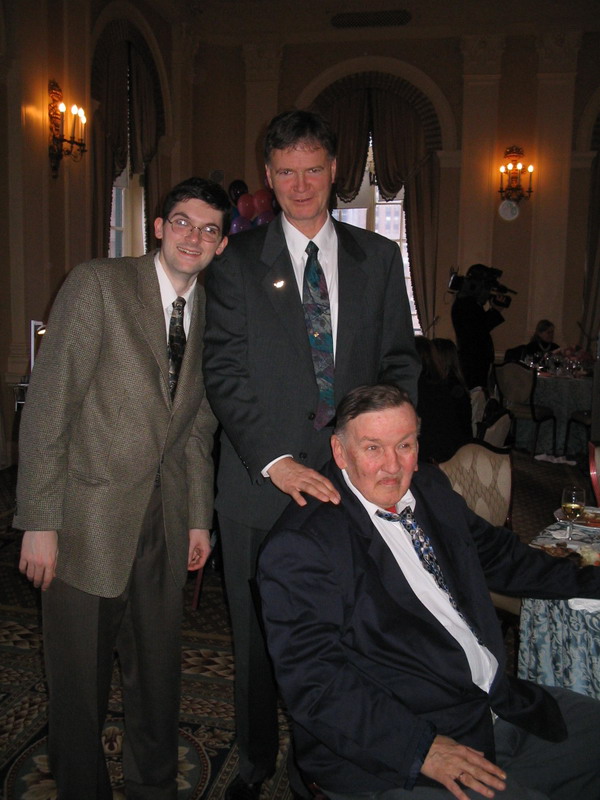 Seated: Ross Farley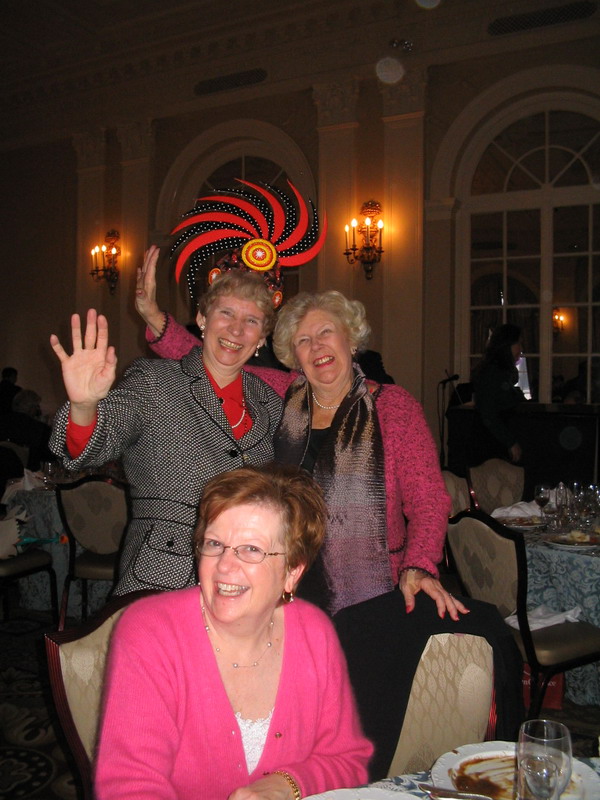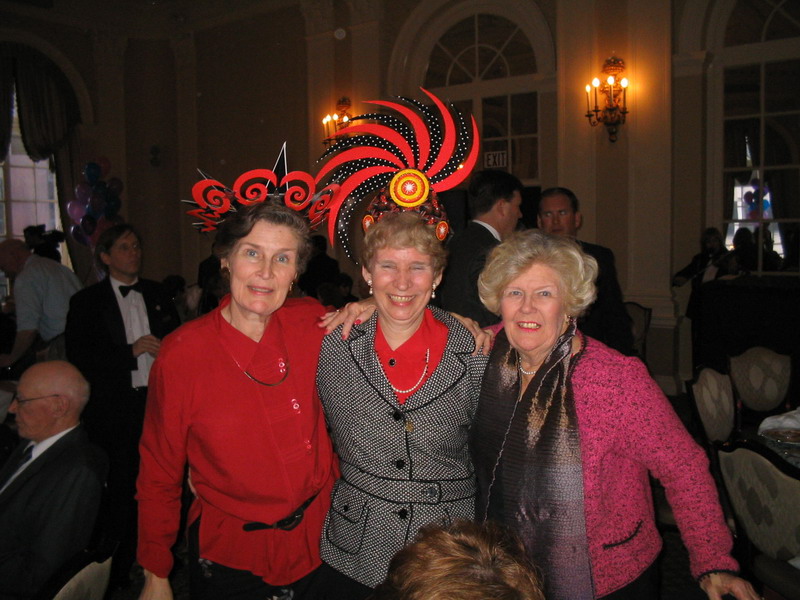 Sisters Barbara, Muriel C., Flo.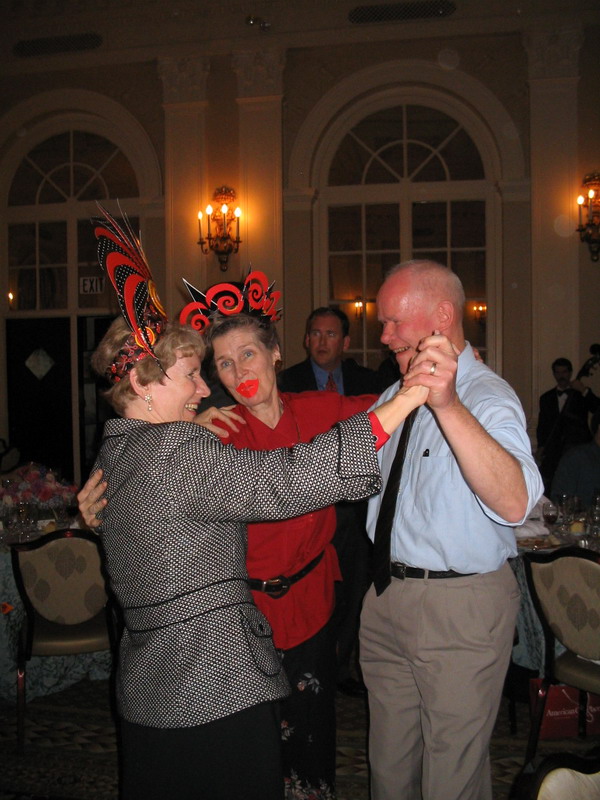 Muriel C., Barbara, Alan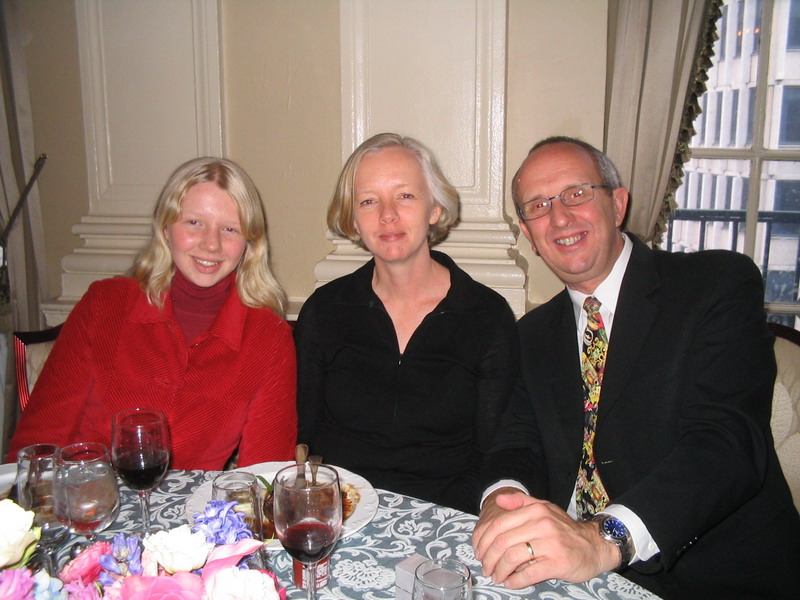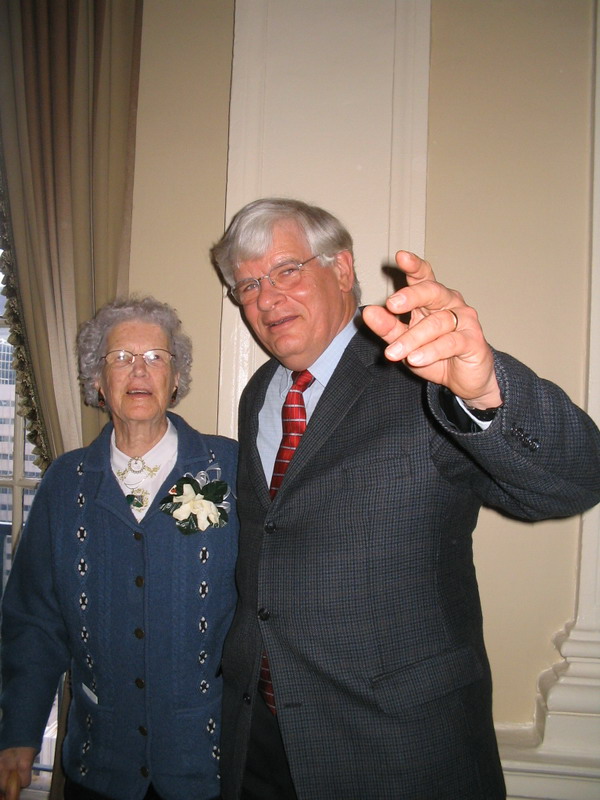 Grandma and Neil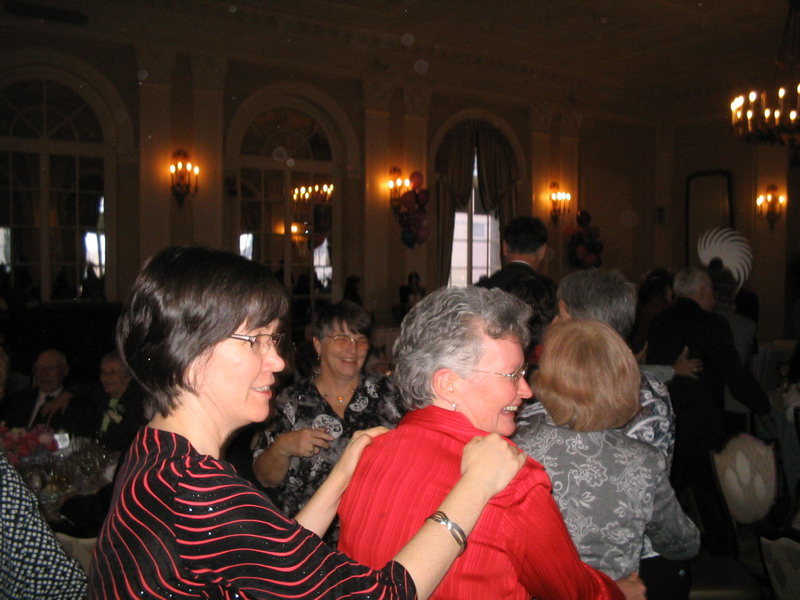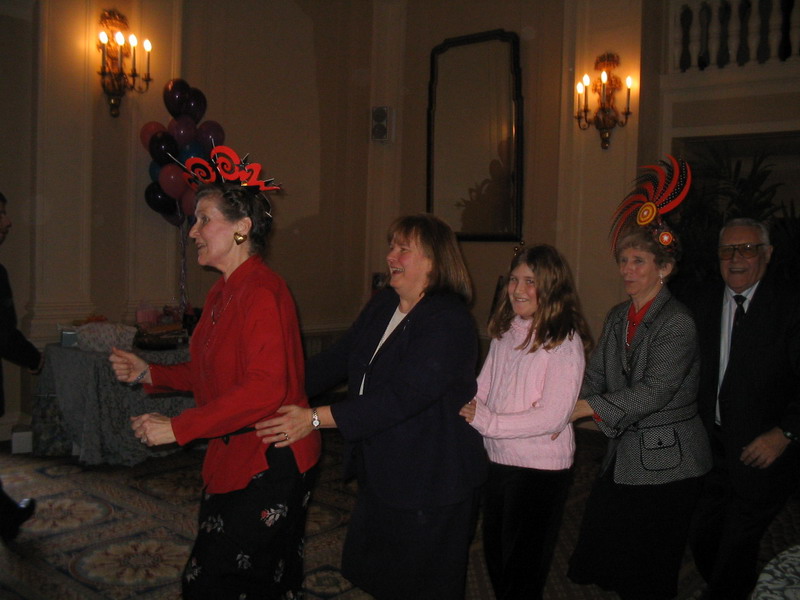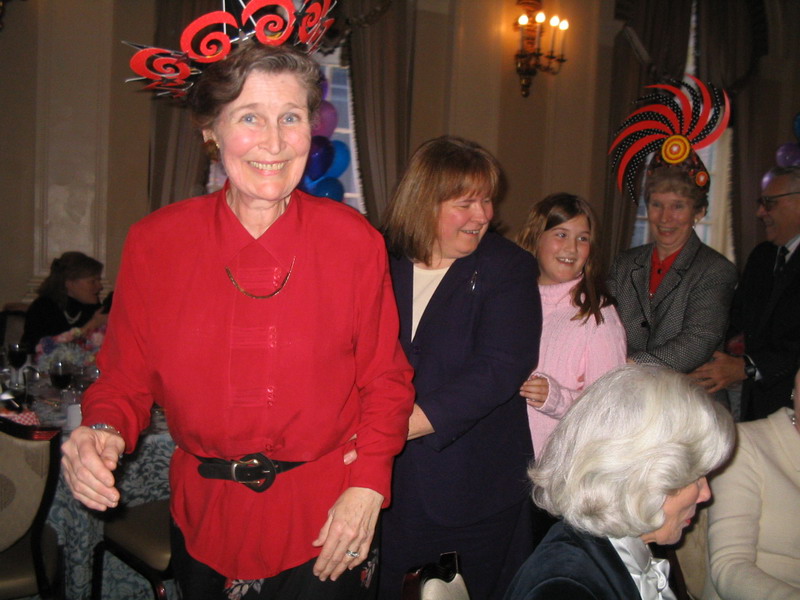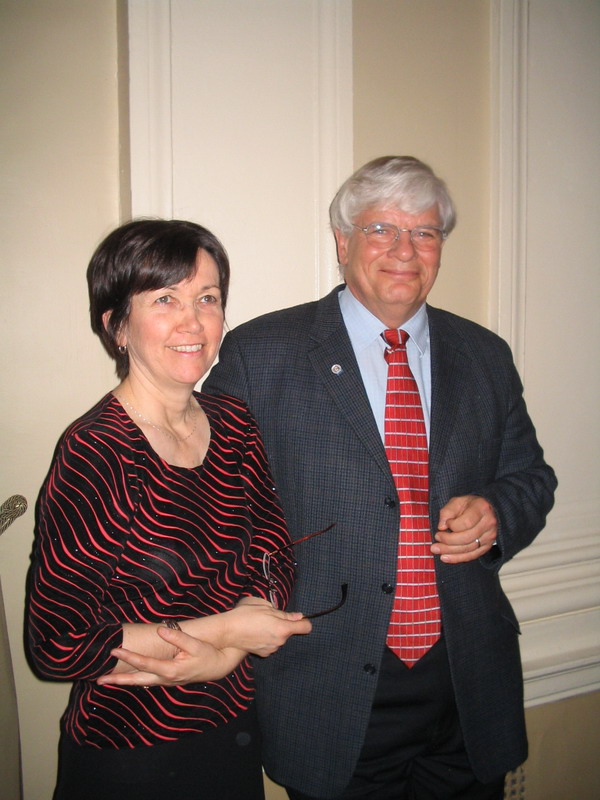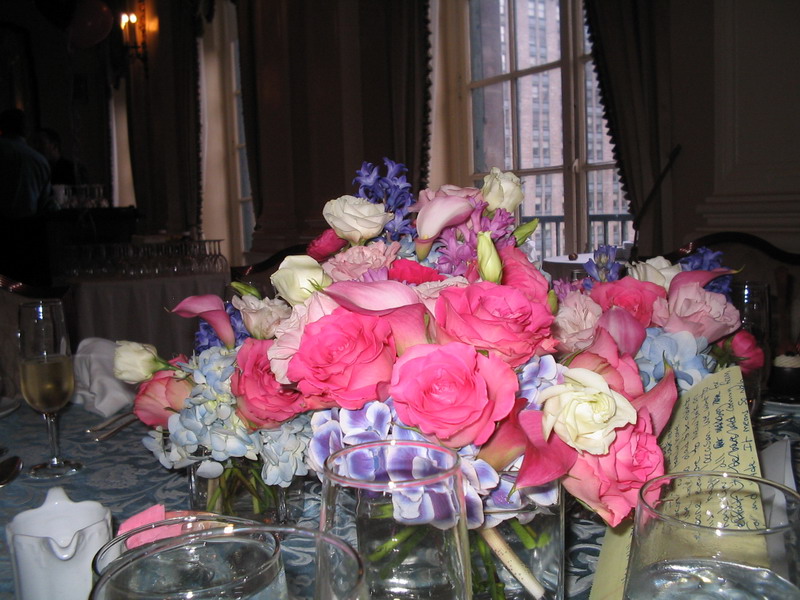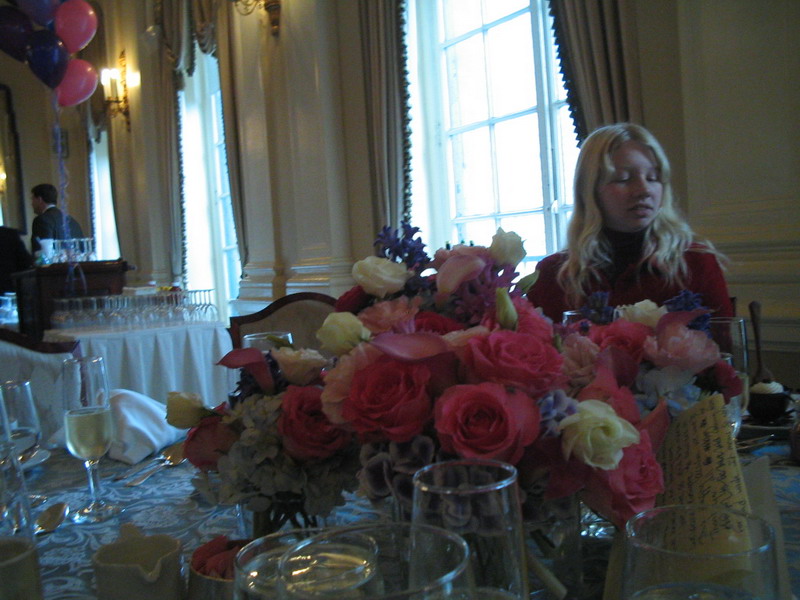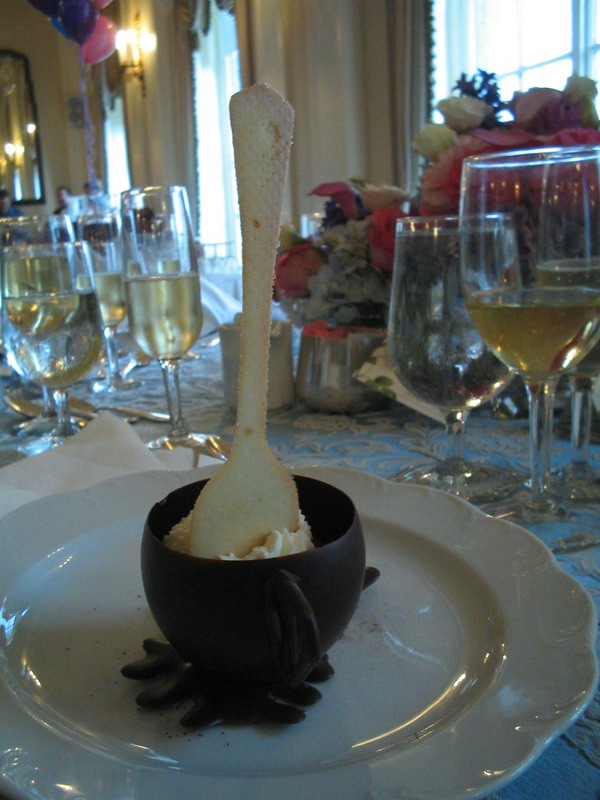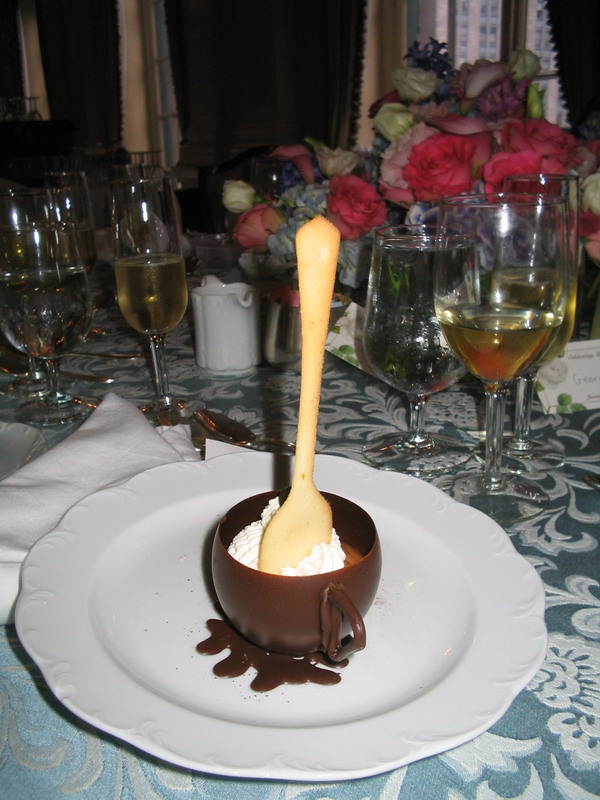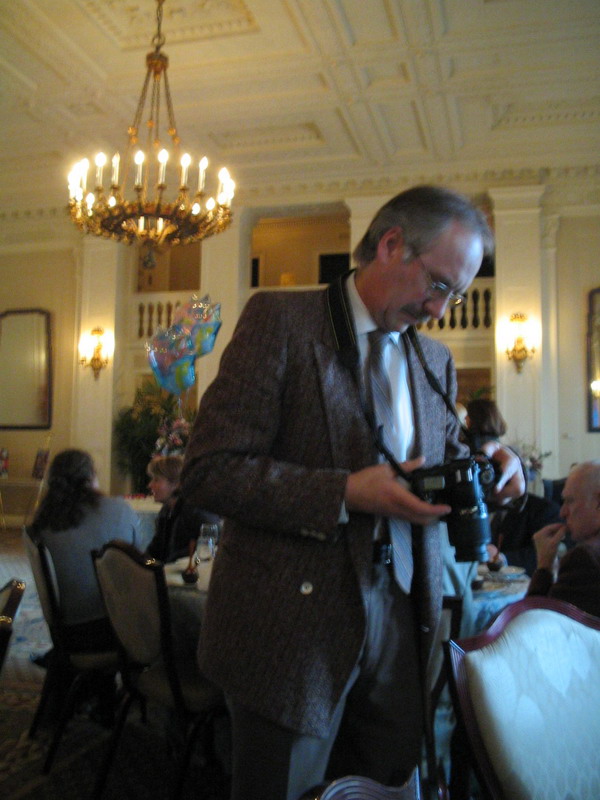 Uncle Shane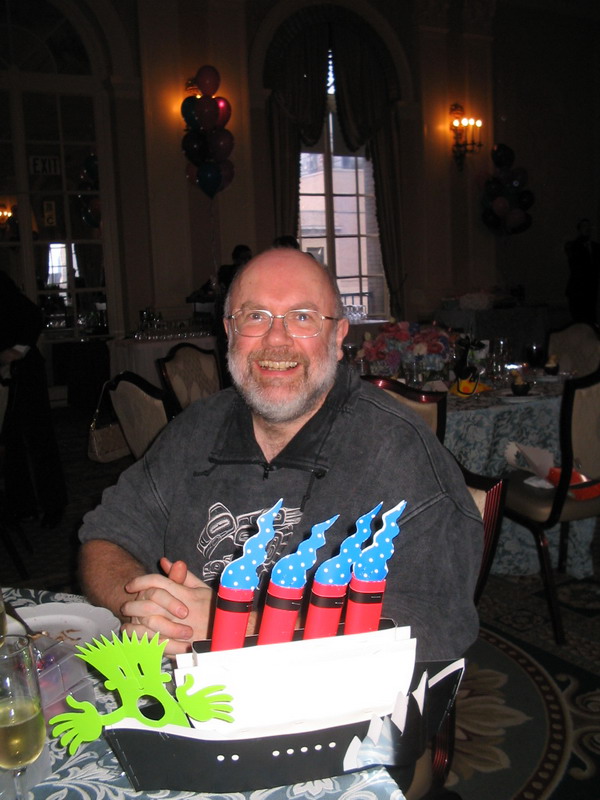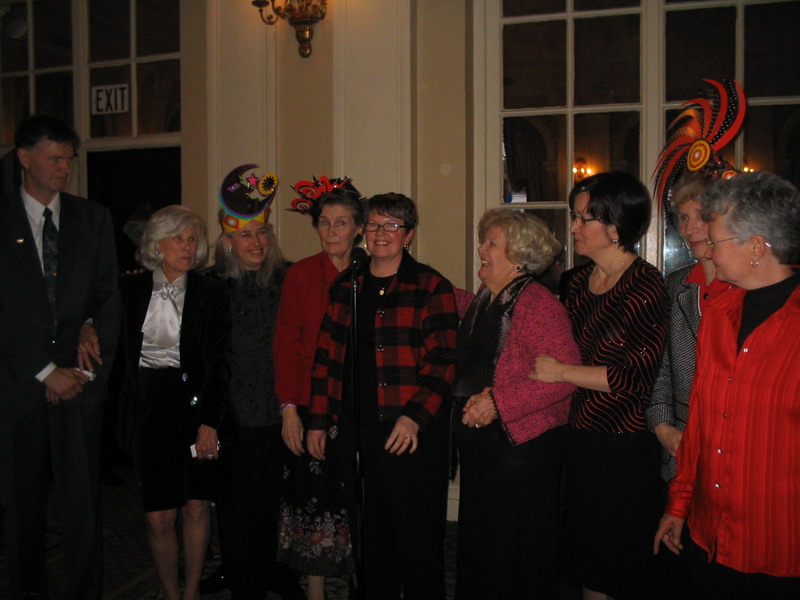 Dad, Ruth, Elizabeth, Barbara, Aunt Donna, Flo, Aunt Shirley, Muriel C., Flora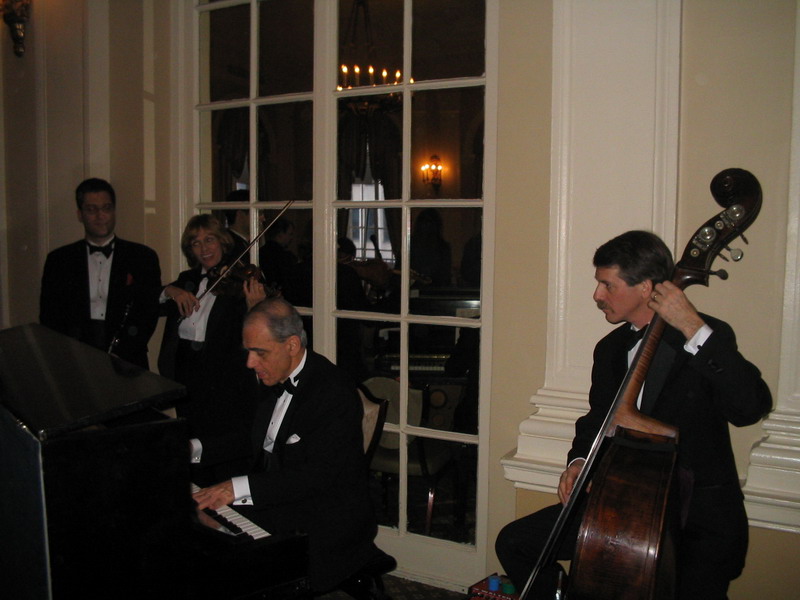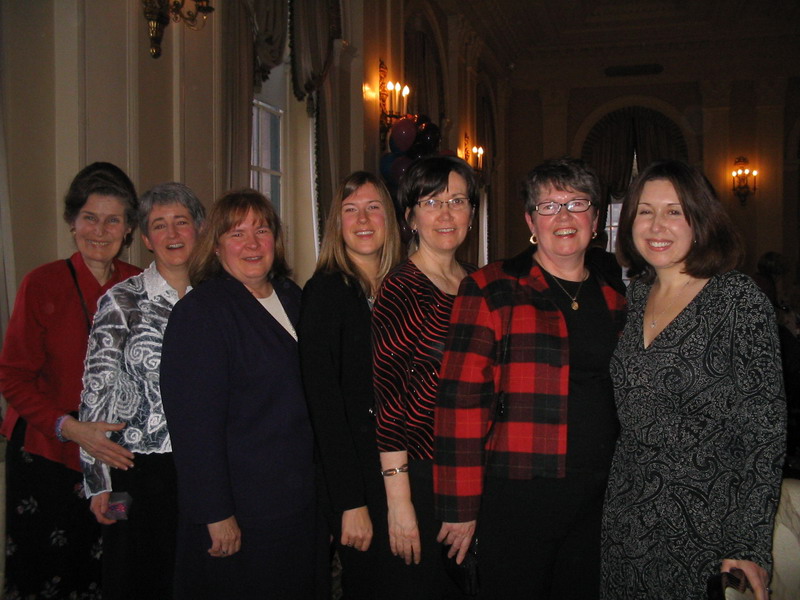 Barbara, Ruth-Ann, Marion, Marion's daughter, Aunt Shirley, Aunt Donna, Mary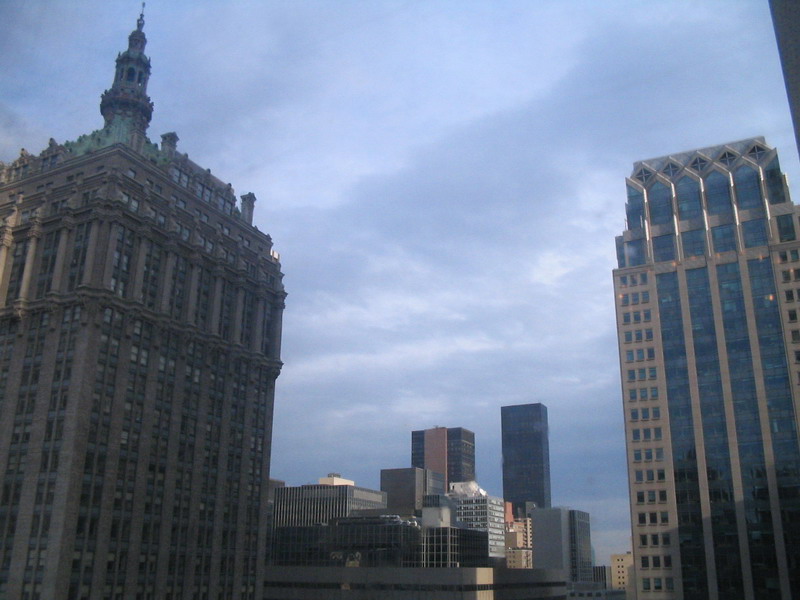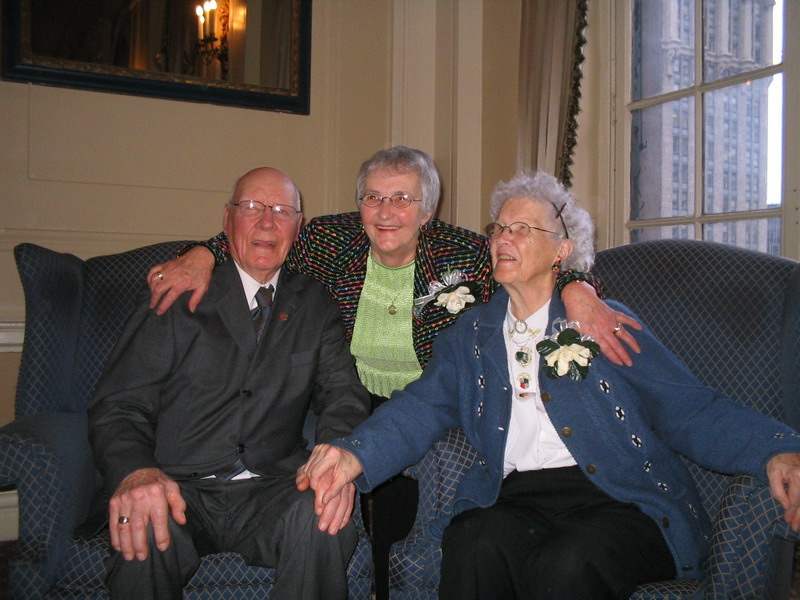 Grand Uncle Neil*, his wife Pearl, Grandma** (brother* and sister** of Muriel)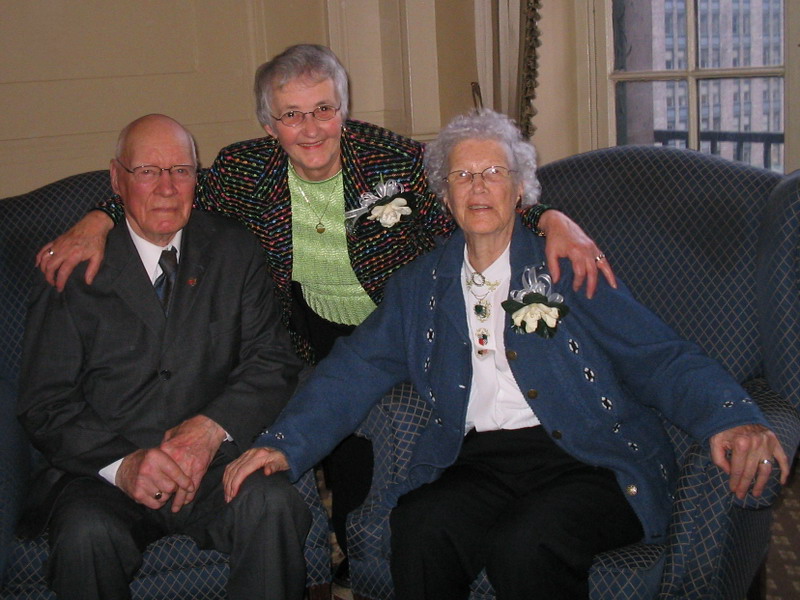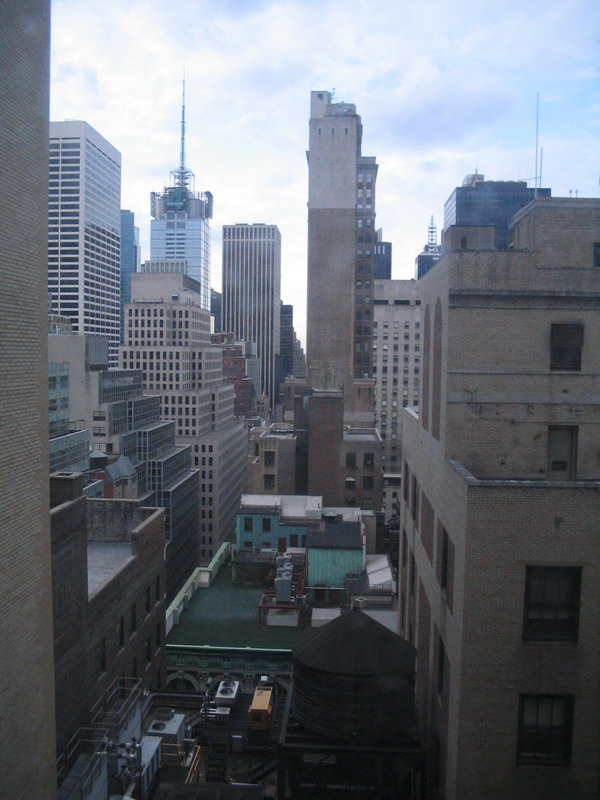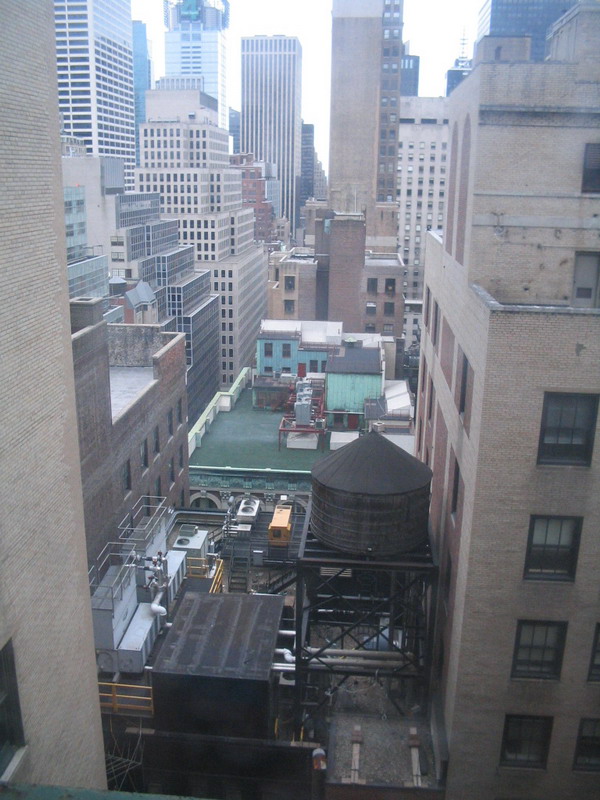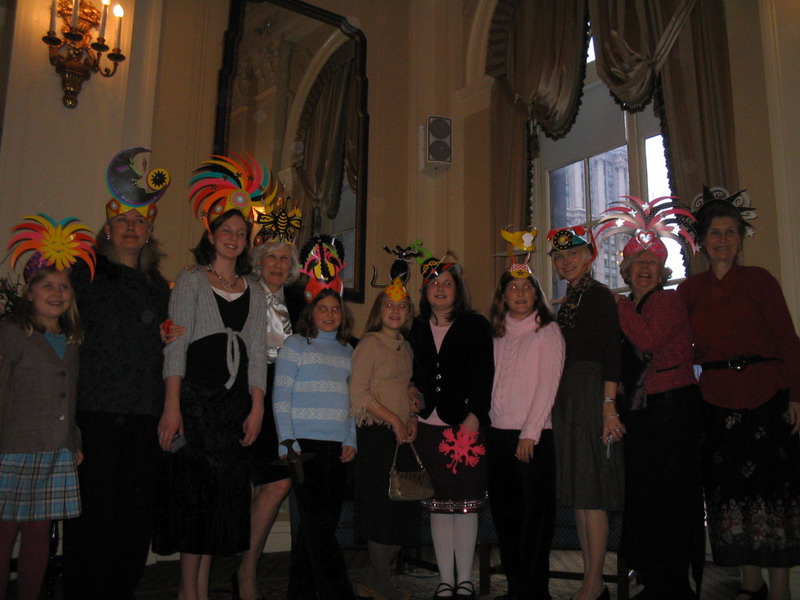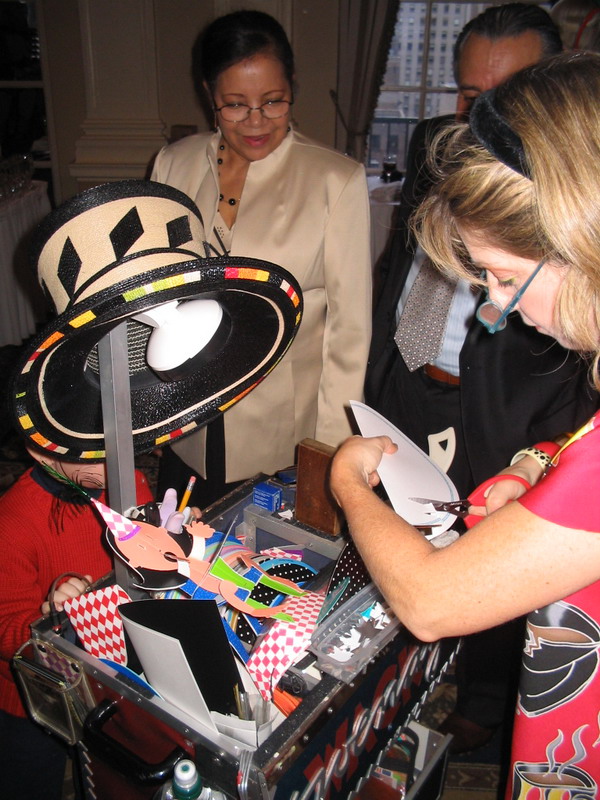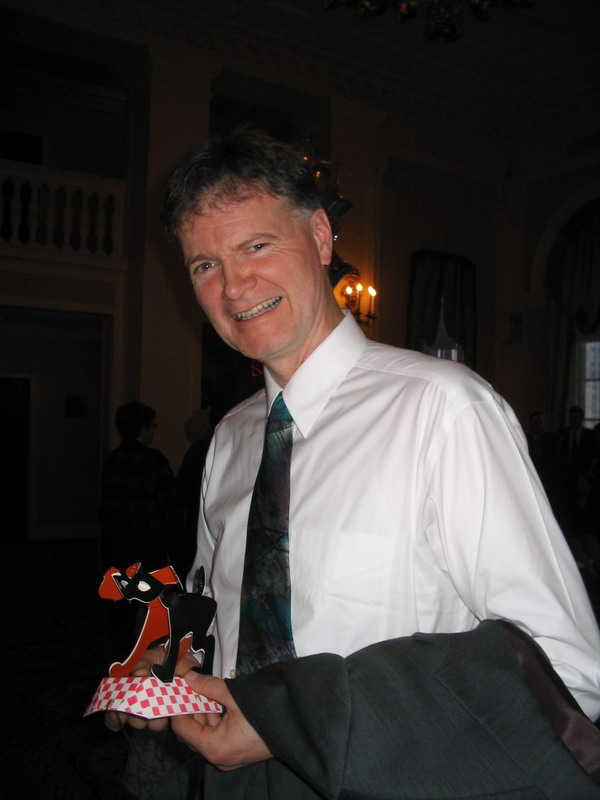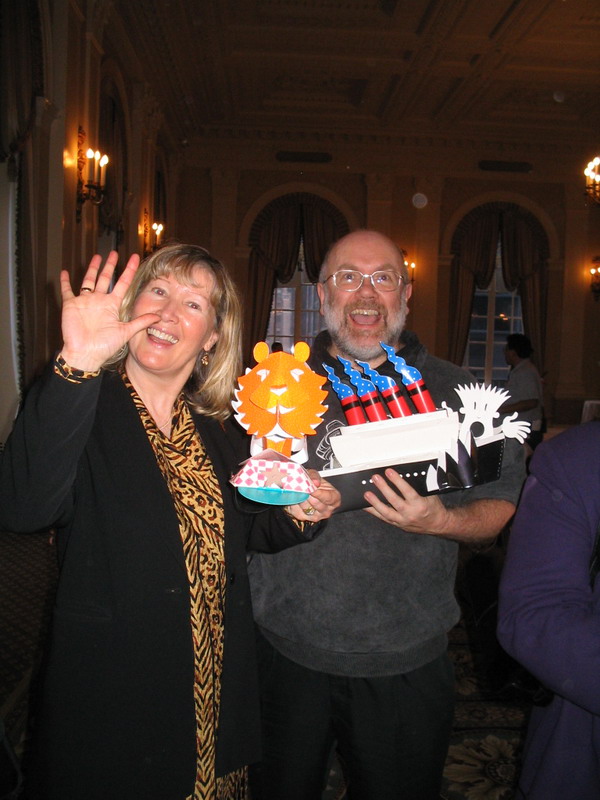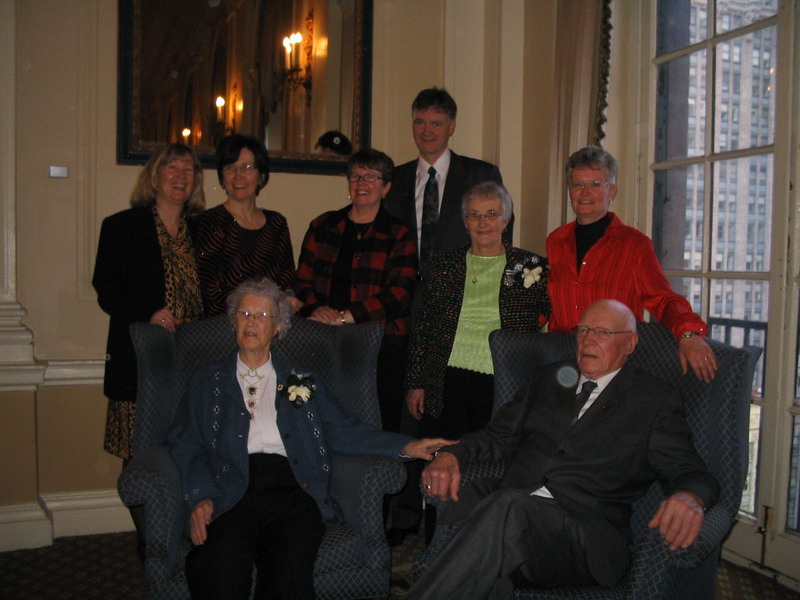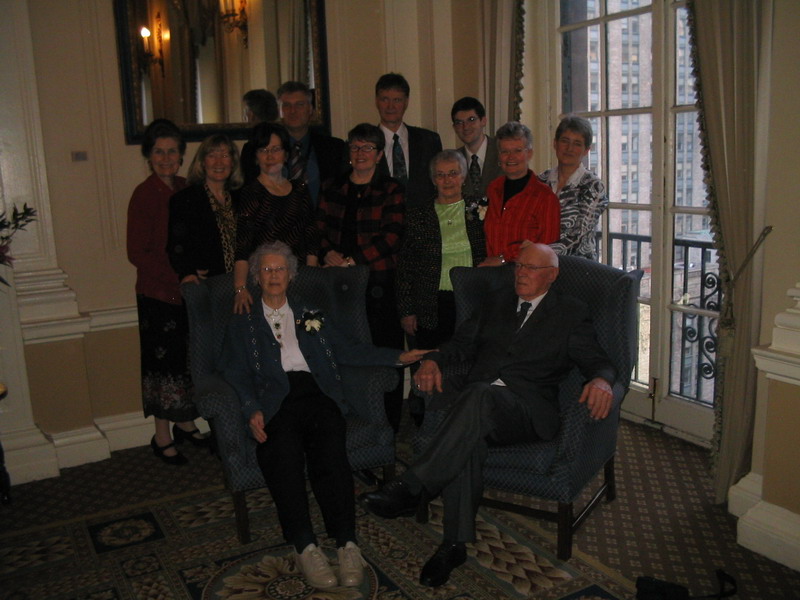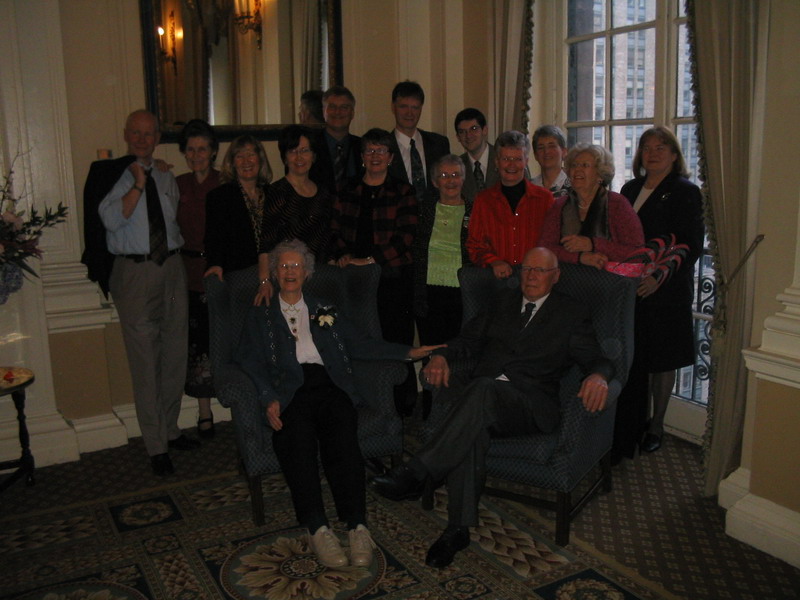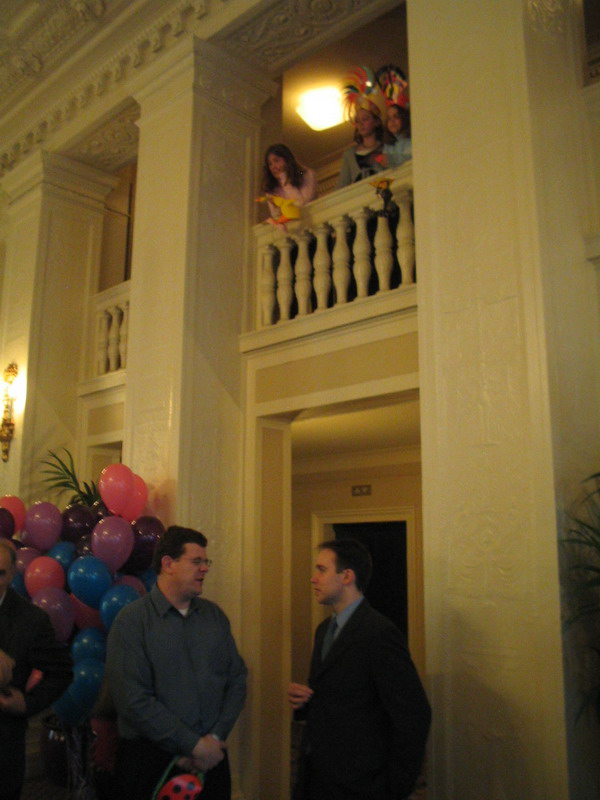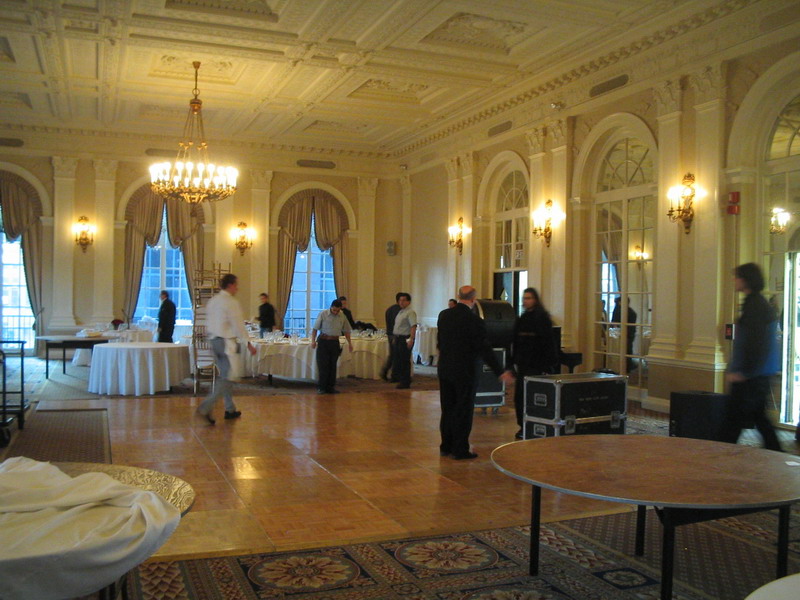 After the dinner, Arthur and Jimmy took me on a walk. Here are some scenes from Vanderbilt Avenue: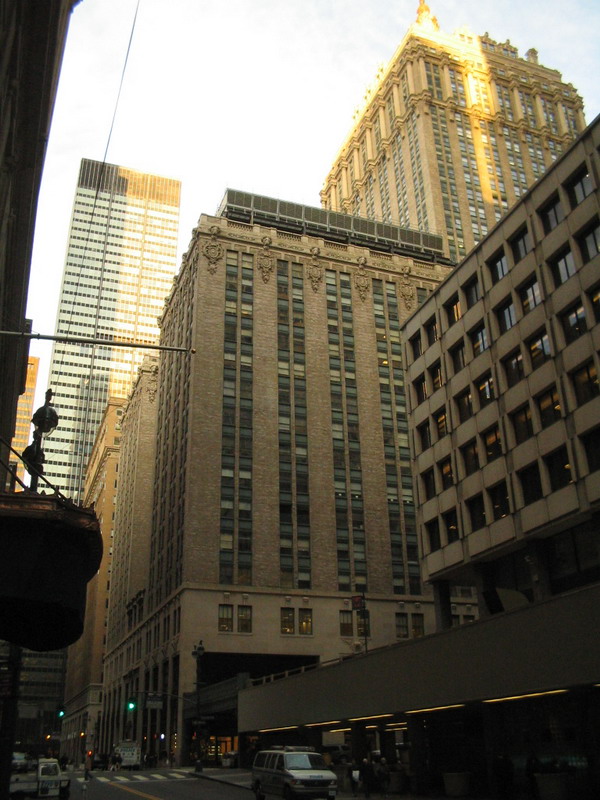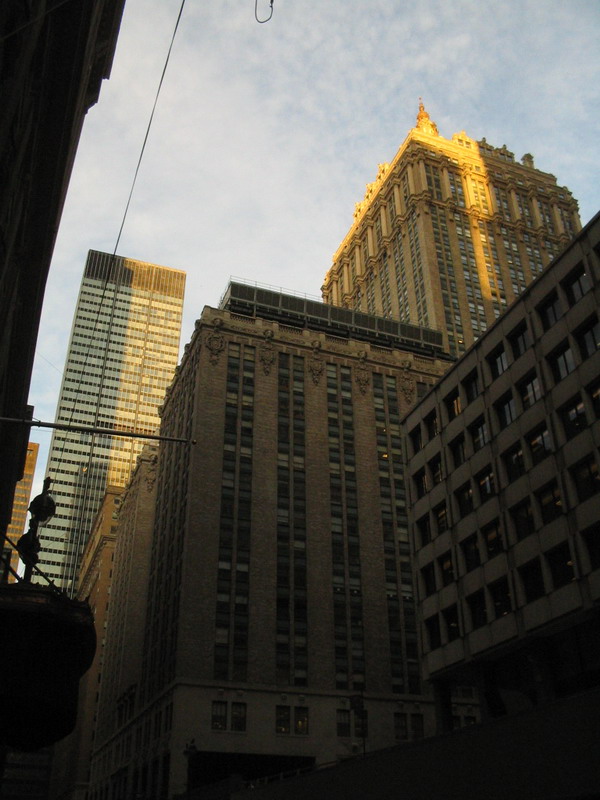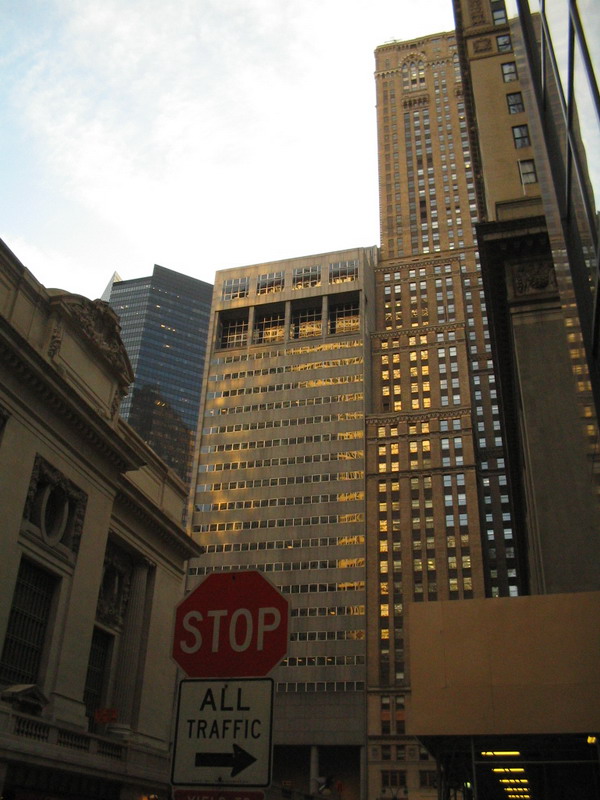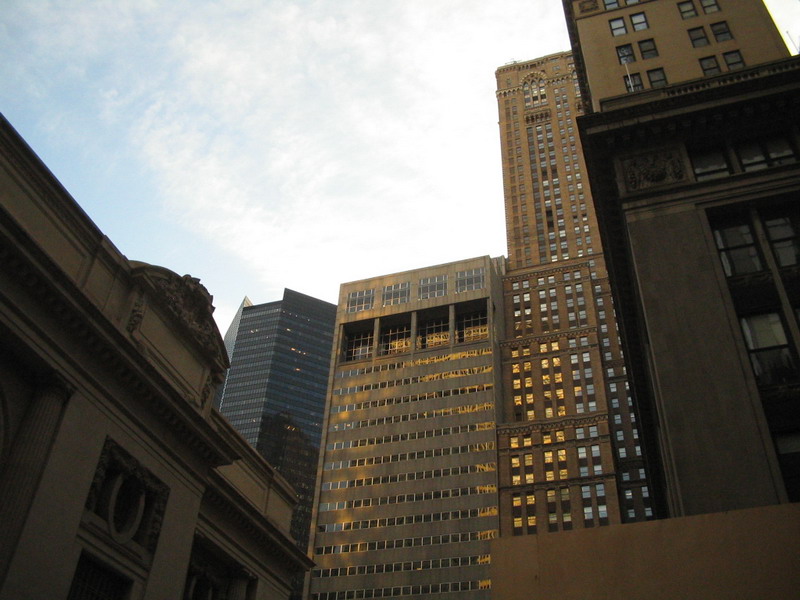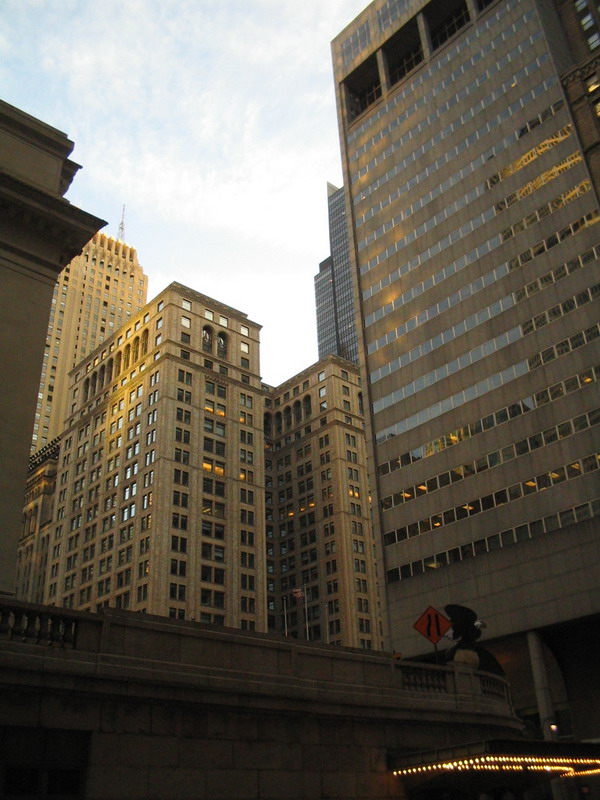 Going along 42nd Street: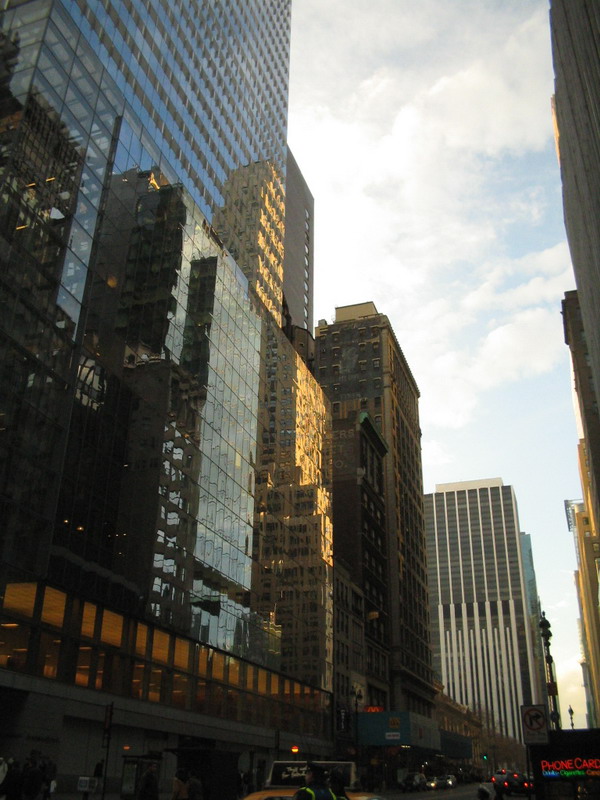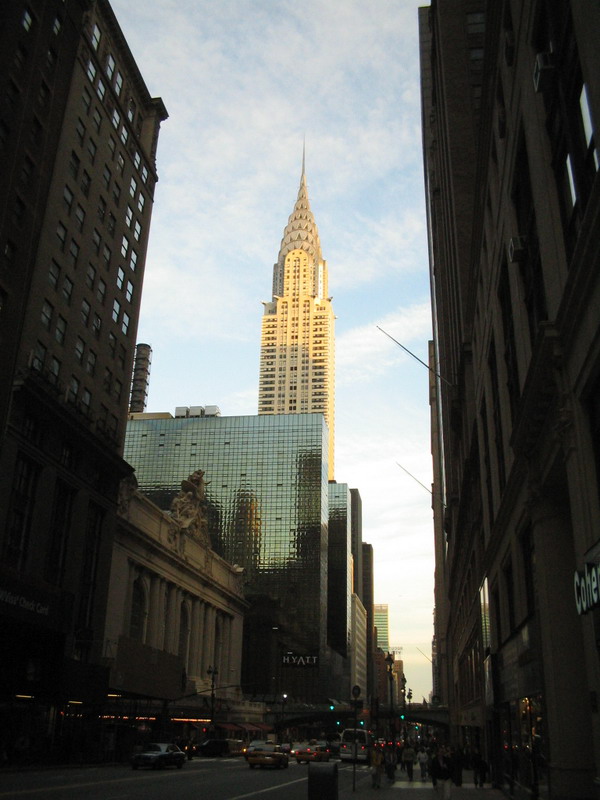 Background: The Chrysler Building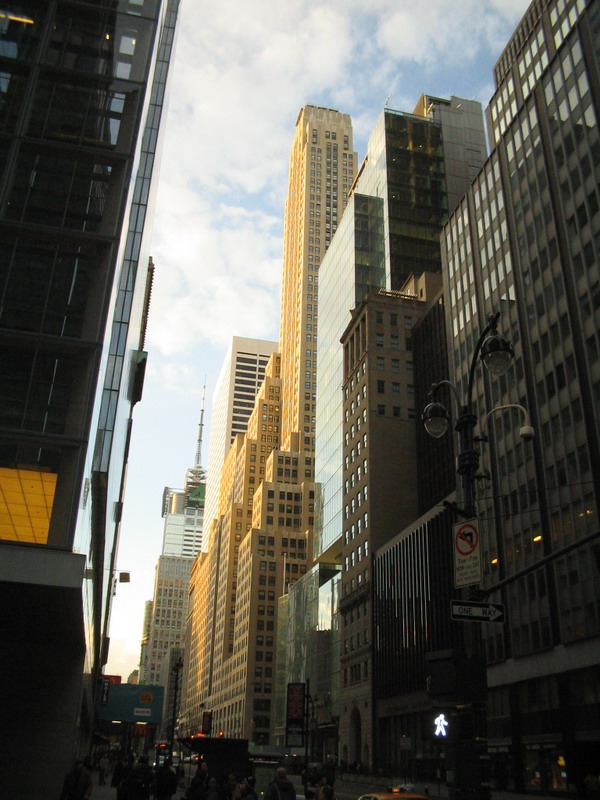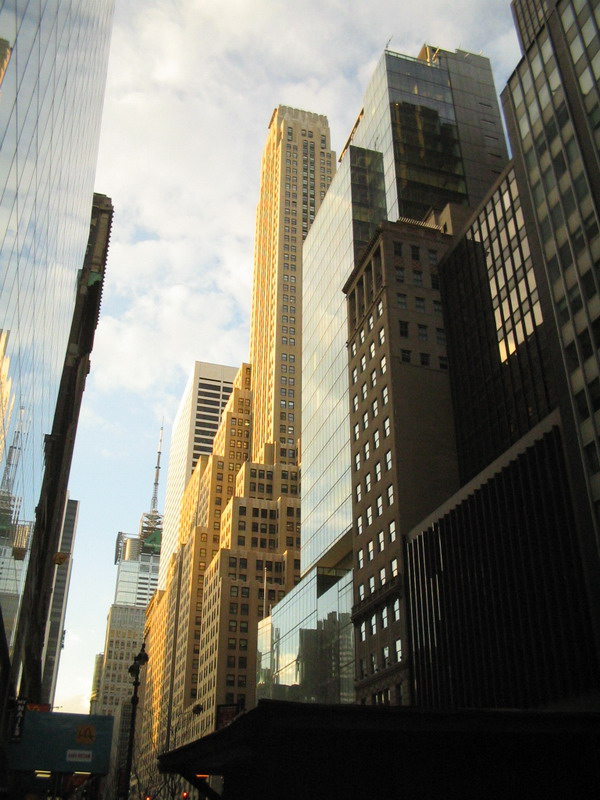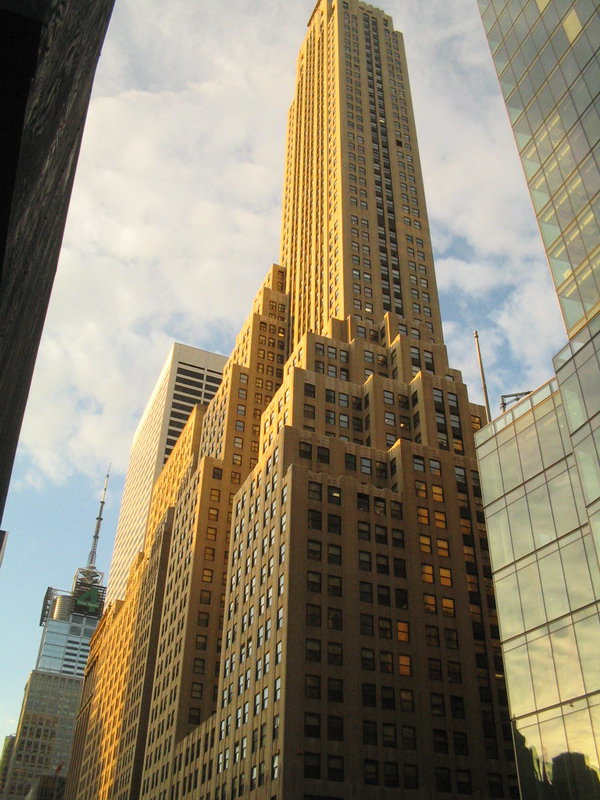 500 Fifth Avenue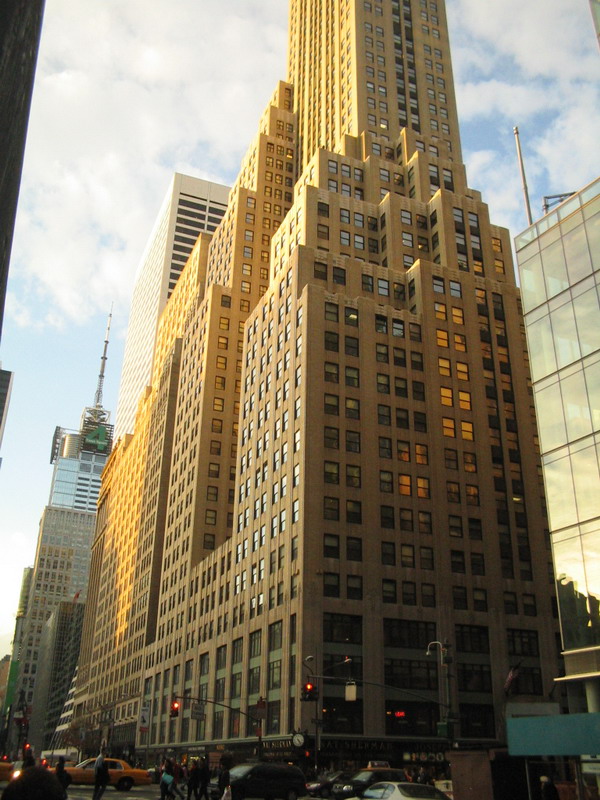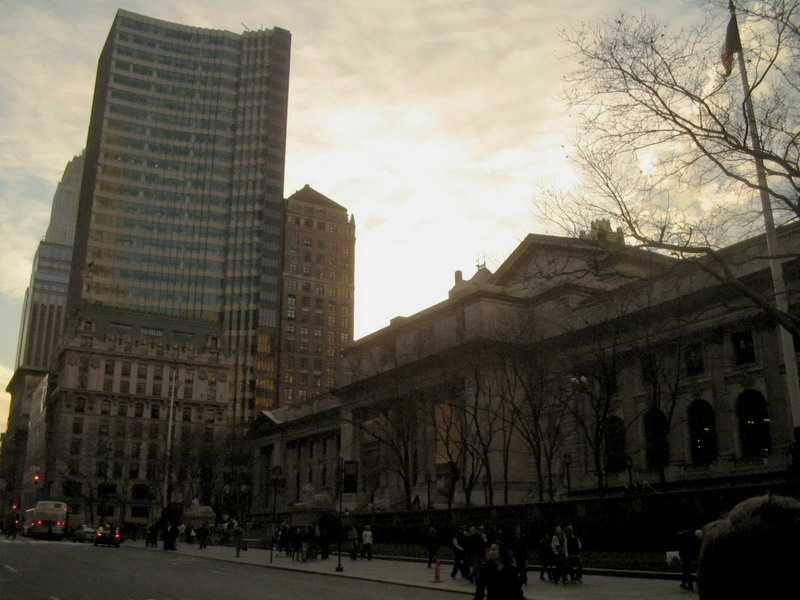 The flagship branch of the New York Public Library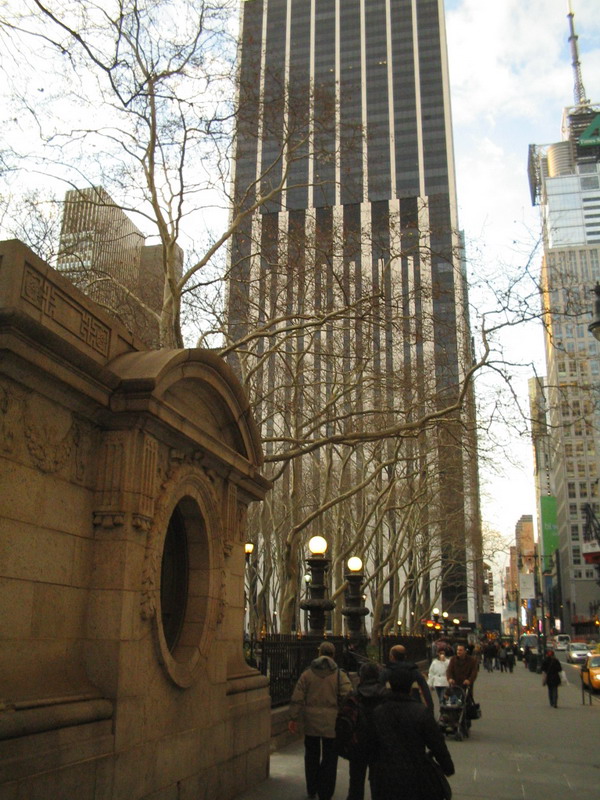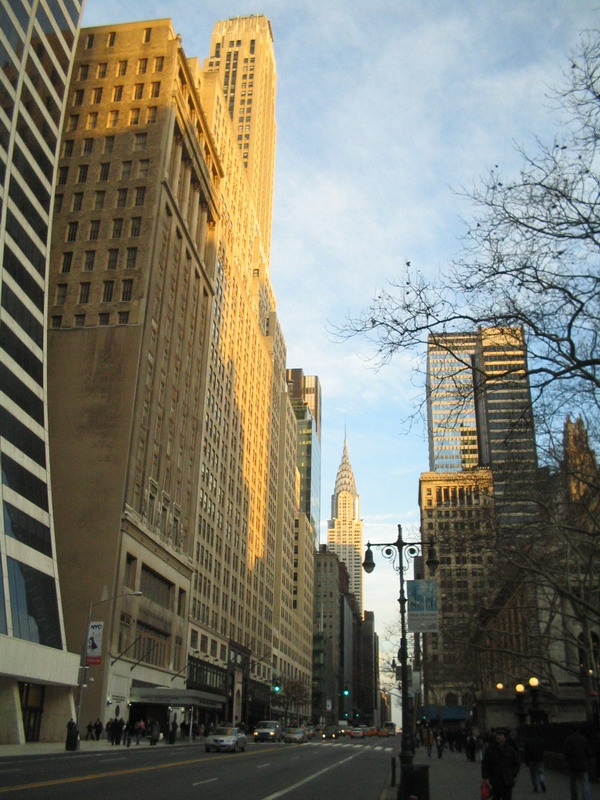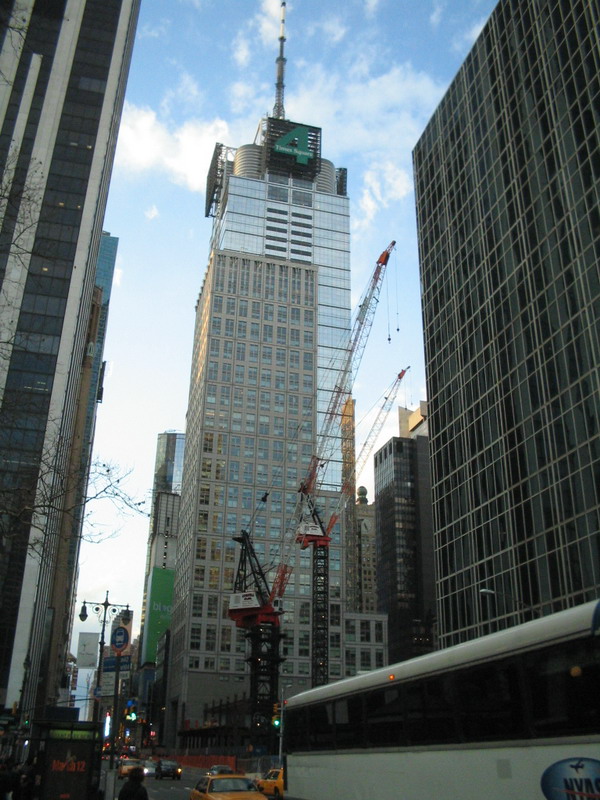 Background: 4 Times Square (The Condé Nast Building)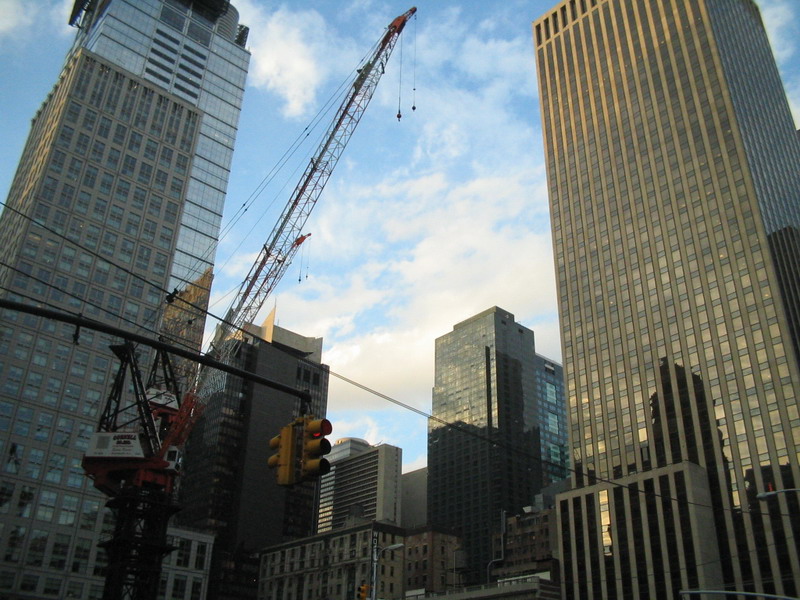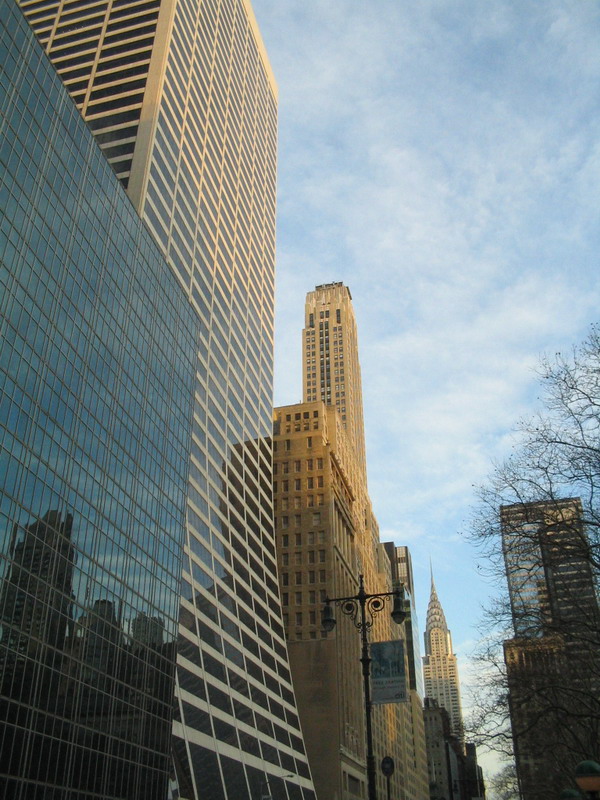 Approaching Times Square: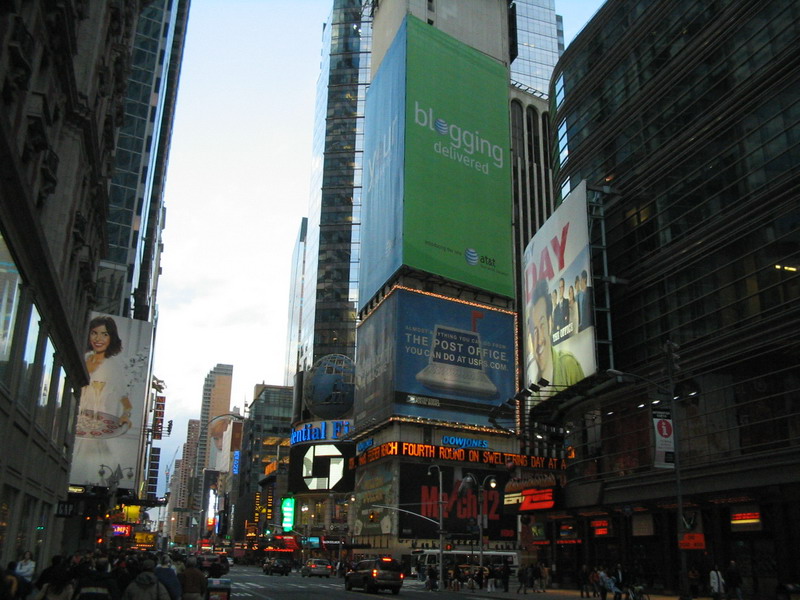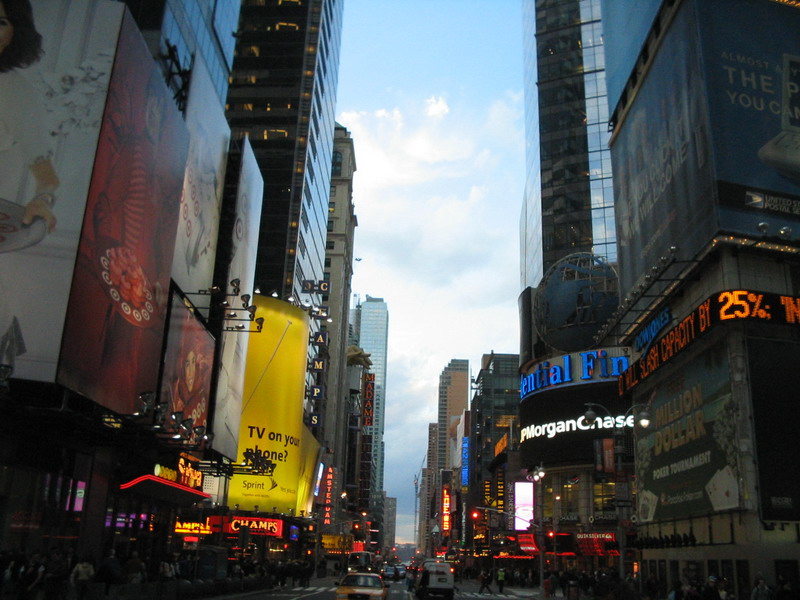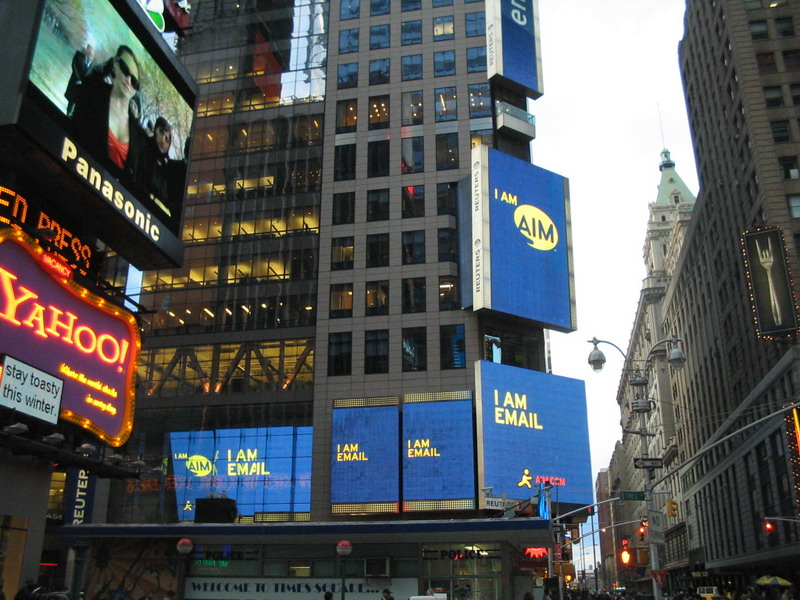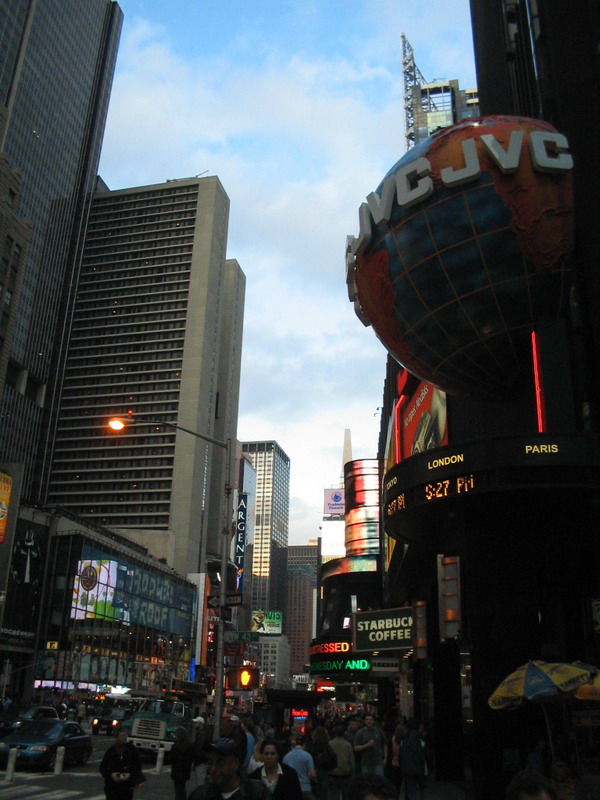 Left: New York Marriot Marquis (photos)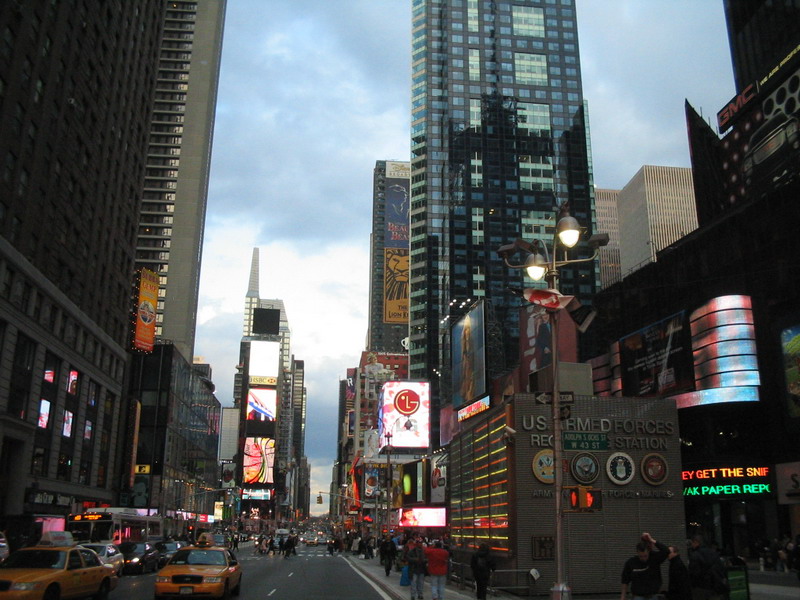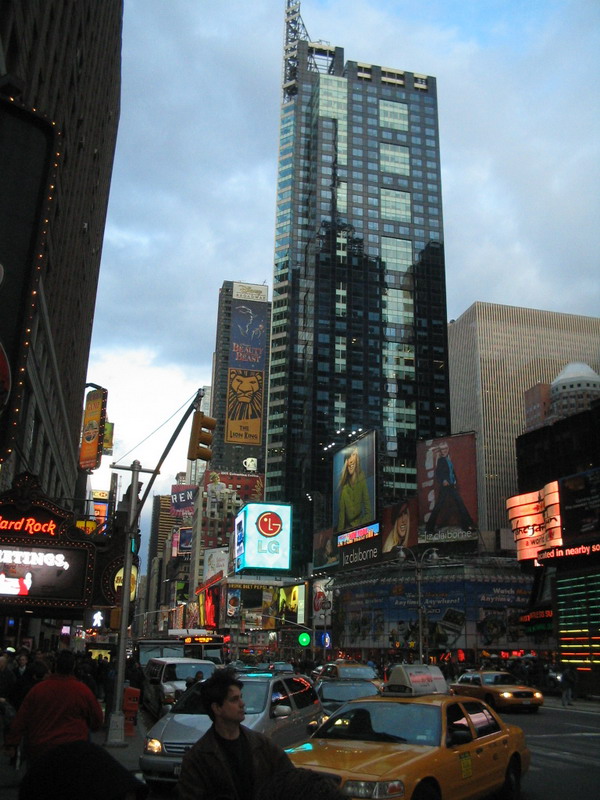 Background: Bertelsmann Building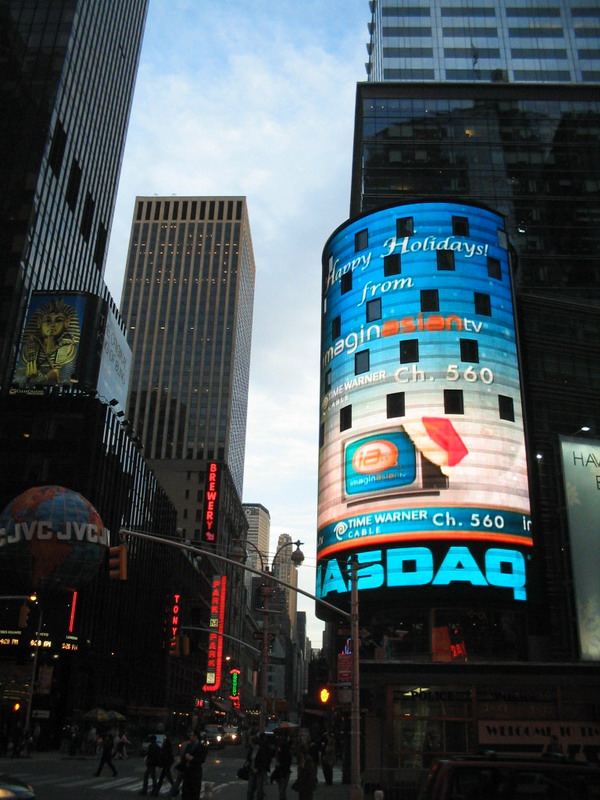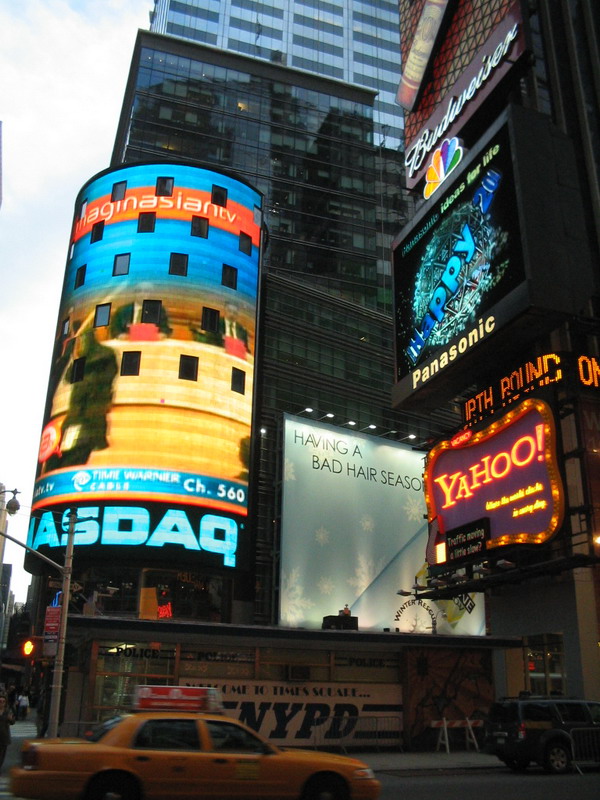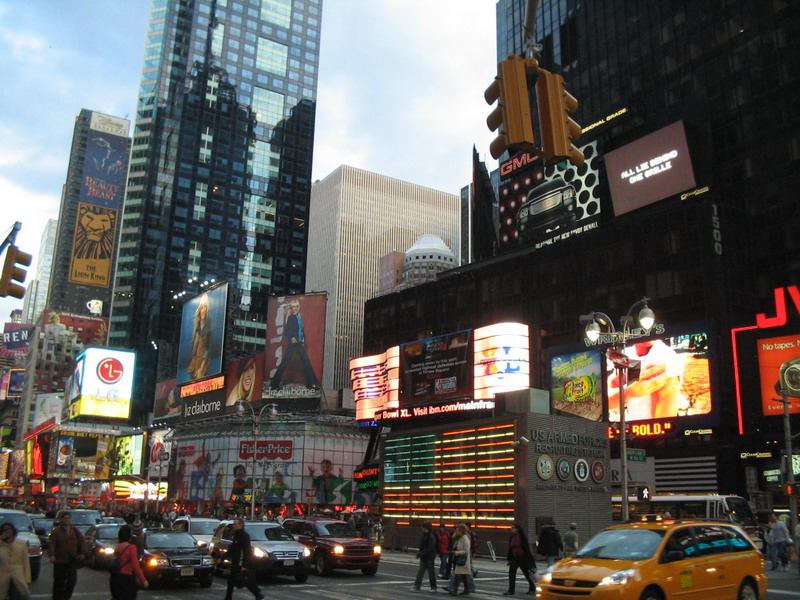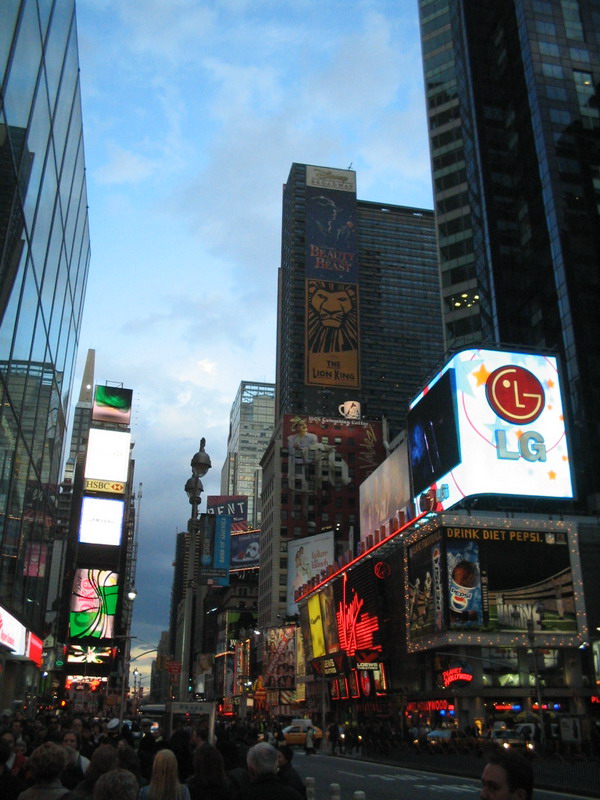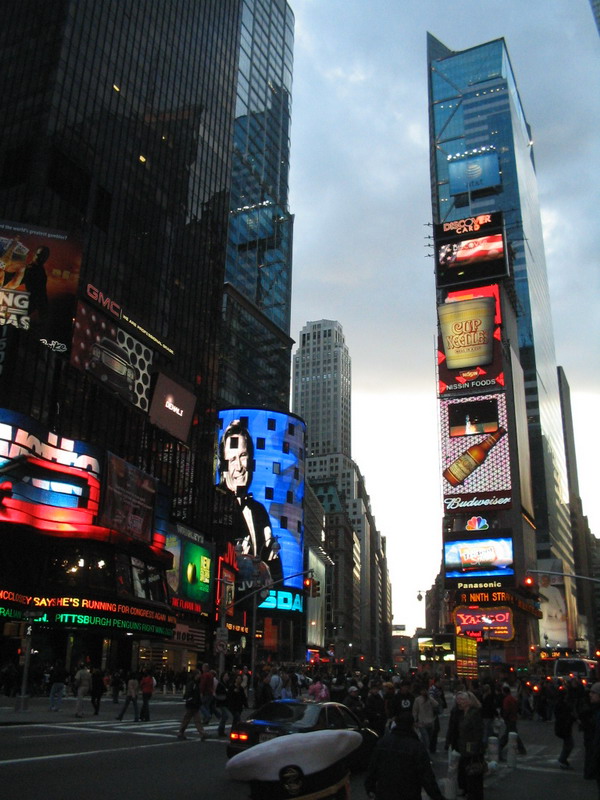 Right: 1 Times Square (photos)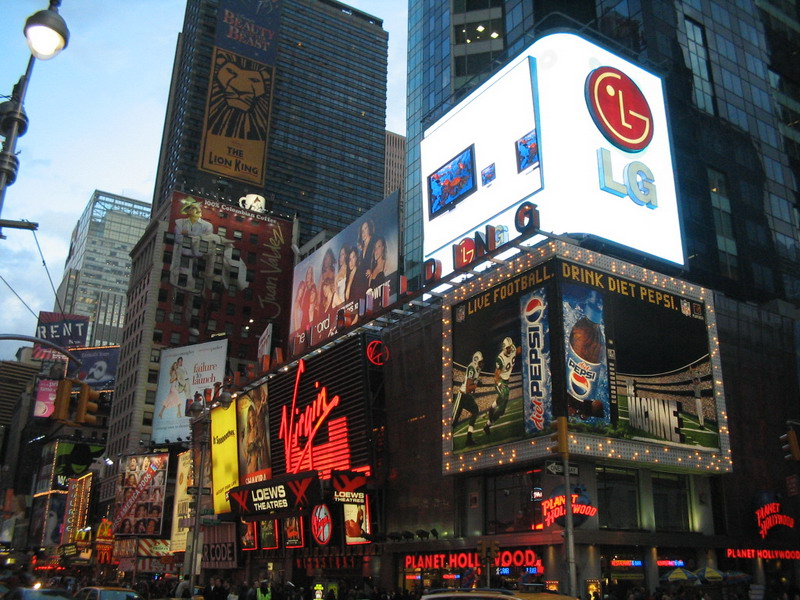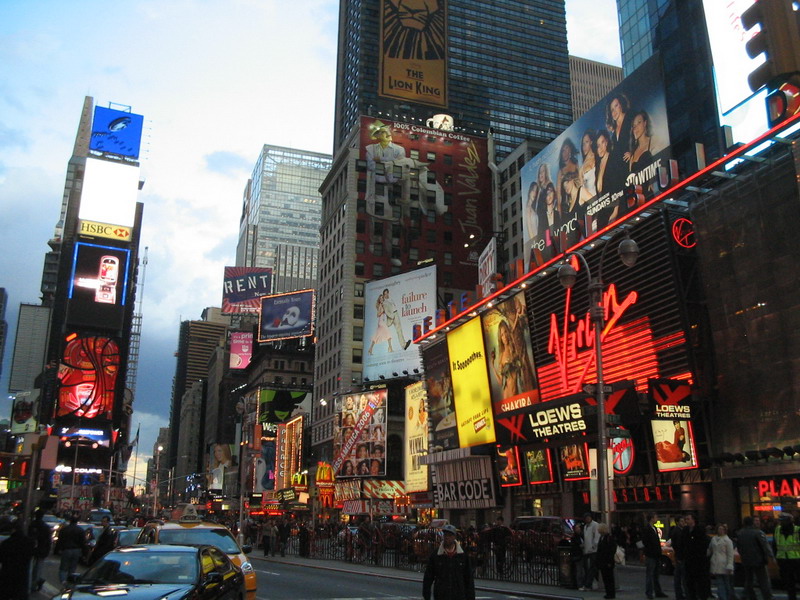 Inside the Marriot Marquis: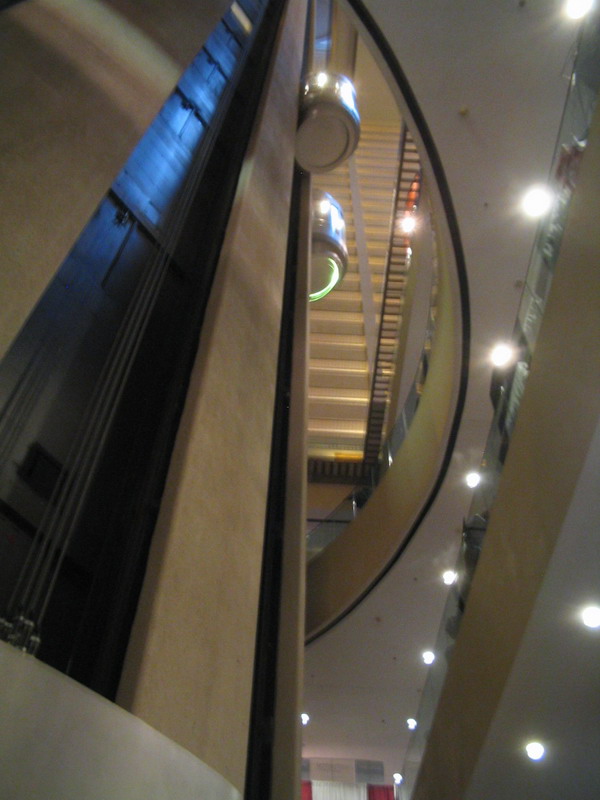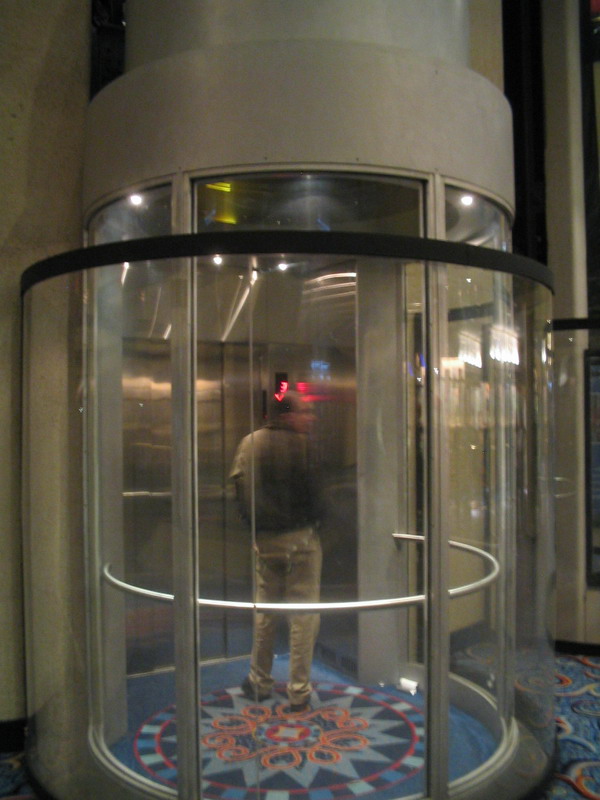 We were going to try to sneak on an elevator and get a view, but we chickened out.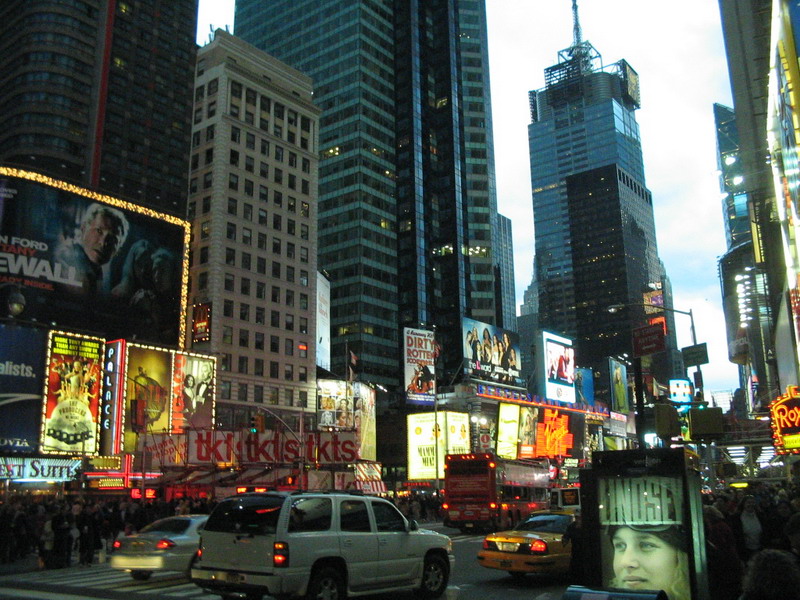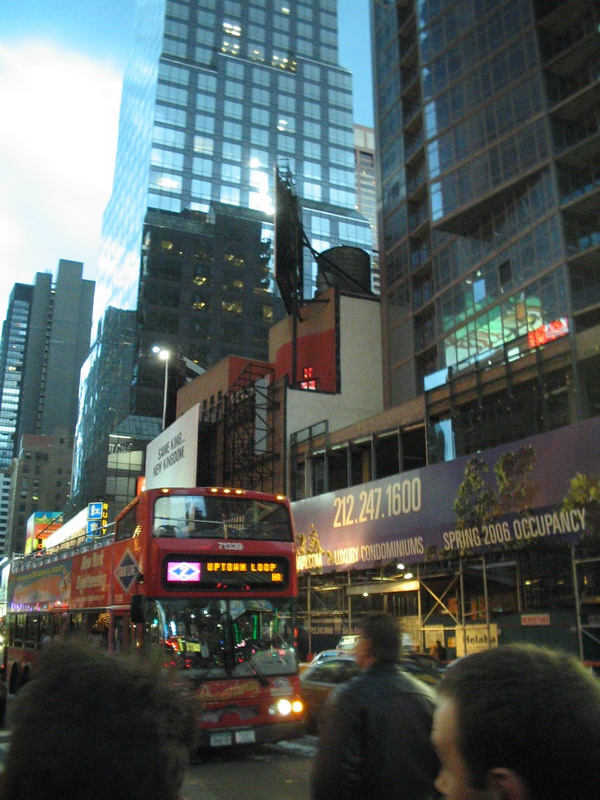 Now we're on Broadway, heading north: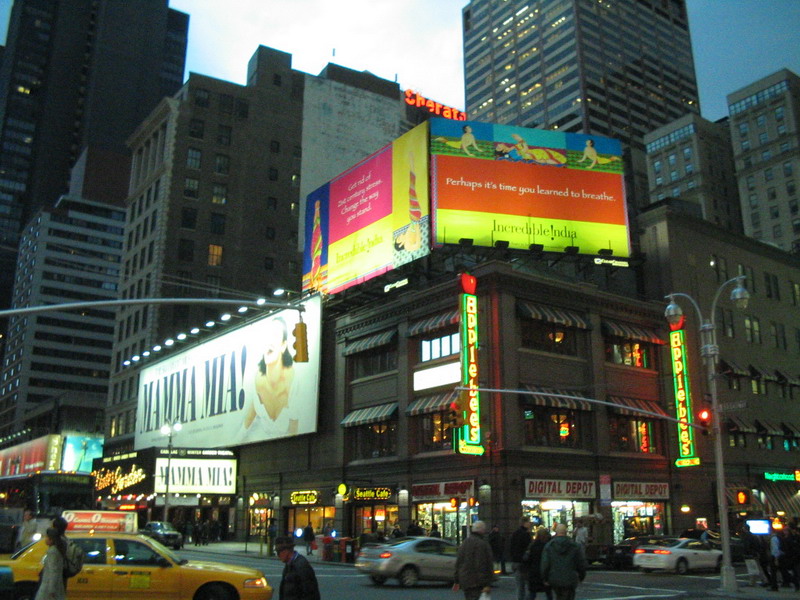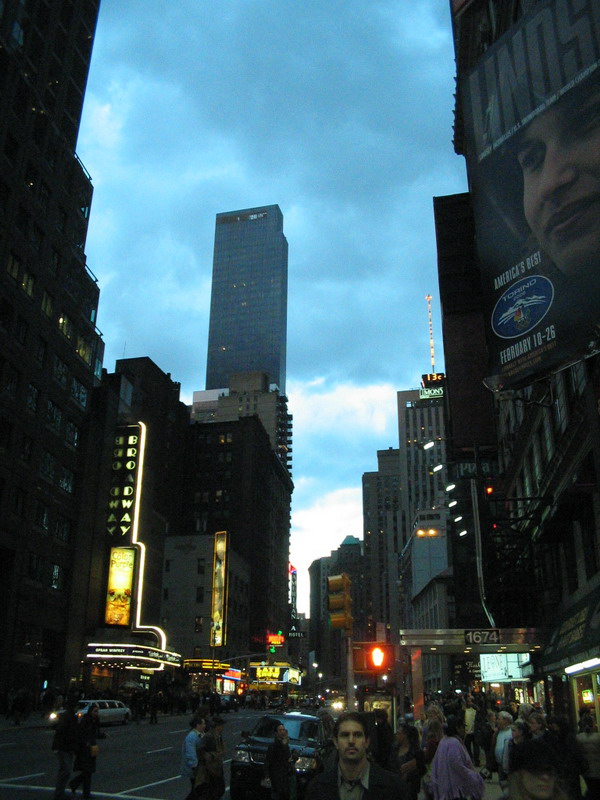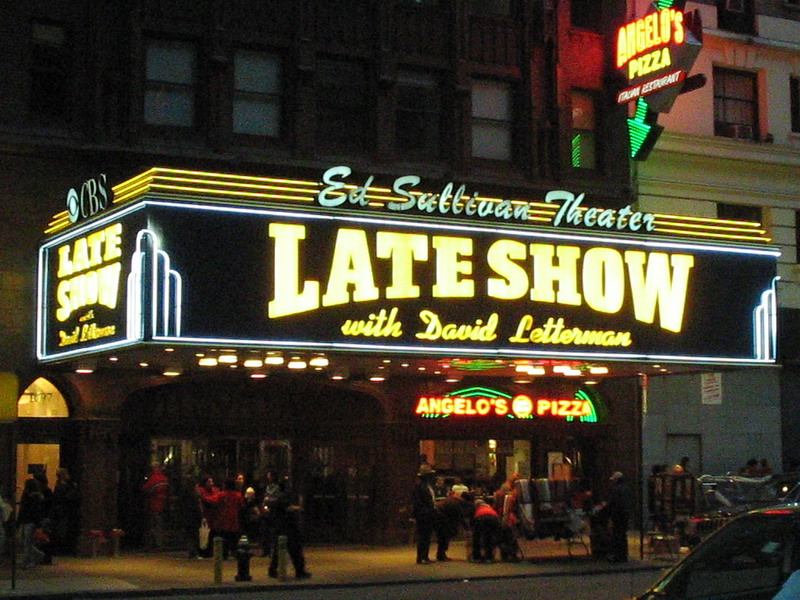 The Ed Sullivan Theater
Now we're approaching Central Park...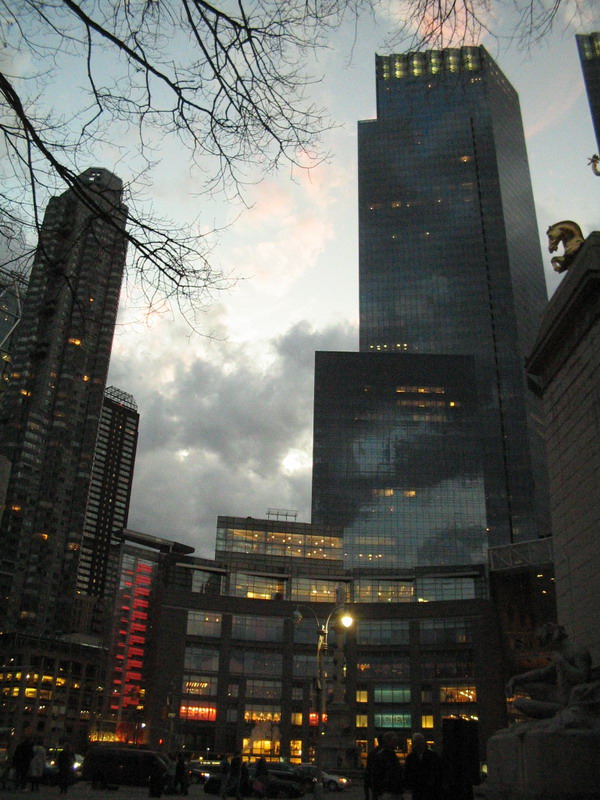 Views from Columbus Circle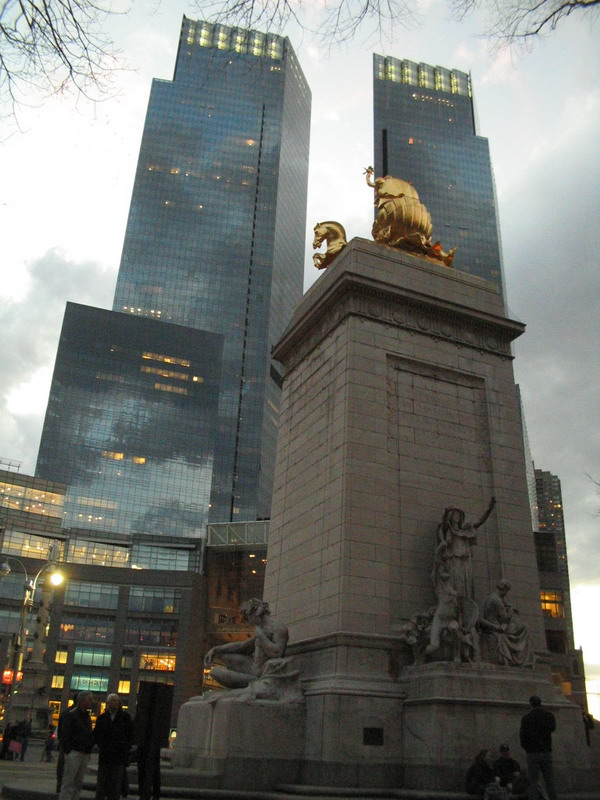 The Maine Monument, with the Time Warner Center in the background.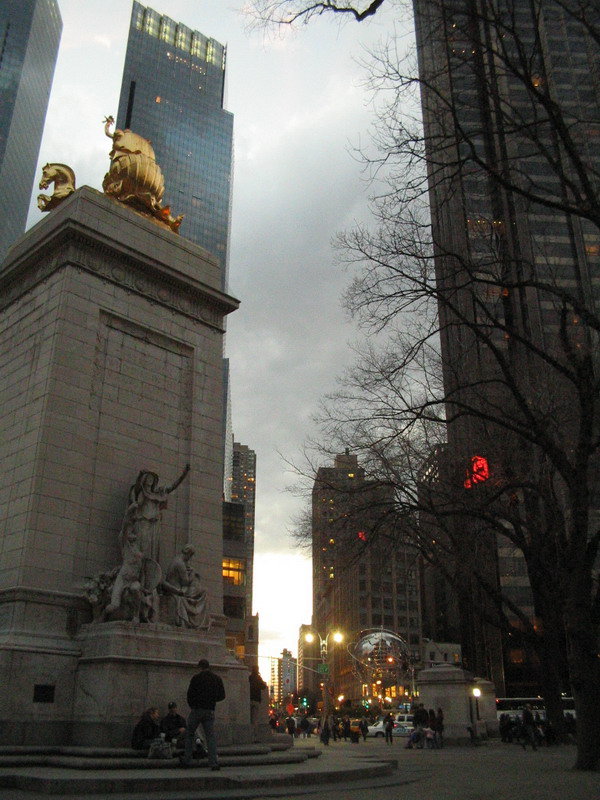 Right: Trump International Hotel and Tower (note its globe)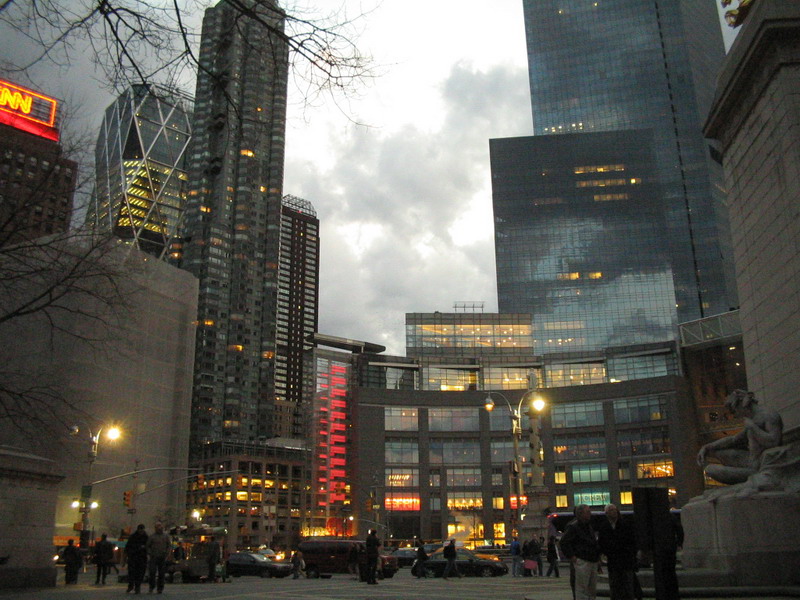 Second from left: Hearst Tower
At length, and after a little walk in the park, we arrive at Elizabeth's apartment building, The Beresford...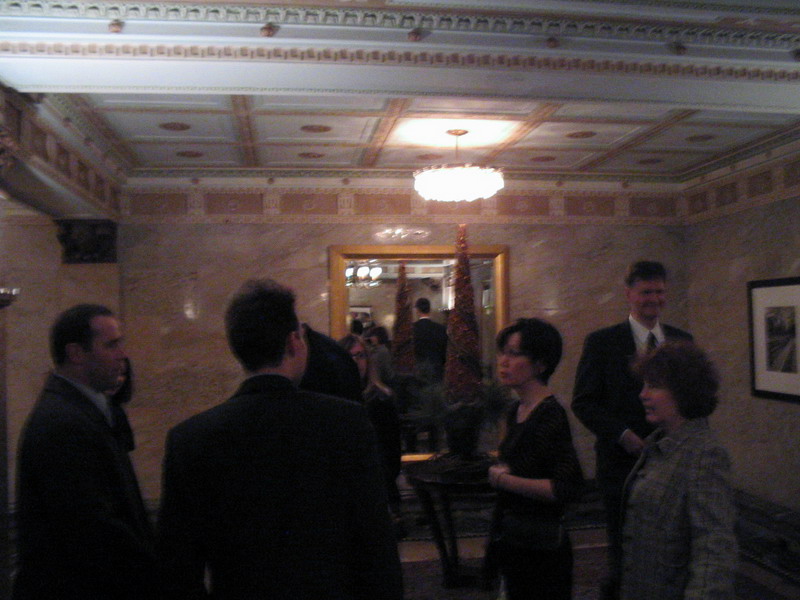 Waiting for the elevator...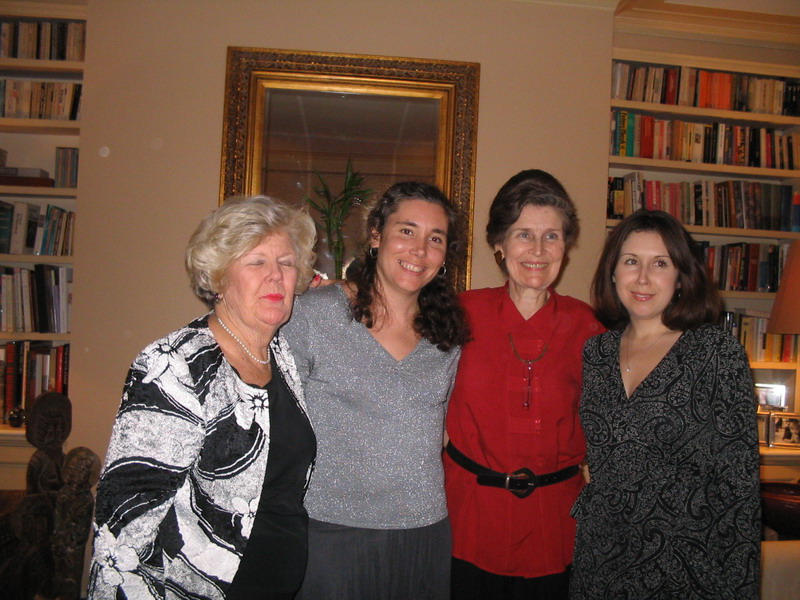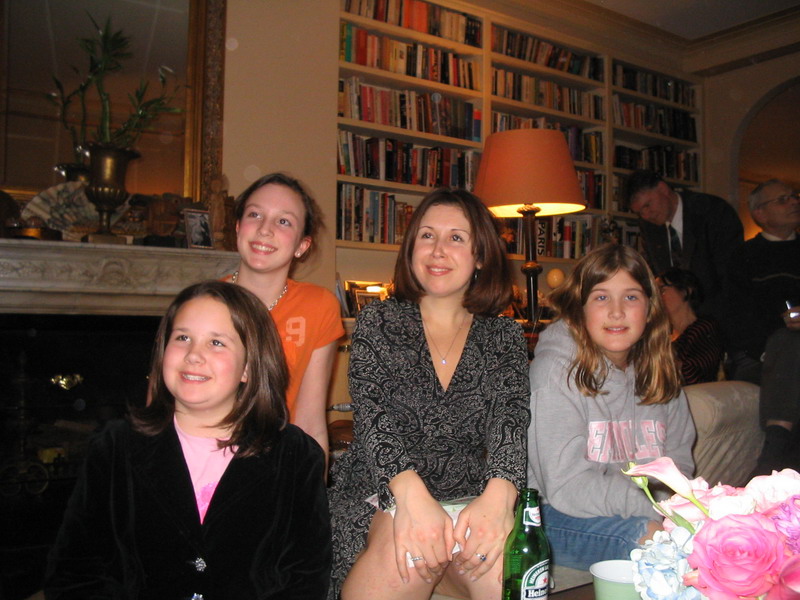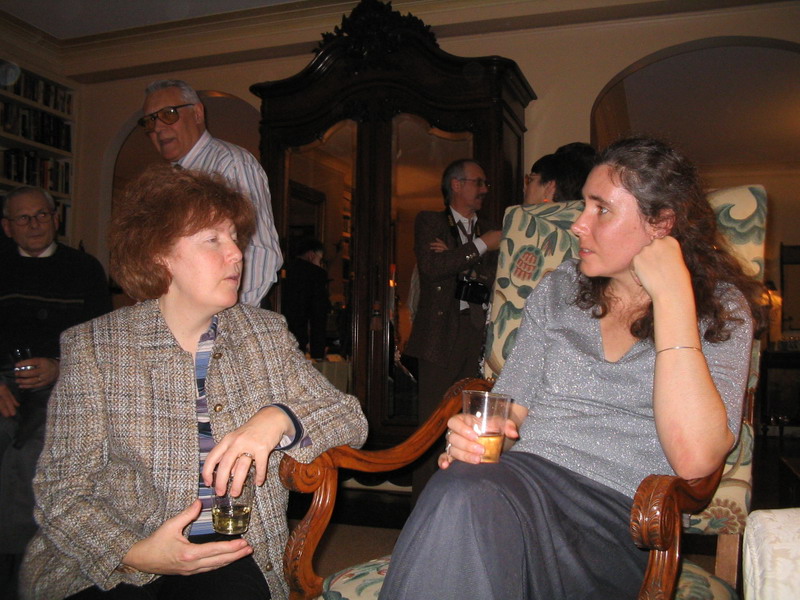 Laurie and Ruthie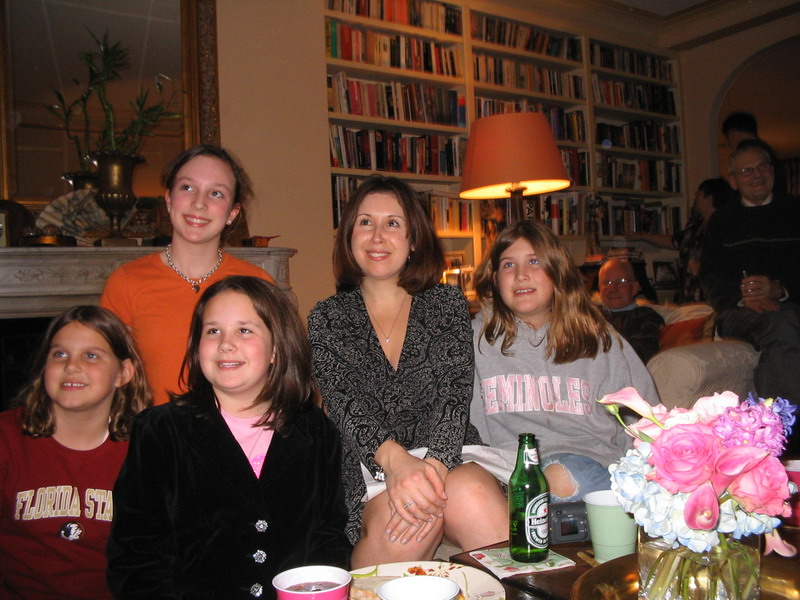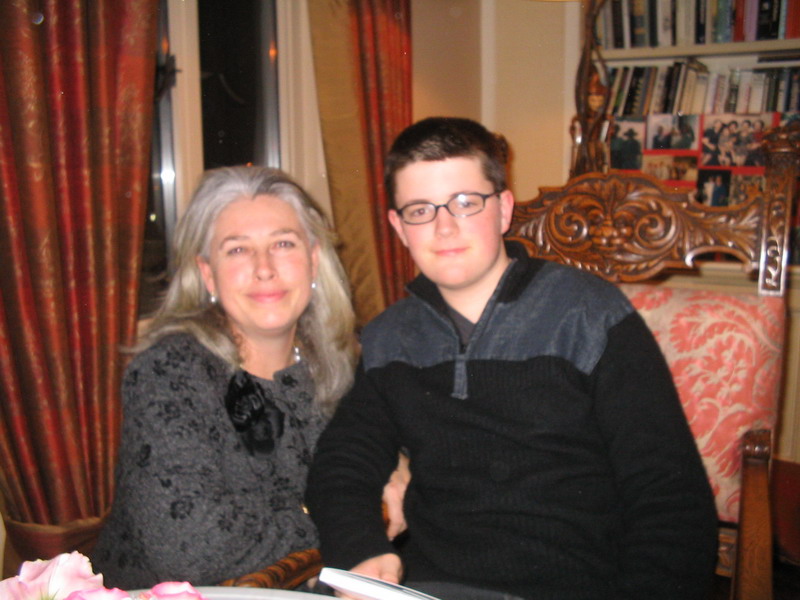 Elizabeth and Alex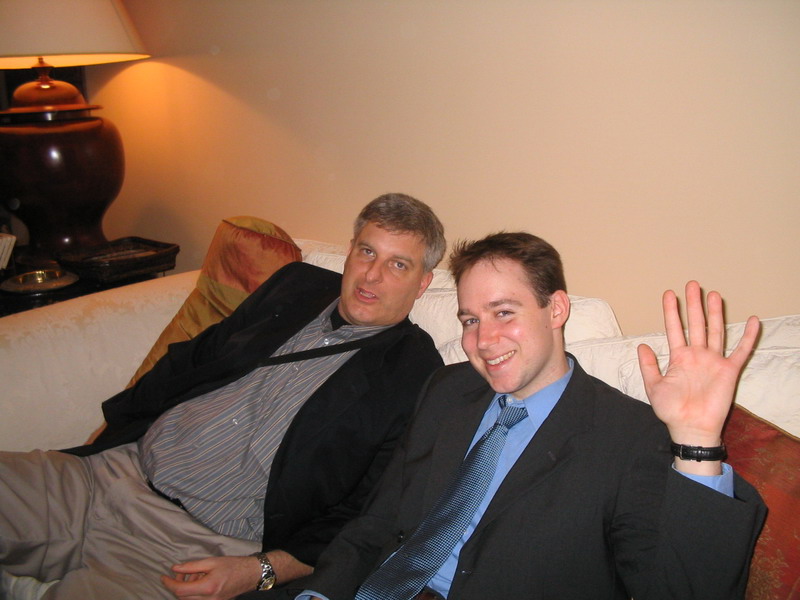 Ross and Arthur

Alan and José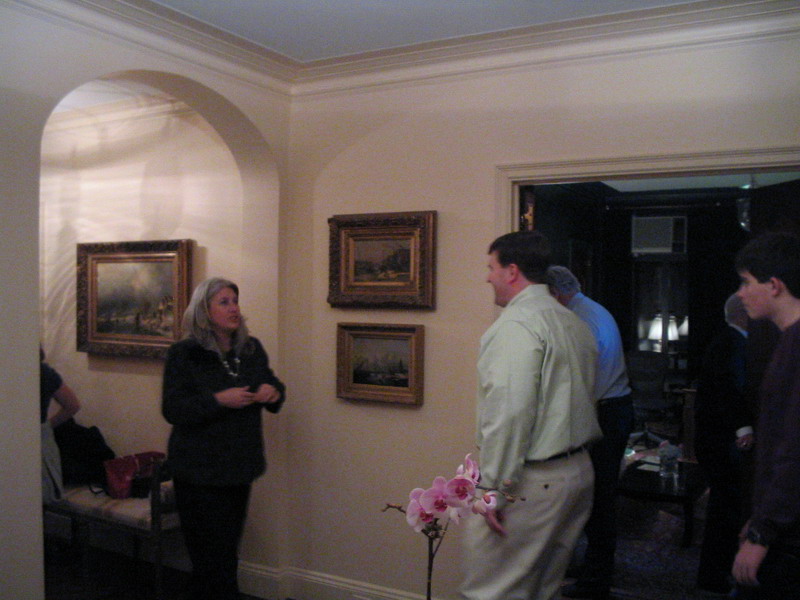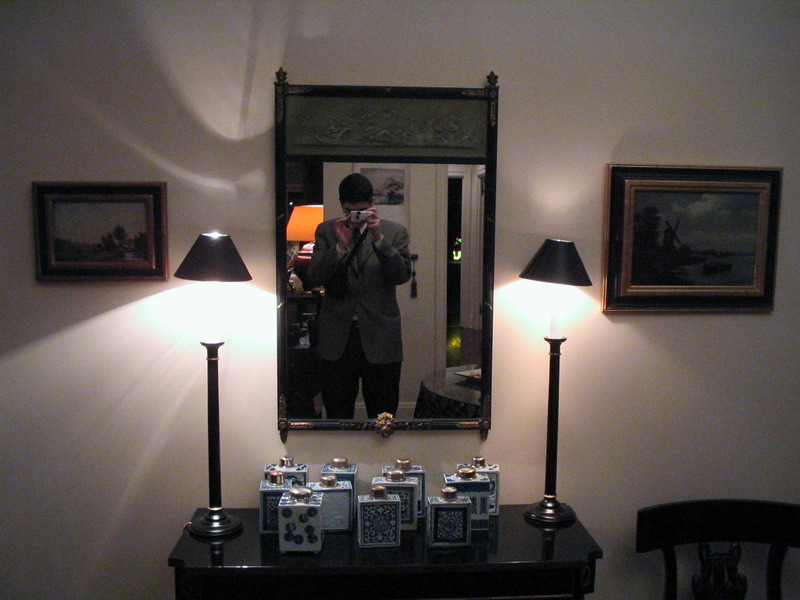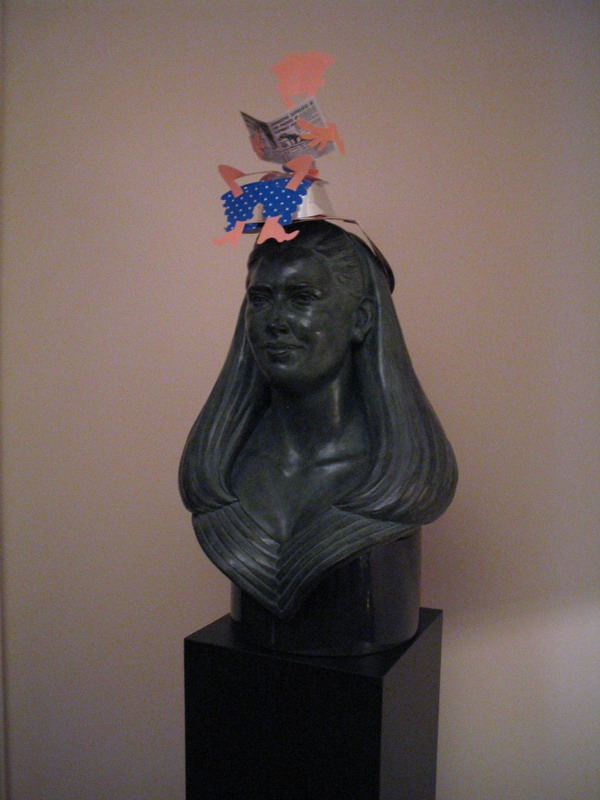 Oh, now, that's not very nice!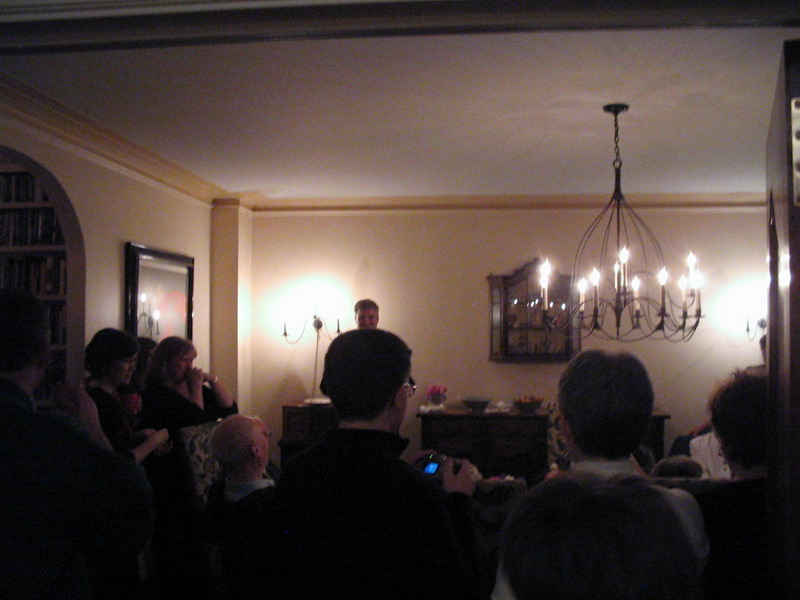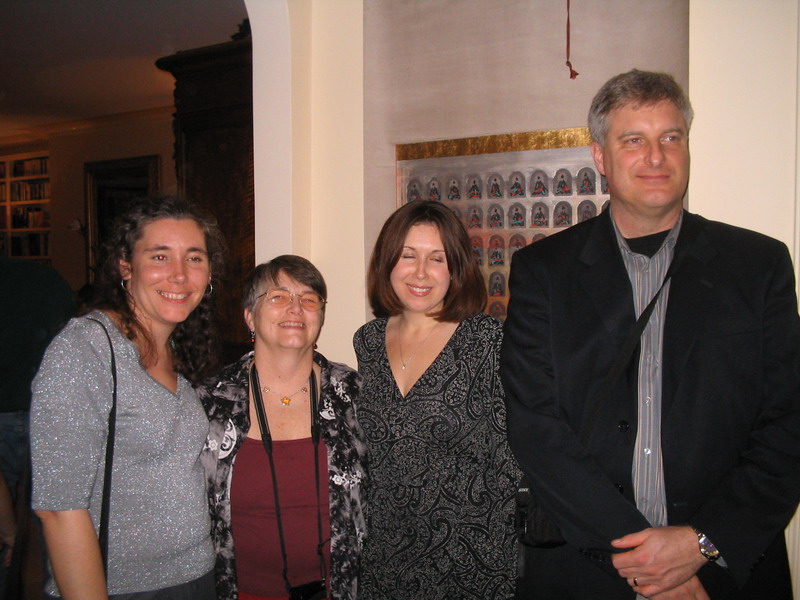 Ruthie, Barb, Mary, Ross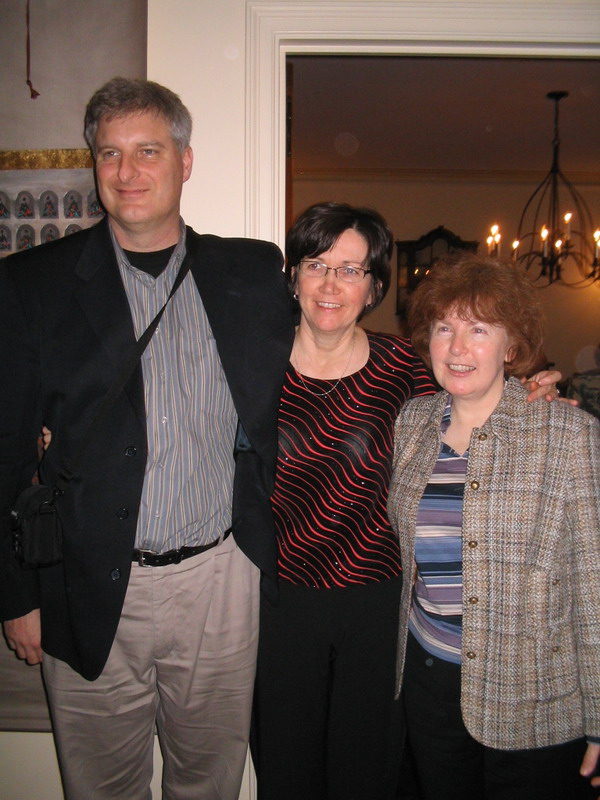 Ross, Aunt Shirley, Laurie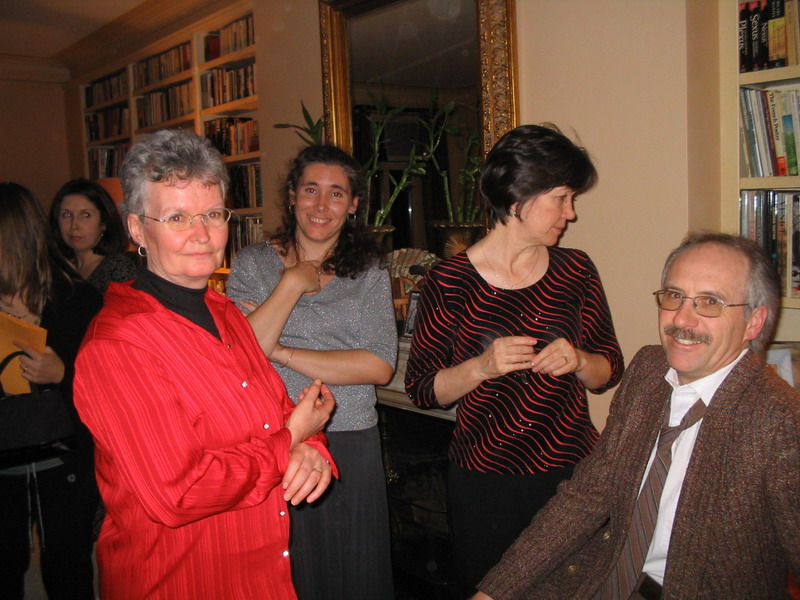 Flora, Ruthie, Aunt Shirley, Uncle Shane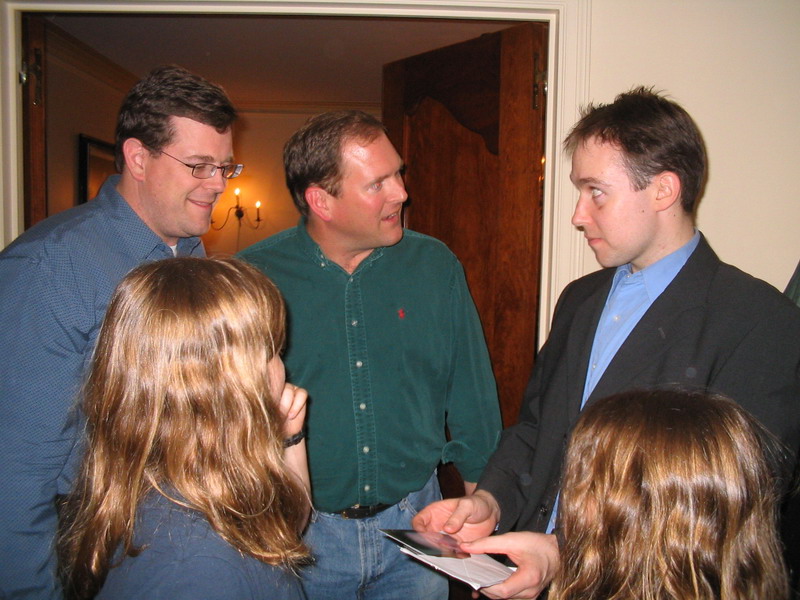 Arthur (right) tells us the tale of his encounter with the NYPD, and the reason for the love tap under his eye.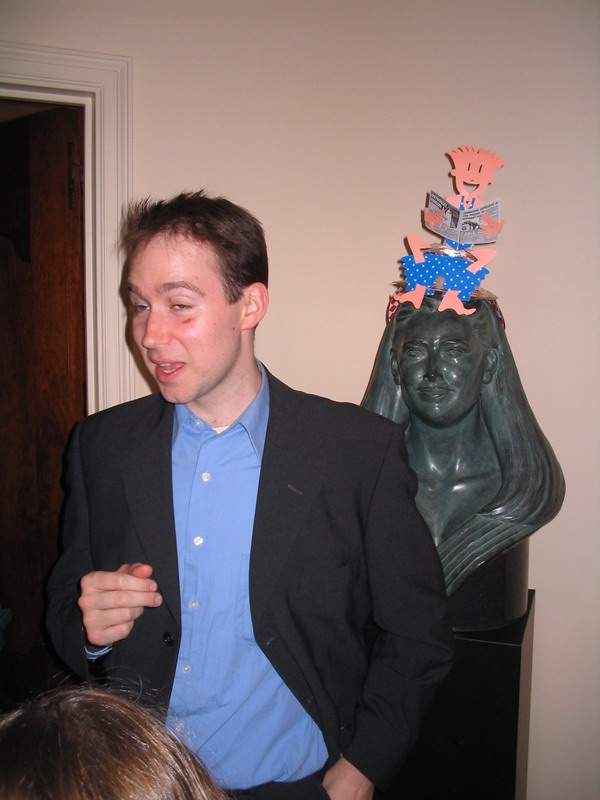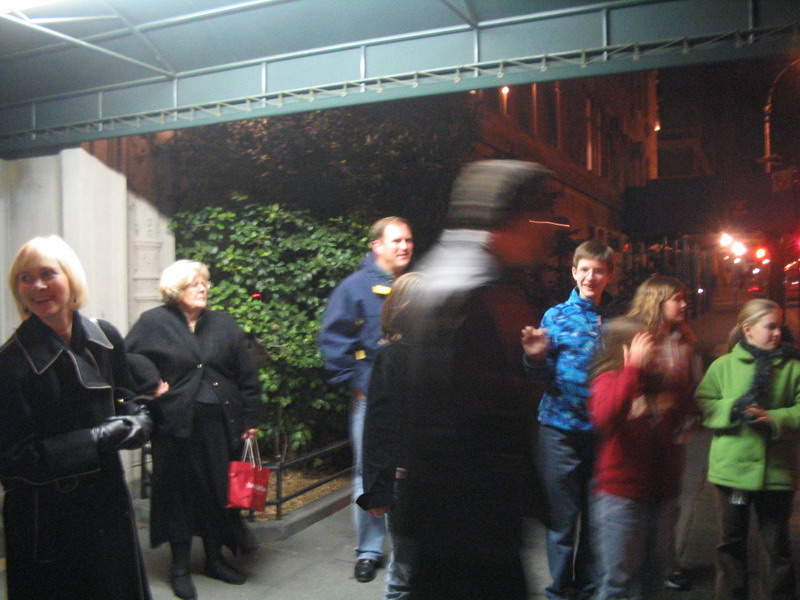 Back on the street, waiting for cabs... Uncle Shane and I took the metro instead.
Back in Riverdale, the next morning: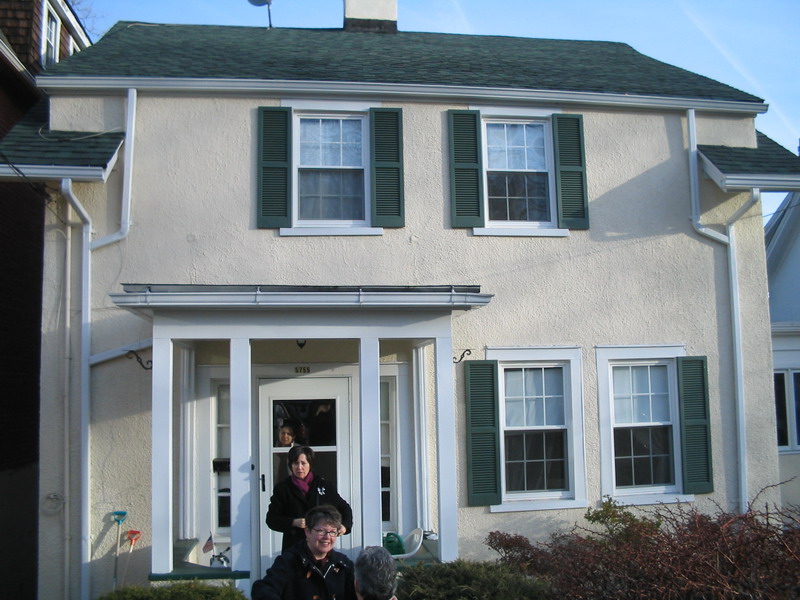 Saying goodbye...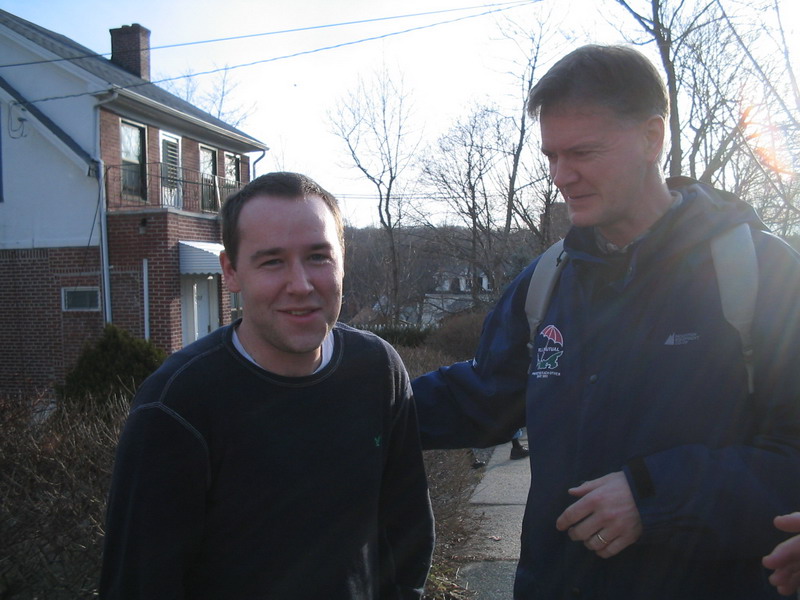 Jimmy and Dad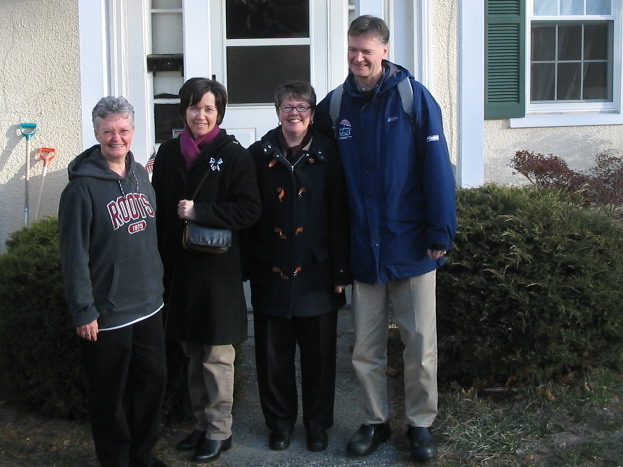 Flora, Aunt Shirley, Aunt Donna, Dad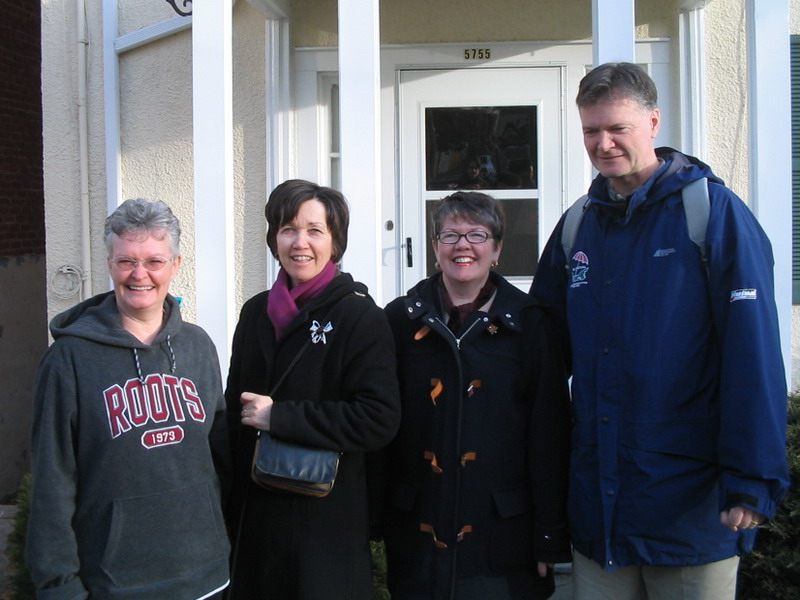 I had most of the day to myself, so I made my way down to the Natural History Museum: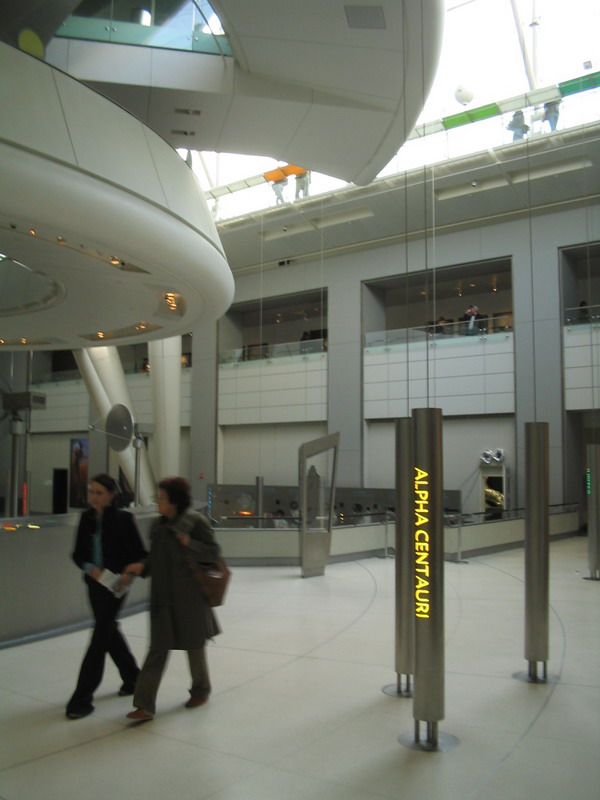 Inside the Rose Center for Earth and Space, where I spent the bulk of my time. The sphere in the chamber is the new Hayden Planetarium (also called the "Hayden Sphere"). (Maybe I came here to make up for Torun.)

The Rose Center does one thing superbly: it uses its physical space to demonstrate the scale of universe, from picoseconds to billions of years, and from quarks to galactic clusters. It uses the gangway (seen around the top of the picture) to illustrate the history of the universe and planet Earth, and the Hayden Sphere (you can just see the very bottom of it in this photo) as a scale model of various objects (the sun, for instance, or even a proton) that works in conjunction with the different models on display in the chamber.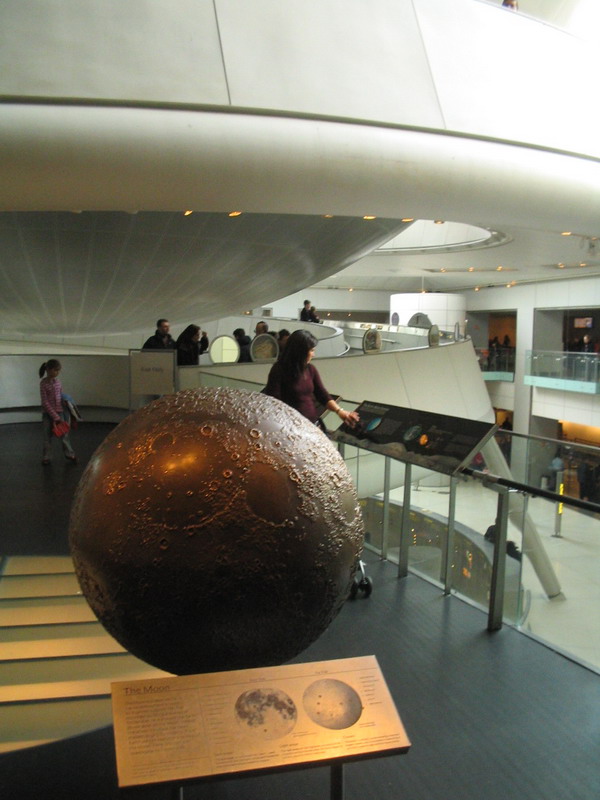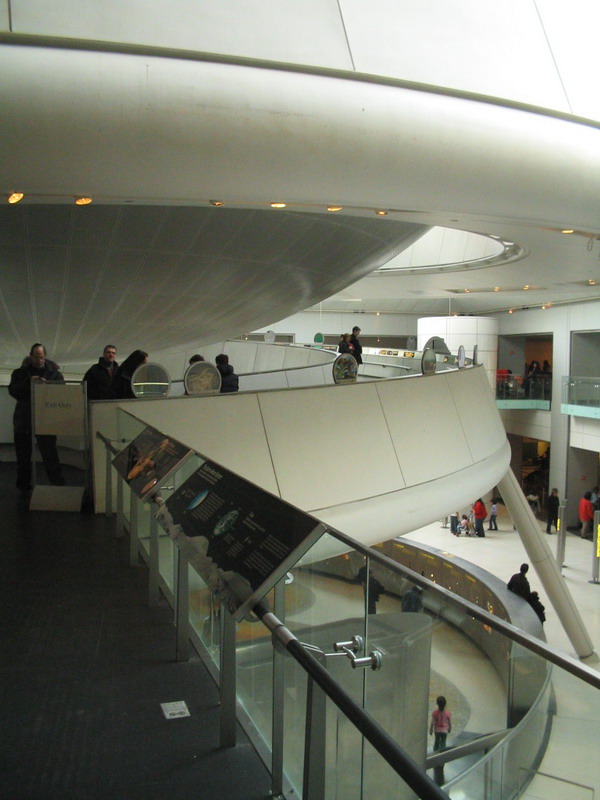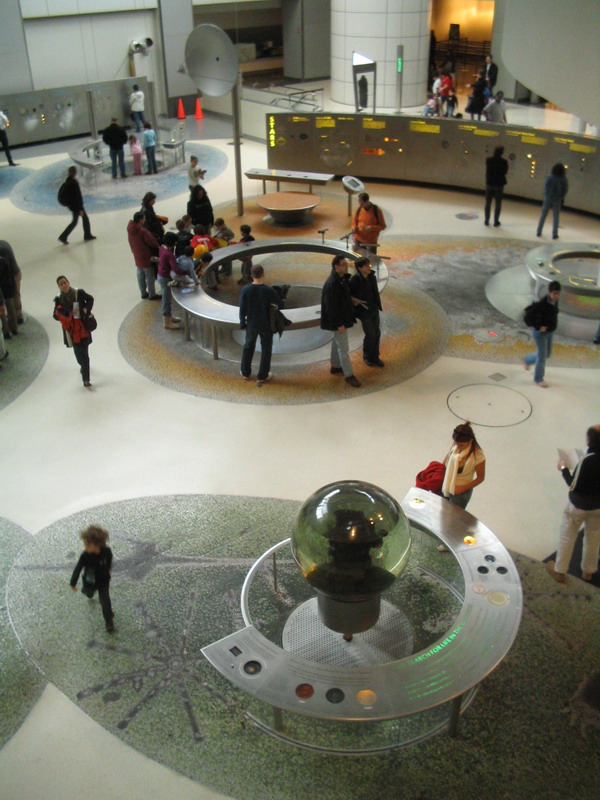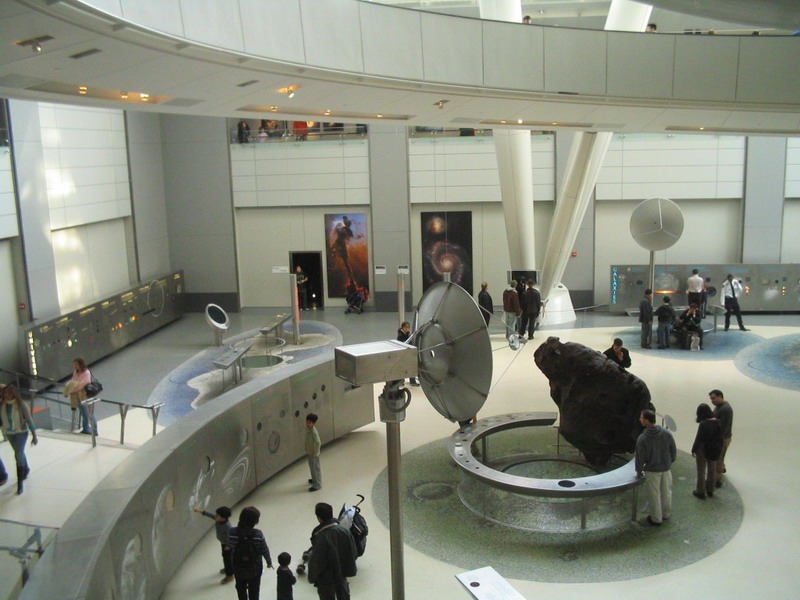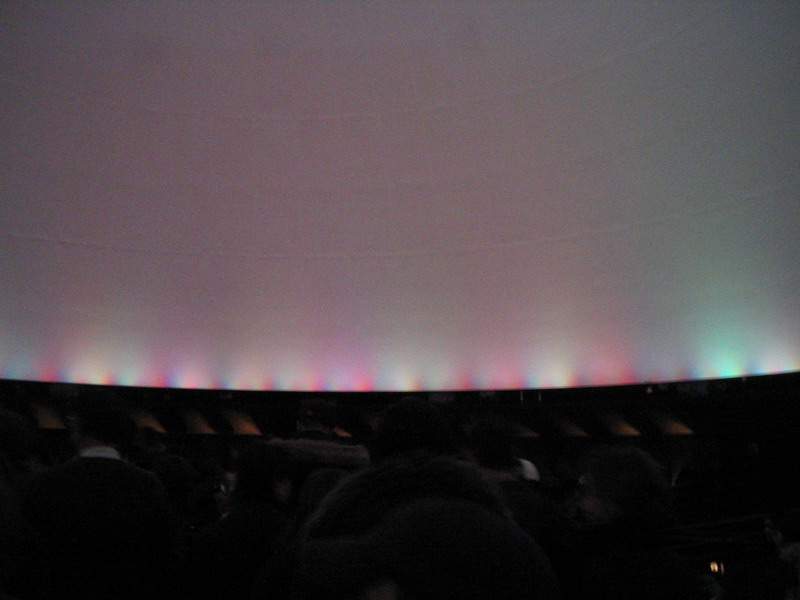 Inside the Sphere for a show. It was OK; the shows are educational, but in the way that educational tv is educational.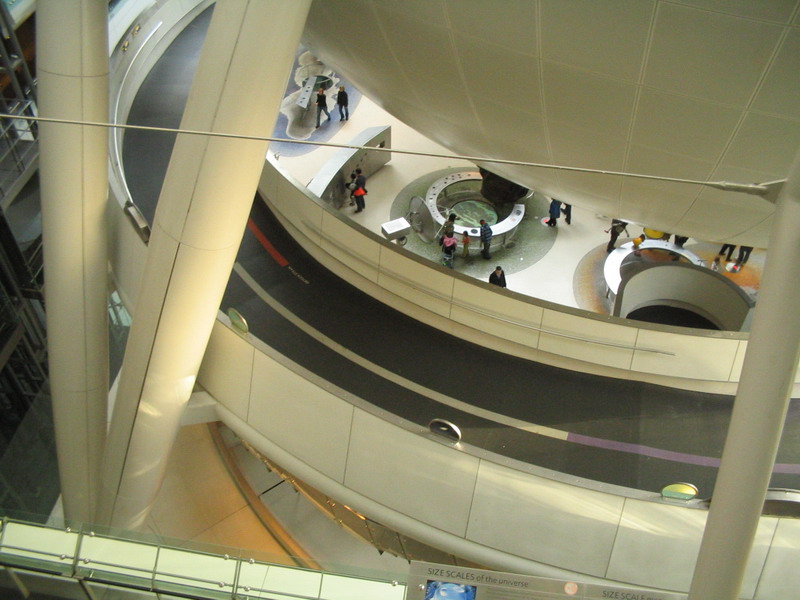 You can see what I'm referring to now about the gangway; each of the coloured bands represents a particular chronology; like that of planet Earth, or the Solar System, or the Universe itself.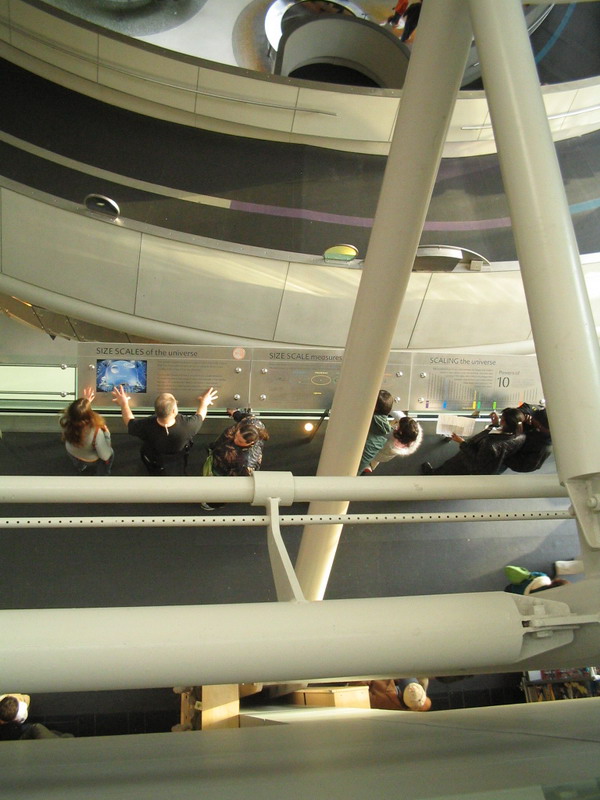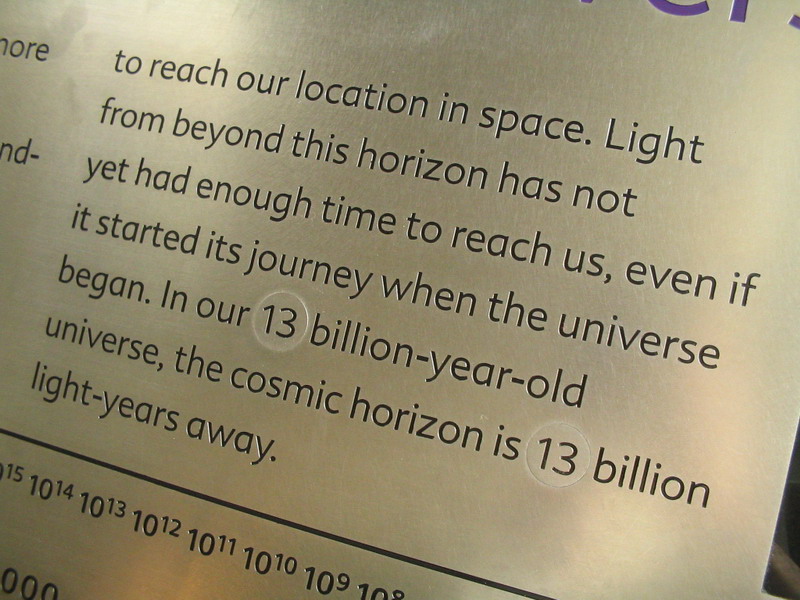 I like this. Over the past twenty years I've read a lot of different estimates as to the age of the universe - 15 billion seemed to stick for a long time, but maybe only because 15 is such a nice, round number. In human terms the difference is trivial, it's sufficient to say that the universe is old. And, it looks as if the number has jumped at least once since this exhibit was built in 2000. (The current fashionable estimate dates from 2003, from the observations of a significant microwave probe mission lanuched in 2001.)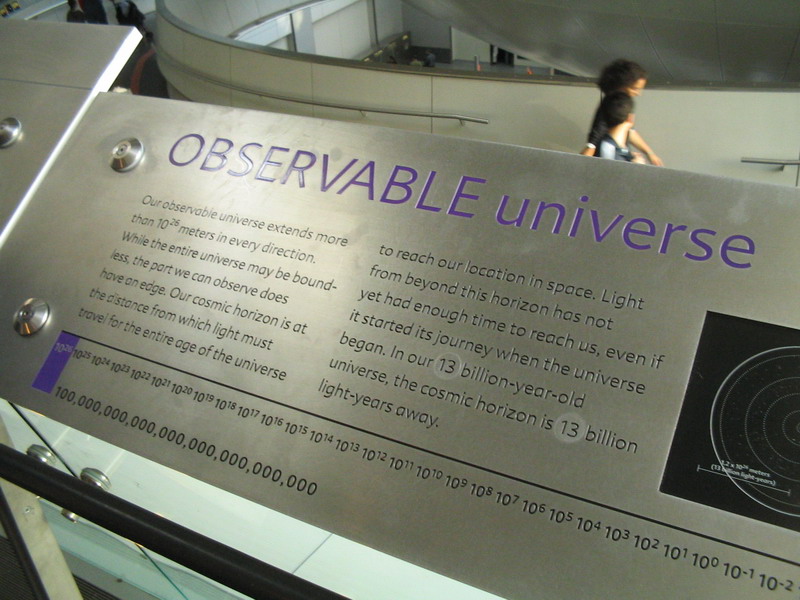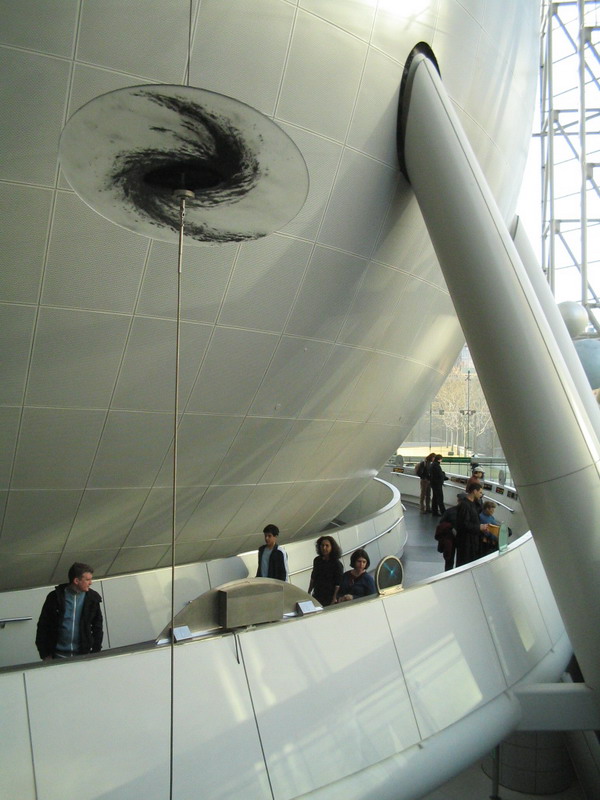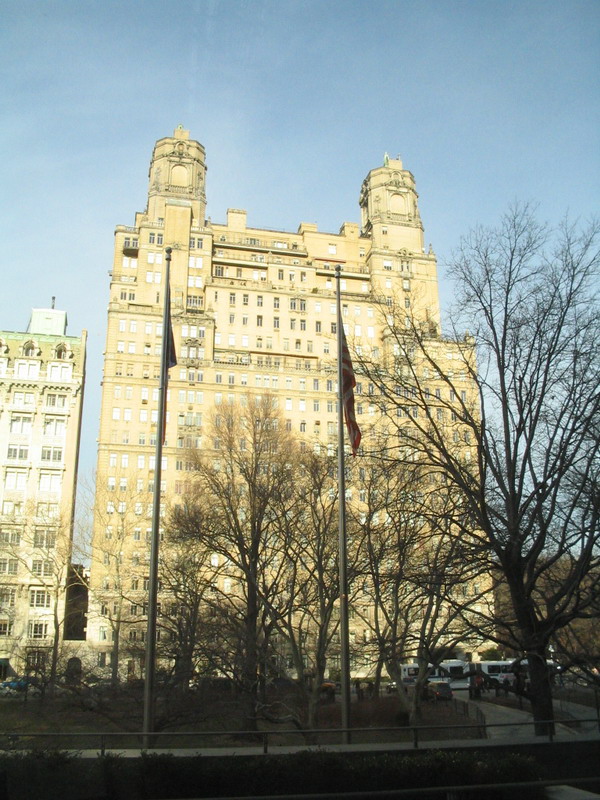 A view of the Beresford in daylight, as seen from the Rose Center.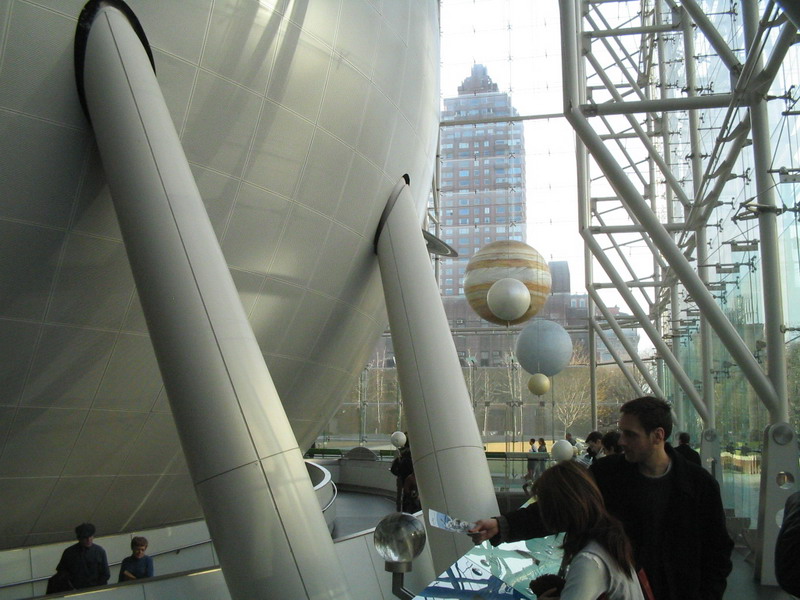 My favourite feature of the Rose Center: the scale models of celestial objects.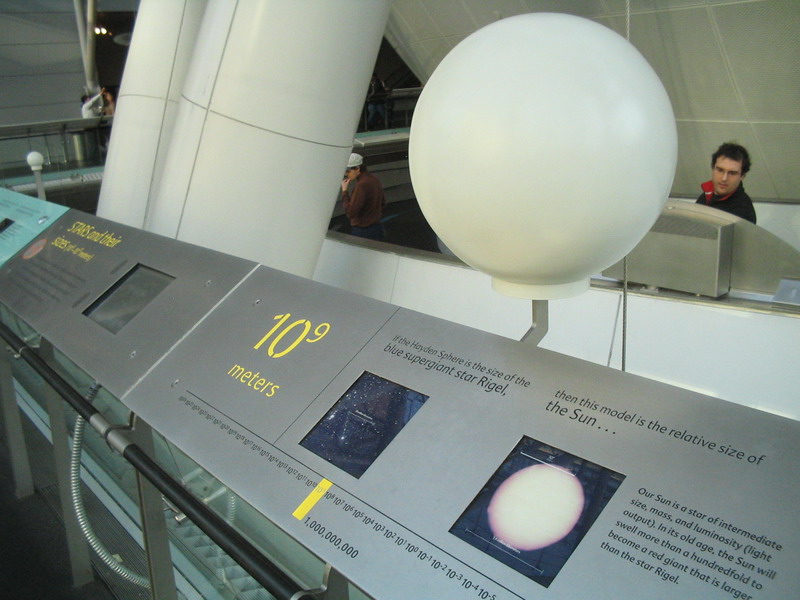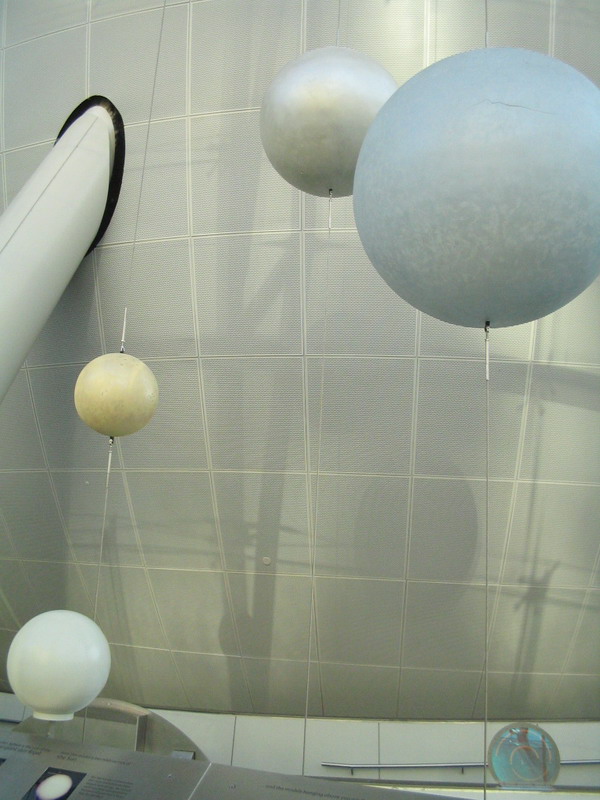 Lower left: The Sun, Background: Rigel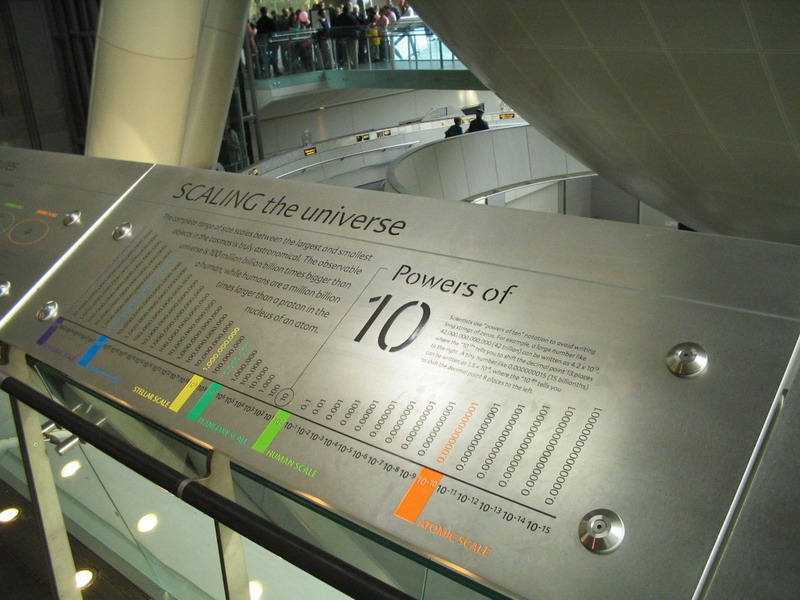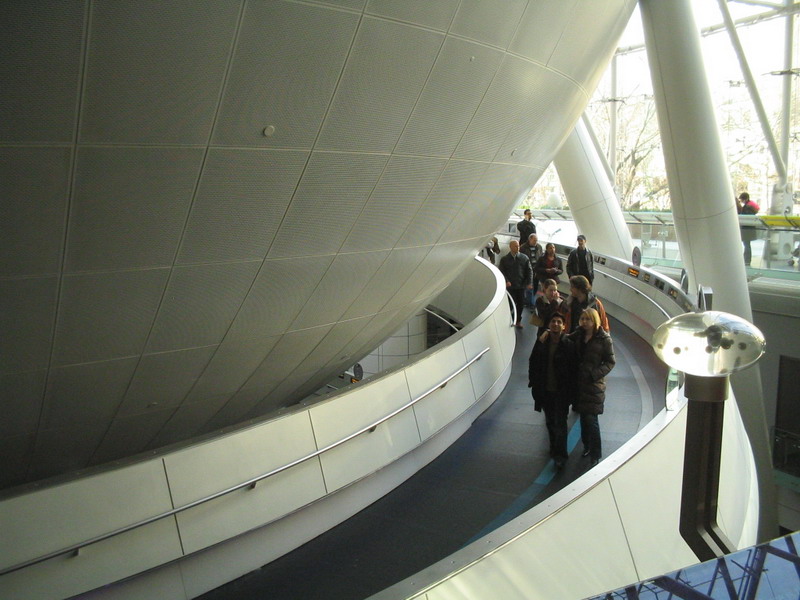 The Solar System, to scale*: The Sun, Neptune, Uranus, Saturn, Jupiter, and, below, Mercury, Venus, Earth, and Mars
* - Well, not to scale in terms of distance, else the model wouldn't even fit on Manhattan.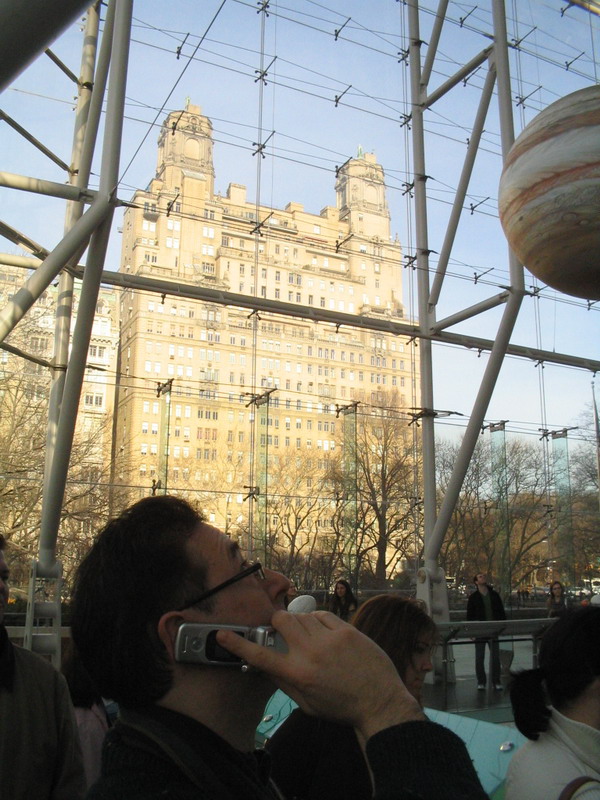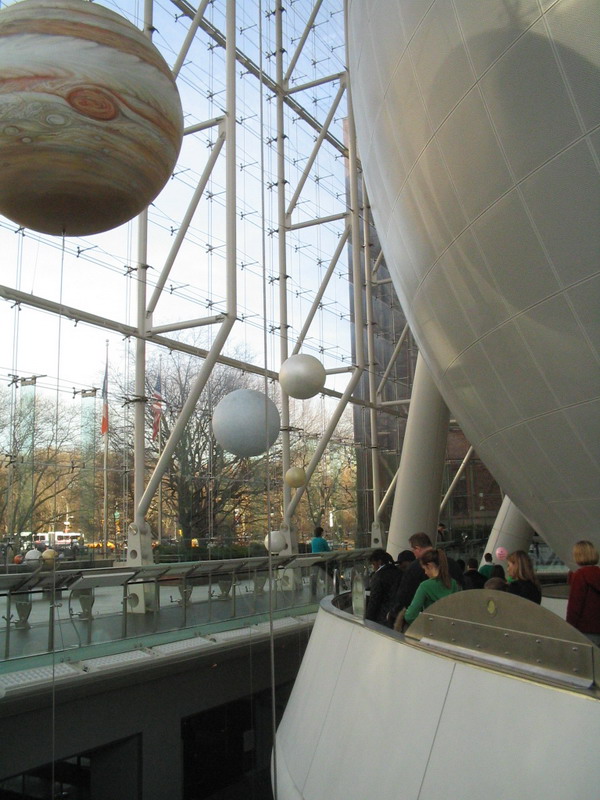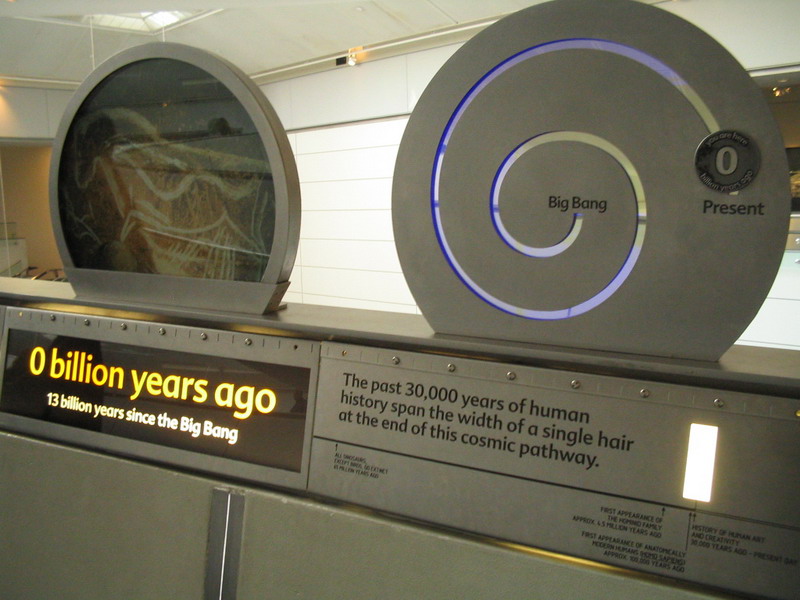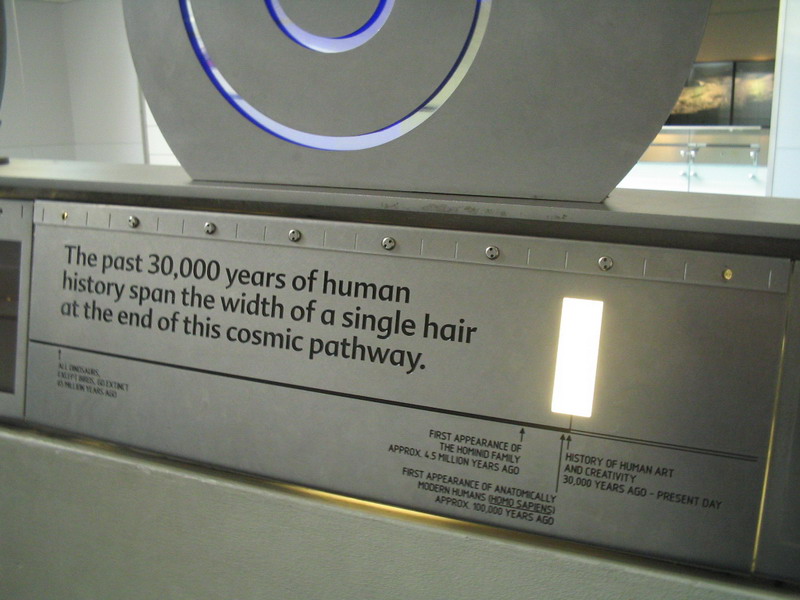 Inside the hair is a smaller chart that says, "10 Years Ago: Will Matheson's CPA-Related GeoCities Page is created."
And now for the rest of the museum. I'm probably watching the clock now, since we're due at Ruth's apartment for dinner, and the Upper East Side is a bit of a subway trip away.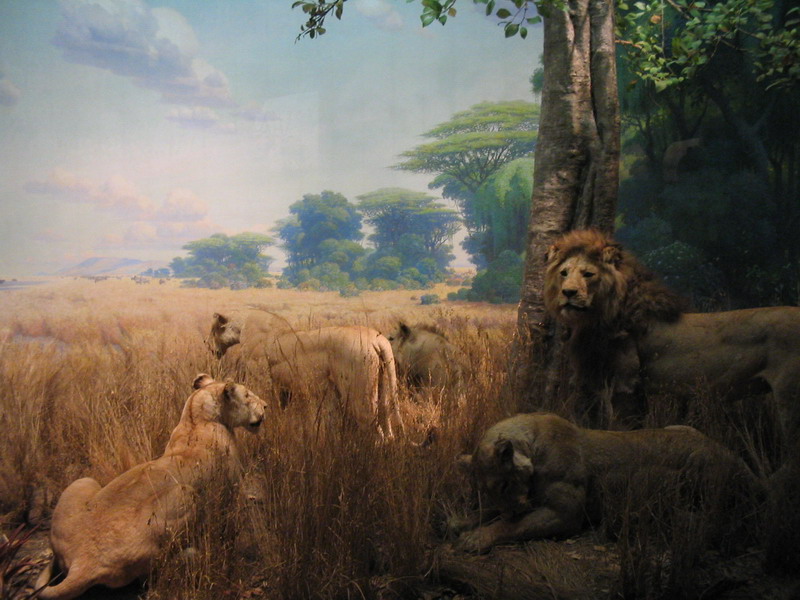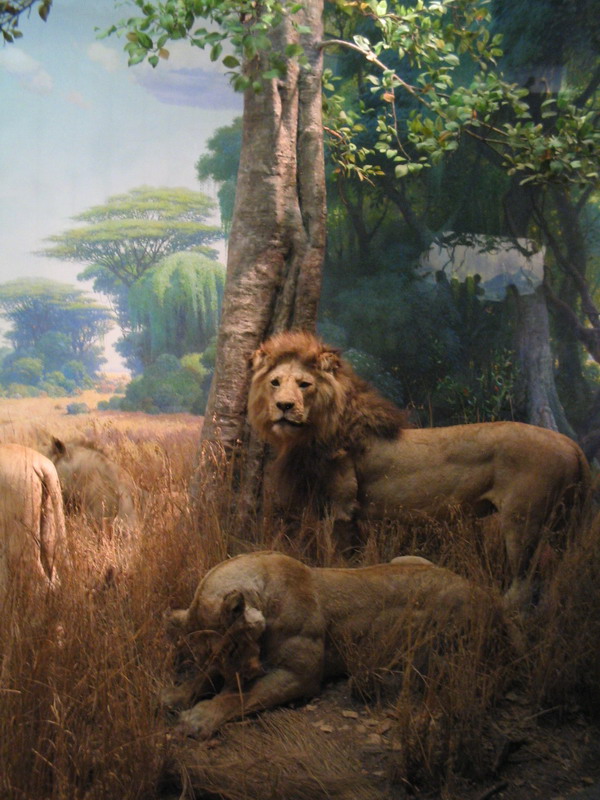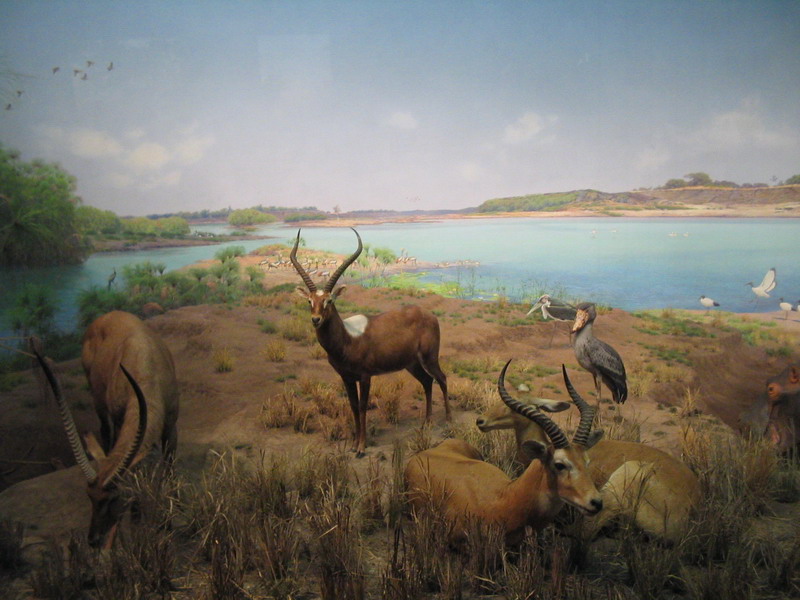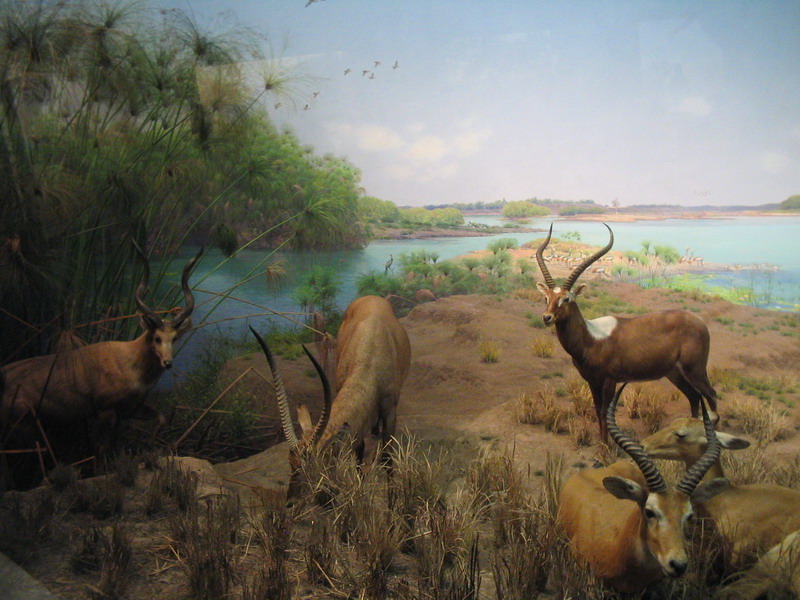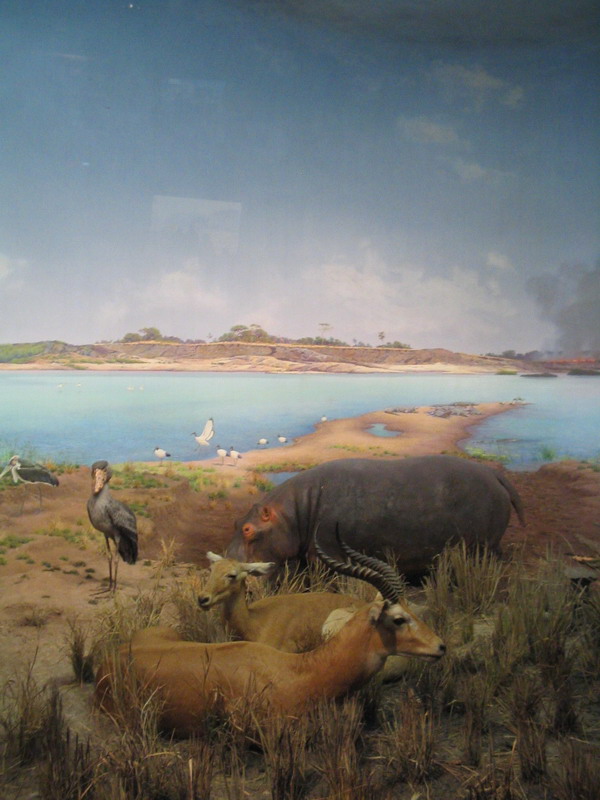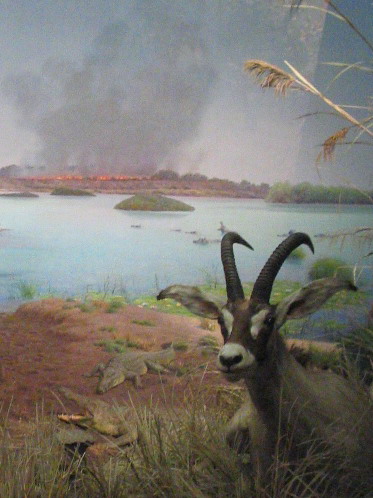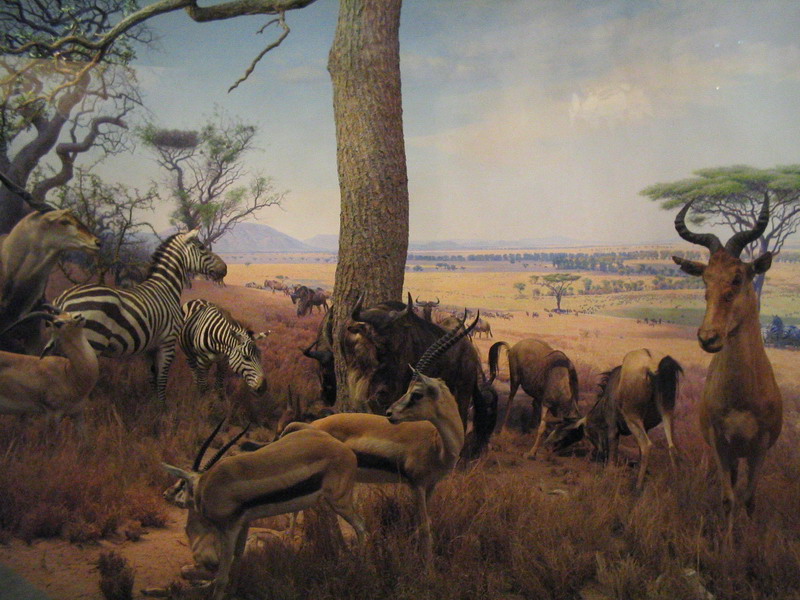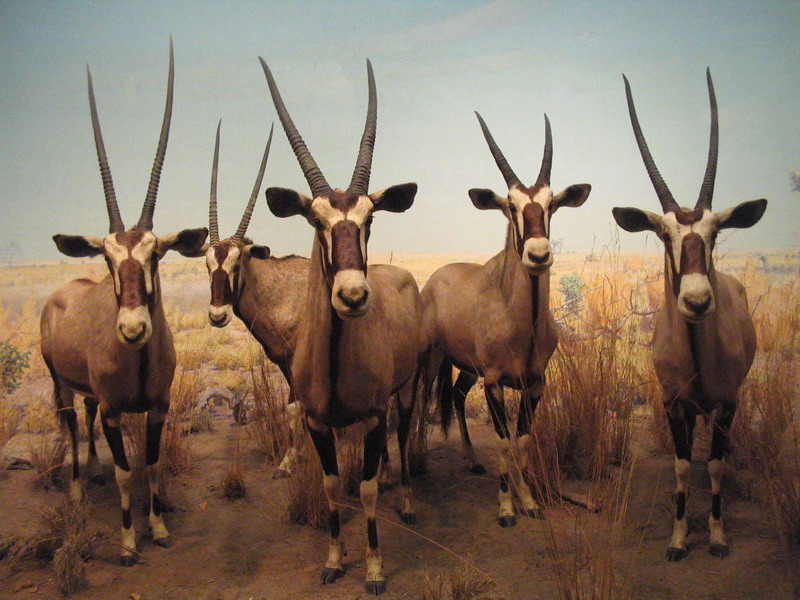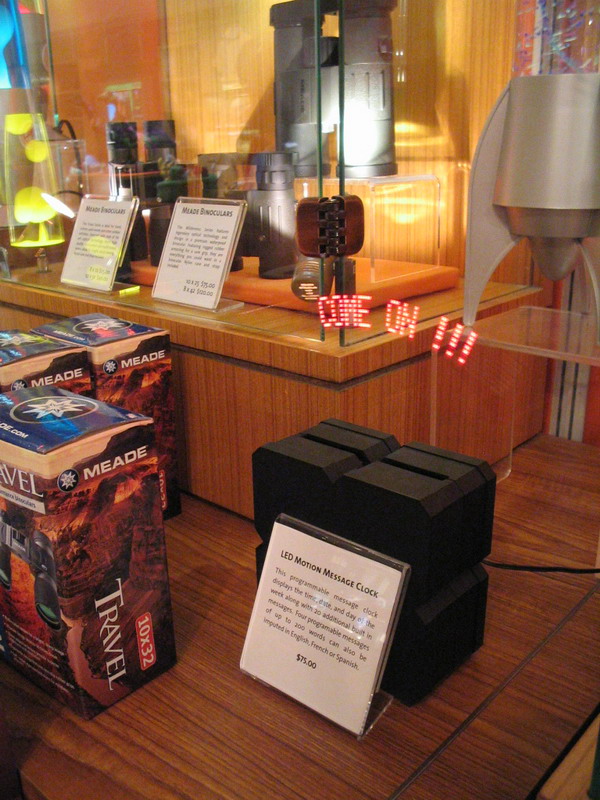 Okay, okay, I get it already. I'm going!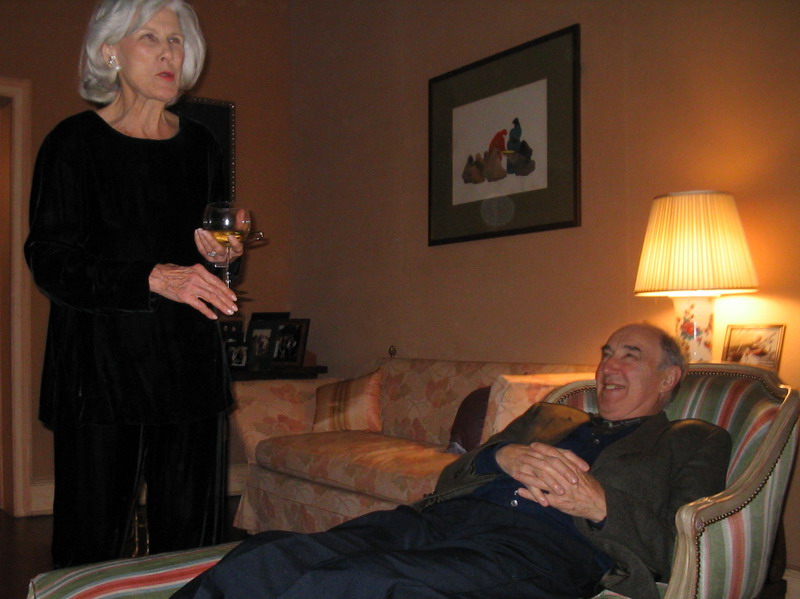 Ruth and Arthur Sr.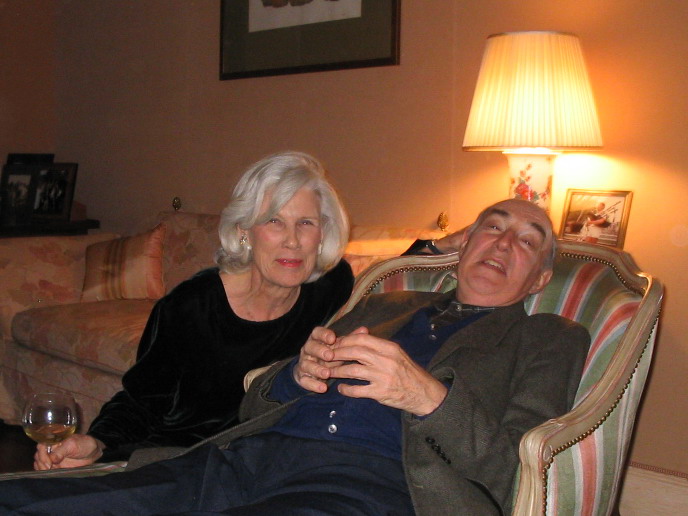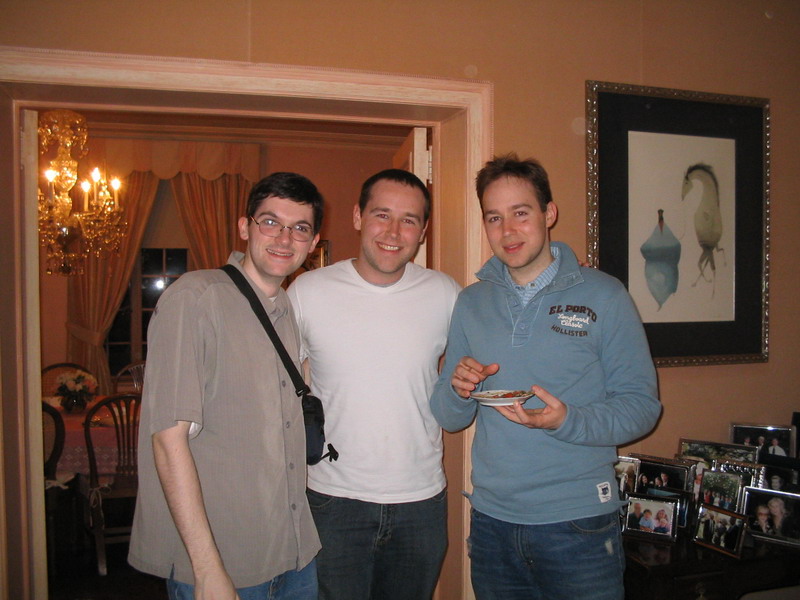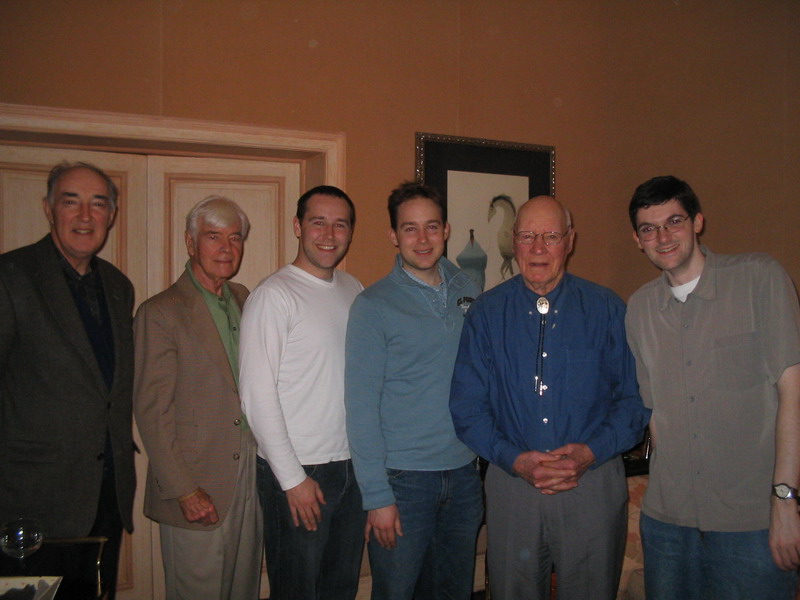 Arthur Sr., Paul, Jimmy, Arthur, Grand Uncle Neil, Will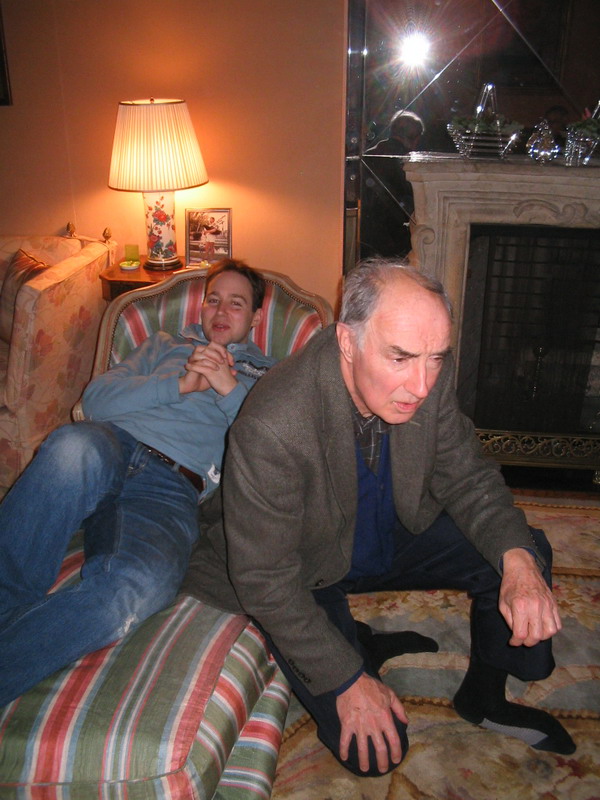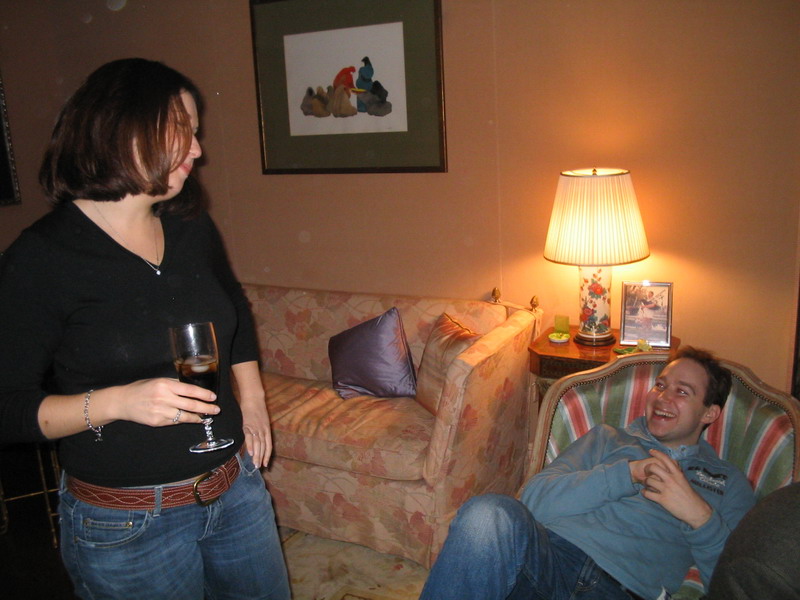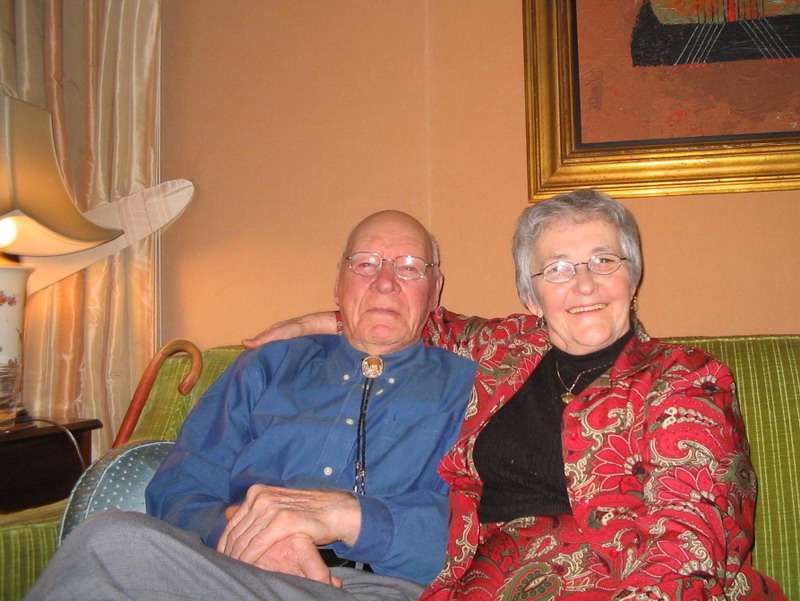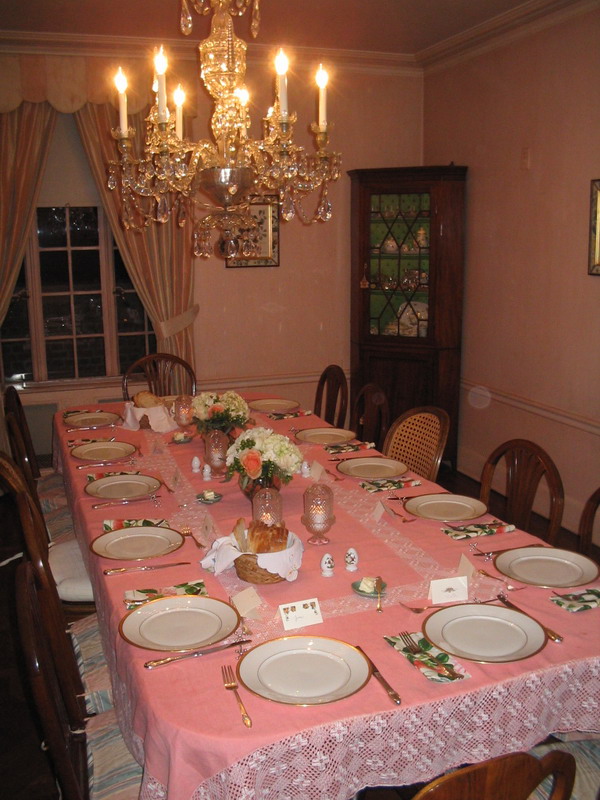 I would be remiss if I failed to mention that this was once Beverly Sill's tablecloth.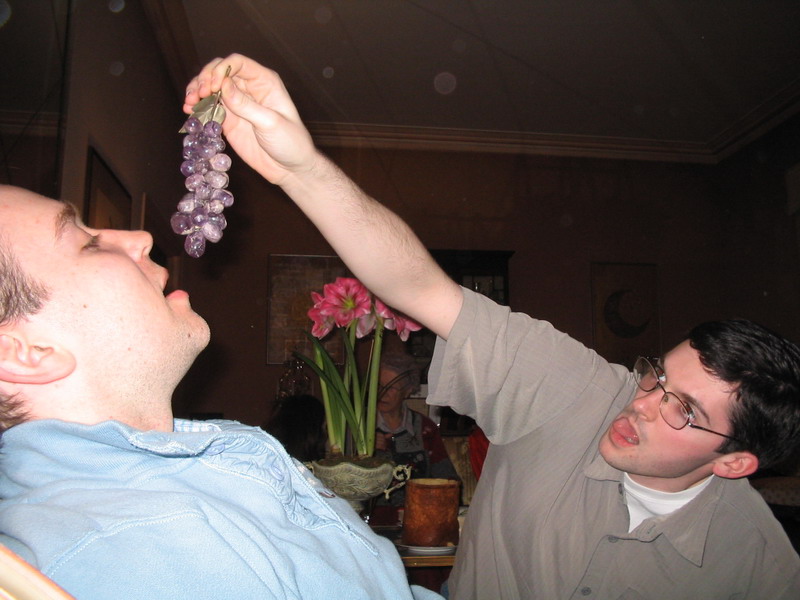 I'd almost forgotten about this... for almost our whole time in New York, Arthur and Jimmy and I had a running joke where I was an indentured servant, hobbled like the protagonist of Misery. I saw the grapes and thought it would be funny to get a picture of me feeding my "master" grapes. Unfortunately, these were not wax or rubberized grapes. These were alabaster grapes. Whoops...

Back: Grand Uncle Neil, Grand Aunt Pearl, Grandma
Front: Ruth, Paul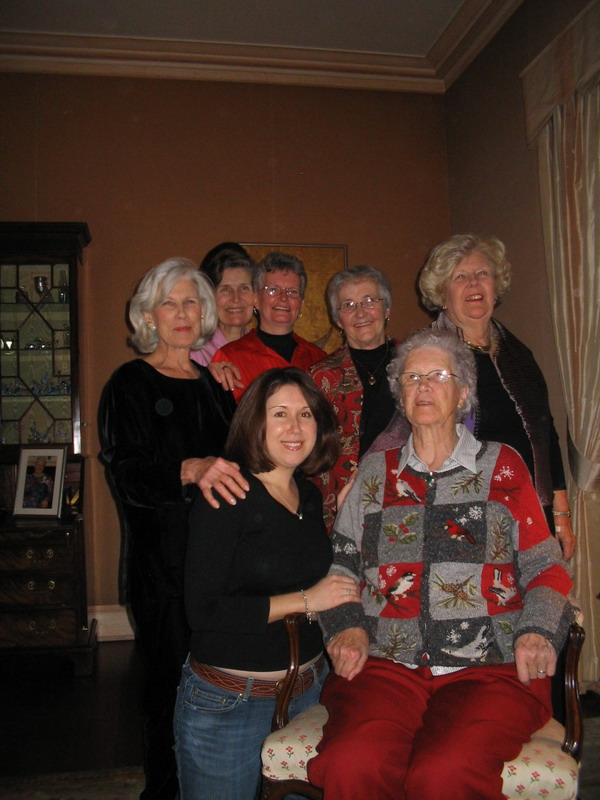 Back: Ruth, Barbara, Flora, Grand Aunt Pearl, Flo
Front: Mary, Grandma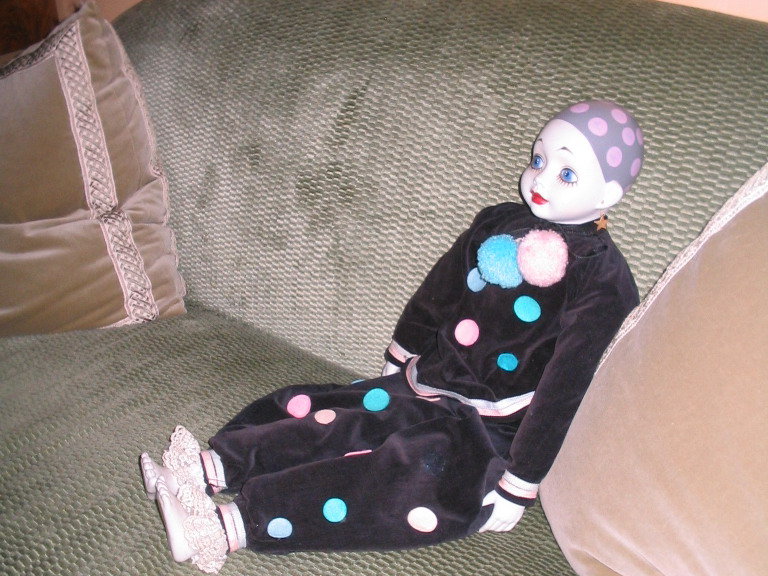 A friend I made on my trip.
Views from Ruth's balcony: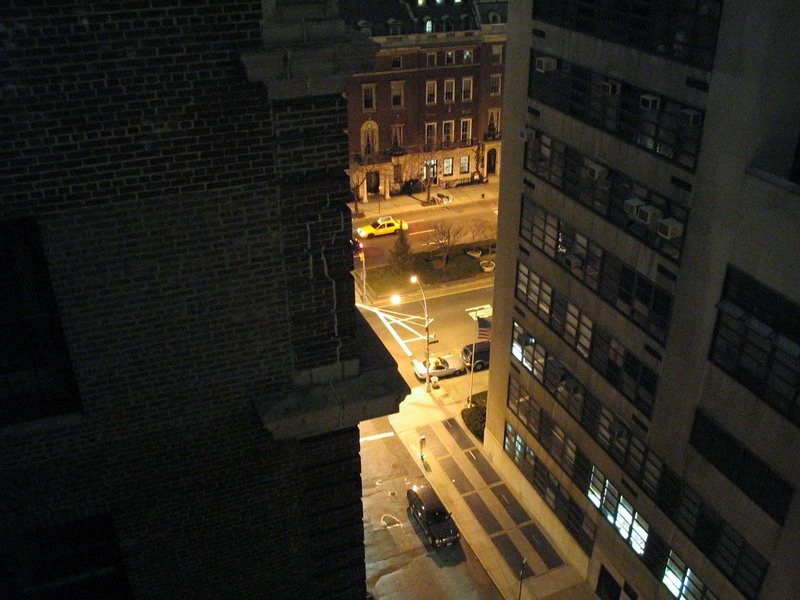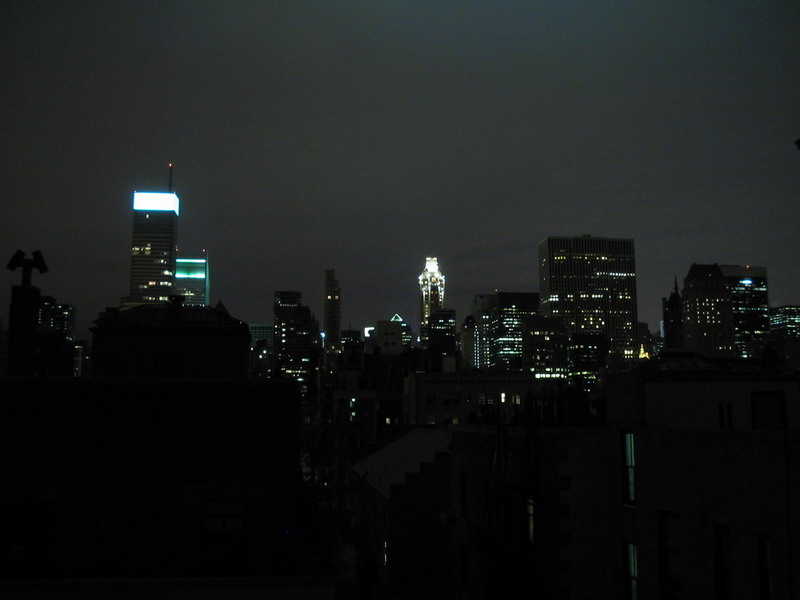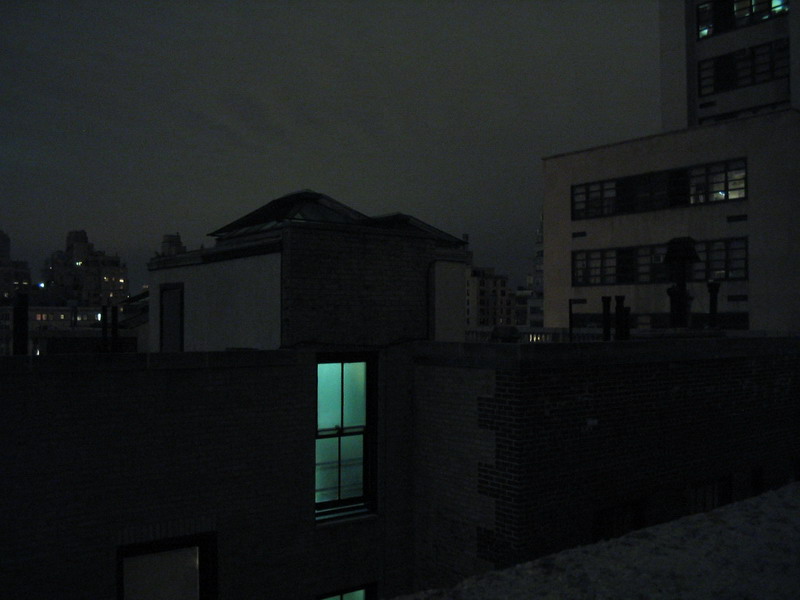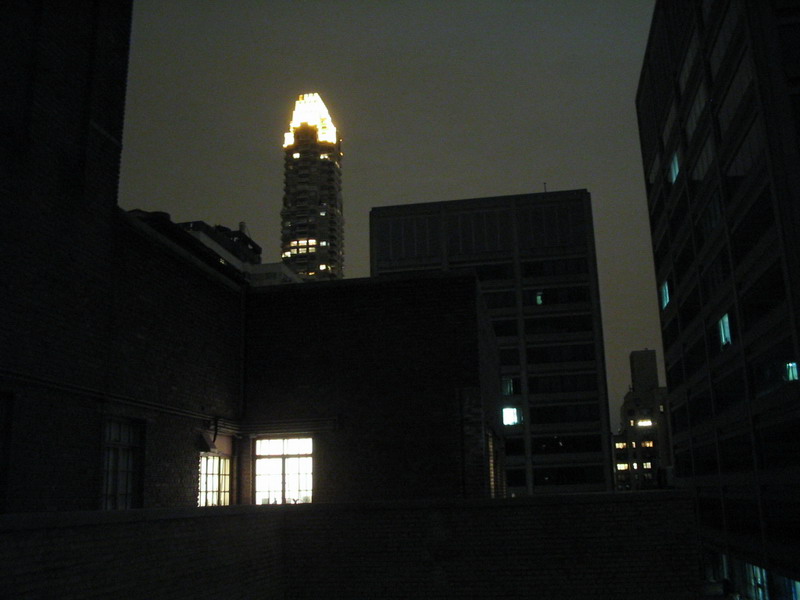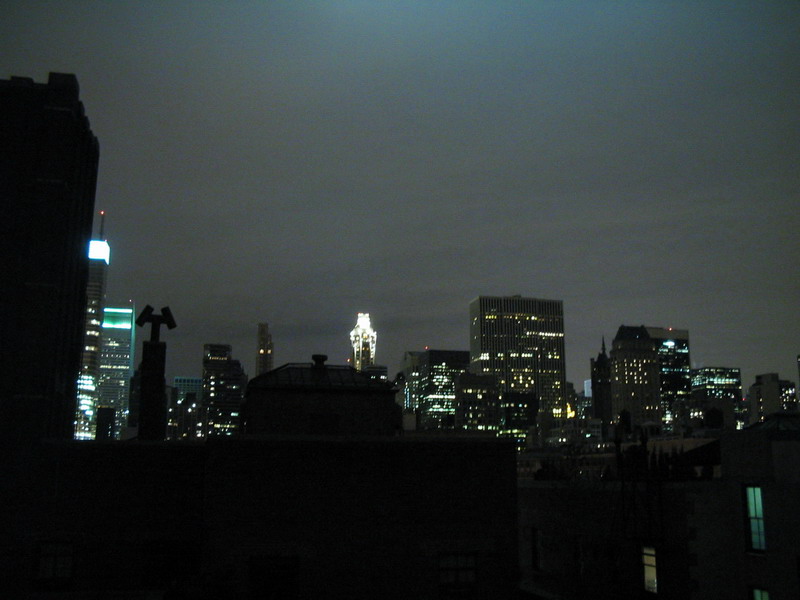 Views from Arthur's girlfriend's apartment: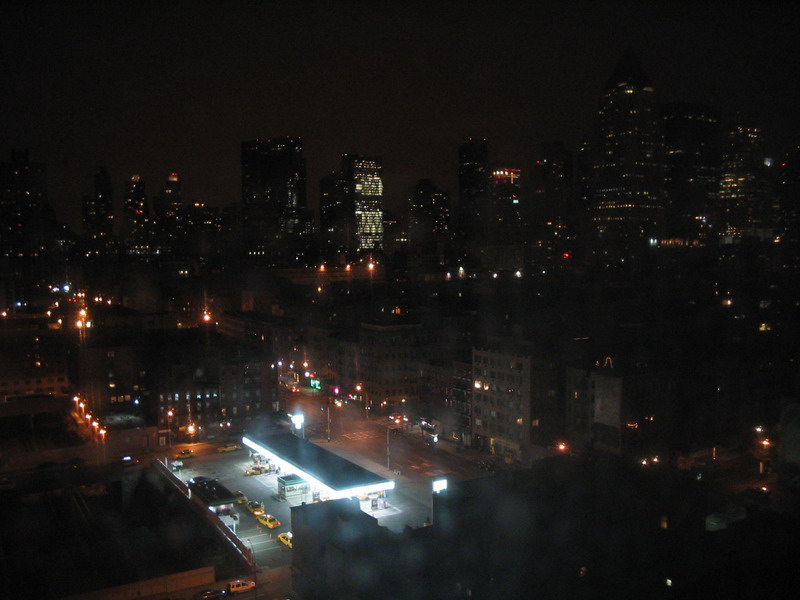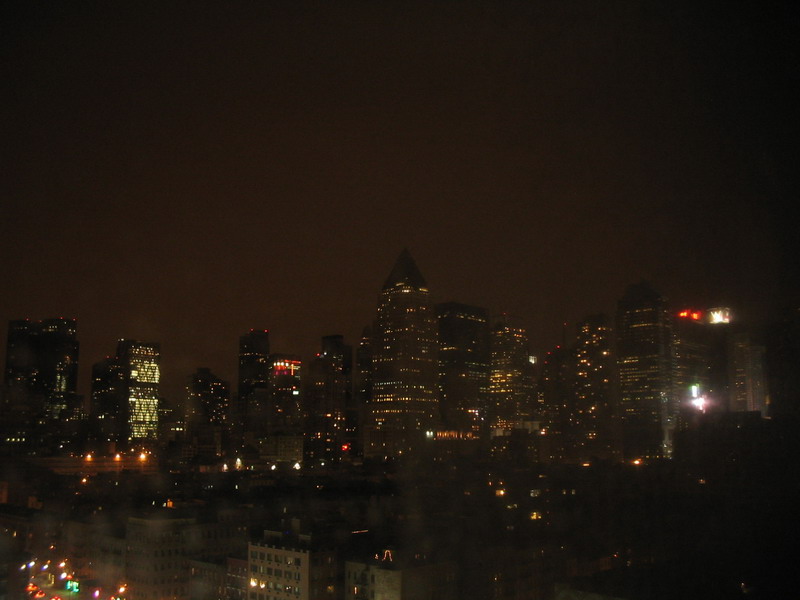 Well, sooner or later, it was time to go. I don't quite know exactly how much sooner or how much later, because I still hadn't reset the clock on my camera from Kyiv Summertime it seems. Arthur and Jimmy took me down to the bus terminal...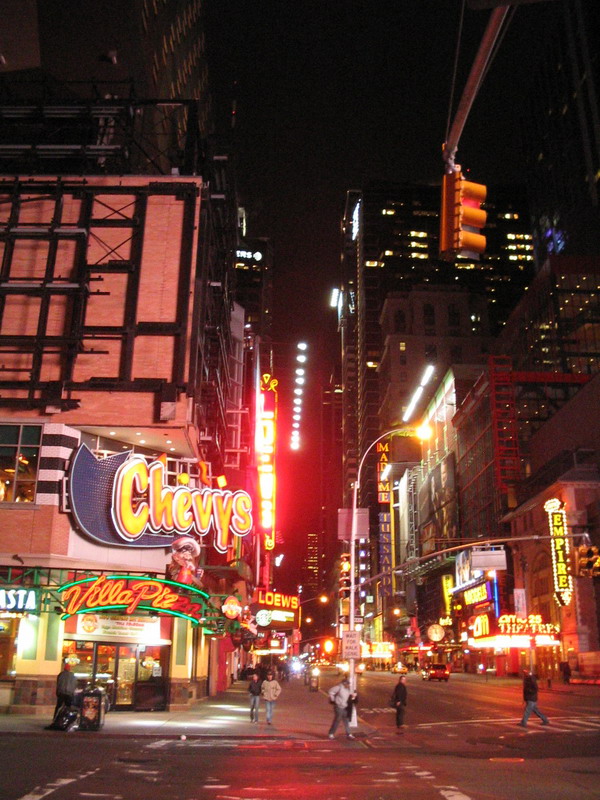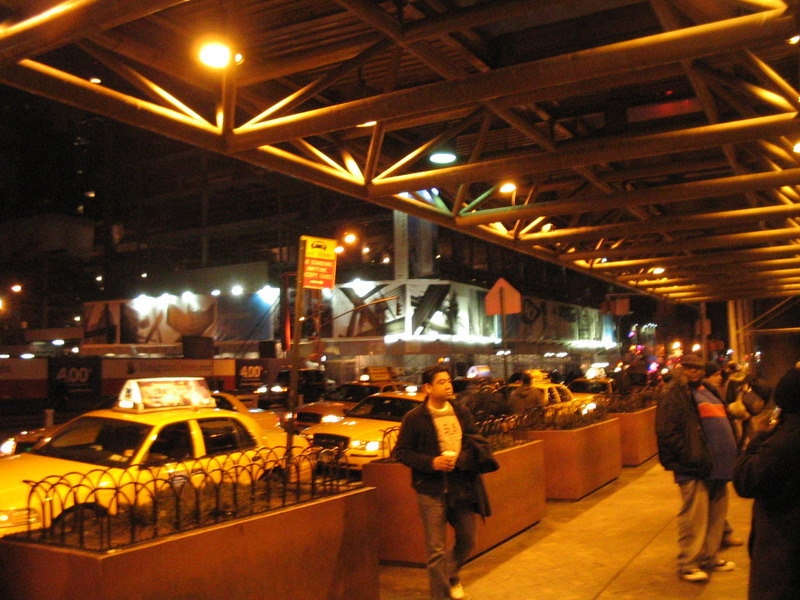 Back at the Port Authority, where I'd be getting my bus back to Toronto (via Buffalo).