return to Ukraine Canada Corps exchange, and other travels
PS21 - Kyiv II
August 27th, 2005: (the story from our trip to Kyiv)
Video:
Independence Day in Kyiv (August 24th, 2005)
On August 23rd, we went back to Kyiv as a group to meet some diplomats and NGO representatives, and we also had the opportunity to observe Independence Day (the 24th) from Independence Square.
"Kyiv was wonderful! It was surreal, amazing, scary, happy, invigorating, ugly, beautiful, and everything in between."

On the M6, heading into Kyiv. It should be noted that the Ukrainian definition of "Motororway" is a bit more flexible than elsewhere =) what we're driving on here is really a RO-RO (right on, right off).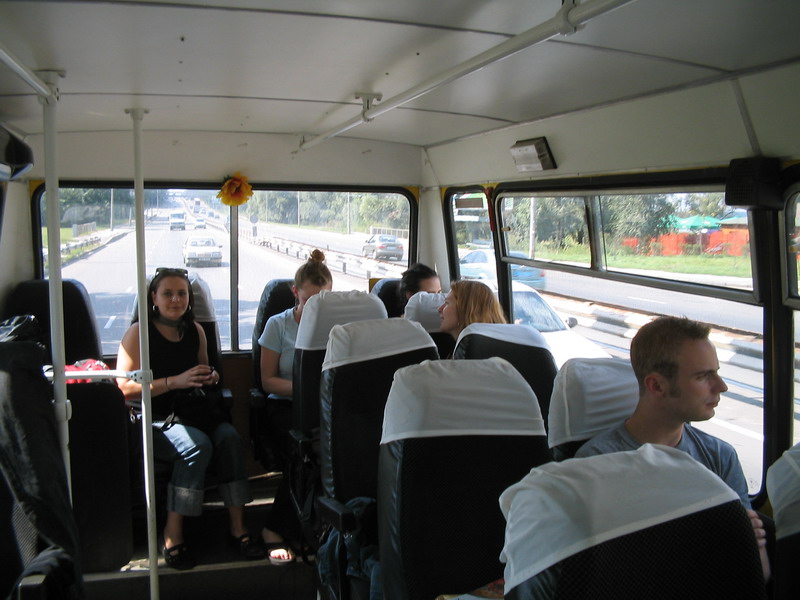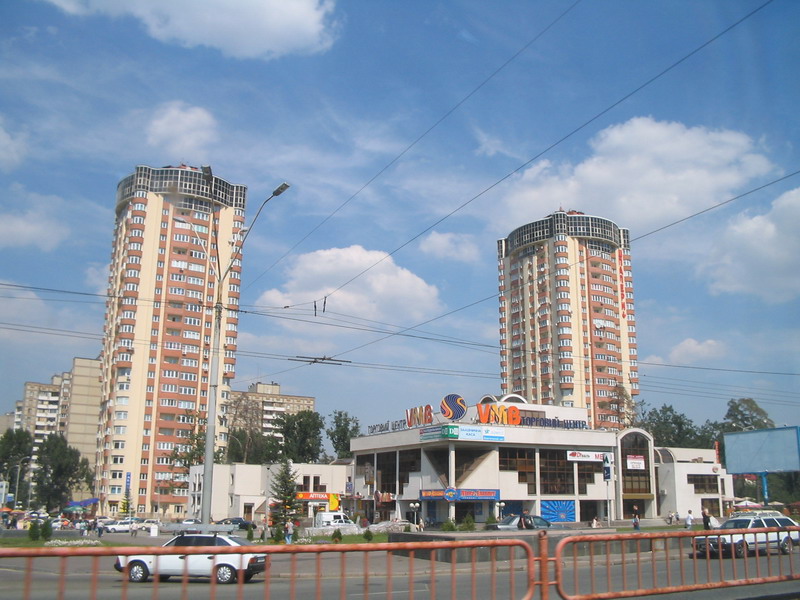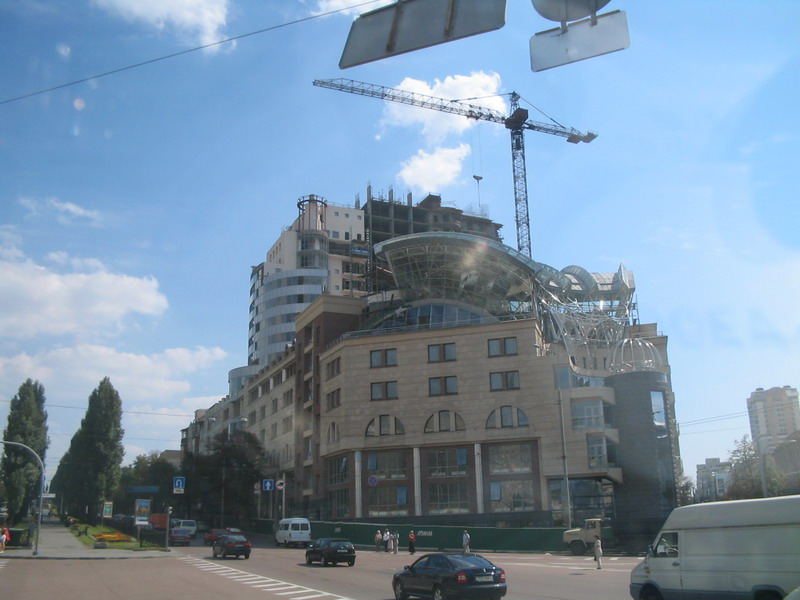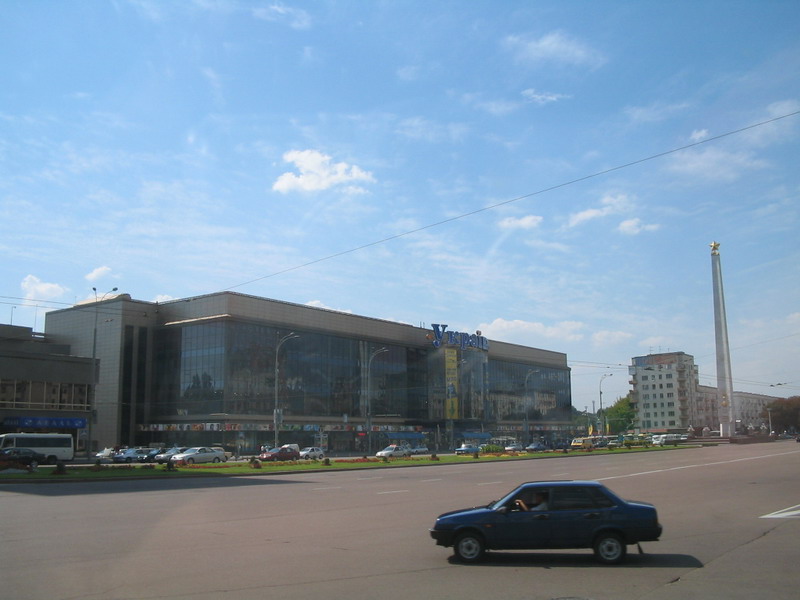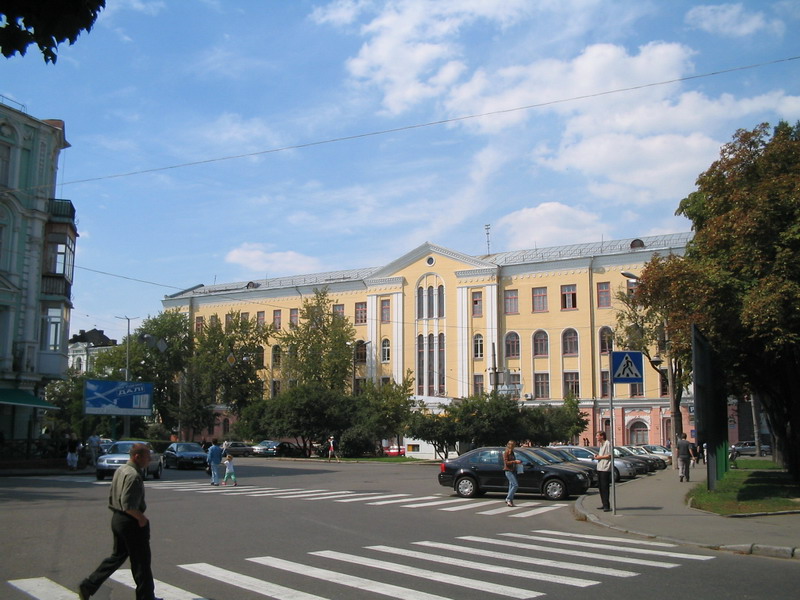 Now we're parked and ready to visit the Canadian Embassy.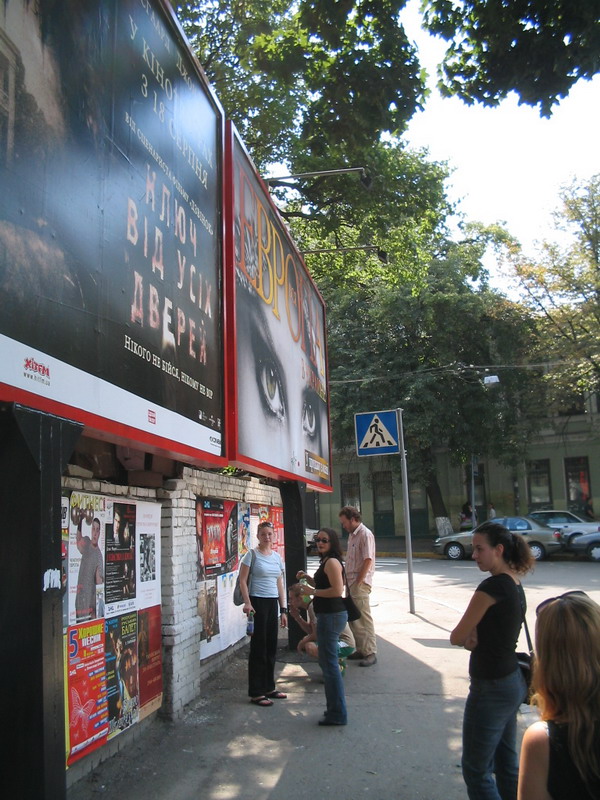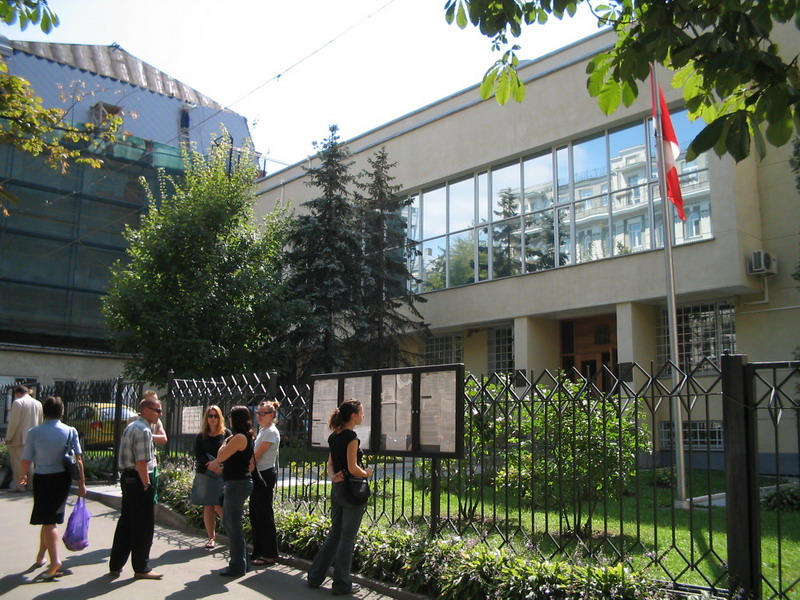 Embassy of Canada in Ukraine, Kyiv.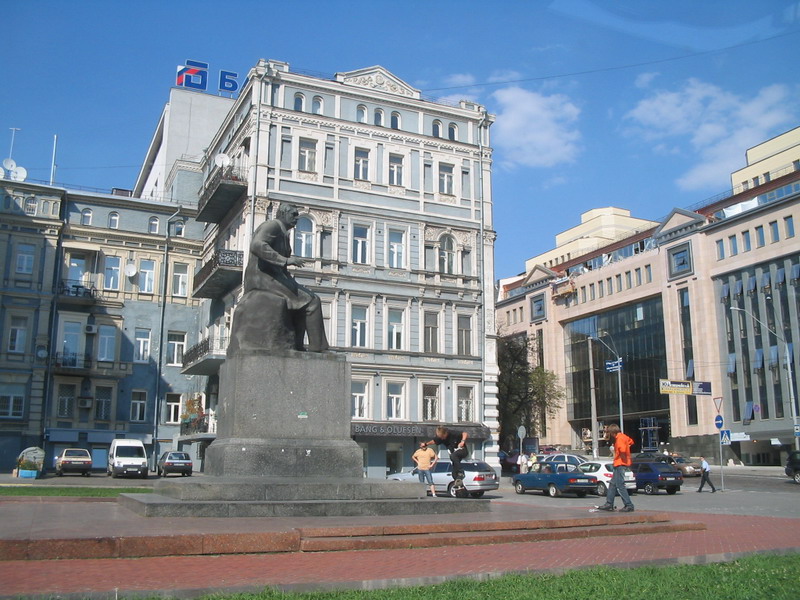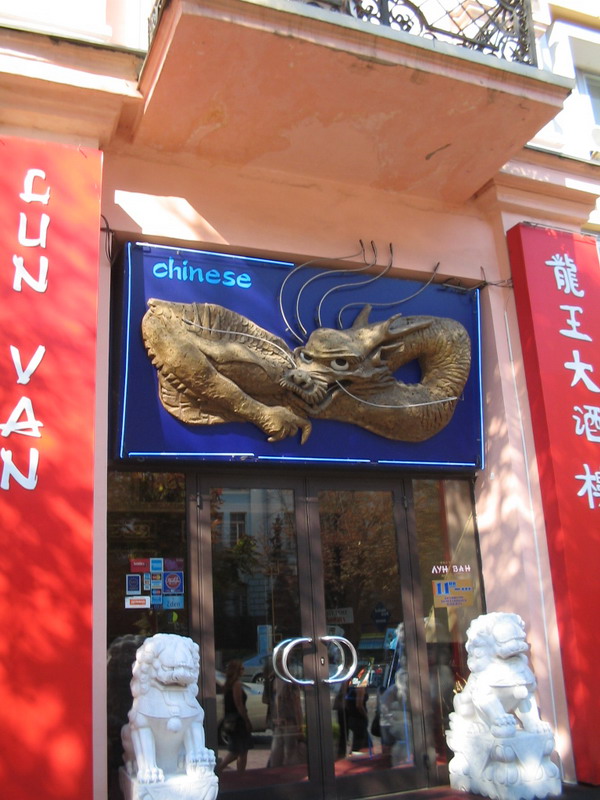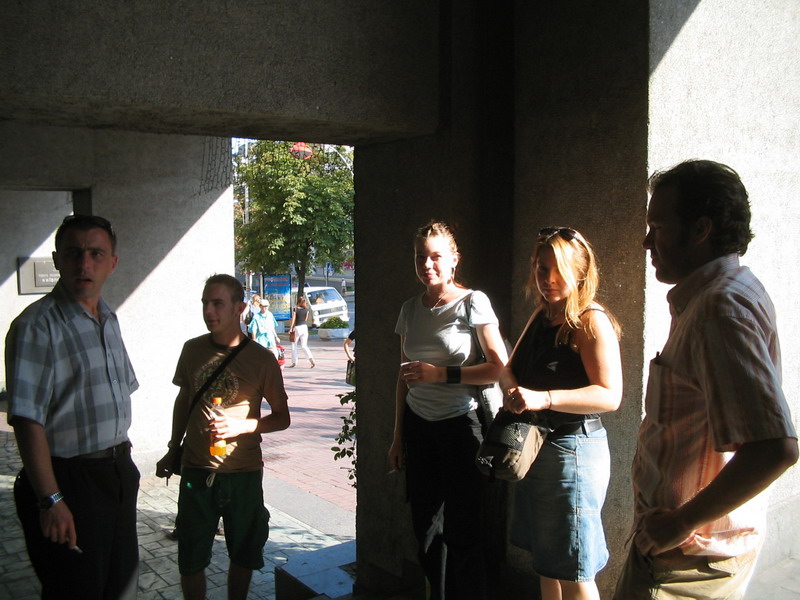 Getting ready for lunch (not at the Chinese place, though).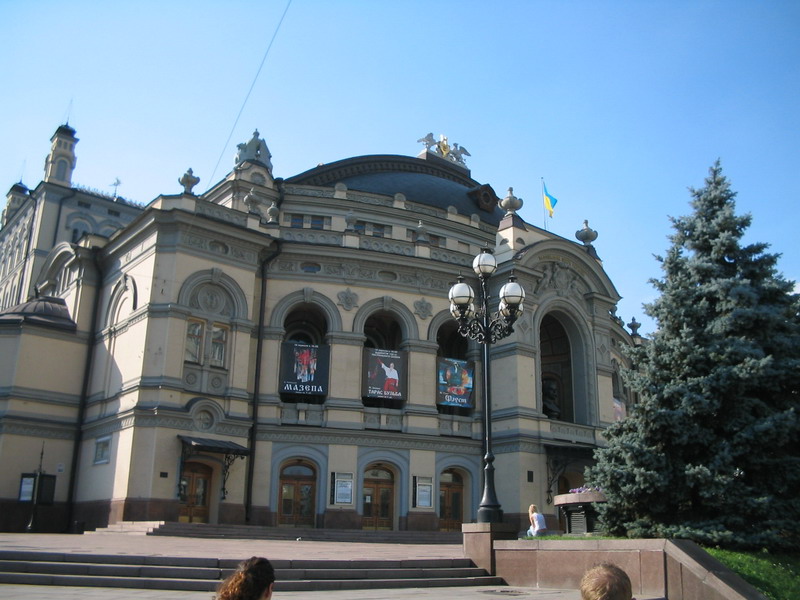 The National Opera of Ukraine.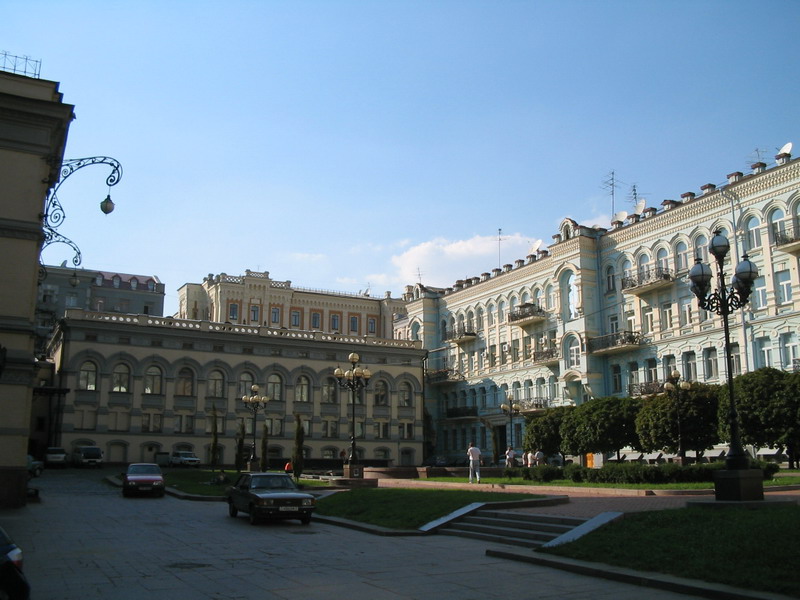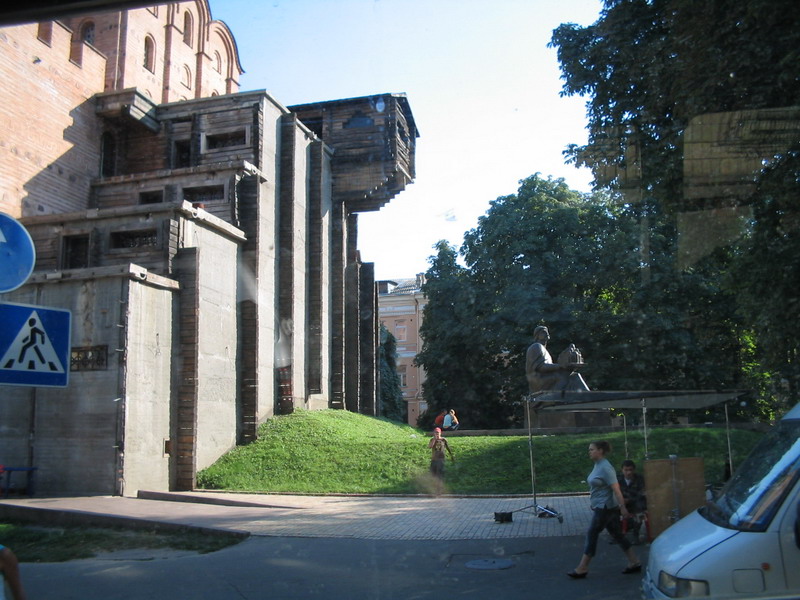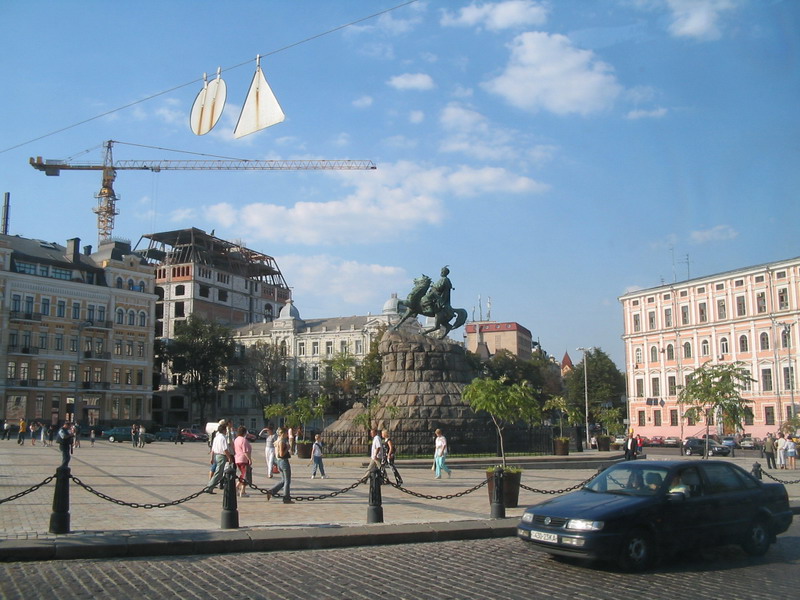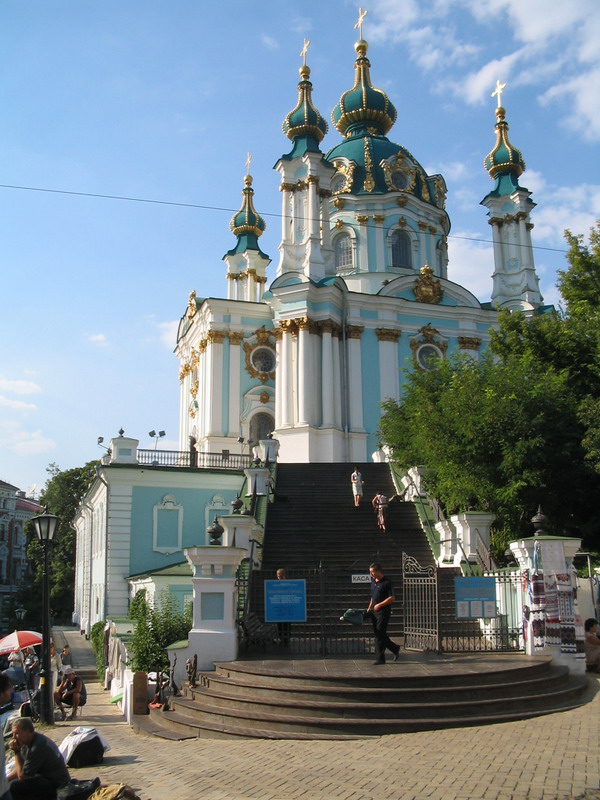 St. Andrew's Church.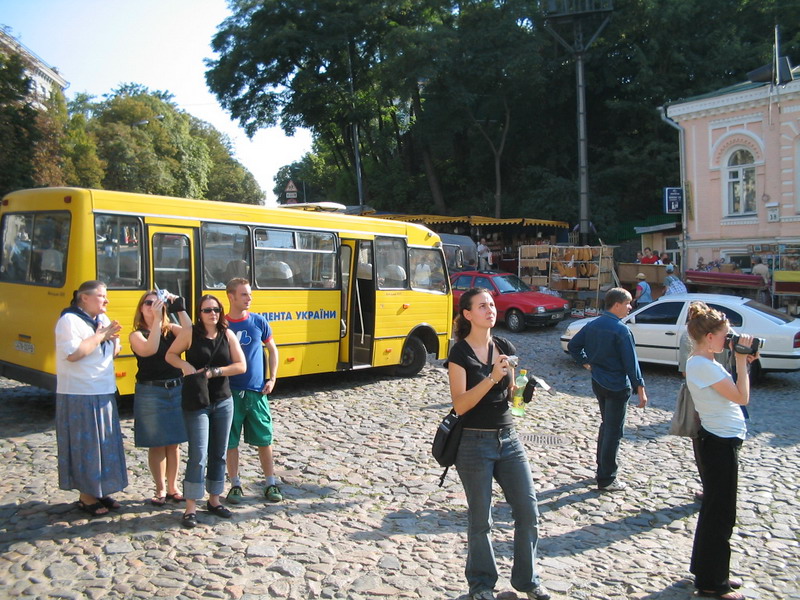 Background: The Academy bus, a gift from President Kuchma in 2004. It proved to be an attention-getter whereever we went; it even said on the side of the bus that it was a gift from the President of Ukraine (you can see it a little there next to Lee, "-denta Ukrainy.") Ironically, throughout 2005 it was being driven around with a Tak! Yushchenko flag in the window. =)

St. Andrew's is at the top of the Andriyivskyy Descent, which also features this monument depicting two characters (Pronya Prokopovna and Svirid Golohvastov) from the Mykhailo Starytskyi play Chasing Two Rabbits. Svirid tries to court two ladies at once and winds up with neither. Oh, and there's a beetle on the back of the man's suit, but you can't see it from this angle. If you touch the beetle and make a wish... yeah, that again. =)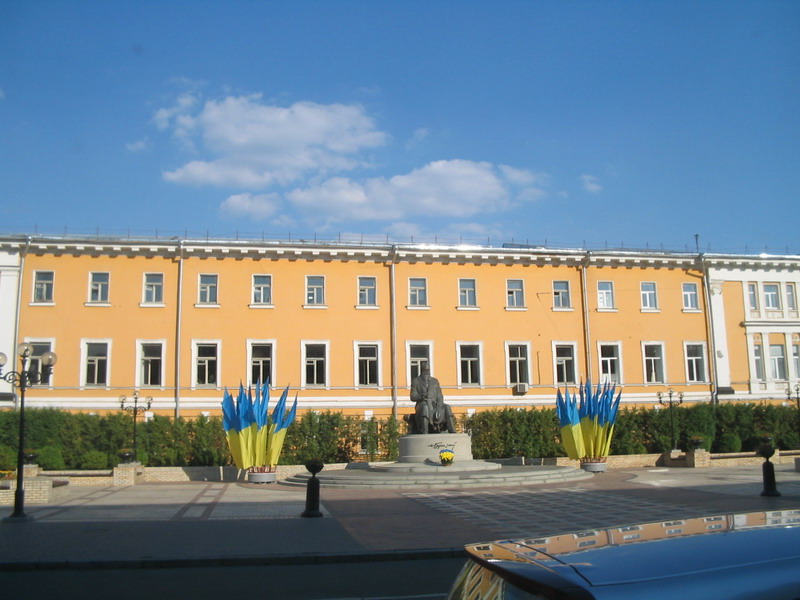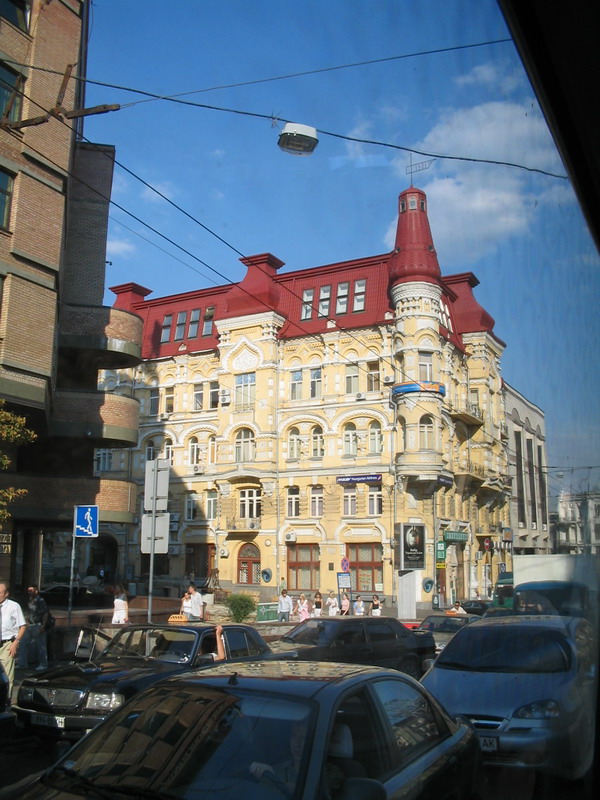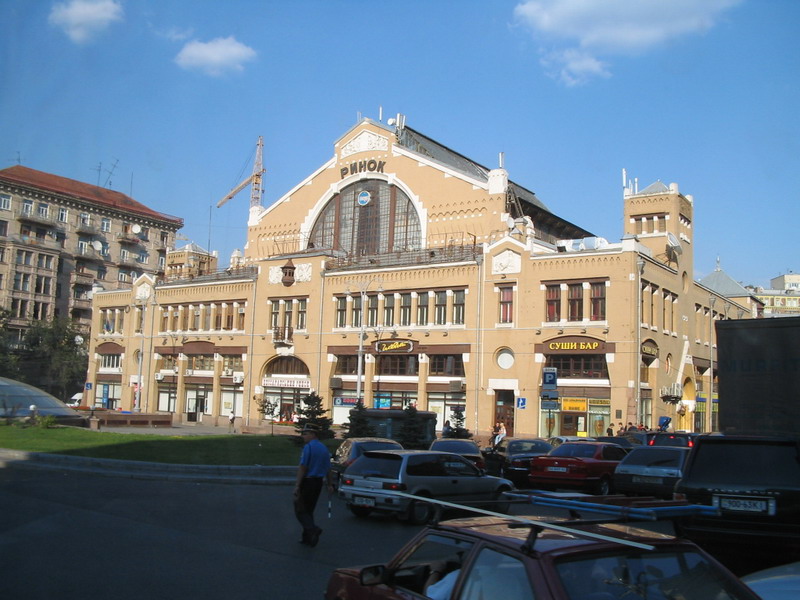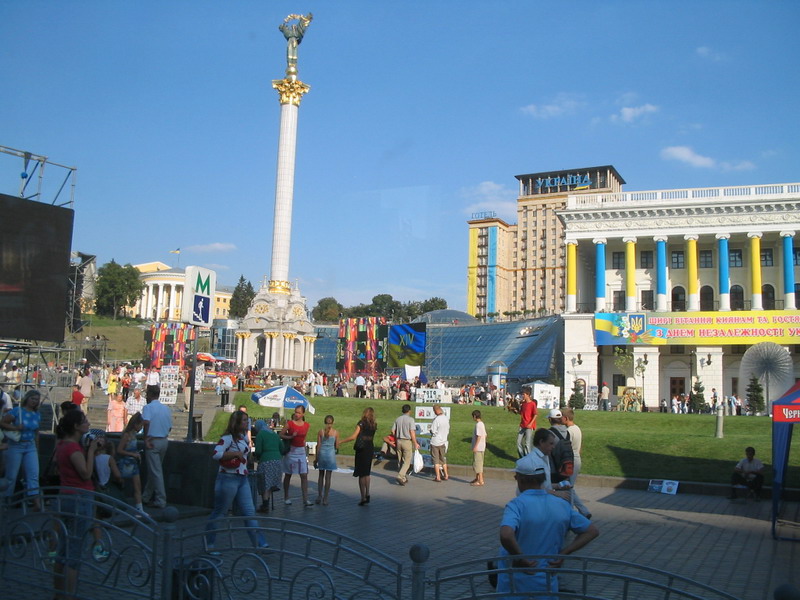 Our tour took us through Independence Square...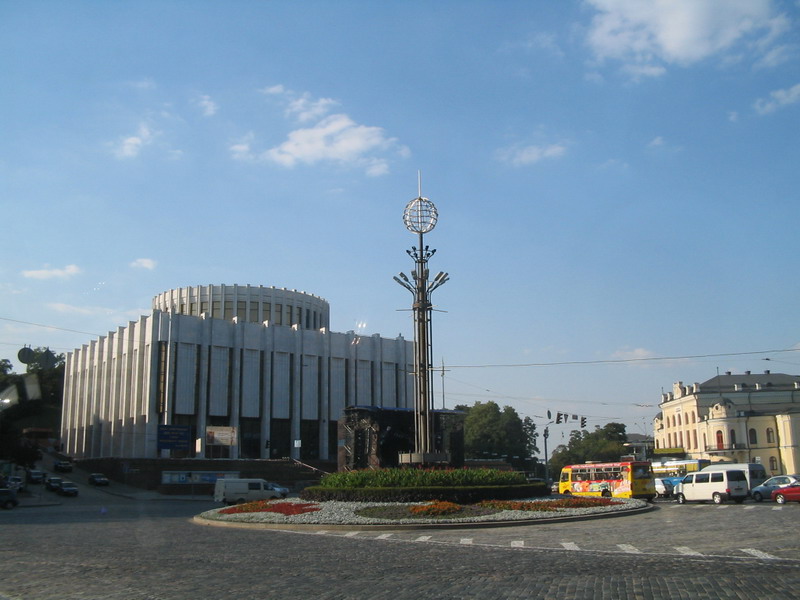 Ukrainian House in European Square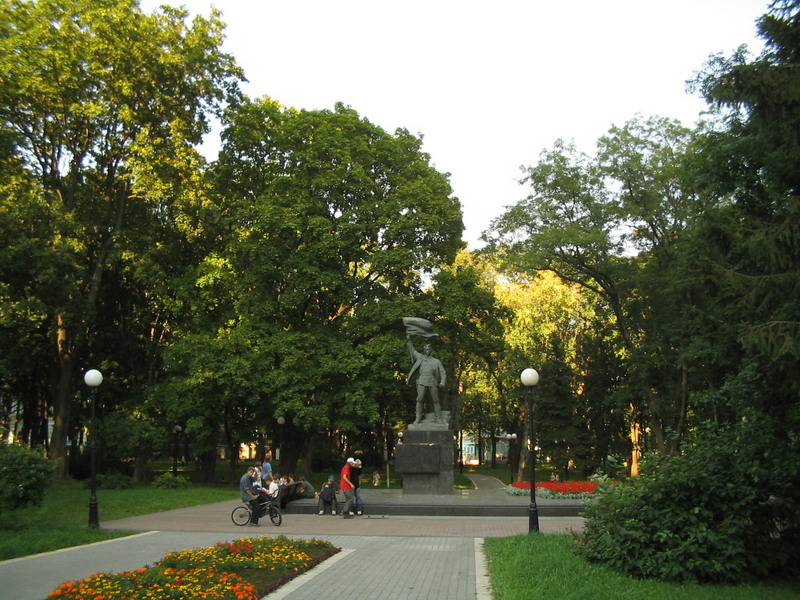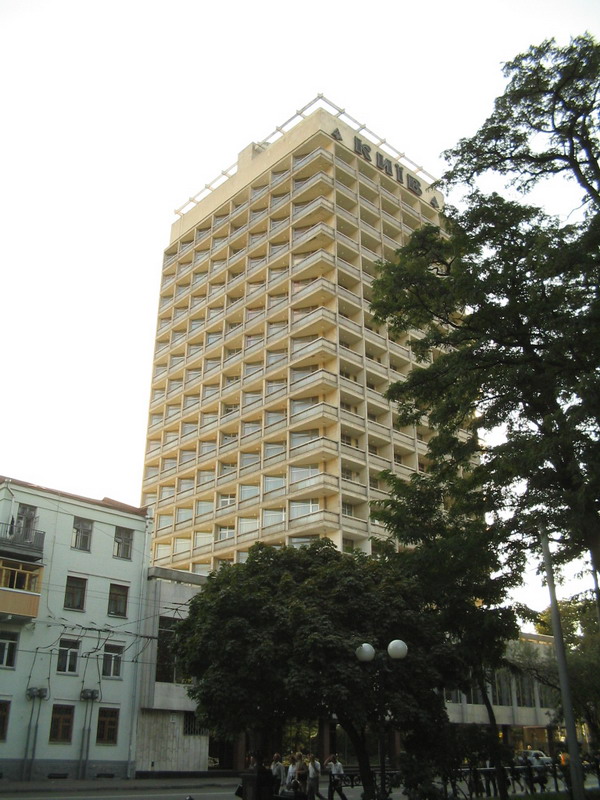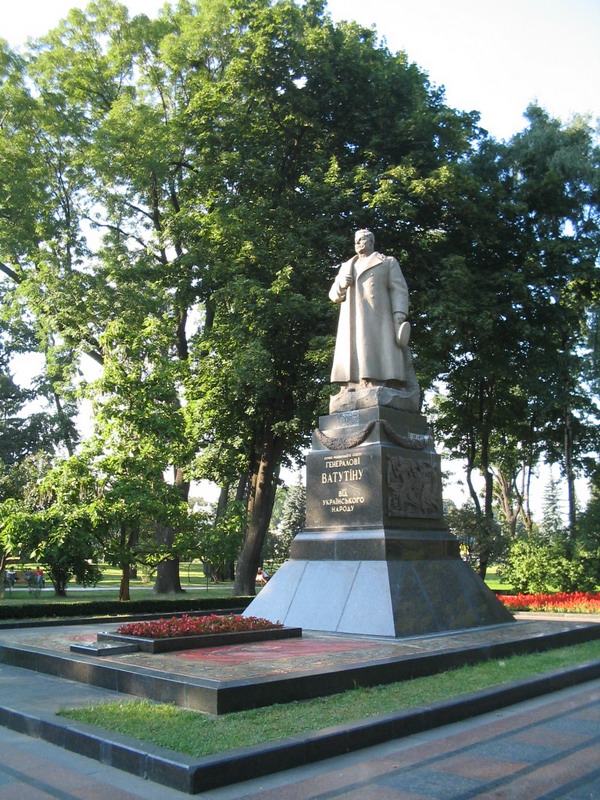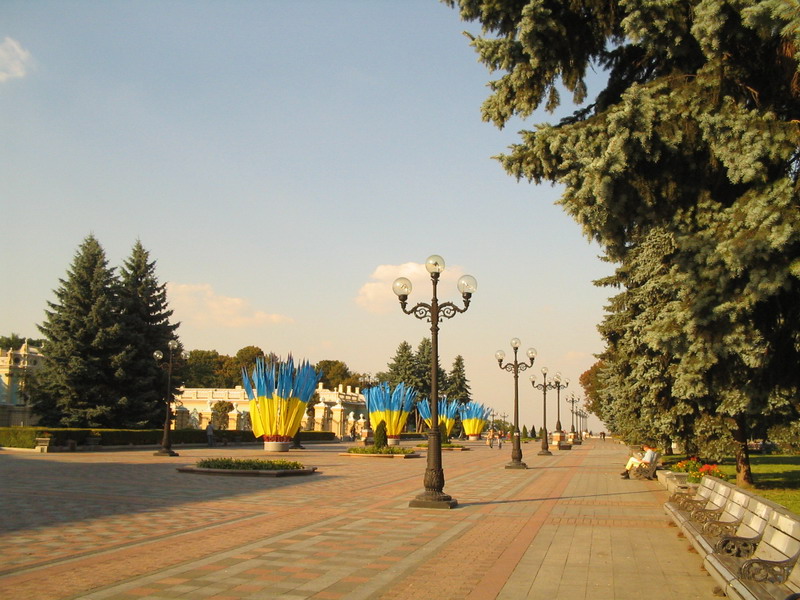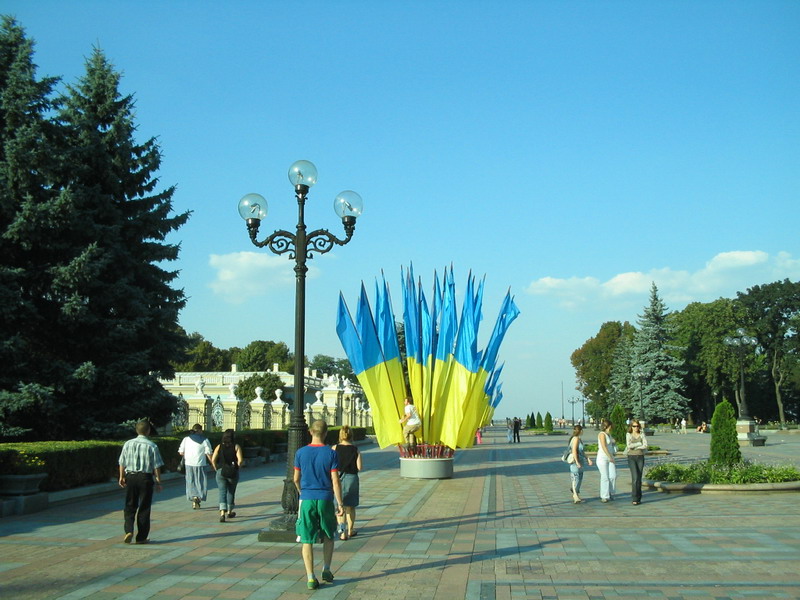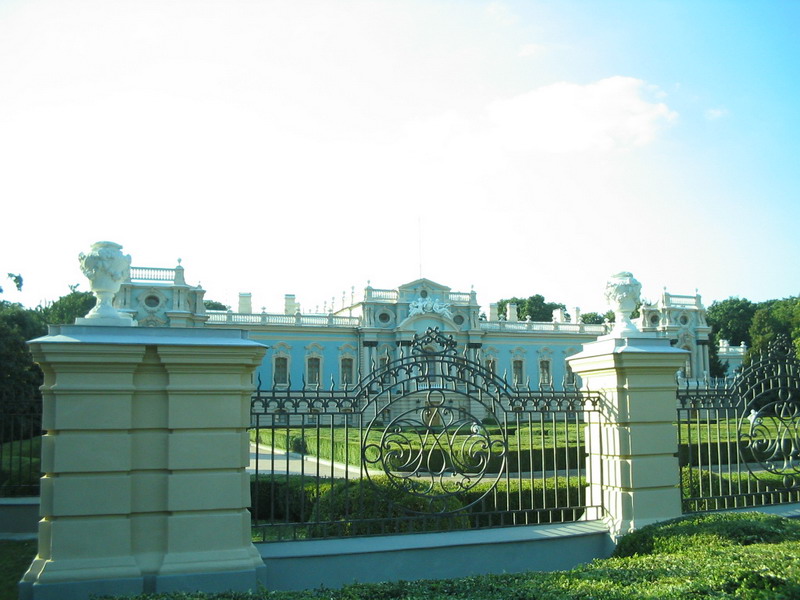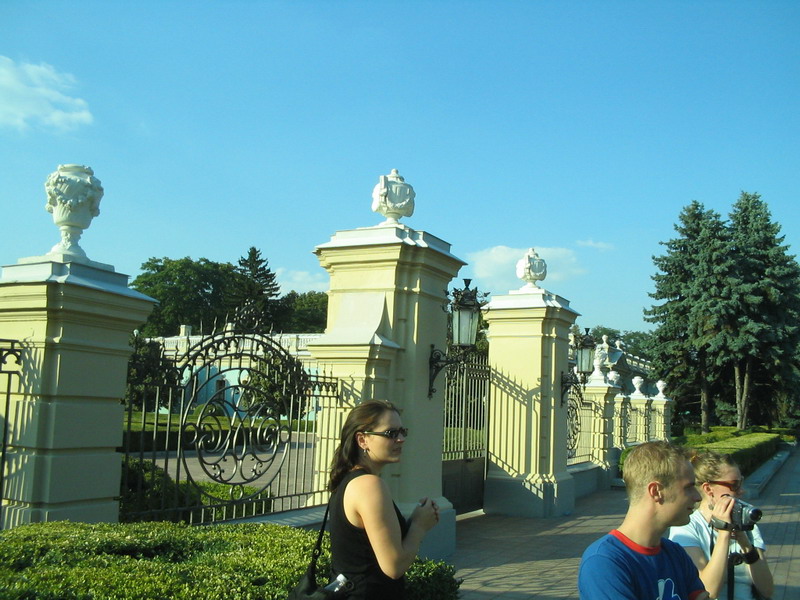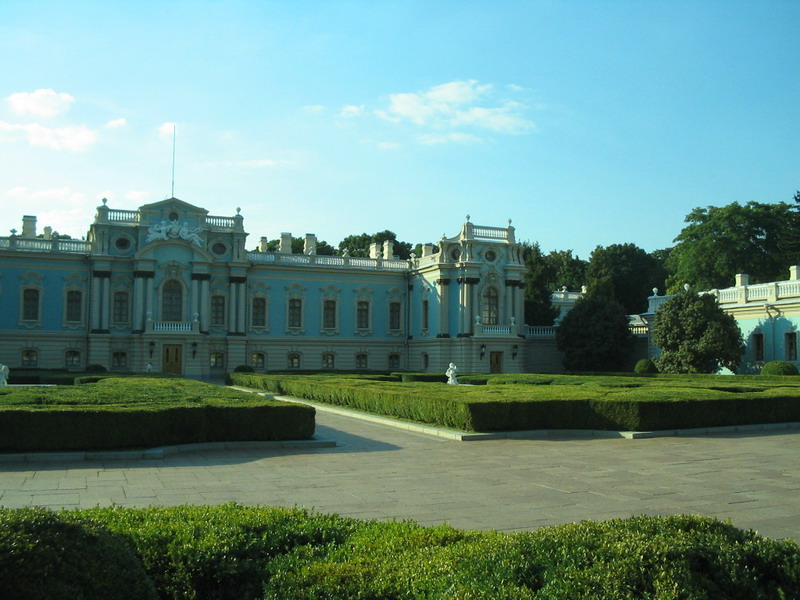 Mariyinsky Palace, currently the official ceremonial residence of the President of Ukraine, originally reconstructed (1870) under the consortship of Marie of Hesse, hence the name.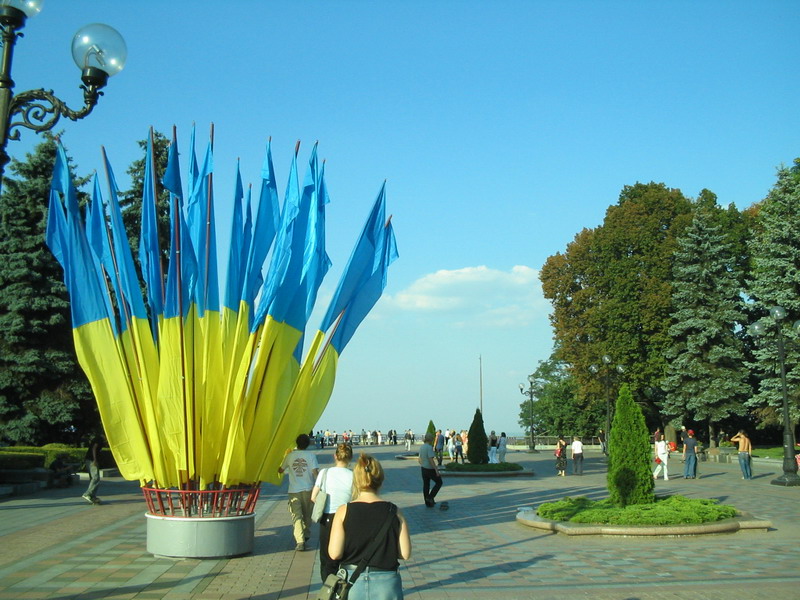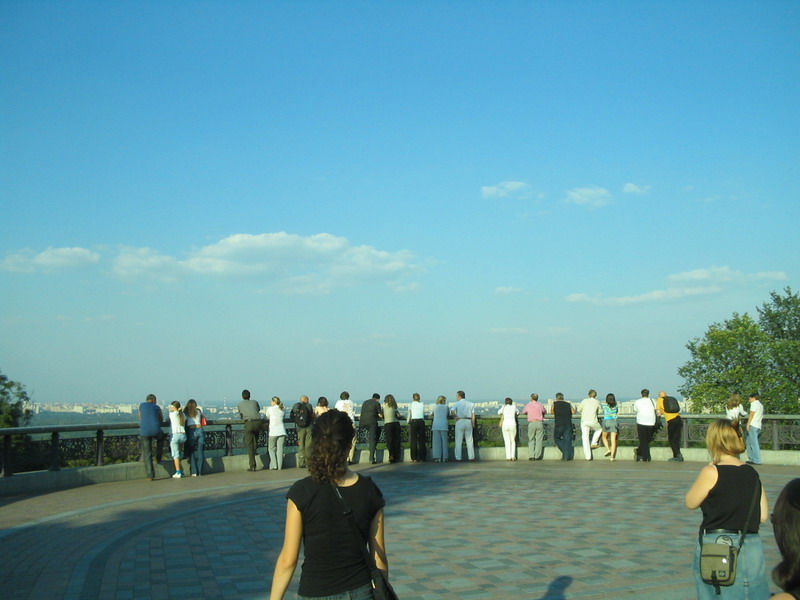 Overlooking the Dnipro River...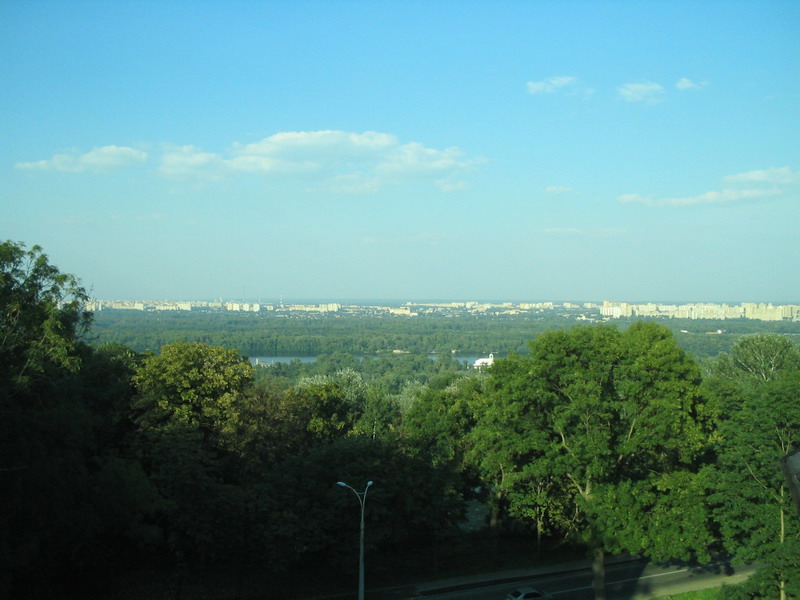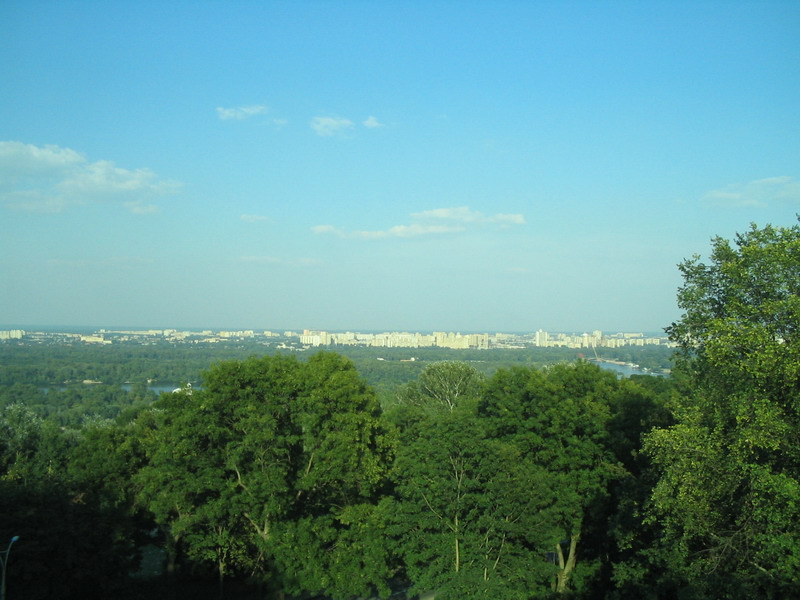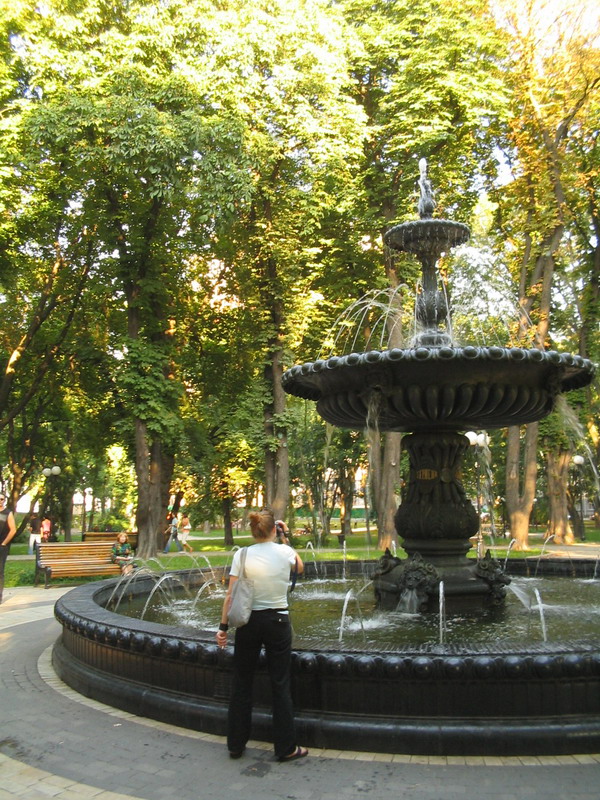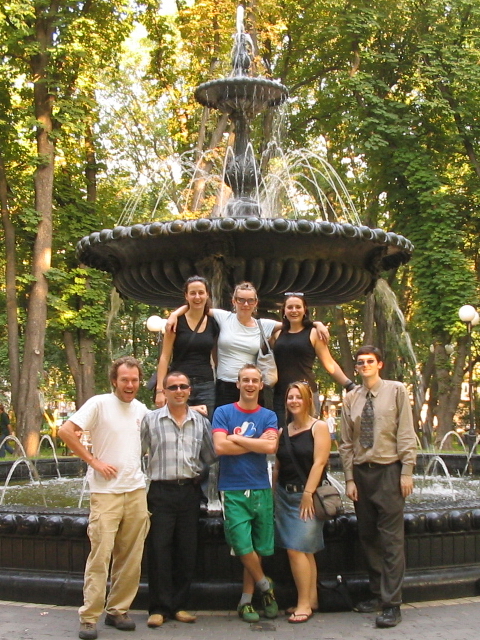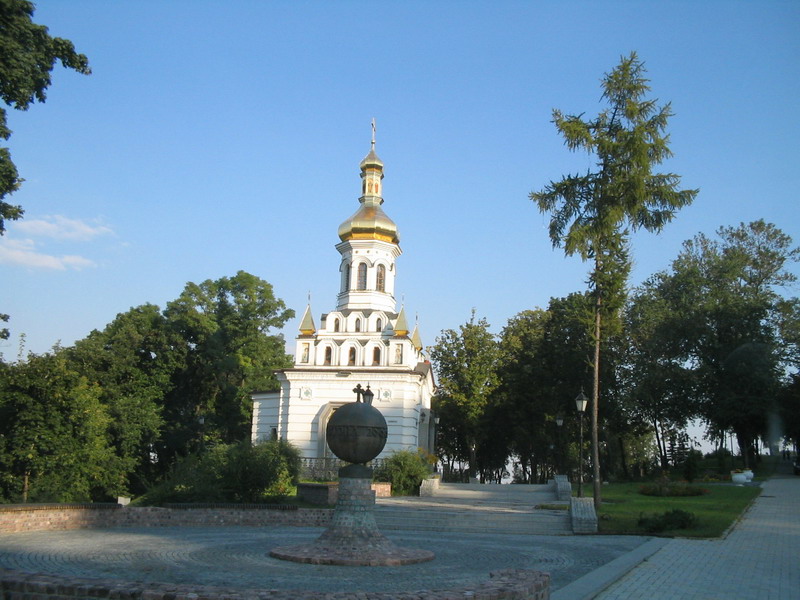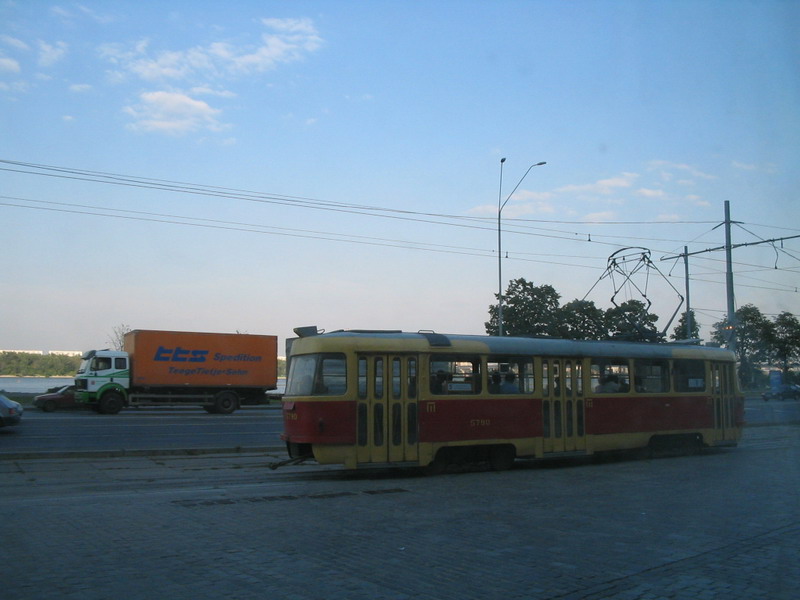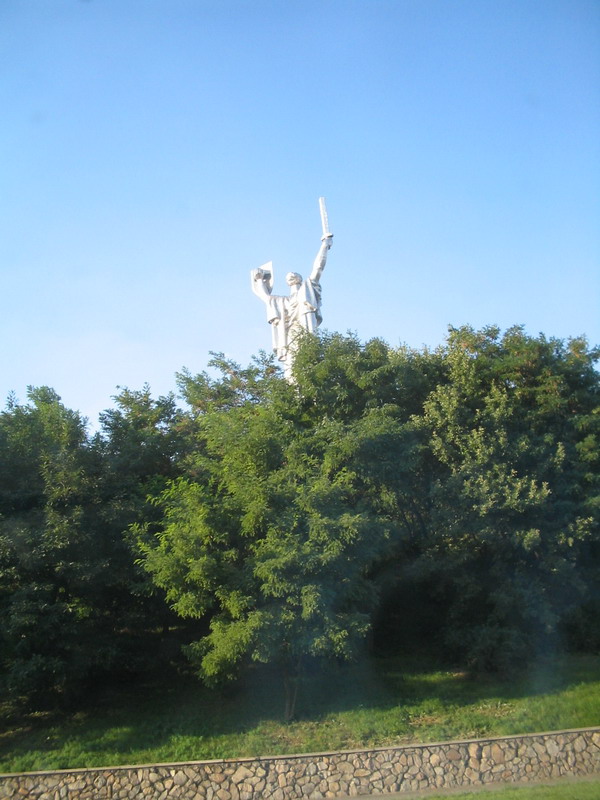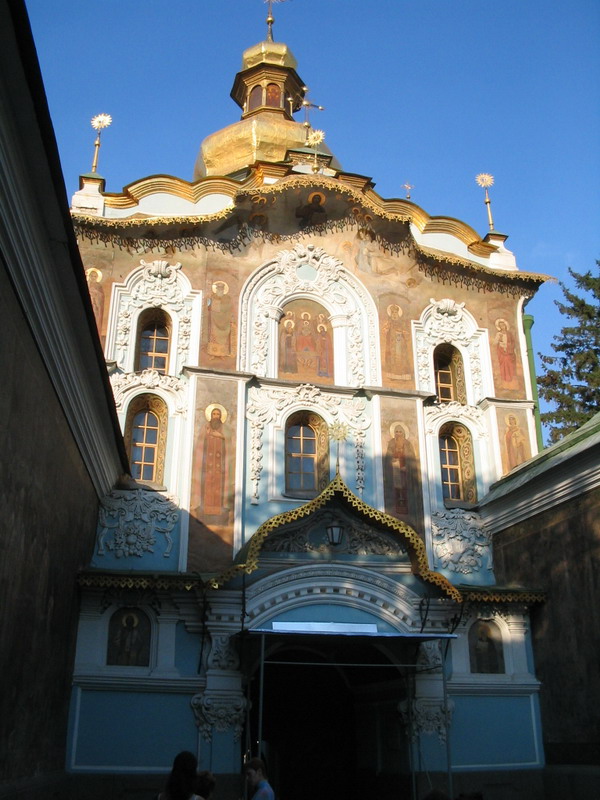 The Gate Church of the Trinity, leading to the Kiev Pechersk Lavra, an important Orthodox monastery.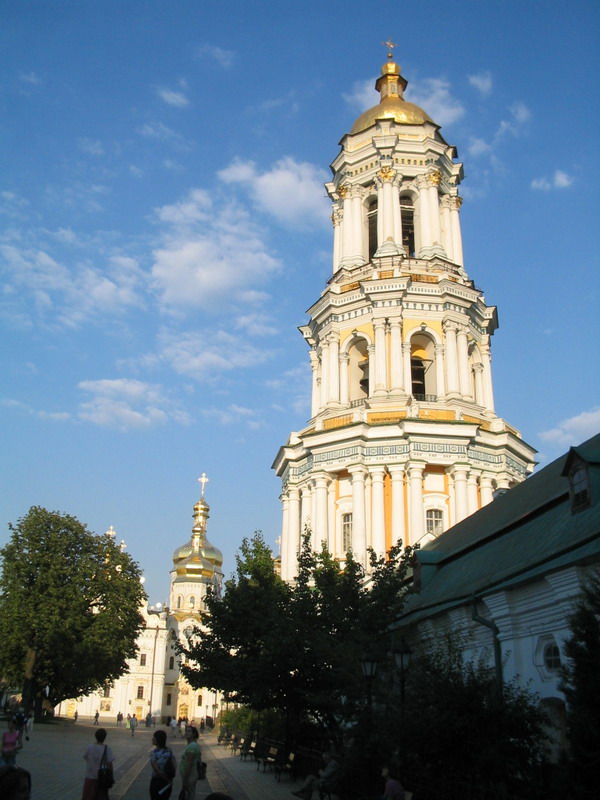 The Great Lavra Belltower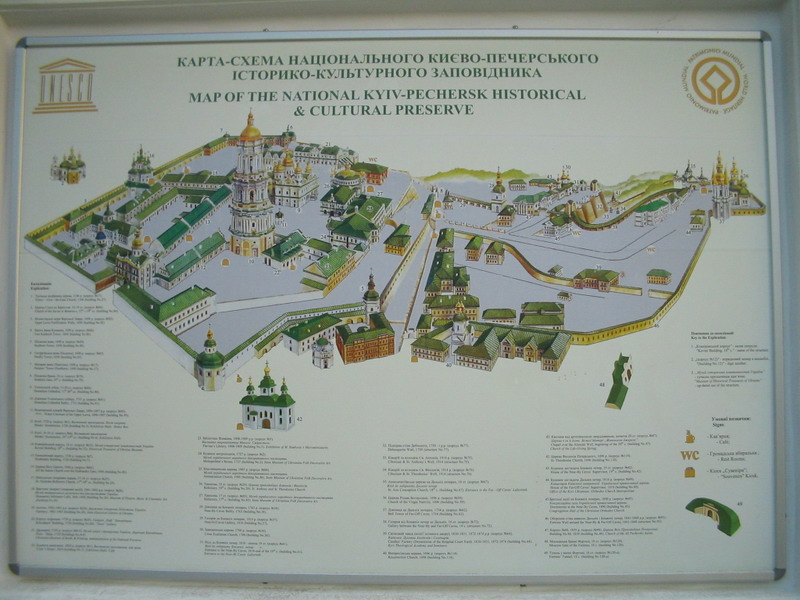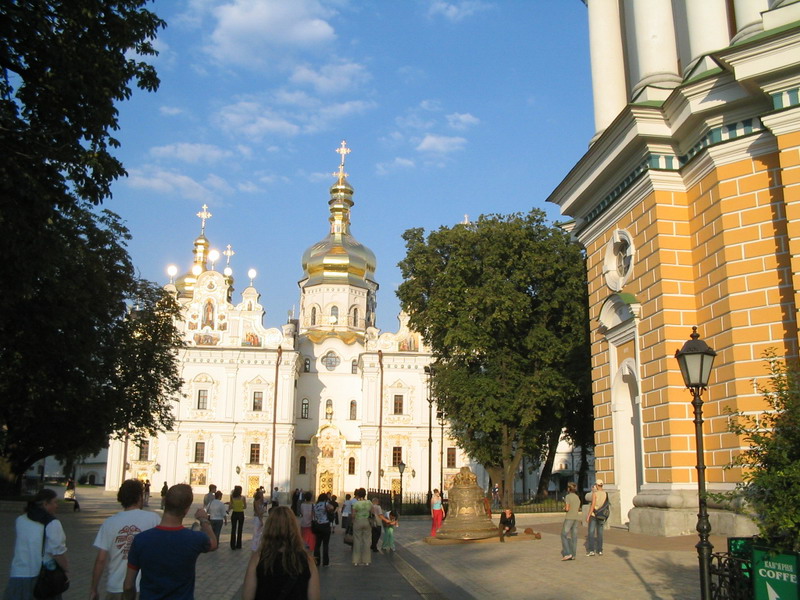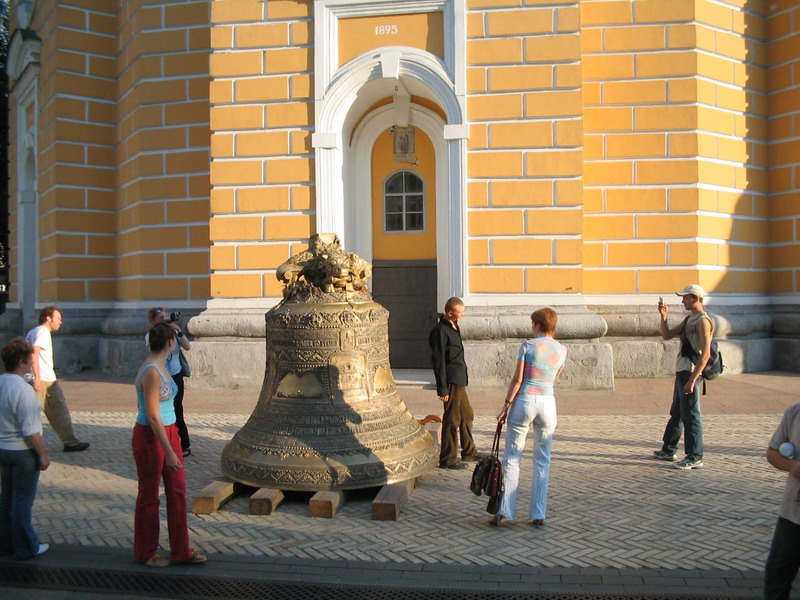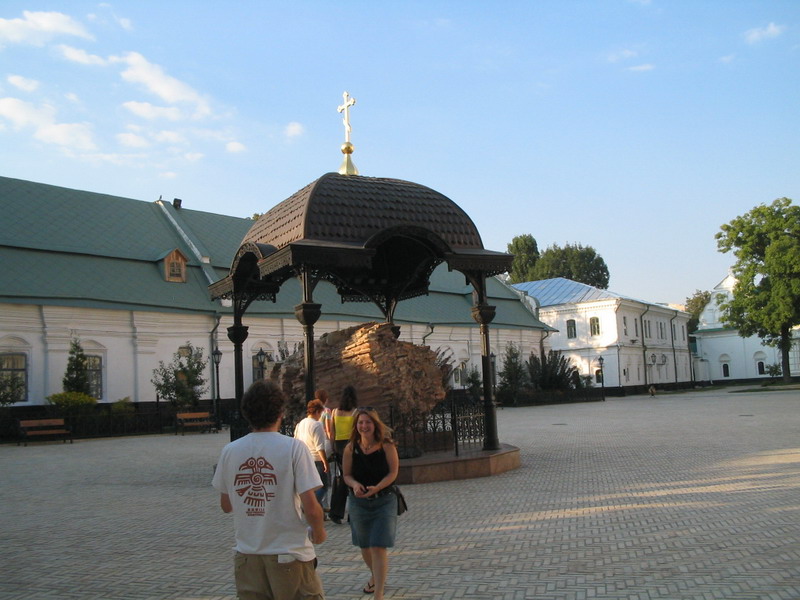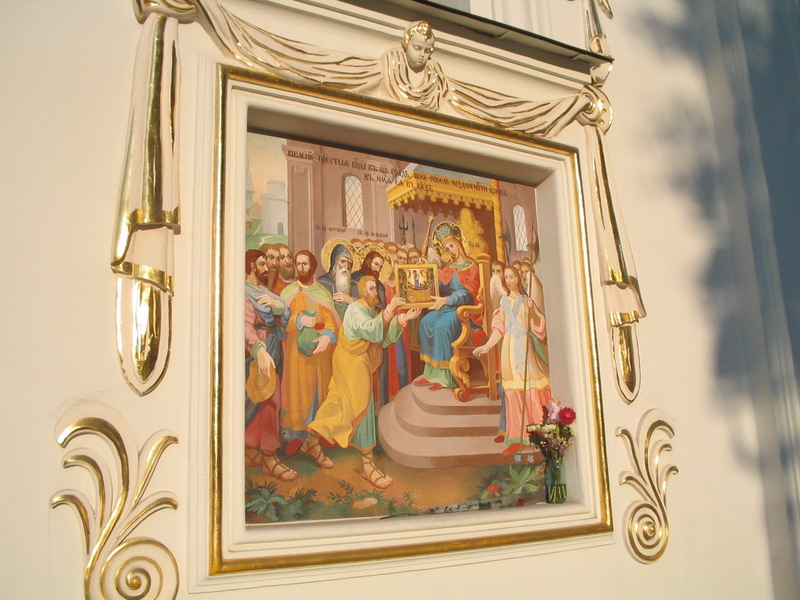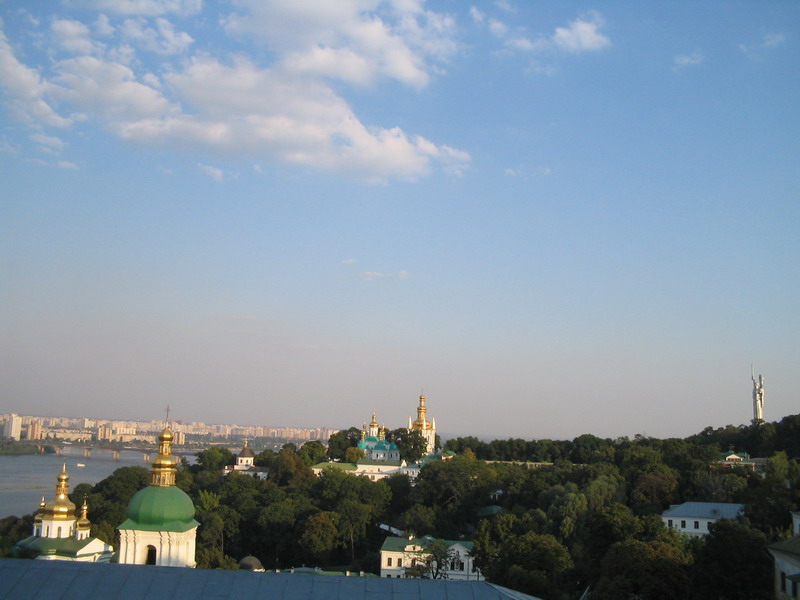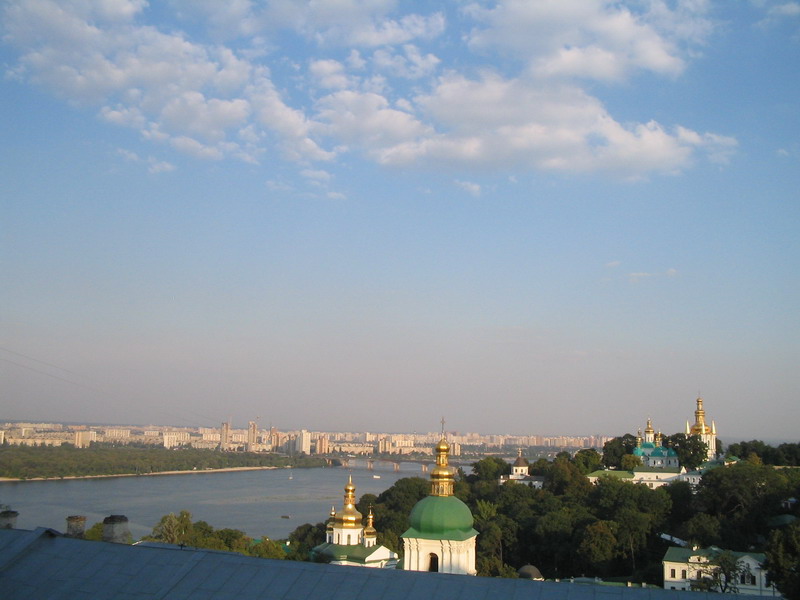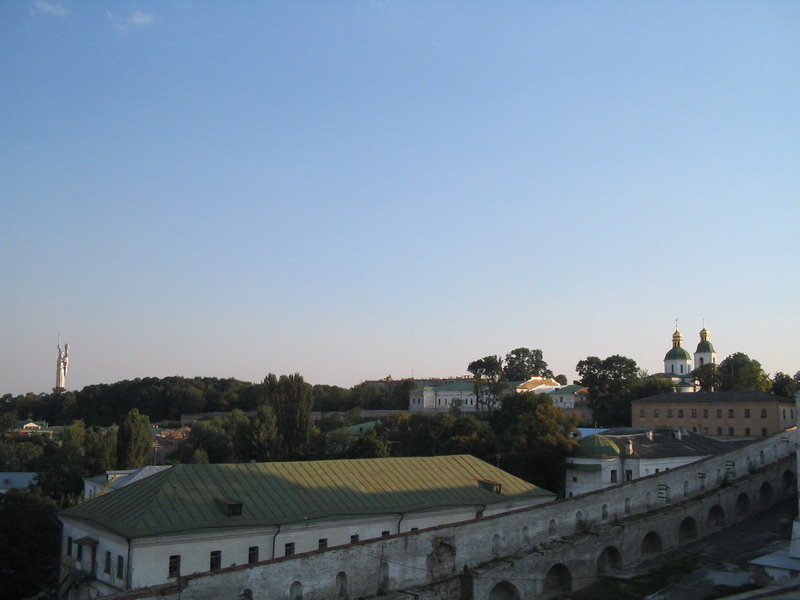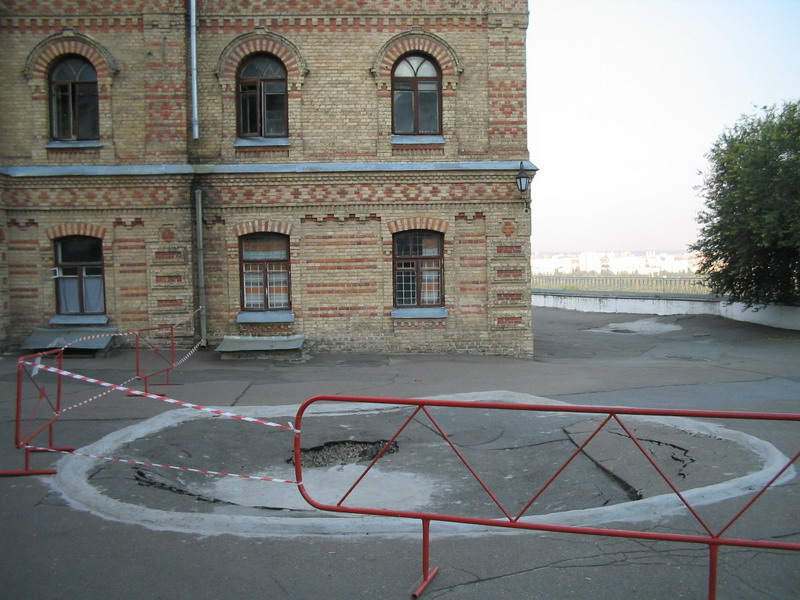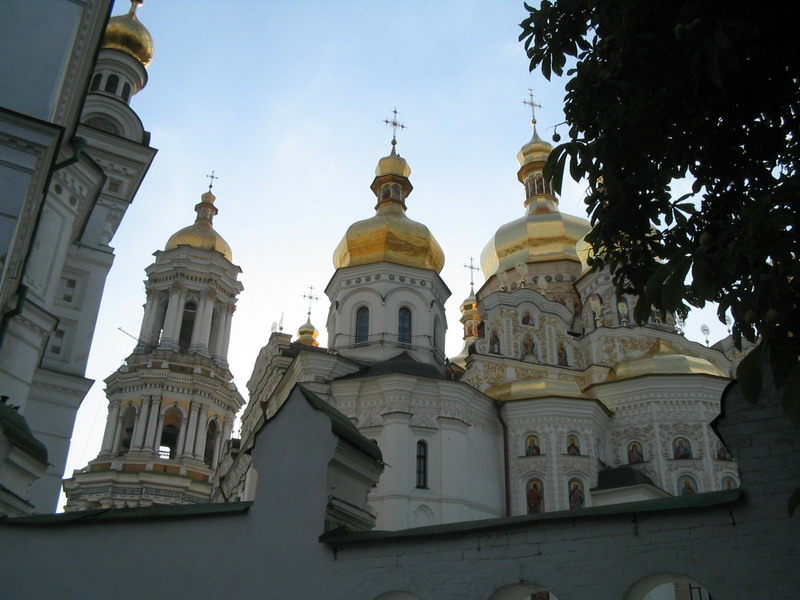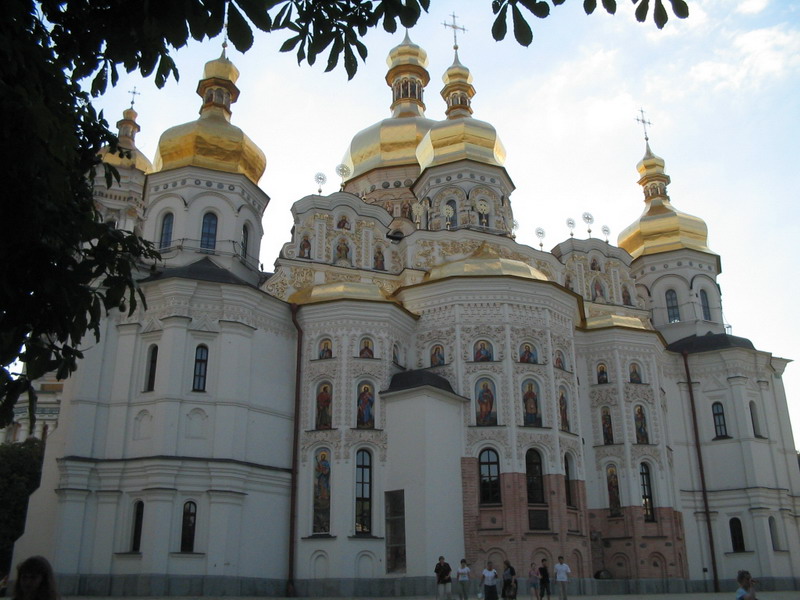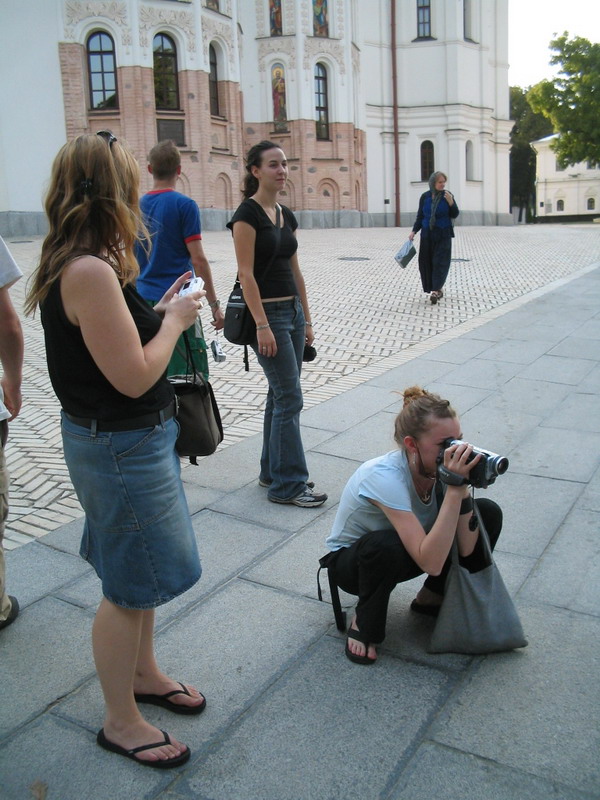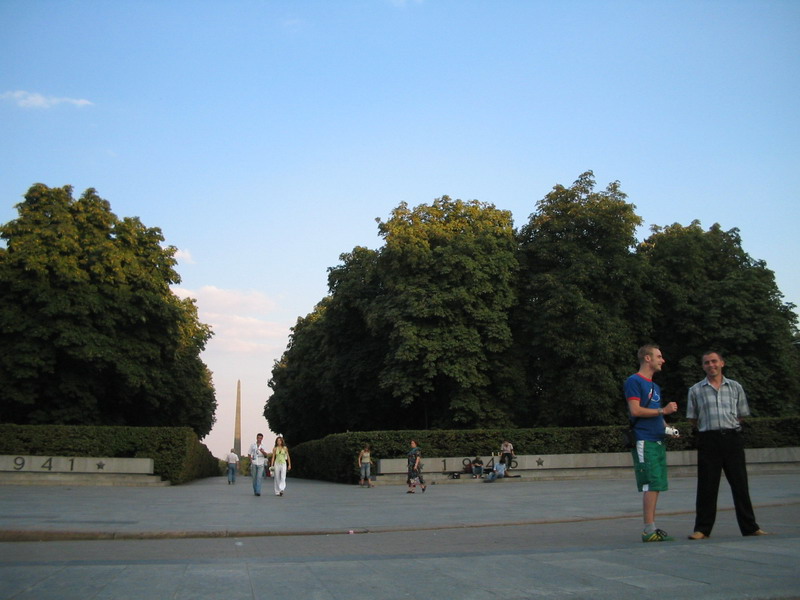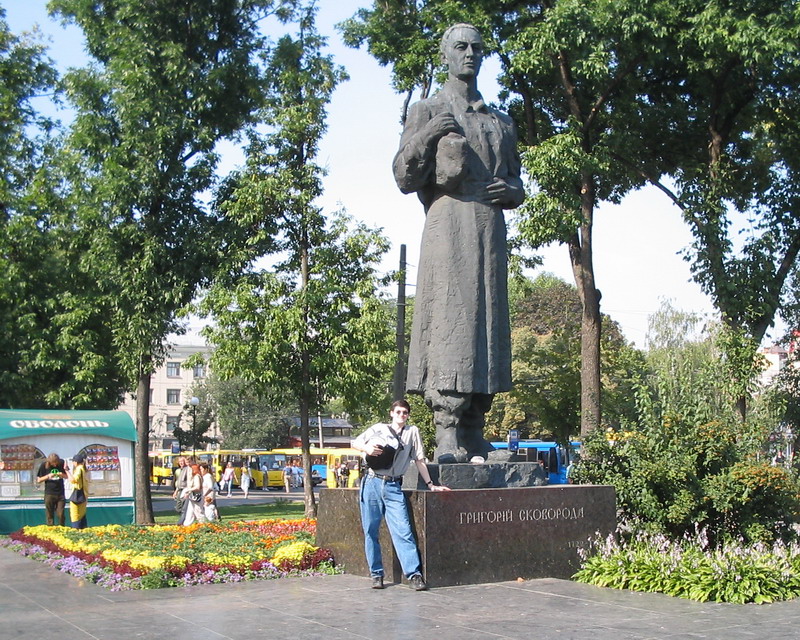 The following day, Lee and Roch and I got out on our own.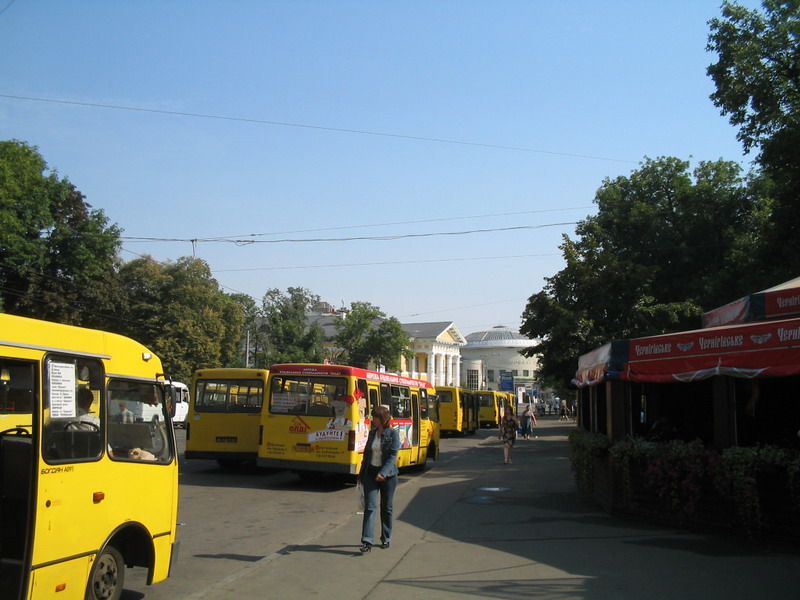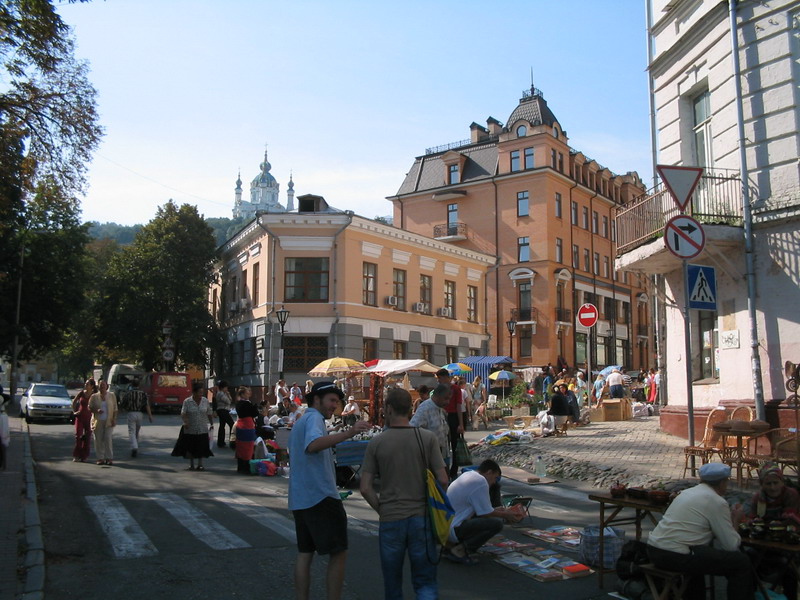 Now we're going to take the Andriyivskyy Descent from the bottom.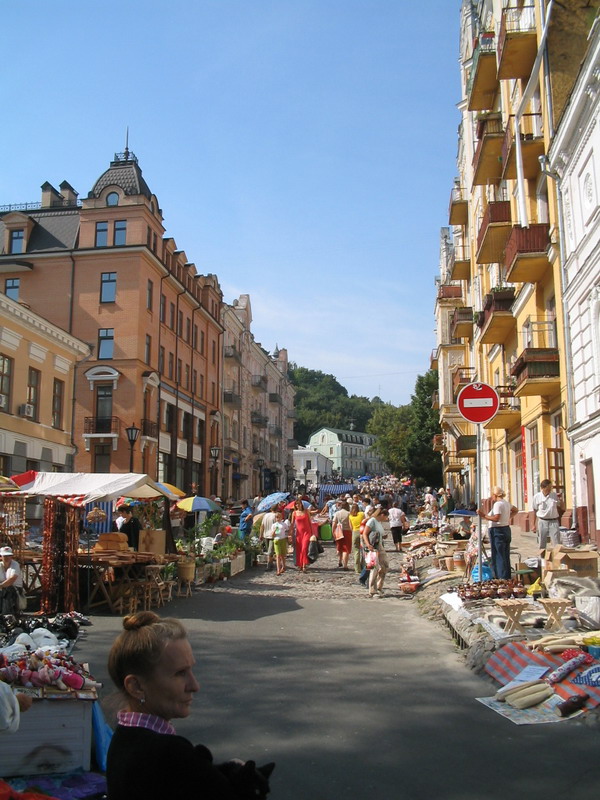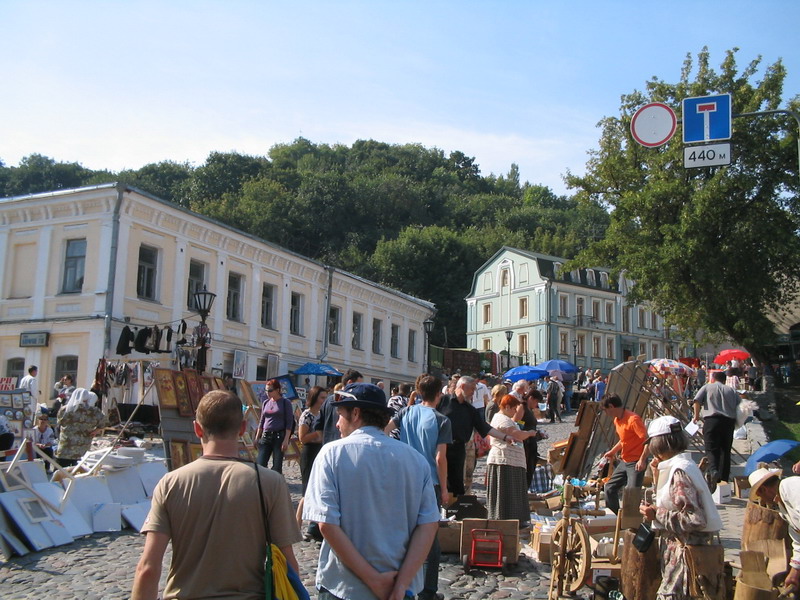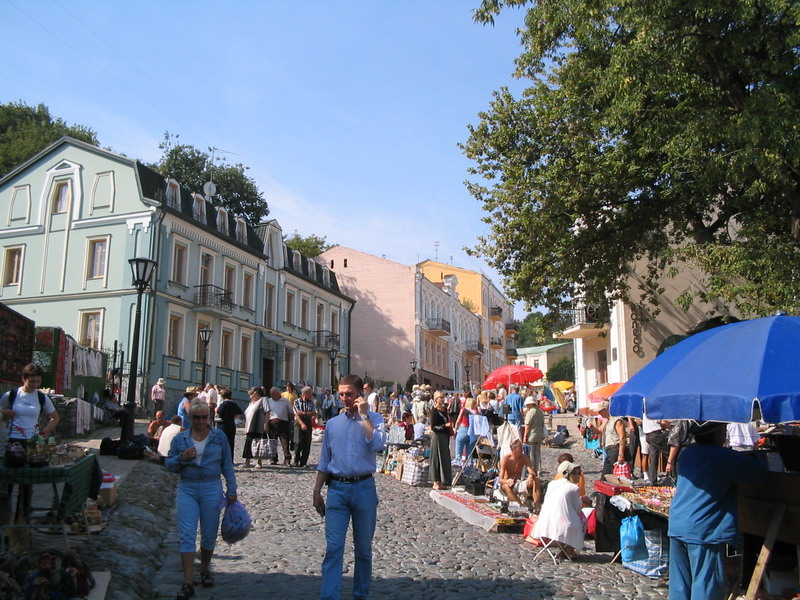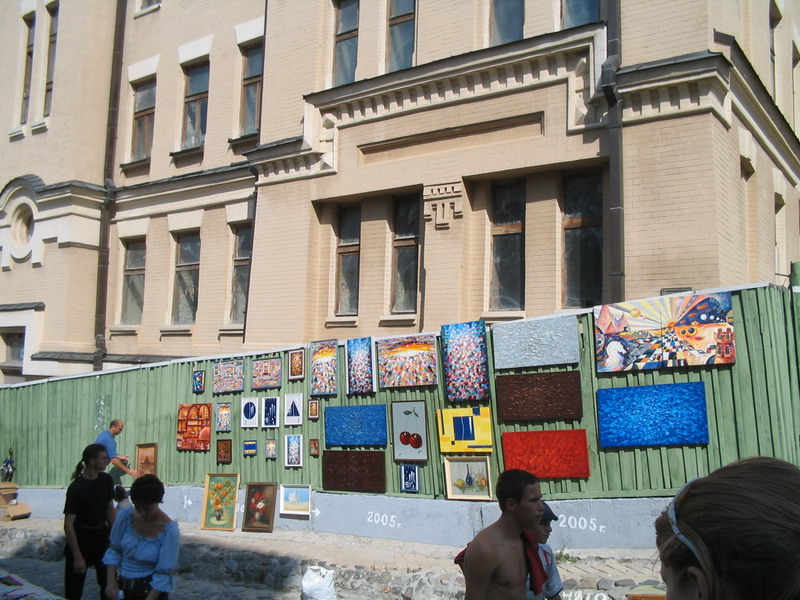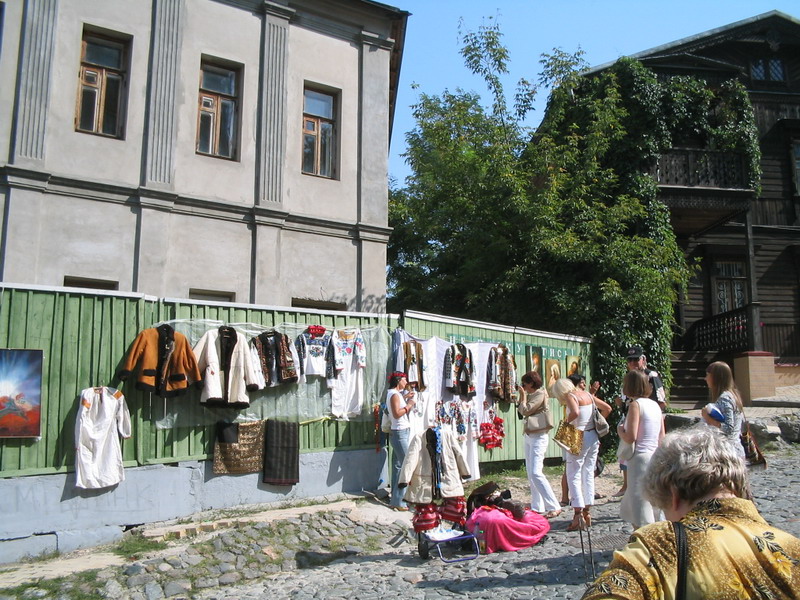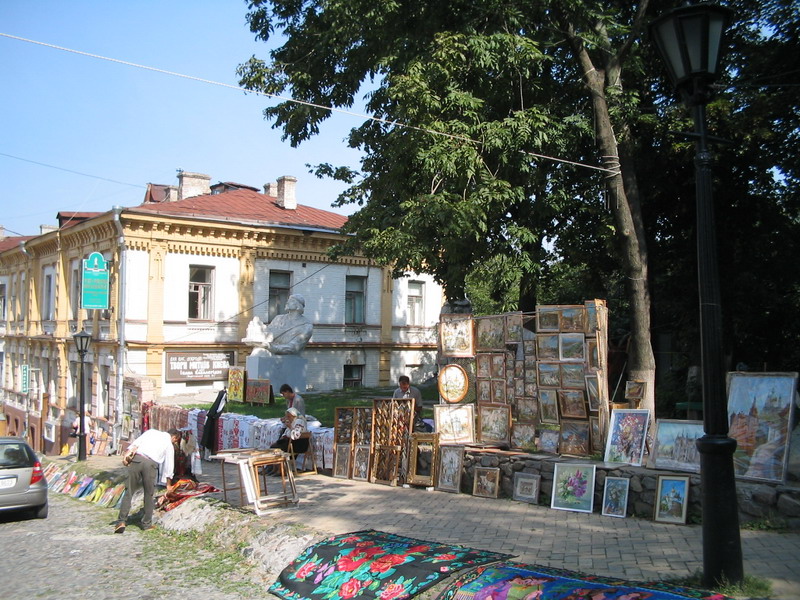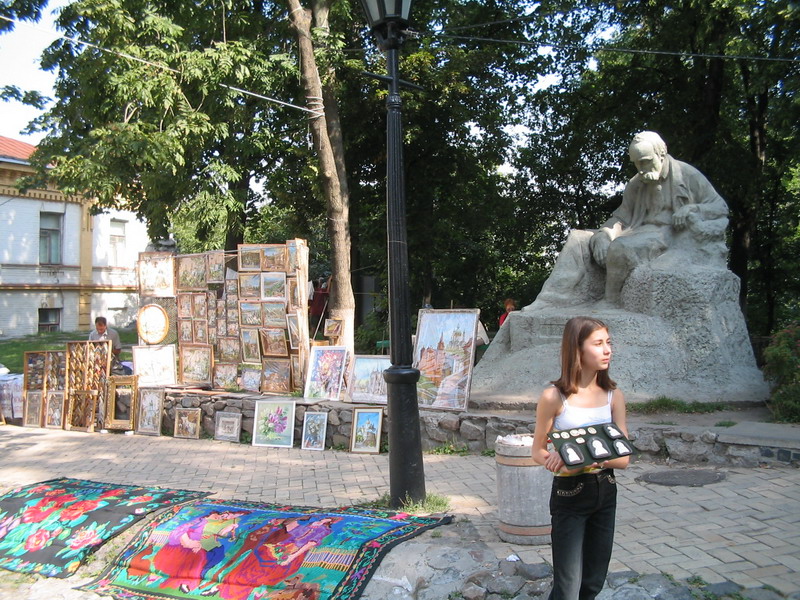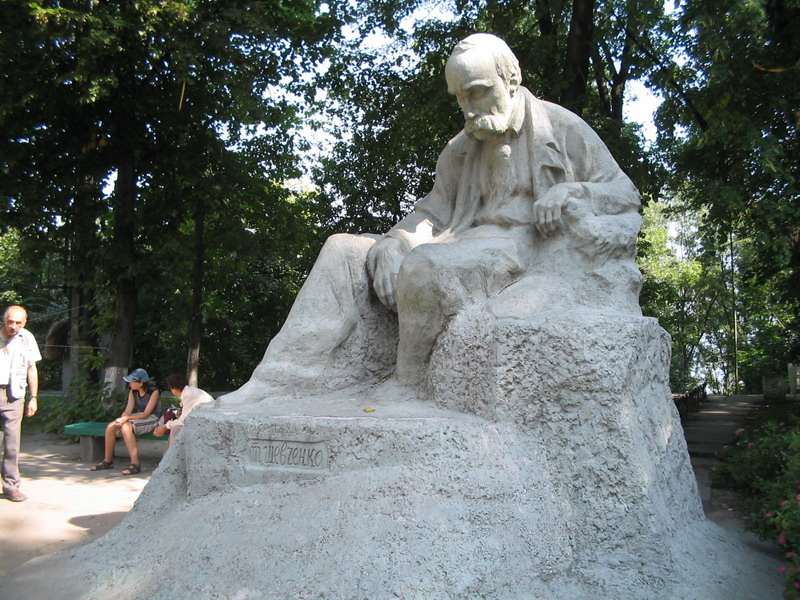 Taras Shevchenko, the archetypal Ukrainian poet.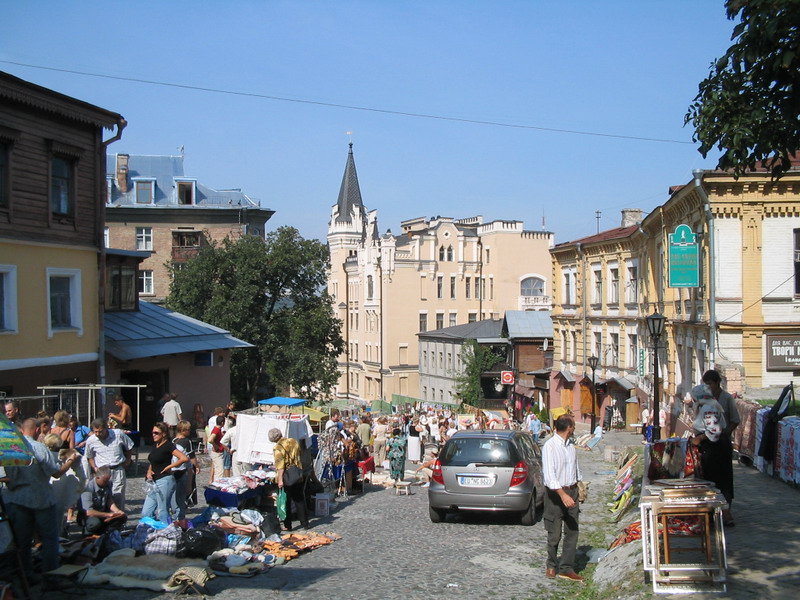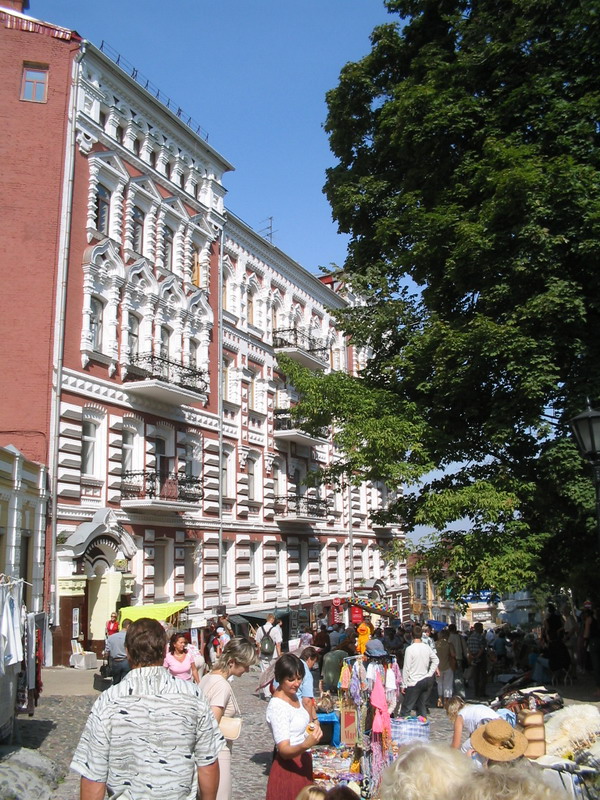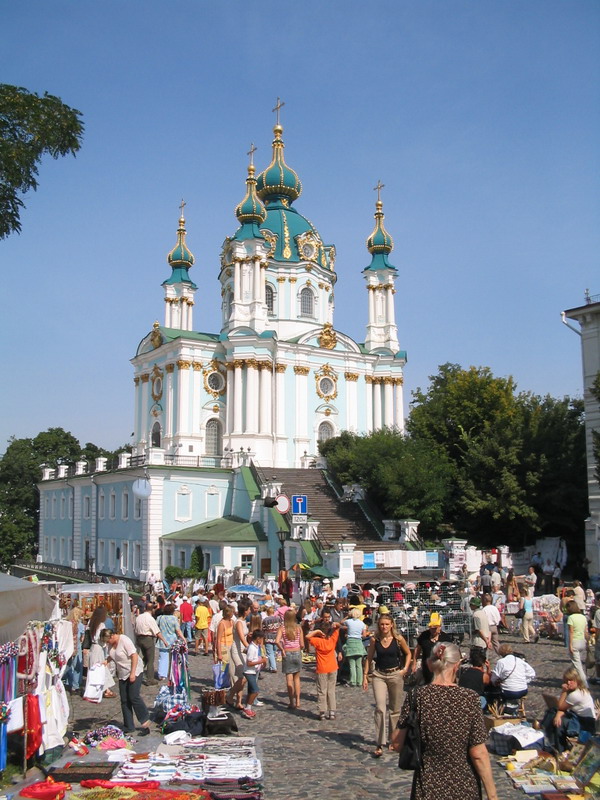 Back at St. Andrew's...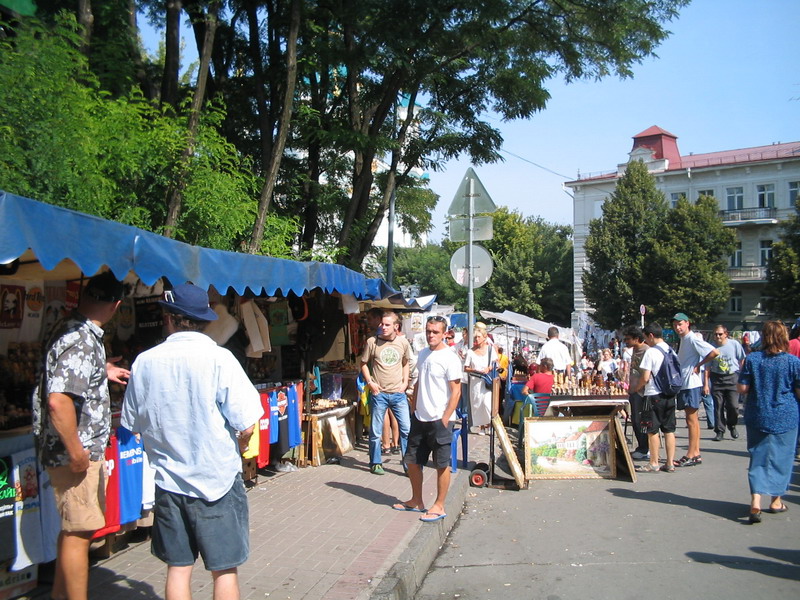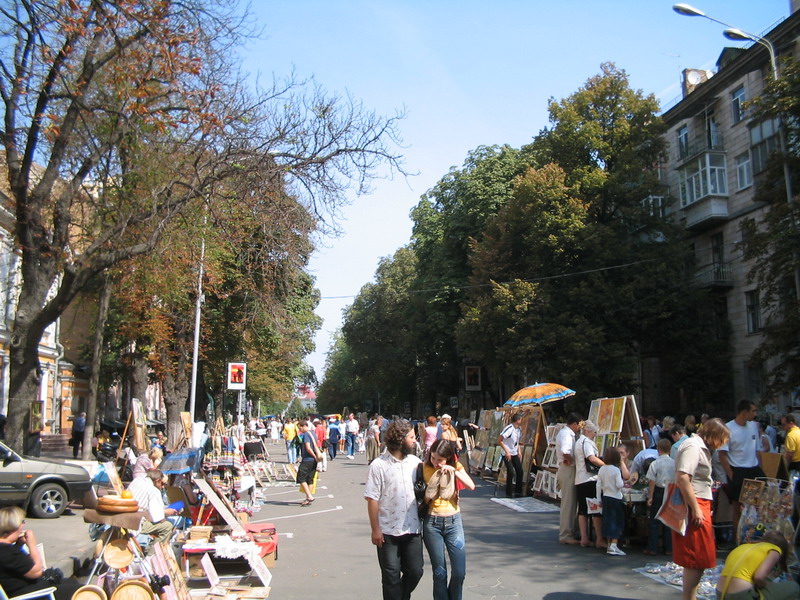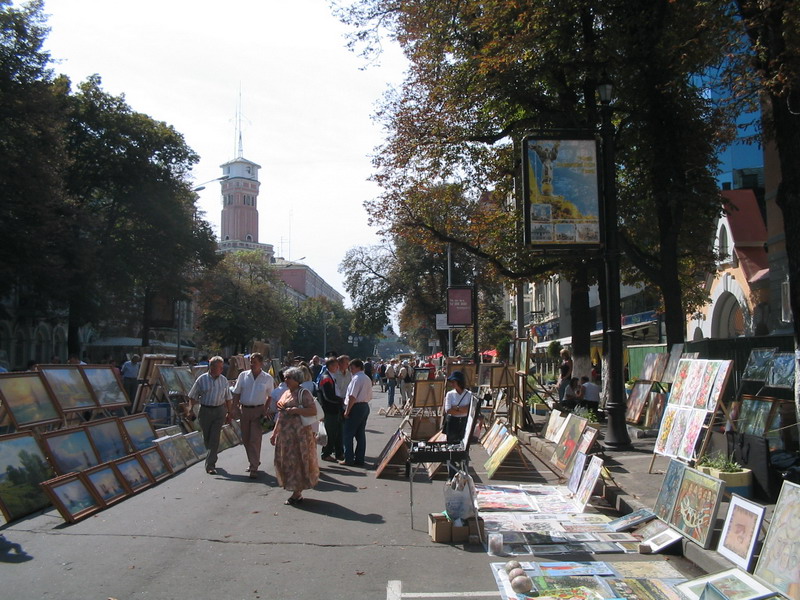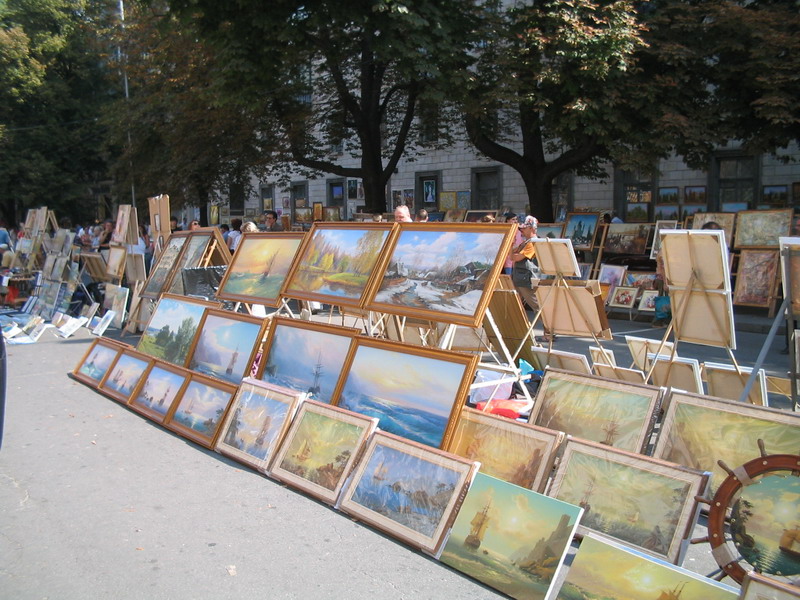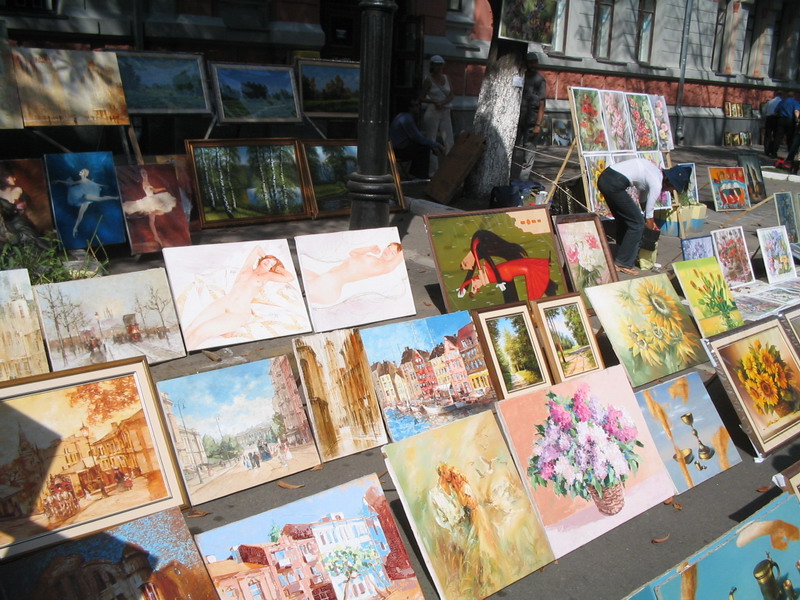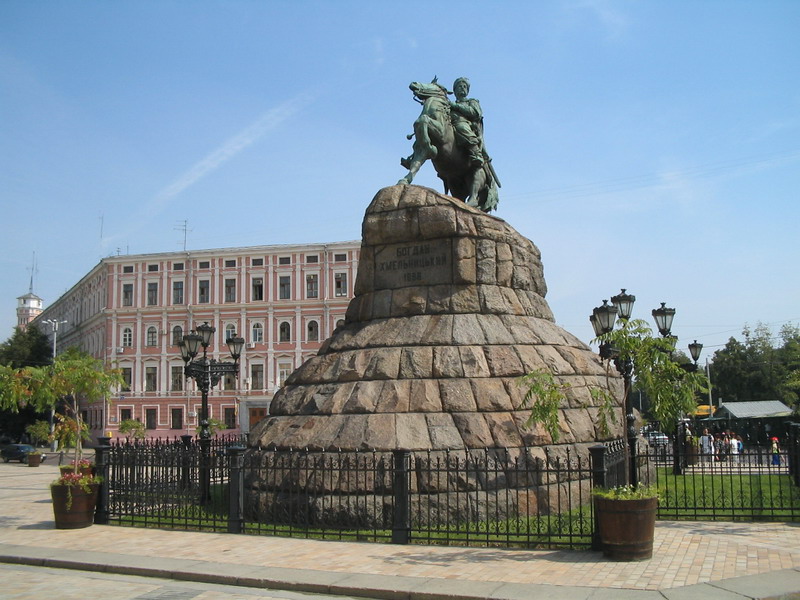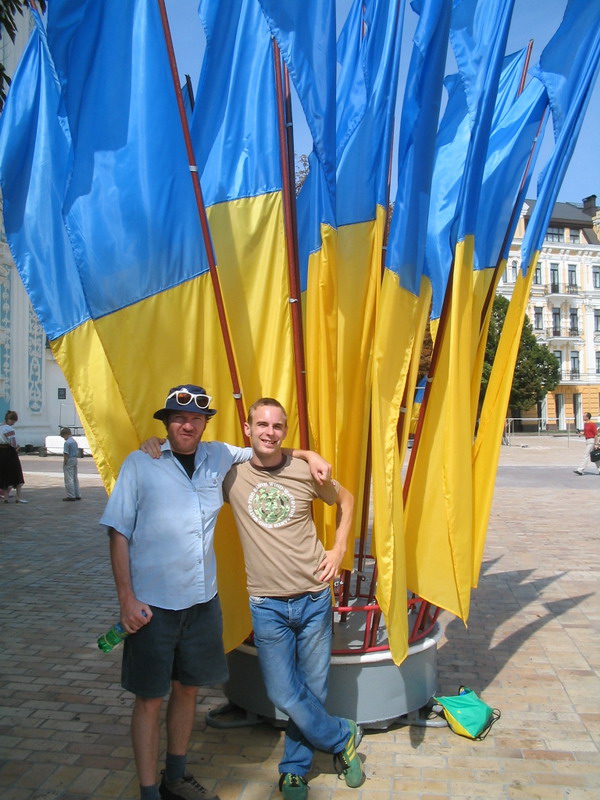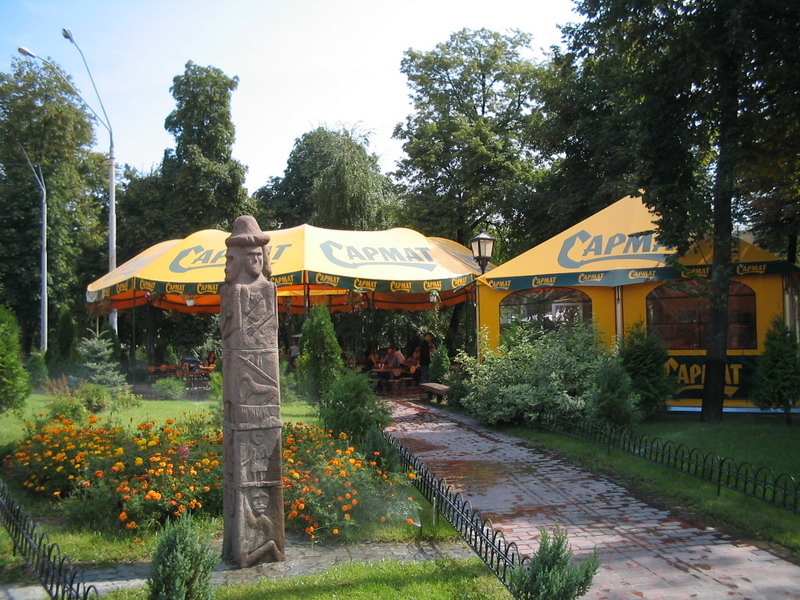 Foreground: A replica of pre-Christian Slavic artisanship.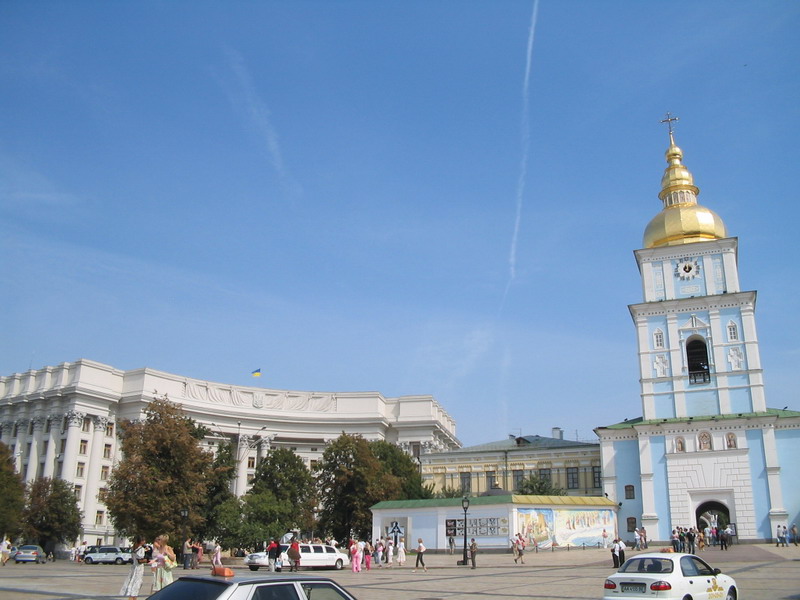 Centre: An interpretive memorial to the victims of the Holodomor, the Soviet-engineered famine of 1932-33 that killed millions.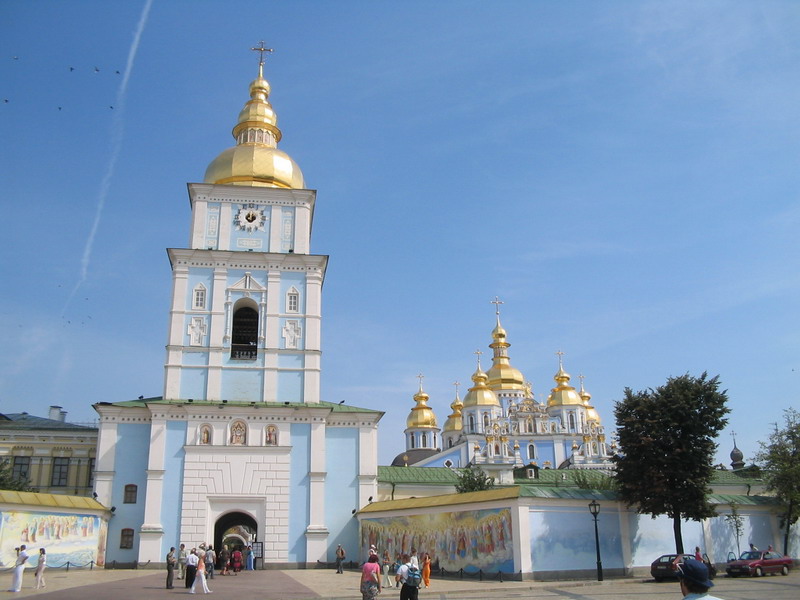 St. Michael's Golden-Domed Monastery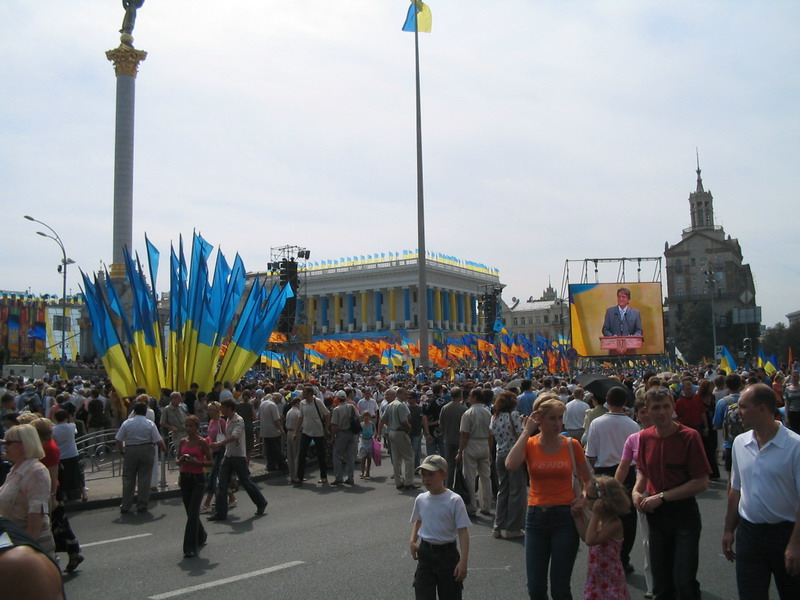 I wandered by myself for a time and worked my way downhill back into Independence Square (I didn't usually seek it out, it's more that it kept finding me). I found a massive crowd, unlike any I'd ever been in before (although I don't really get out that much). It was clearly an assembly for Independence Day, albeit with an Orange theme.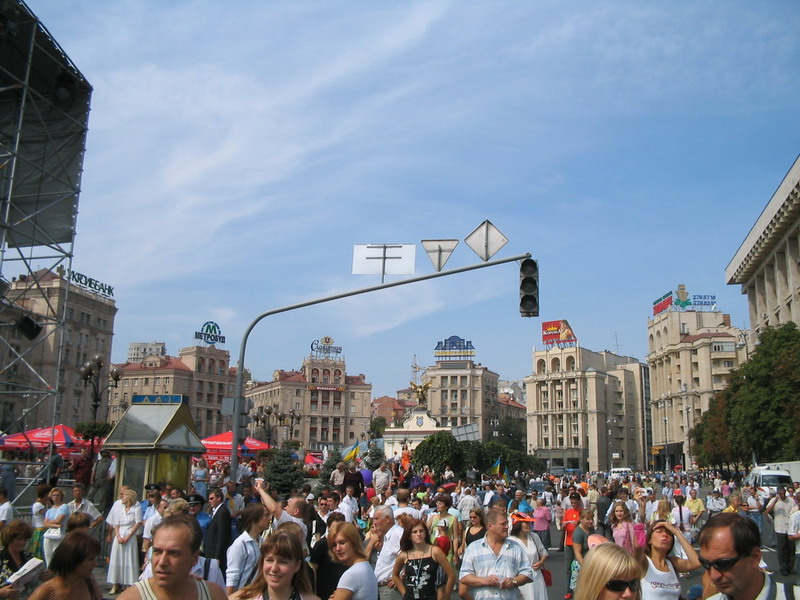 Uh-oh. See that man on the left? I think that's the shifty guy that found me a few hours later, after I had re-joined and re-left my teammates. Or at least he looks like him. More on that in a bit.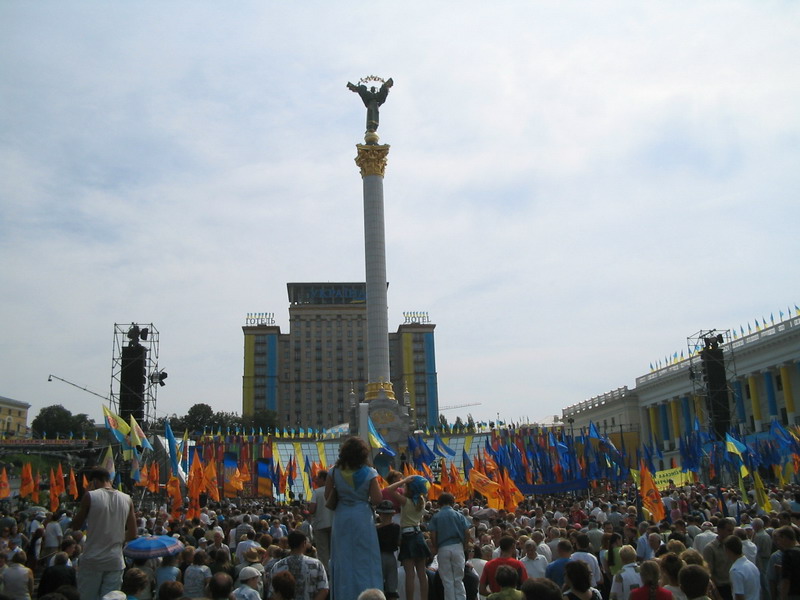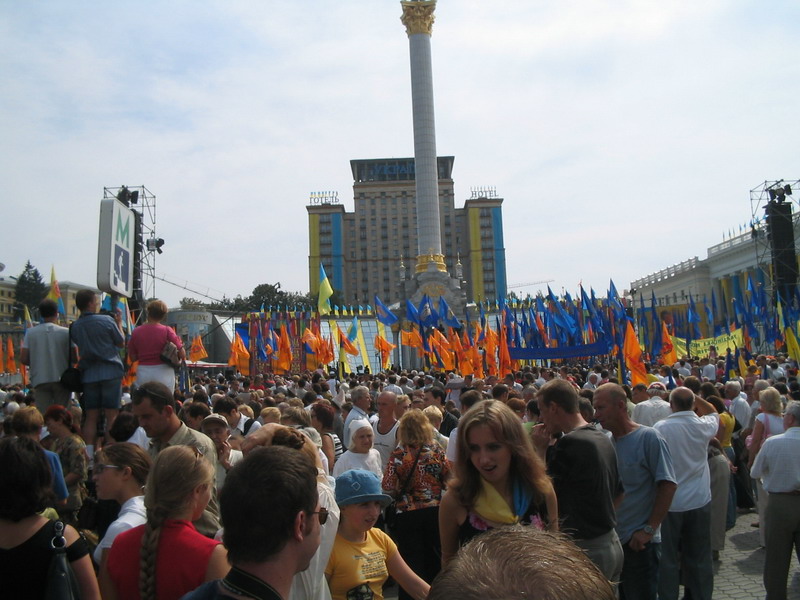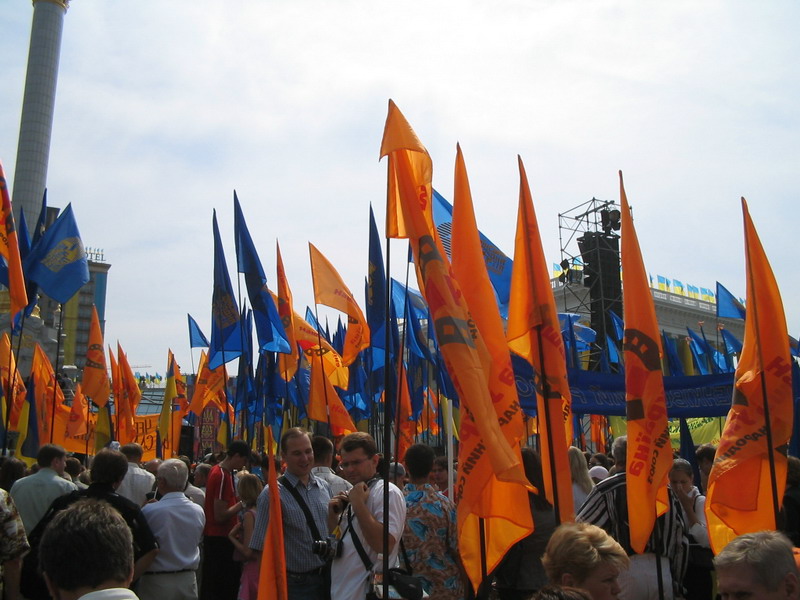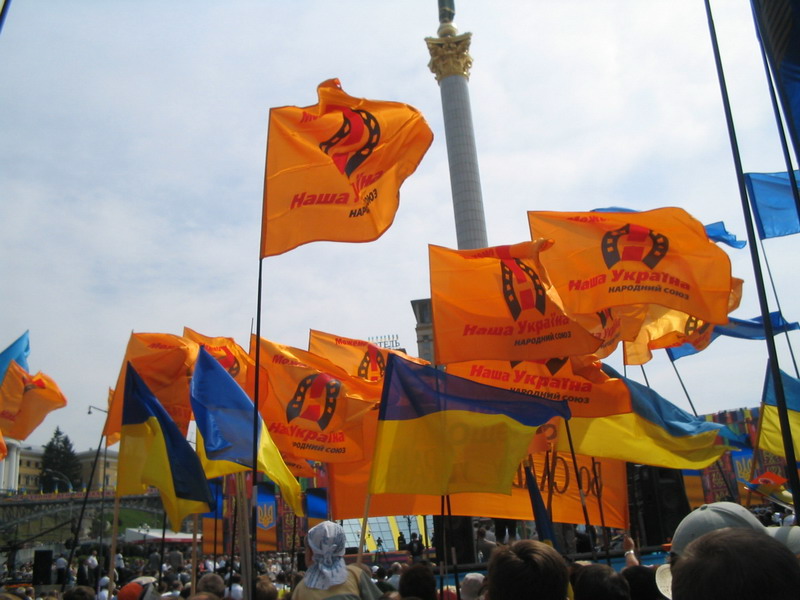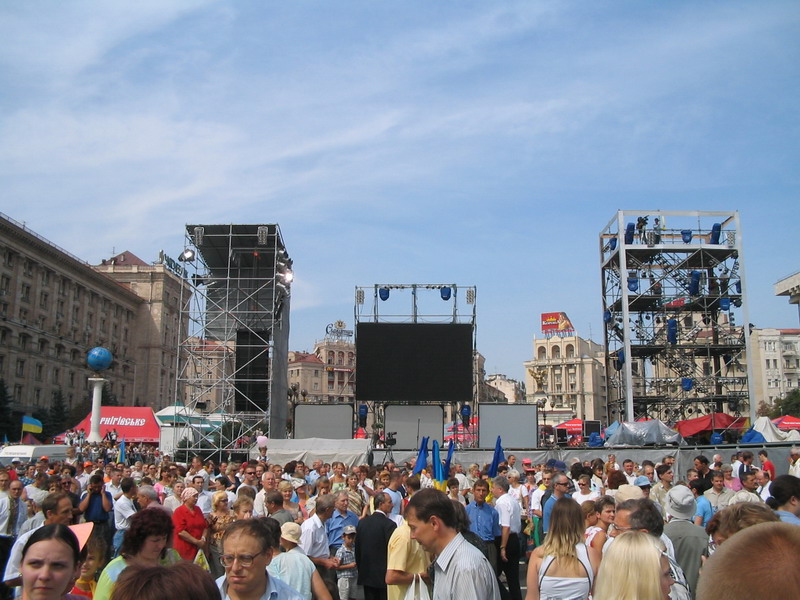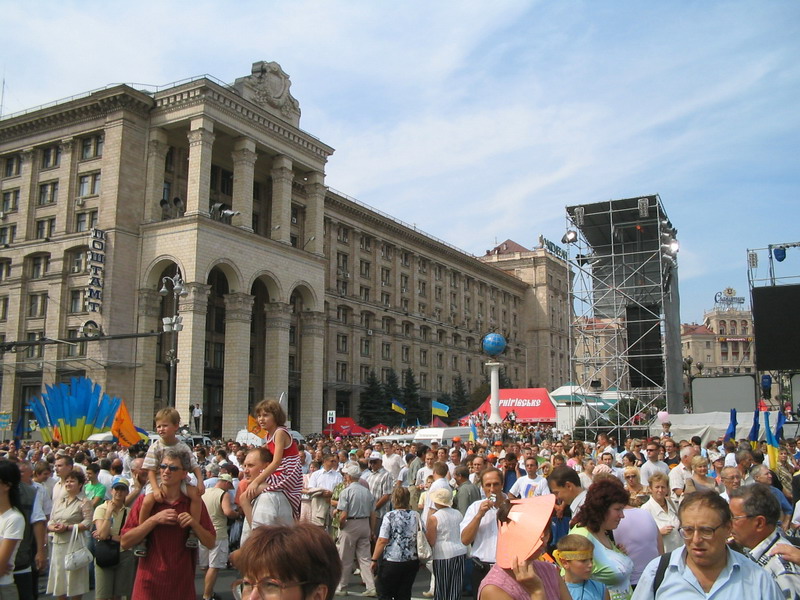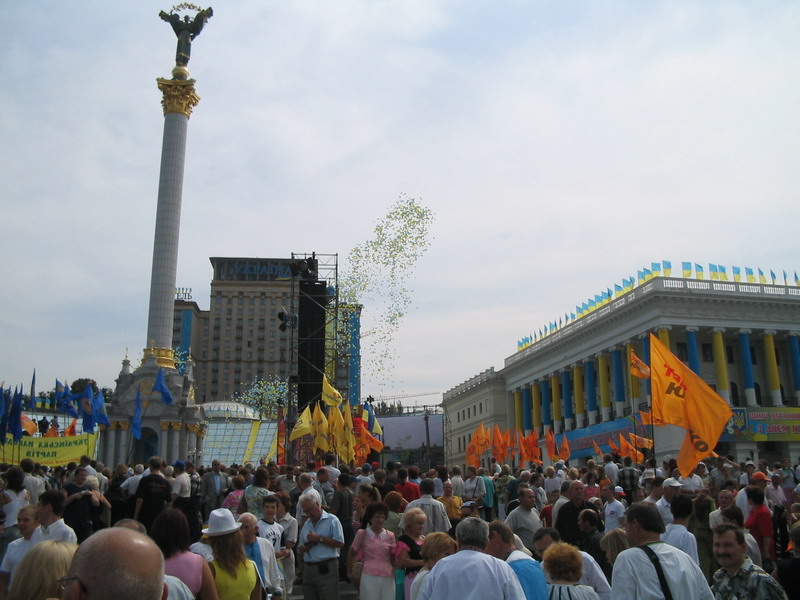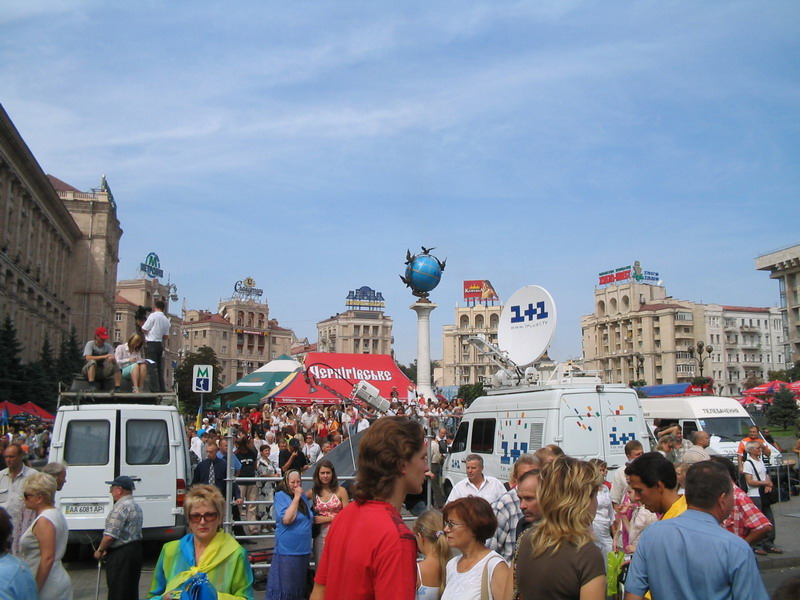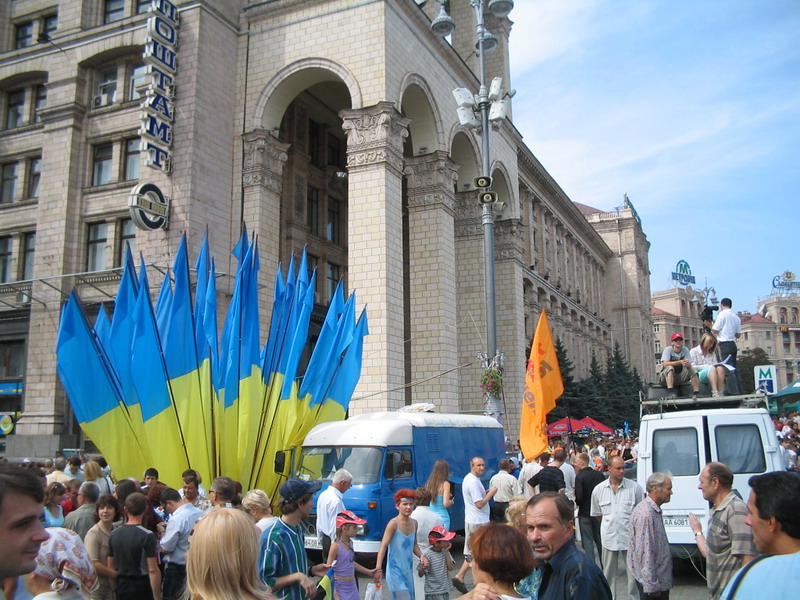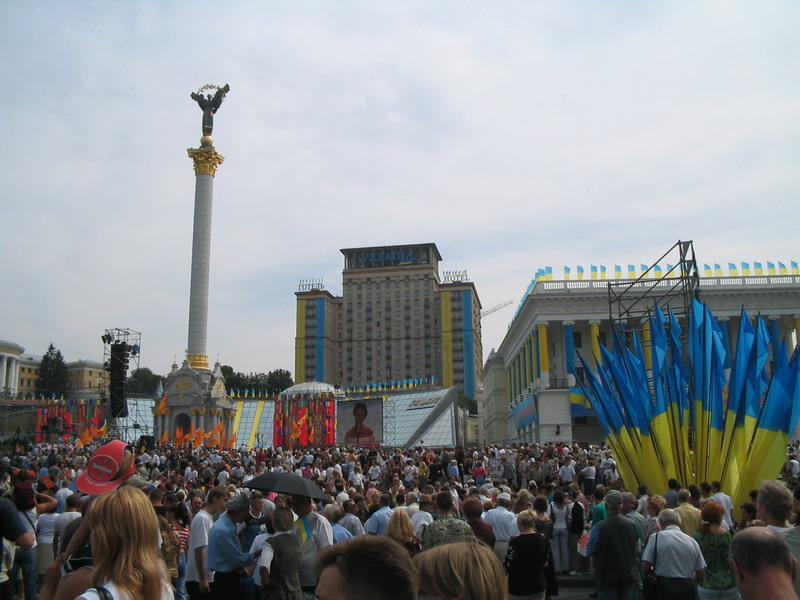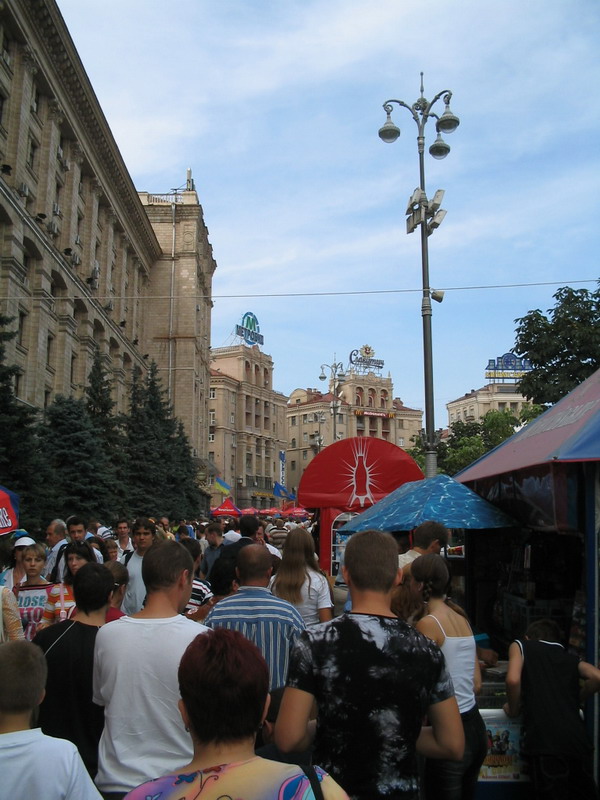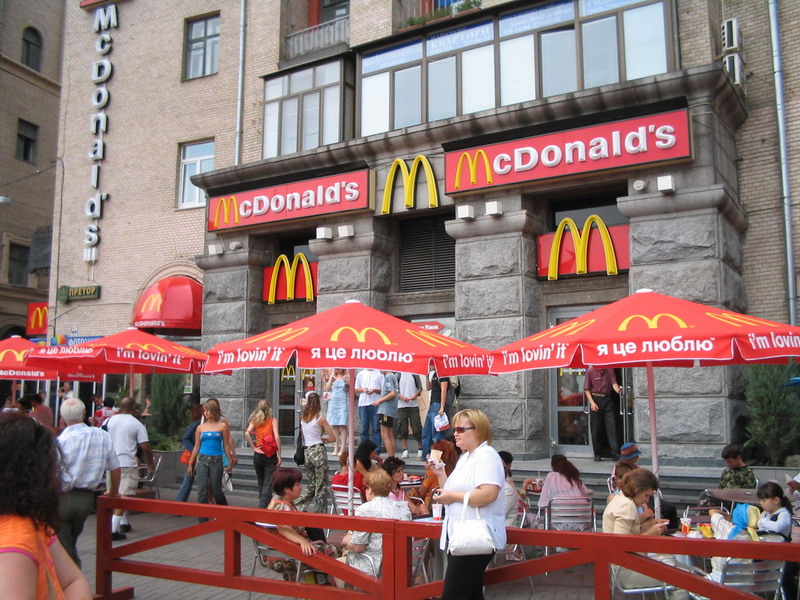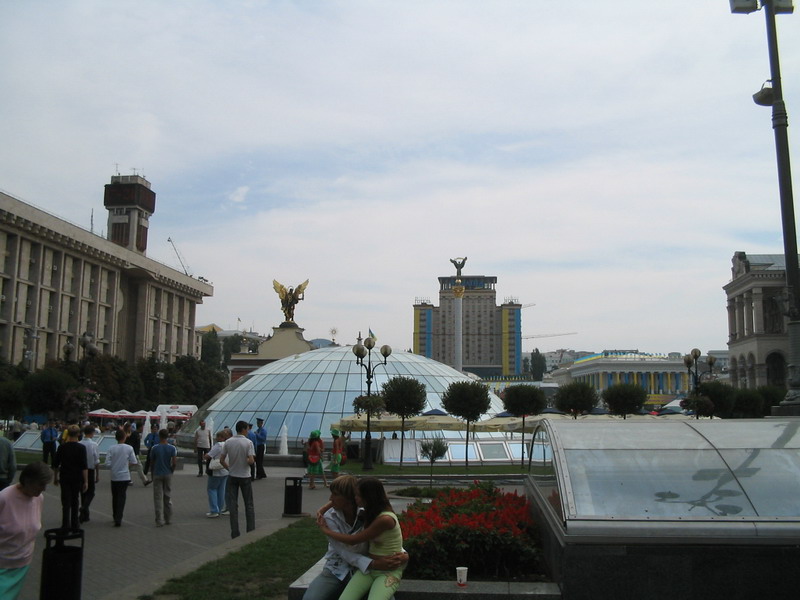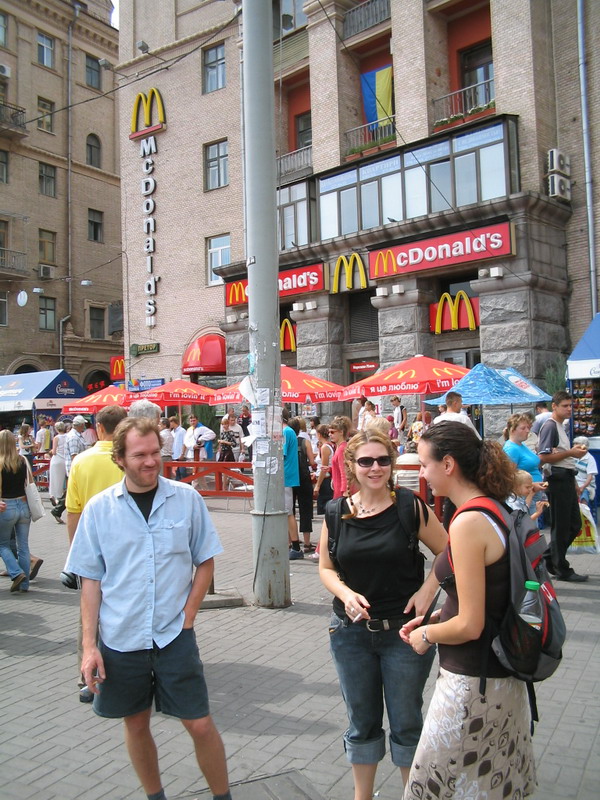 We considered having lunch at McDonald's, although we didn't do it together.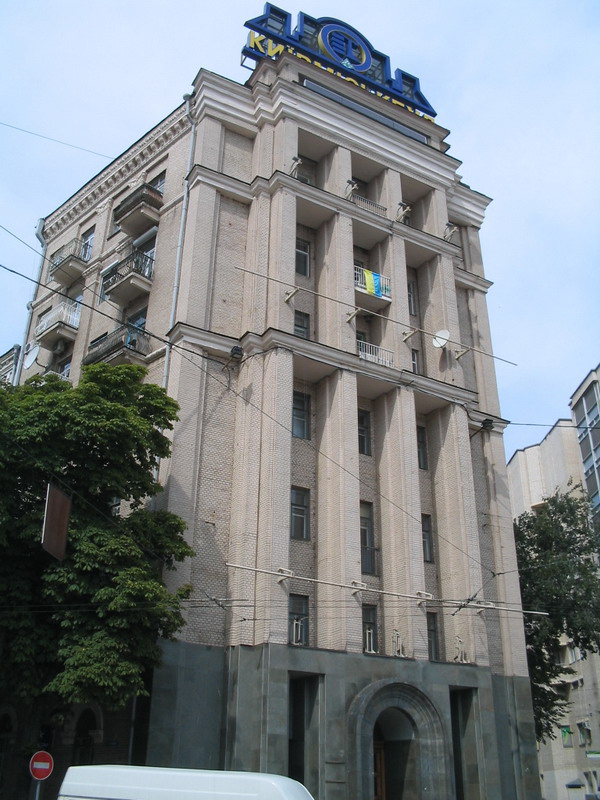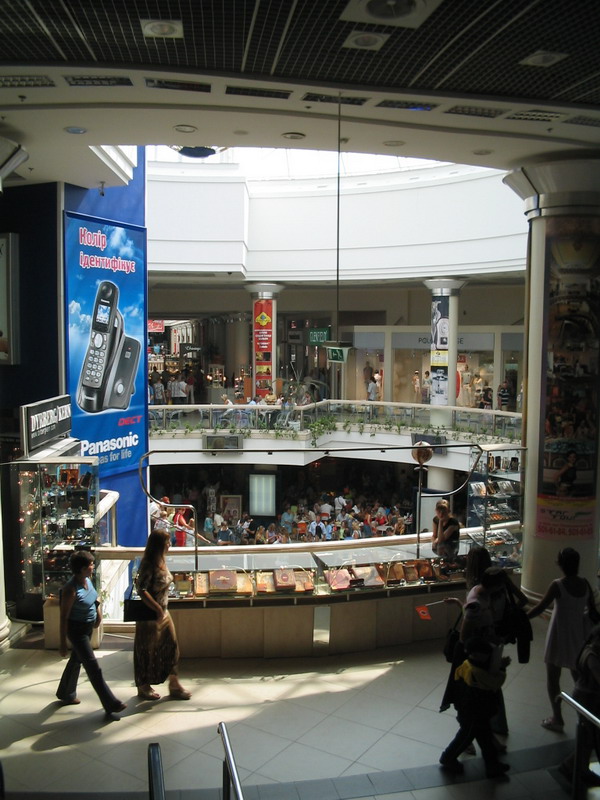 Below: A food court. I think that's where we ate.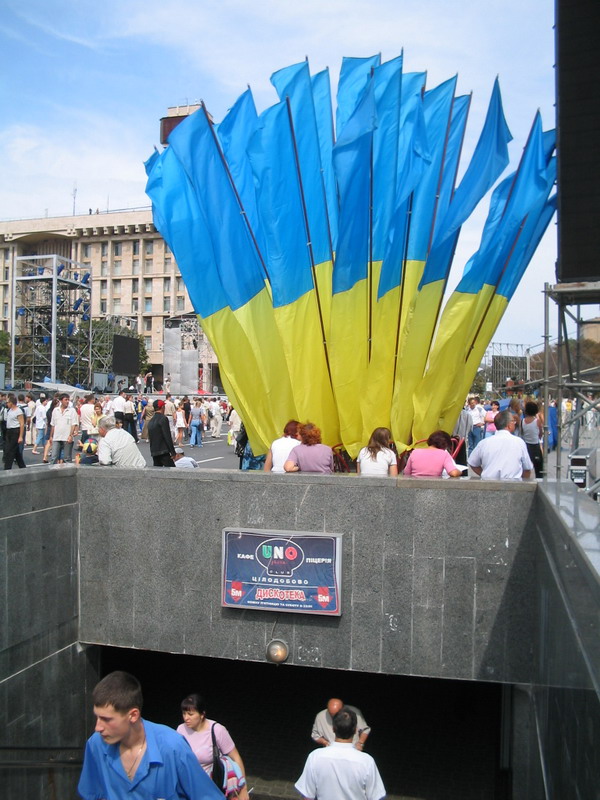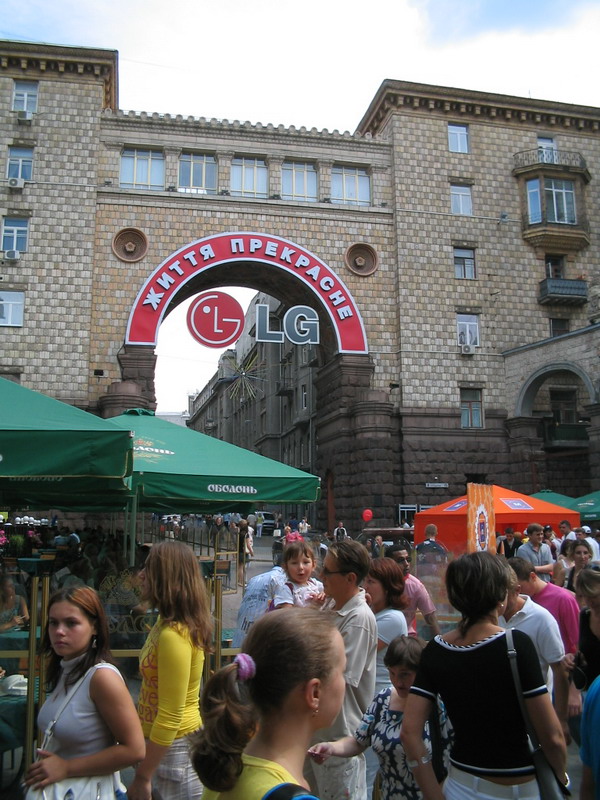 Background: Kyiv Passage.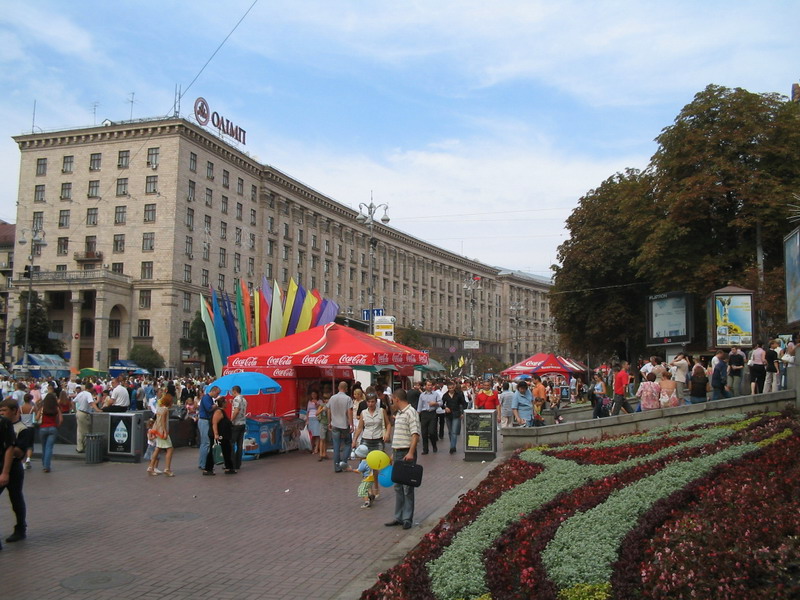 Background: The Ukrainian Postal Service headquarters, on Khreshchatyk.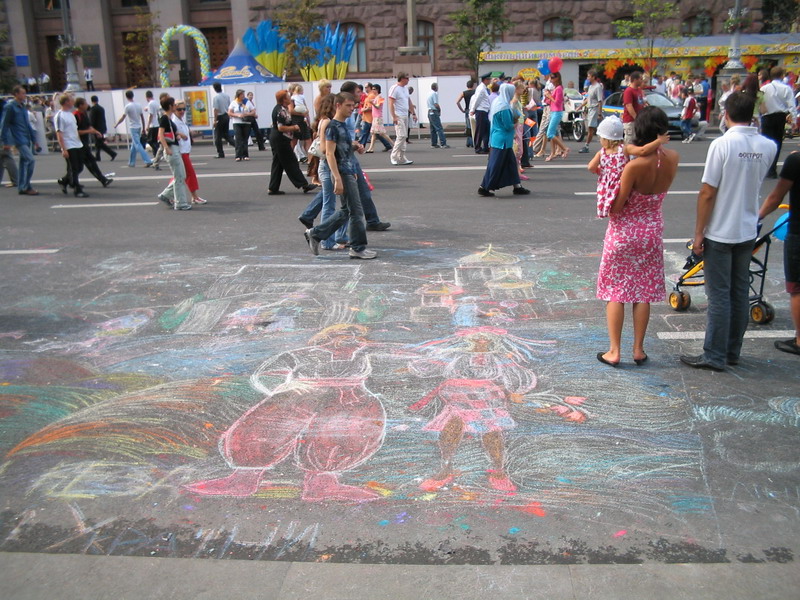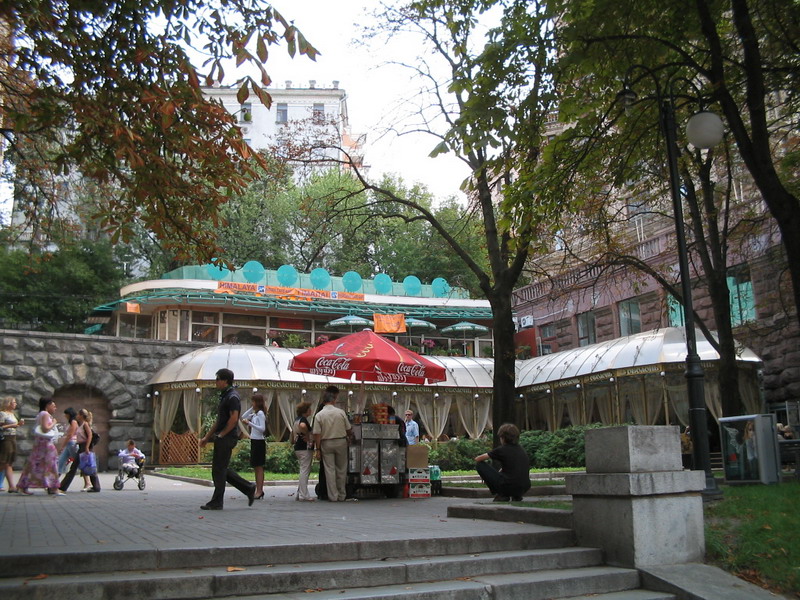 Background: Himalaya Restaurant, where we had our first meal in Ukraine way back in July!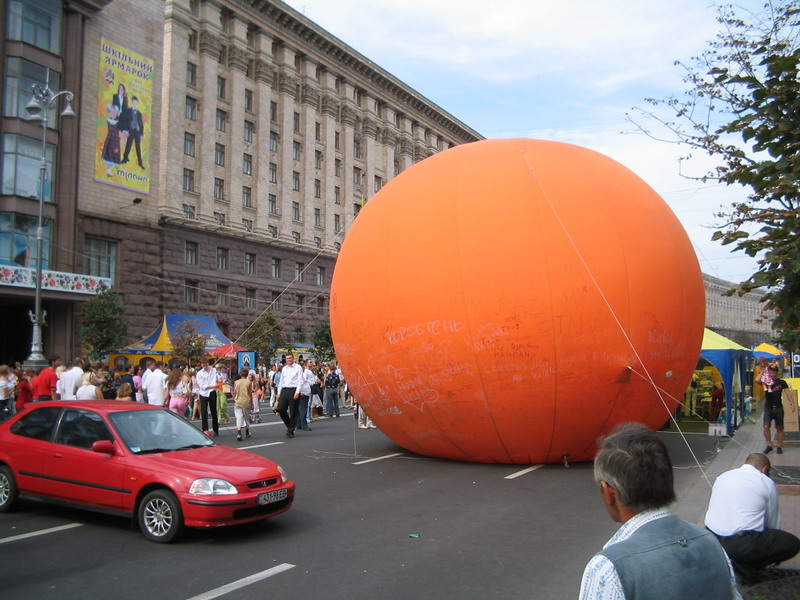 A Revolutionary Orange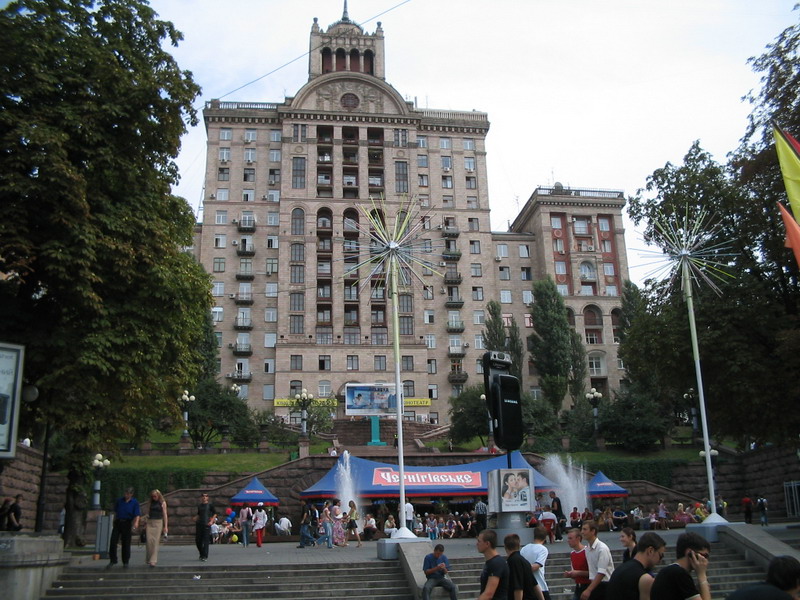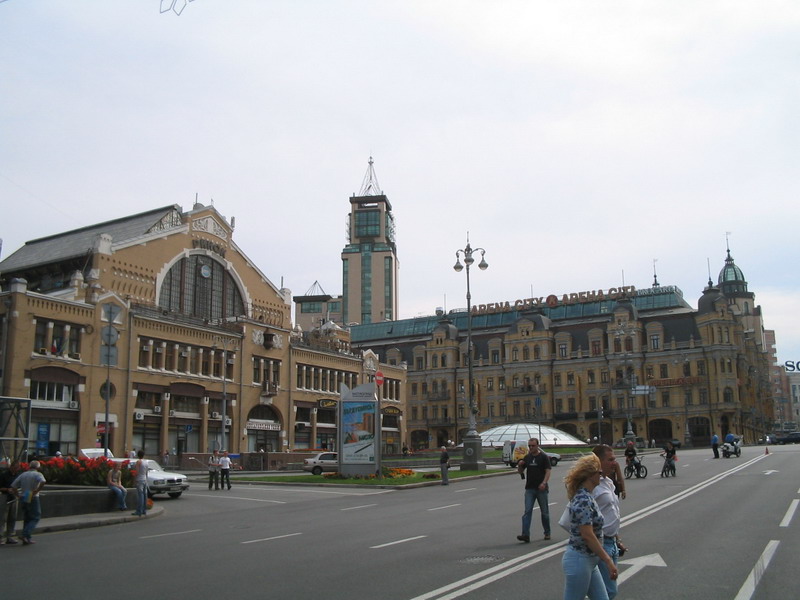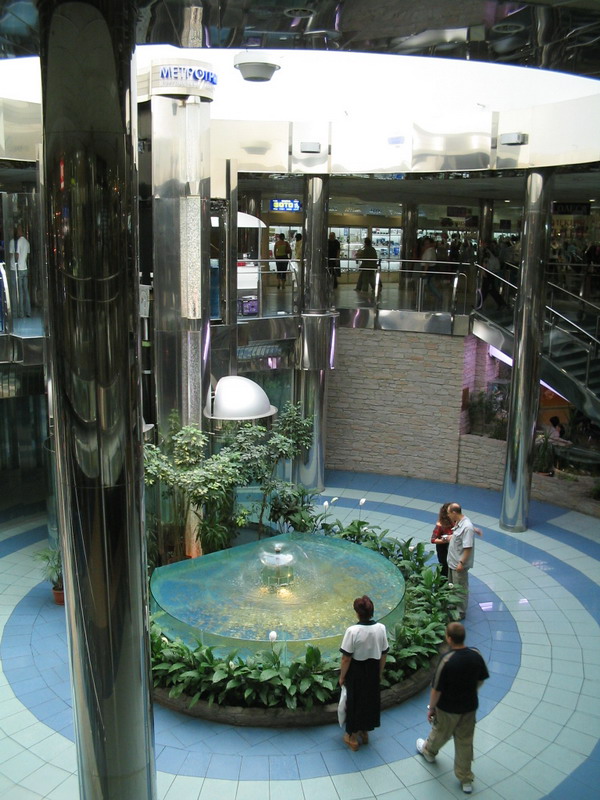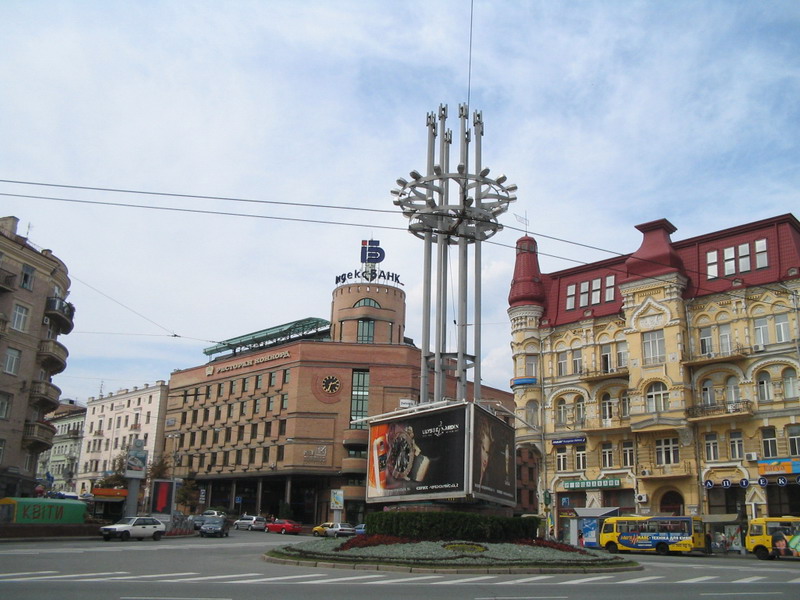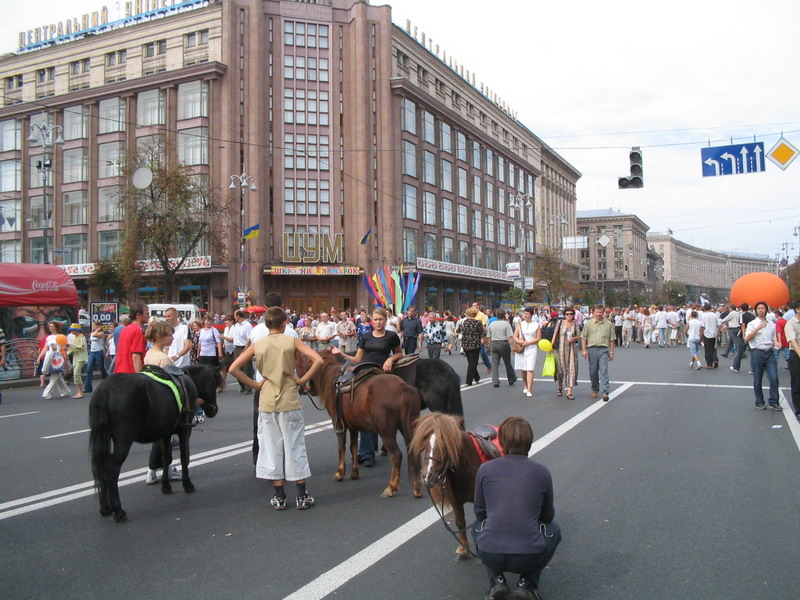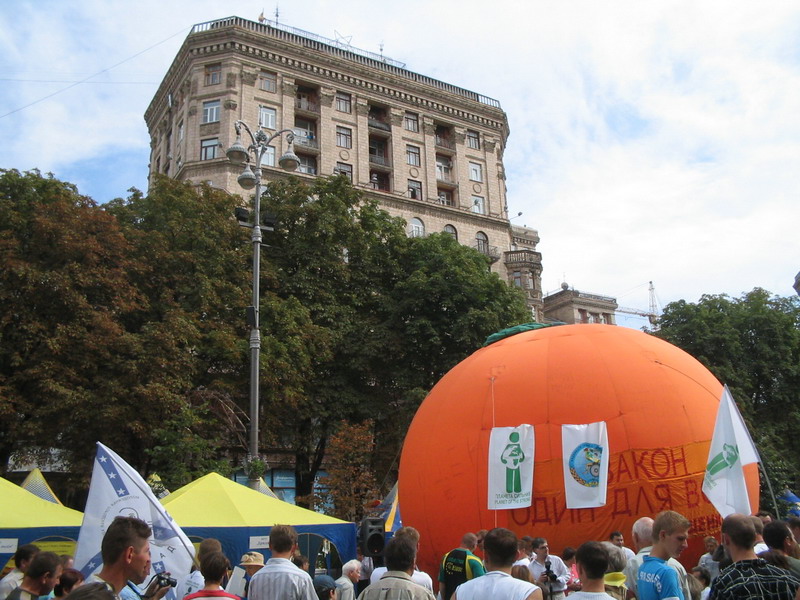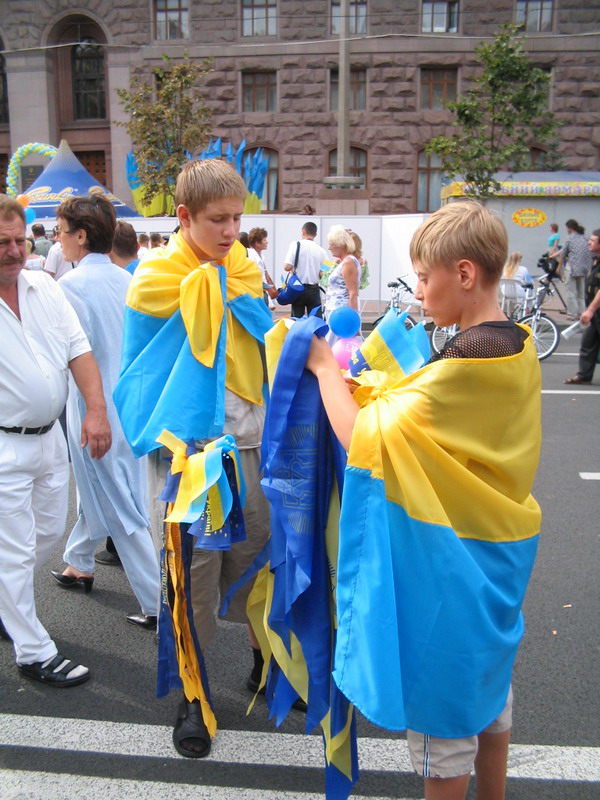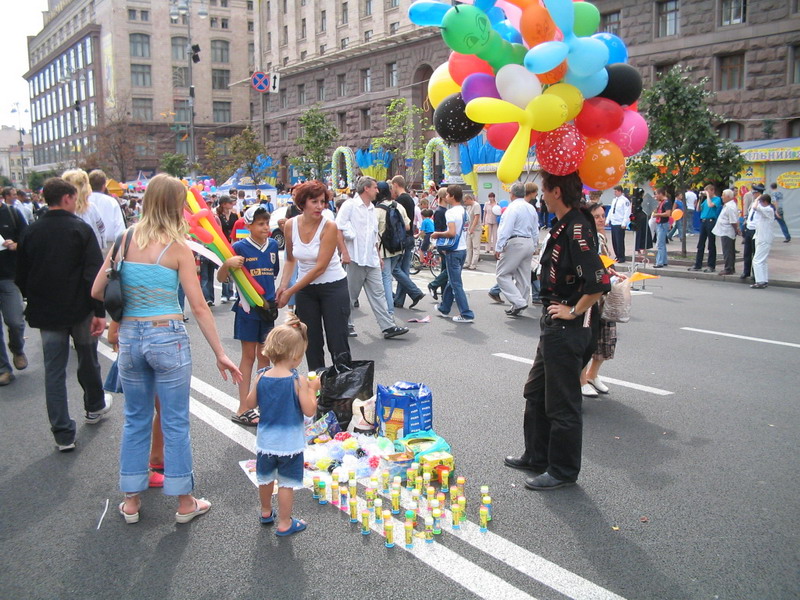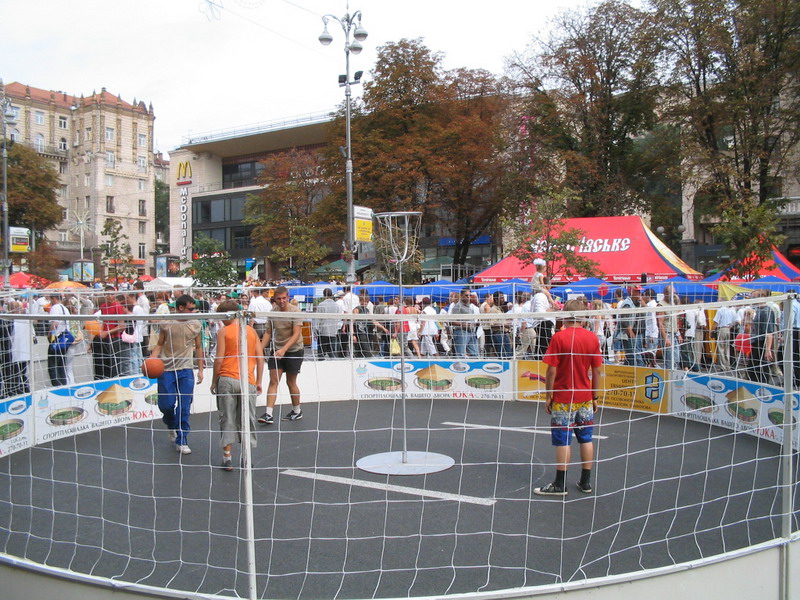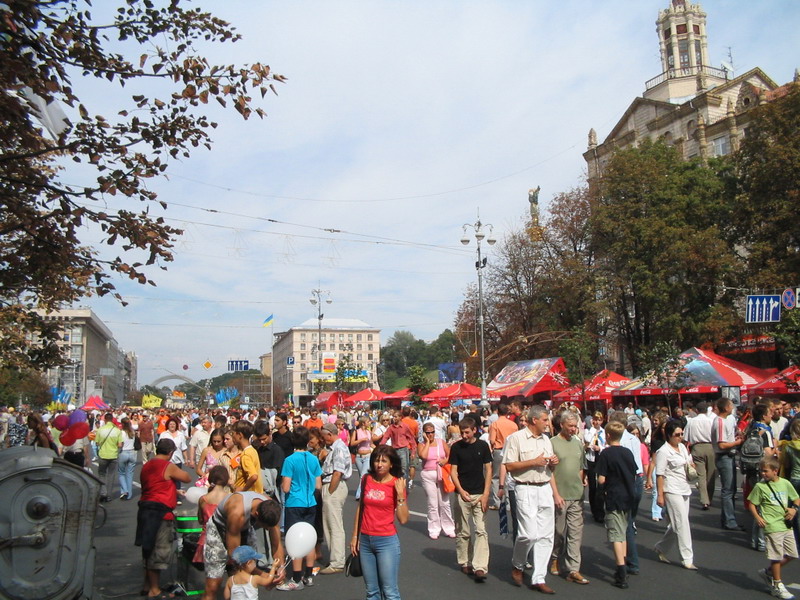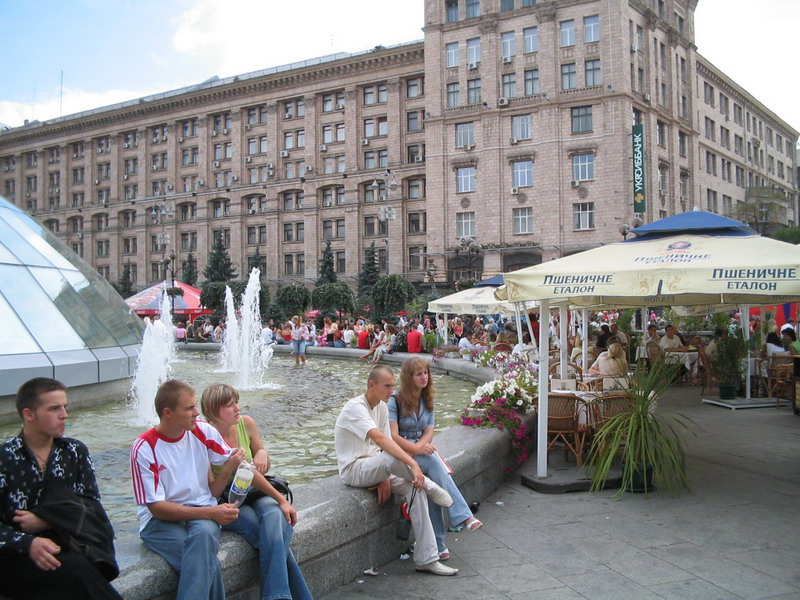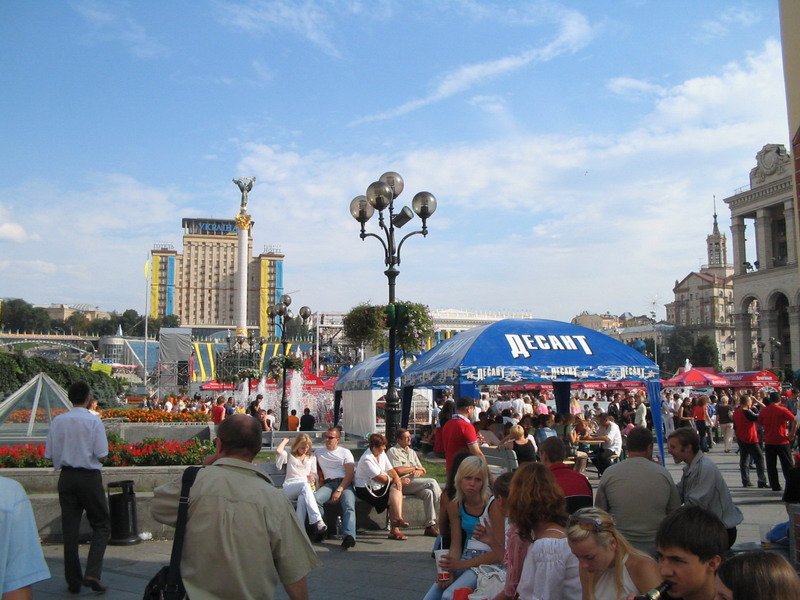 Statue of Michael.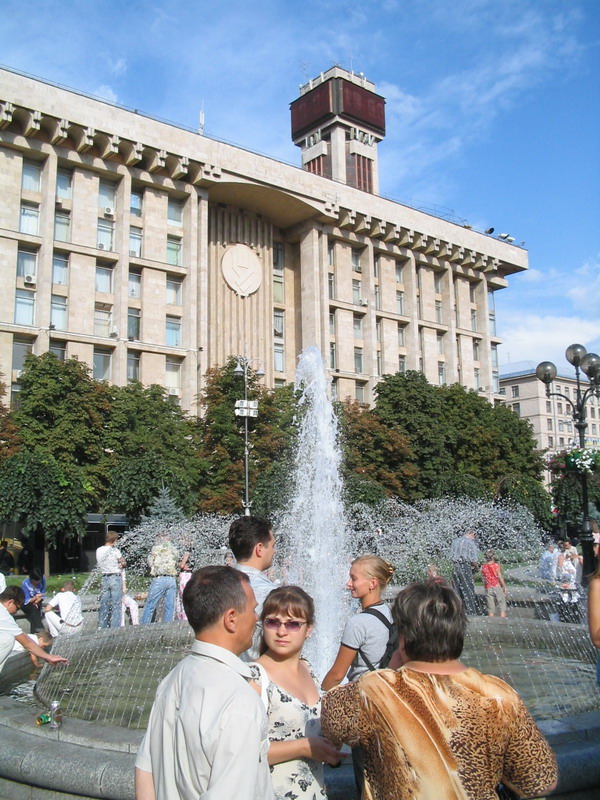 At around this point my reverie (I had been reading a map to orient myself with the British Embassy, for reasons explained later) was interrupted by an opportunistic fellow who <ahem> "suggested" I take on his services as a guide. He started on me in French, so this was the second French conversation I'd ever had (up until that point, of course). I guess I didn't know how to say, "Je n'ai pas besoin d'un guide, merci." Things didn't go much easier in English. (Our misadventures.)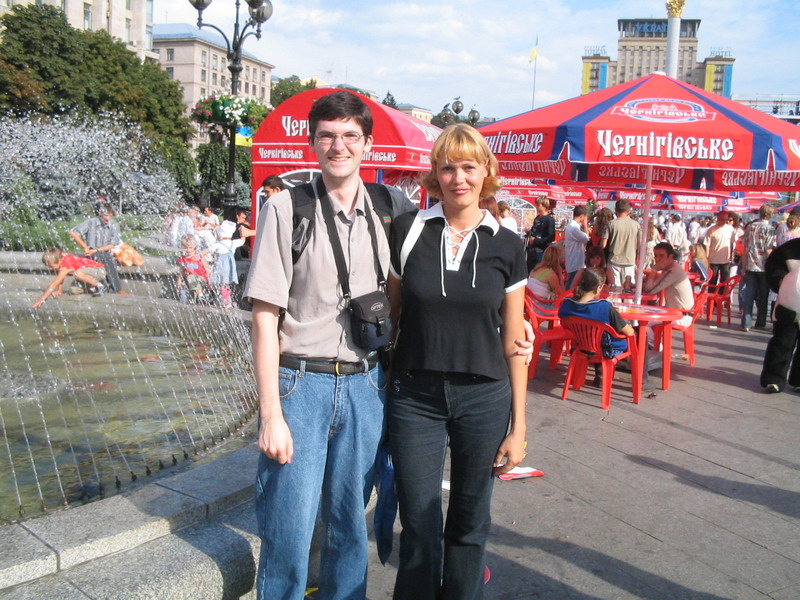 He found this woman and he sort of made me take a picture with her. It was kind of silly.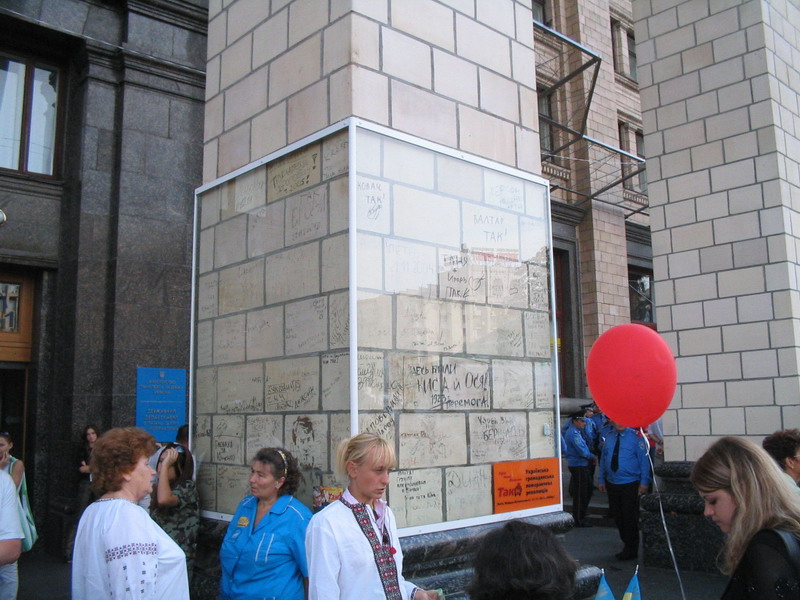 Here they are preserving some of the grafitti from the Orange Revolution - that's all well and good, but what bugs me is the overt partisan nature of this little exhibit. Note the orange "Tak!" ("Yes!") placard? The nationalistic free-market liberals in Ukraine in 2005 were playing a game that the media-phobic neo-cons of "Canada's New Goverment" took up in 2006-07. It's so odious!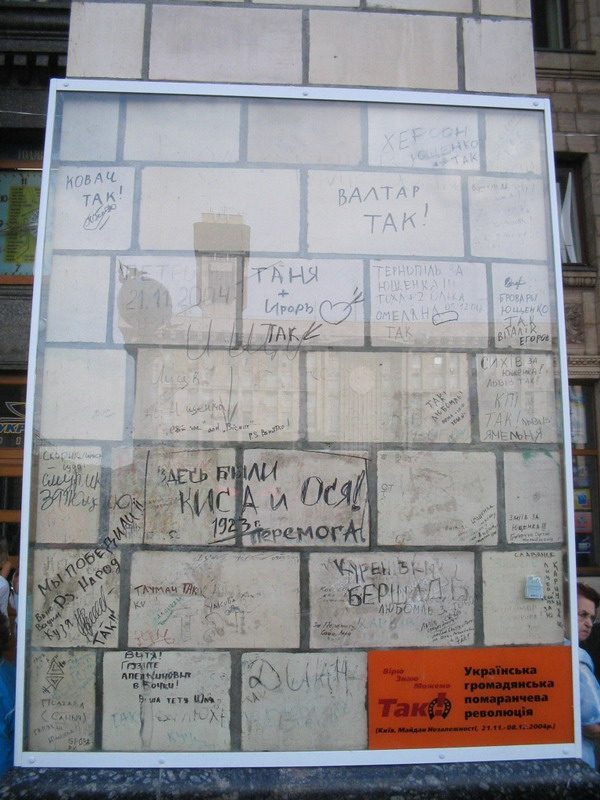 Sure, this was important, but why does it have to be brought to us by the Our Ukraine Party? Can't such a watershed moment in history be appreciated by Ukrainians of all political stripes?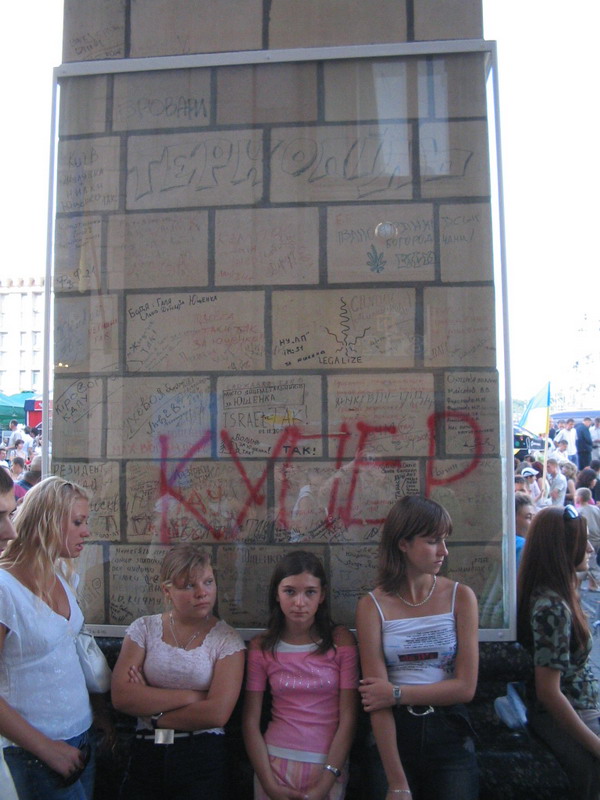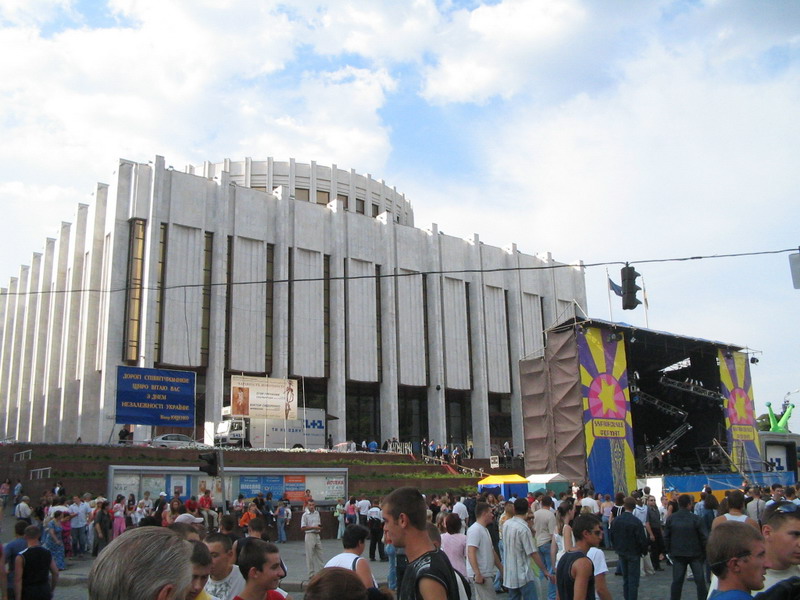 Ukrainian House in European Square again. I feigned an engagement in this direction so I could get away from my "guide."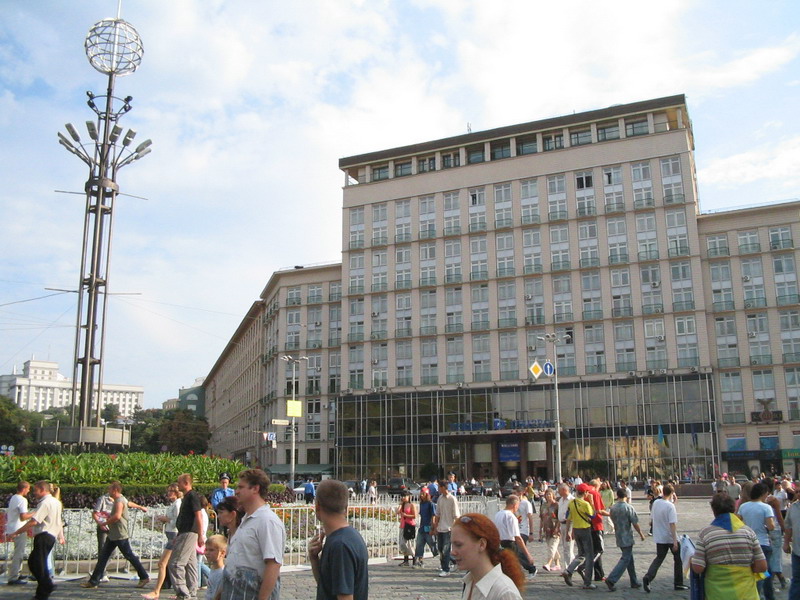 At last, it was time to reunite with the group - we found a good spot to sit at the far corner of a beer tent, pretty much in the middle of things.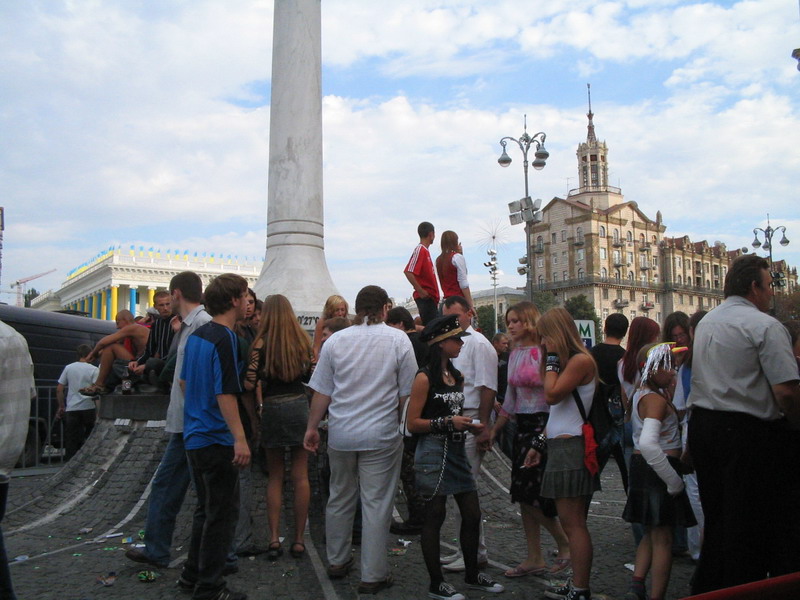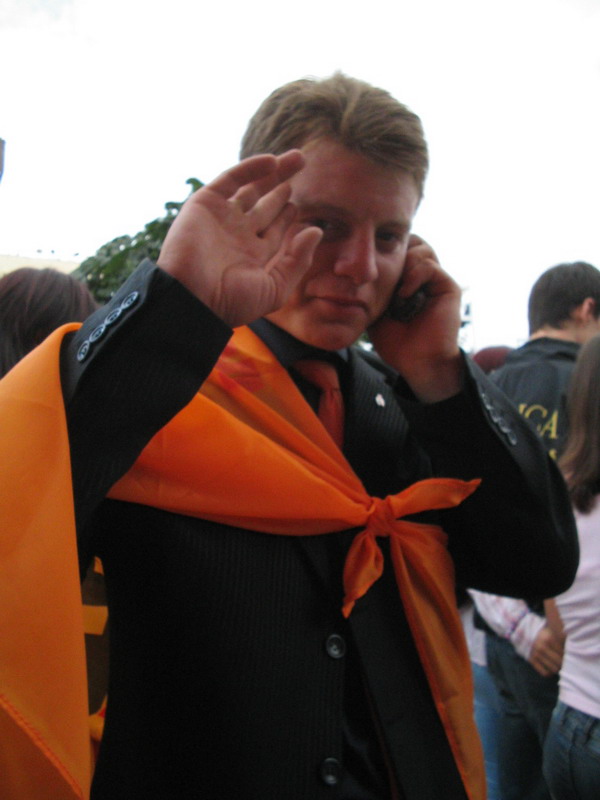 This fellow made himself known through his vocal chords. (see the video)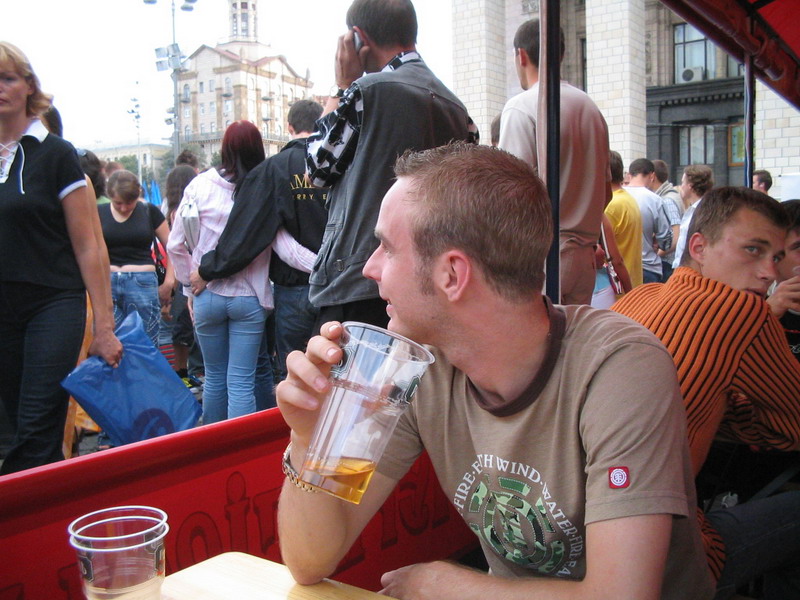 Hey! It's that lady again! I'm just noticing now as I assemble this in October 2007! You just can't get away from people. Anyway, I doubt she was part of any scam with that other fellow, because now it looks like she's just doing some shopping. (Wait a second...)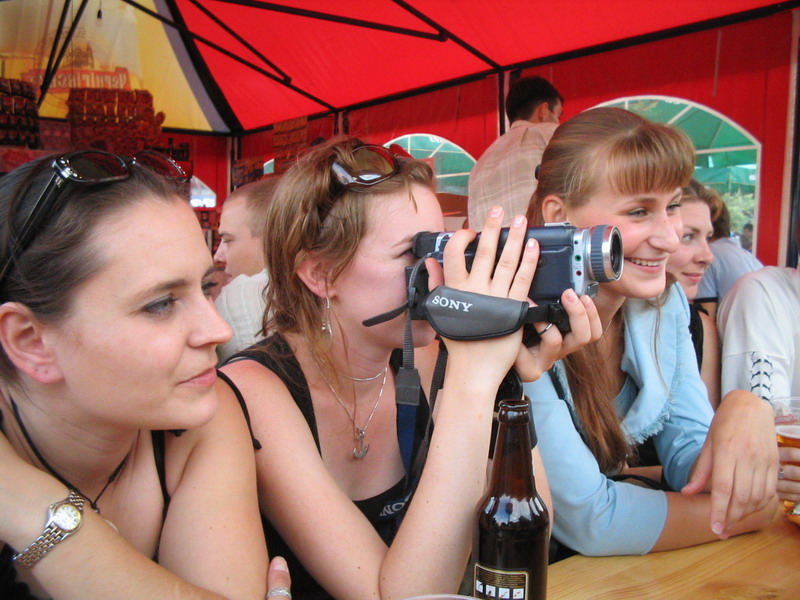 Sheryle had been filming all day, and the day before, including parts of some of the interviews we were having at places like the regional office of the OSCE. Next to her on the right is Shelley's cousin Anya.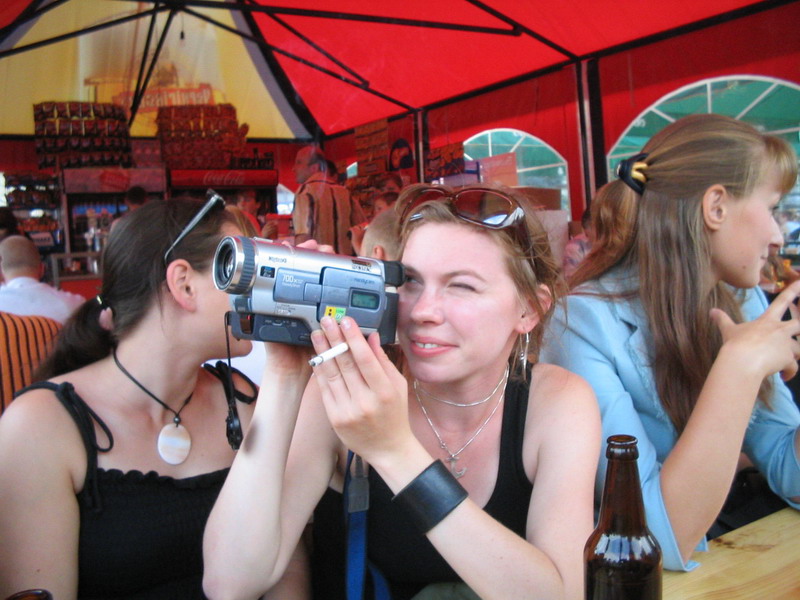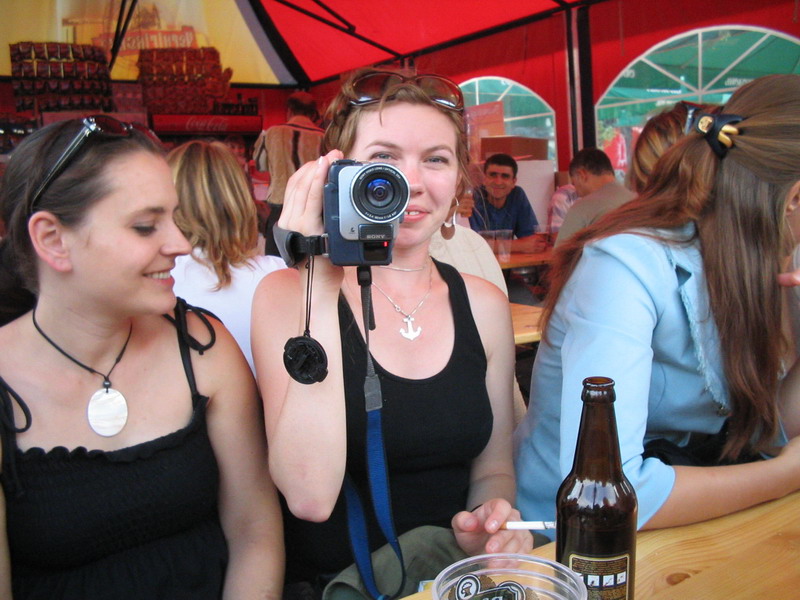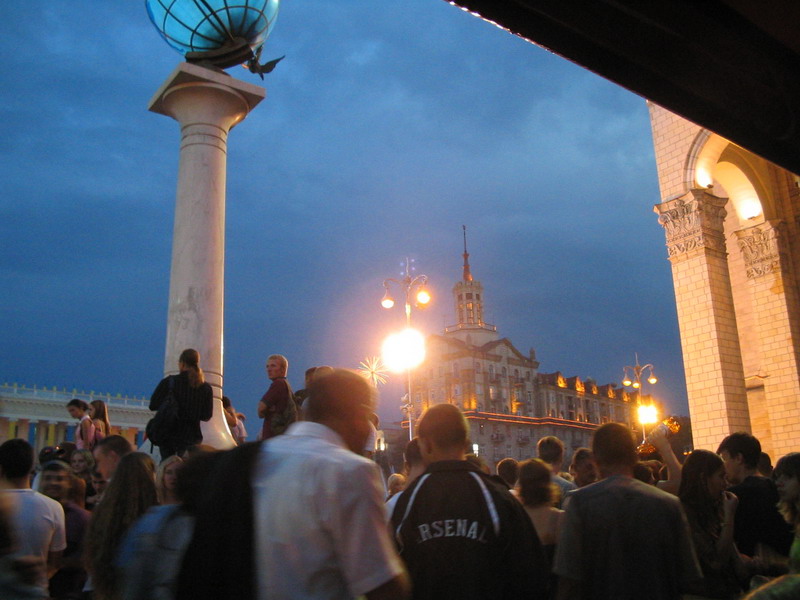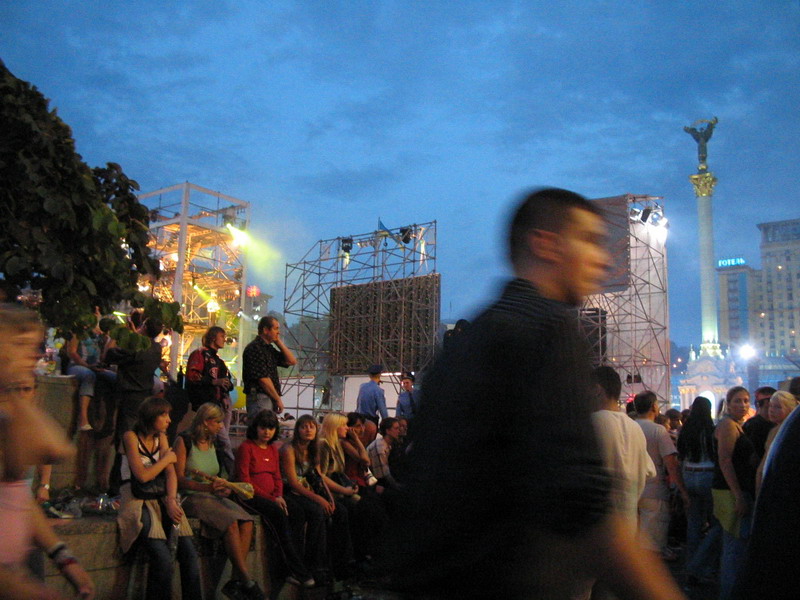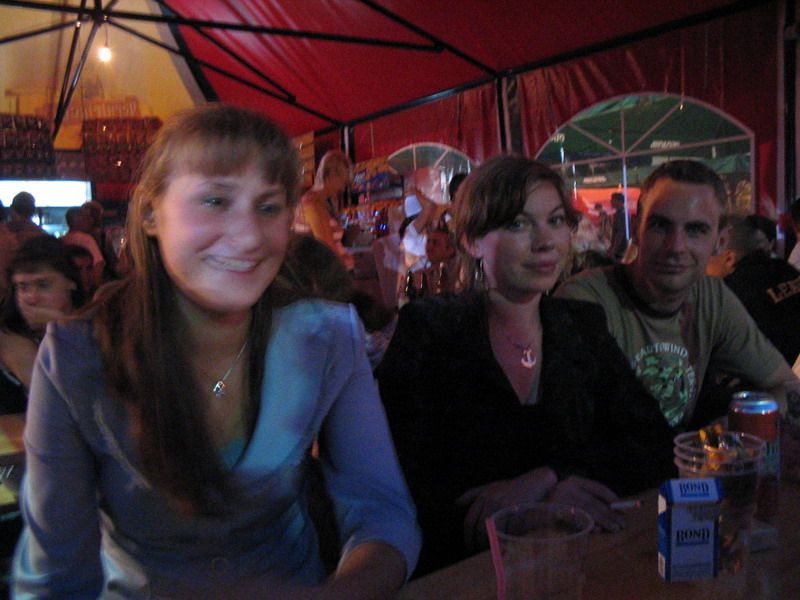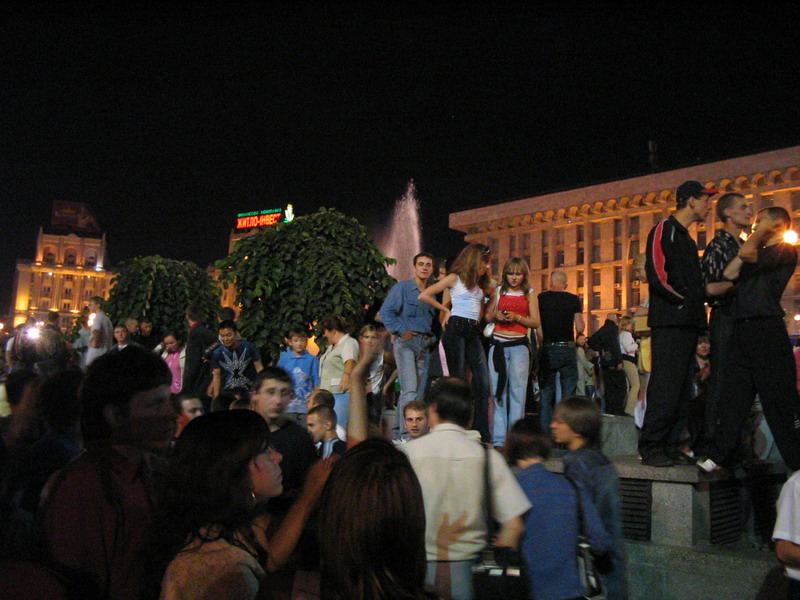 The fireworks were something else.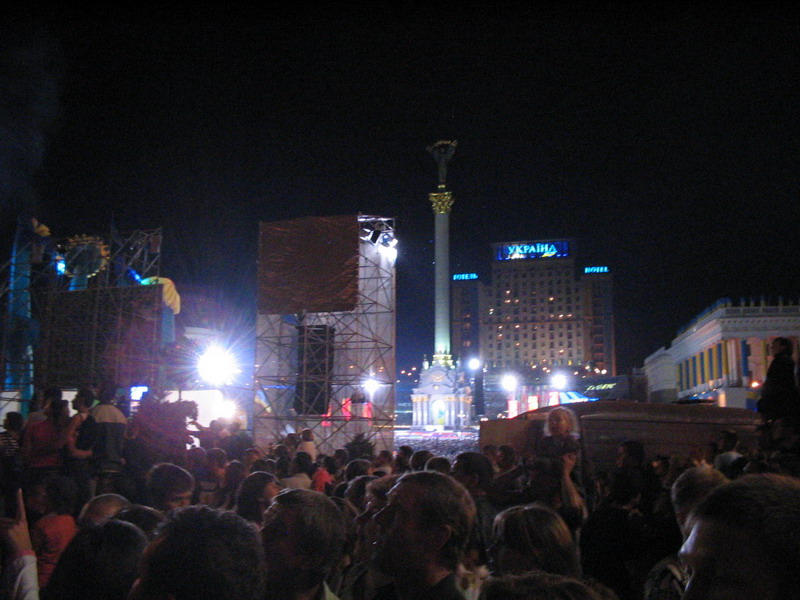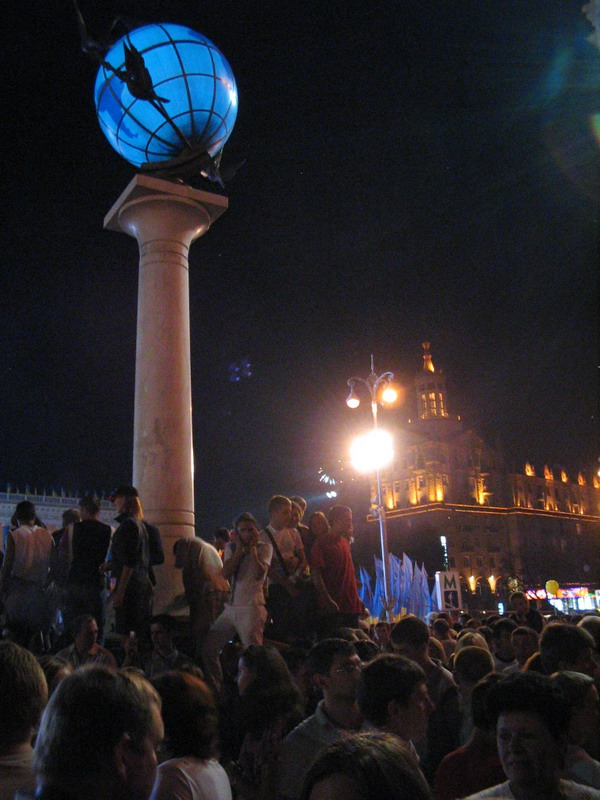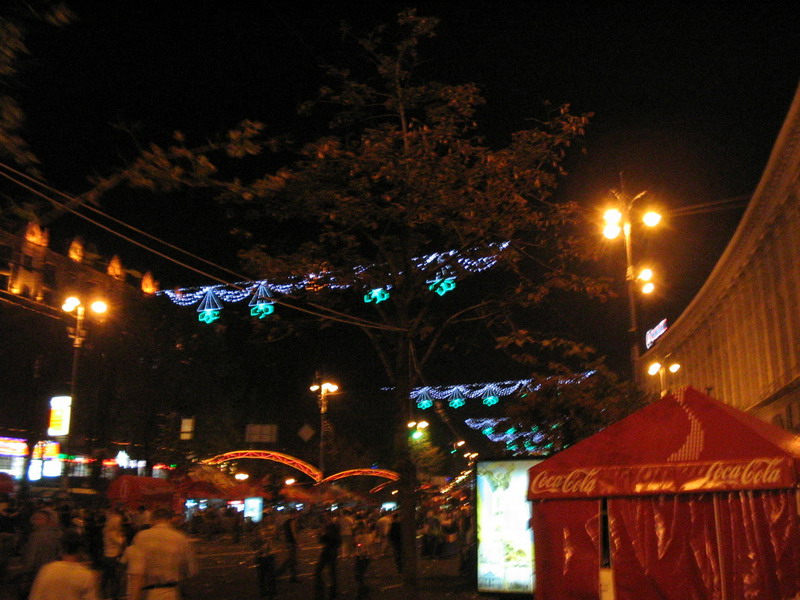 On Khreshchatyk, heading to the metro station of the same name.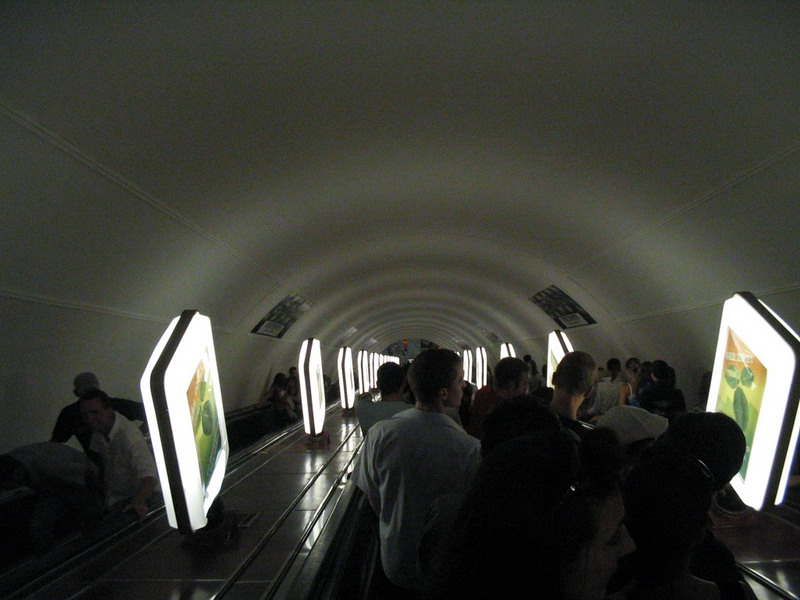 Inside Khreshchatyk Station, on one of the very long escalators typical of the deep-tube inner city stations.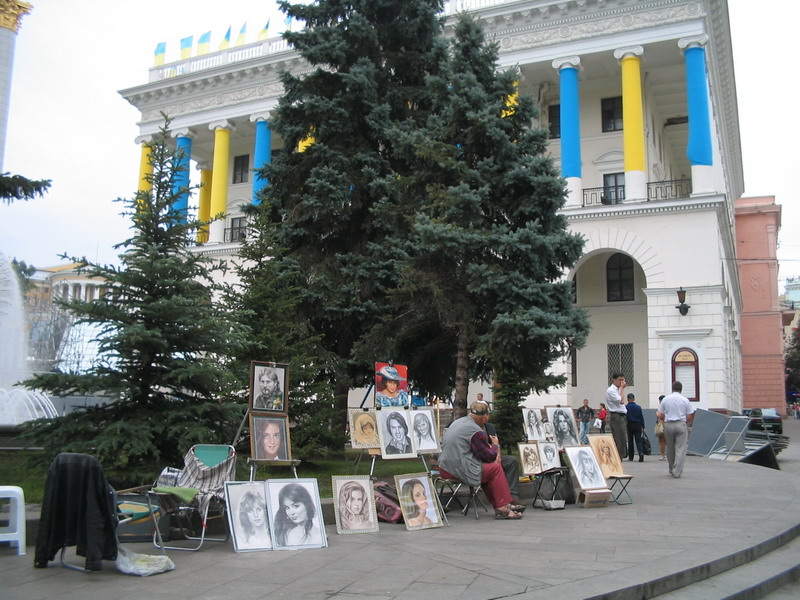 The next day we were set to leave Kyiv in the afternoon, so we had a chance to explore even more...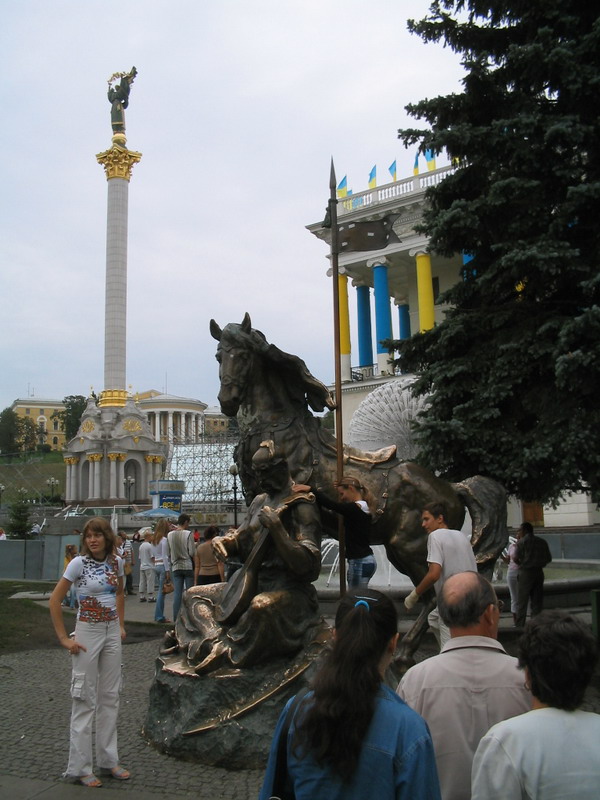 Background: Monument to Berehynia, a Slavic godess. Foreground: Cossack Mamay.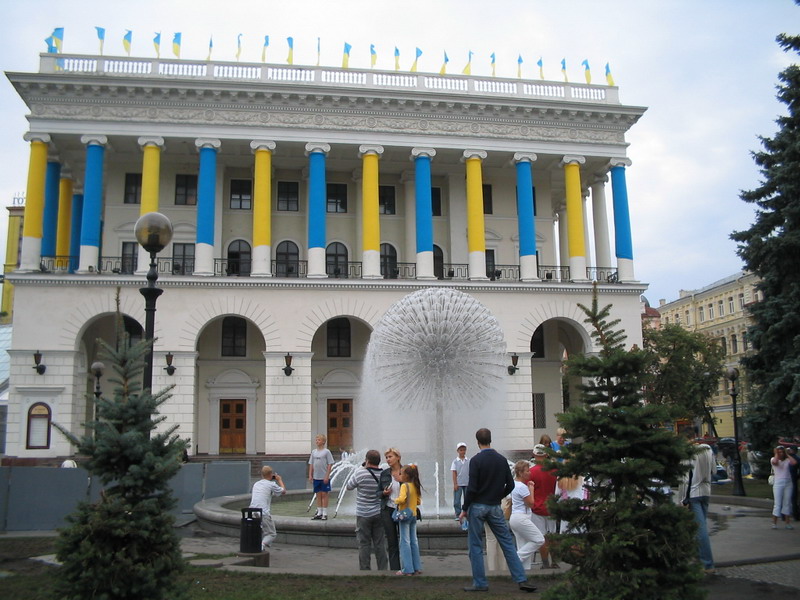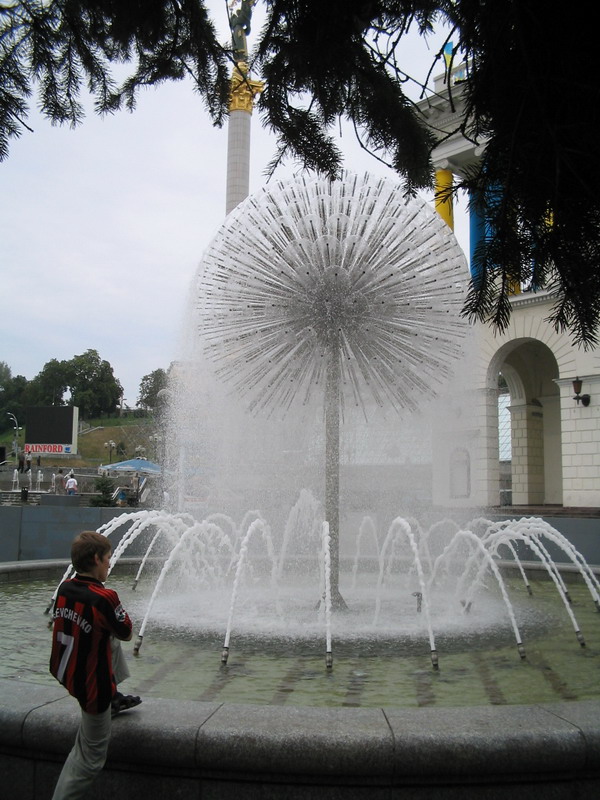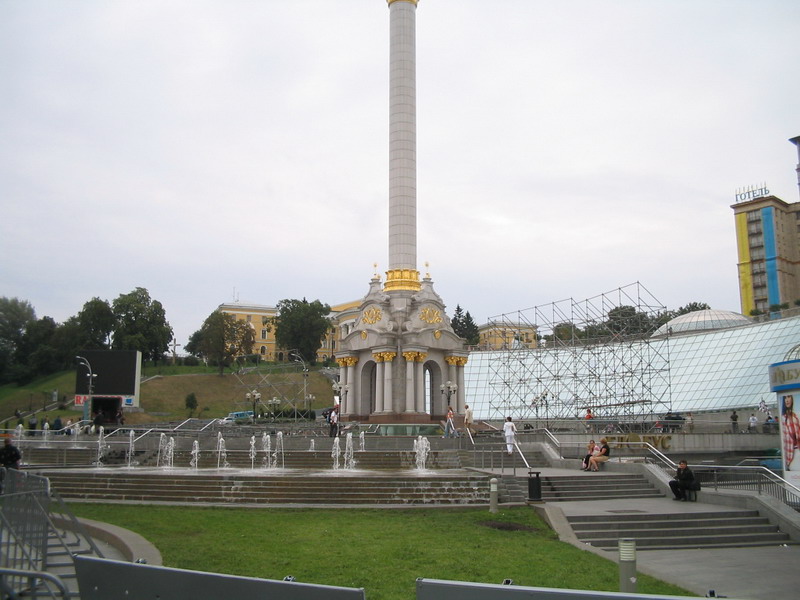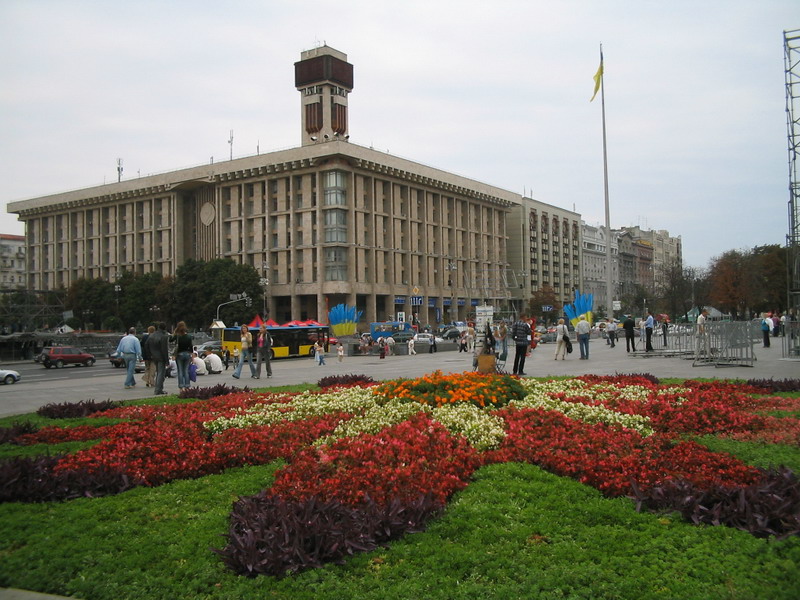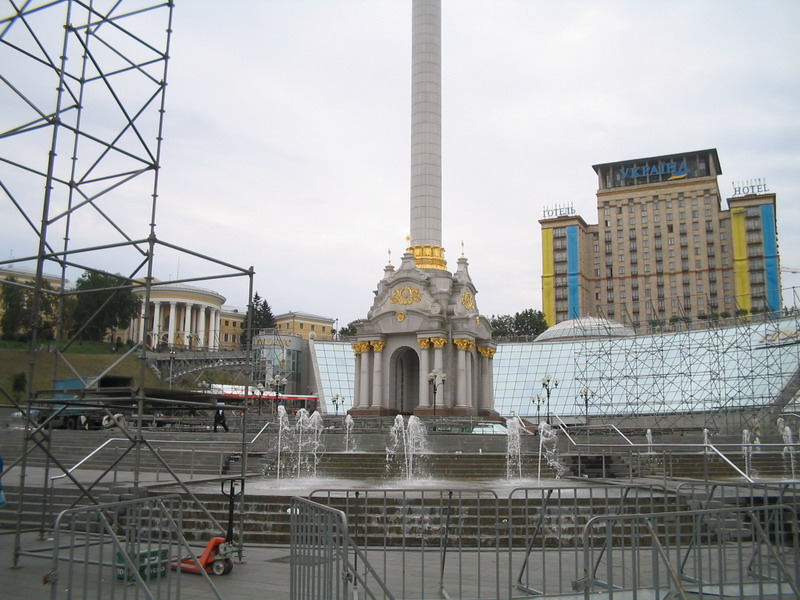 Nothing left but work for the cleanup crews...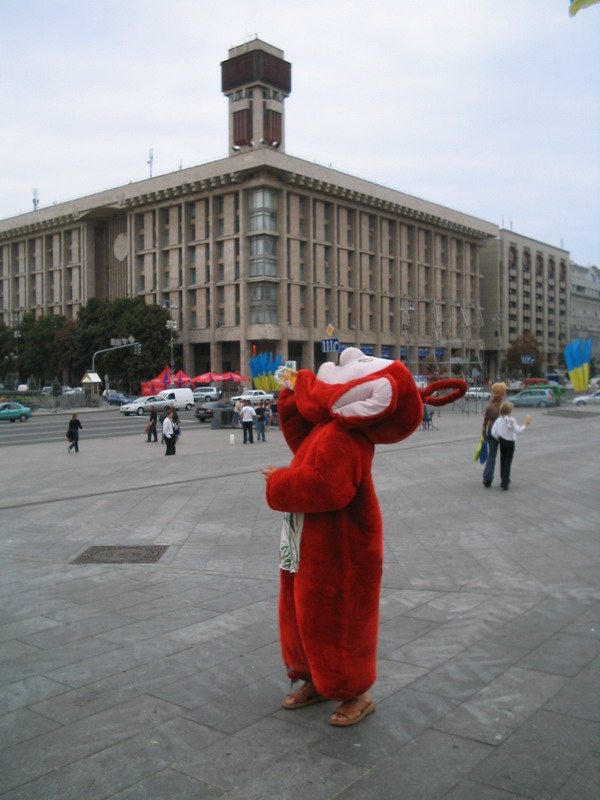 Po.

Monument to the brothers Kyi, Schek and Khoryv (and sister Lybid), legendary founders of Kyiv.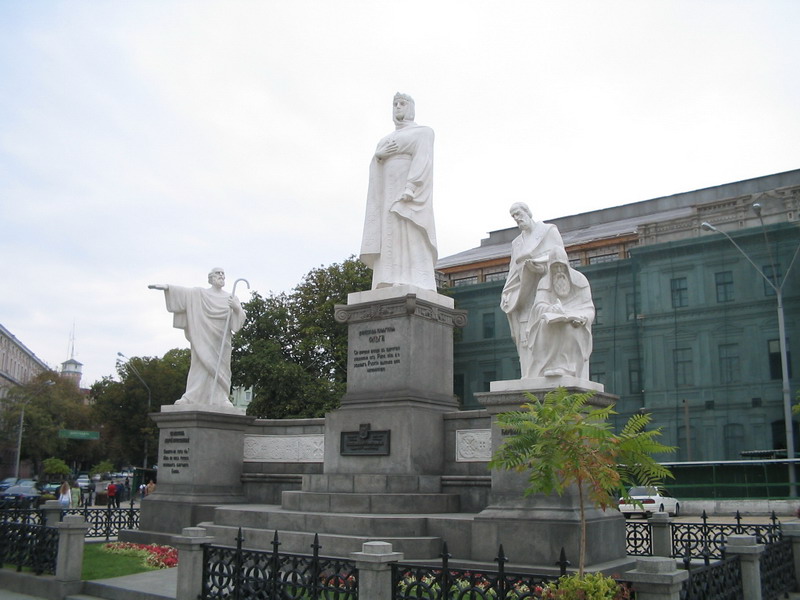 Monument to Olga, who ruled Kievan Rus' as a regent for her son from about 945-963.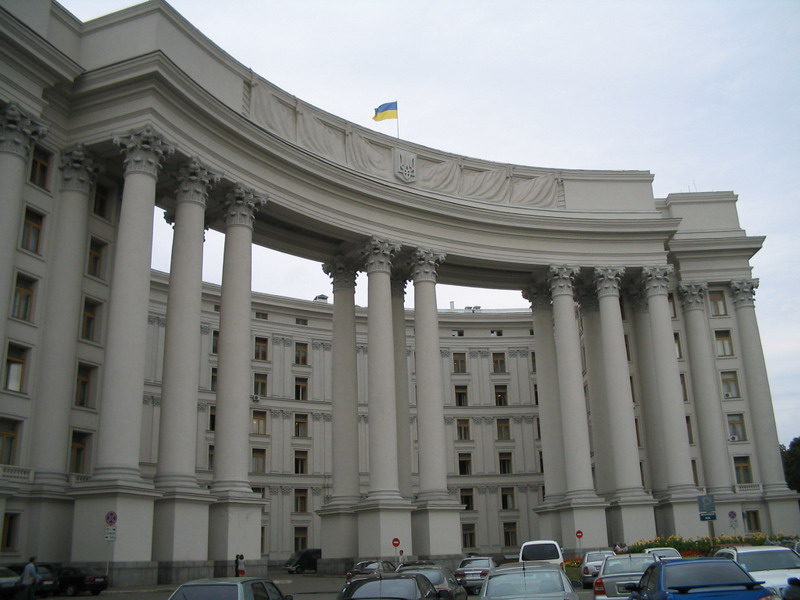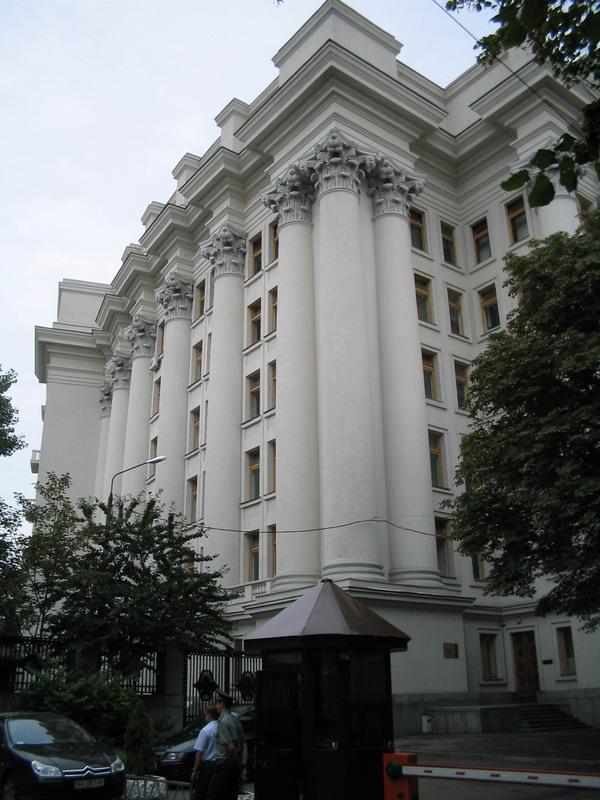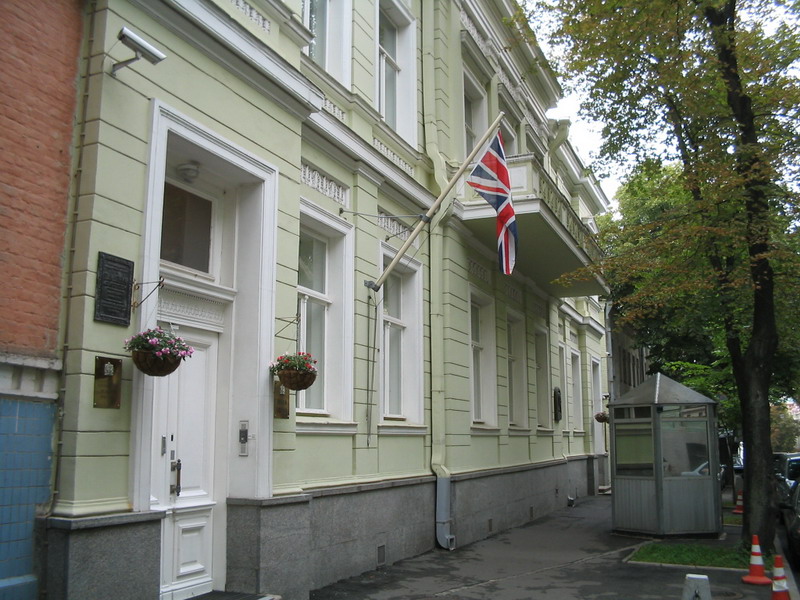 And, this is the British Embassy...
I kind of thought it would be bigger.
At the time I was considering applying for a holidaymaker visa and going to the UK after Ukraine (it would have been fitting, alphabetically speaking), but we had terrible airline tickets that had $250.00 change fees, and expired on the day we were leaving anyway. (And, more on that later...)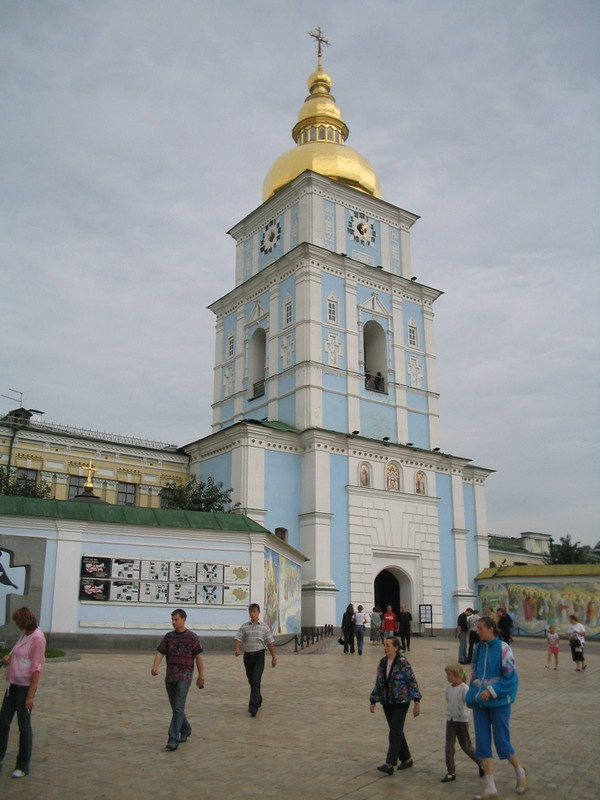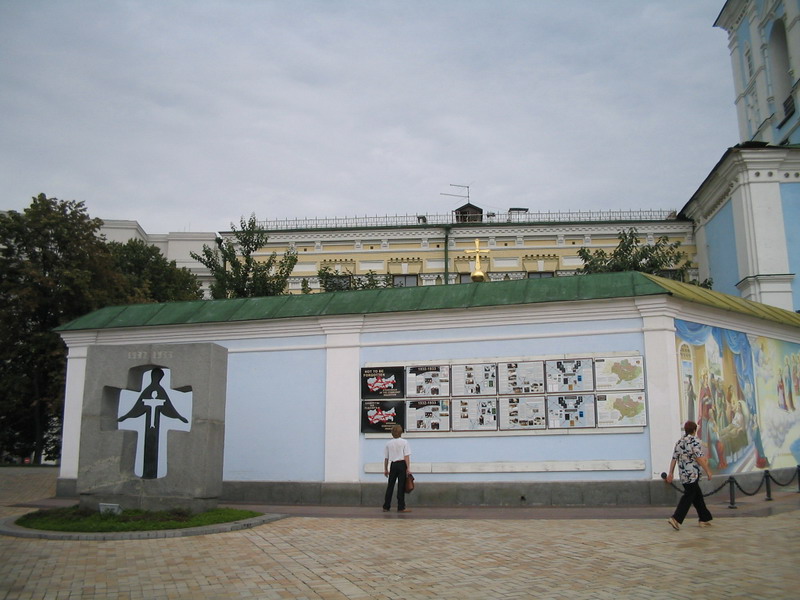 An interpretive memorial to the victims of the Holodomor.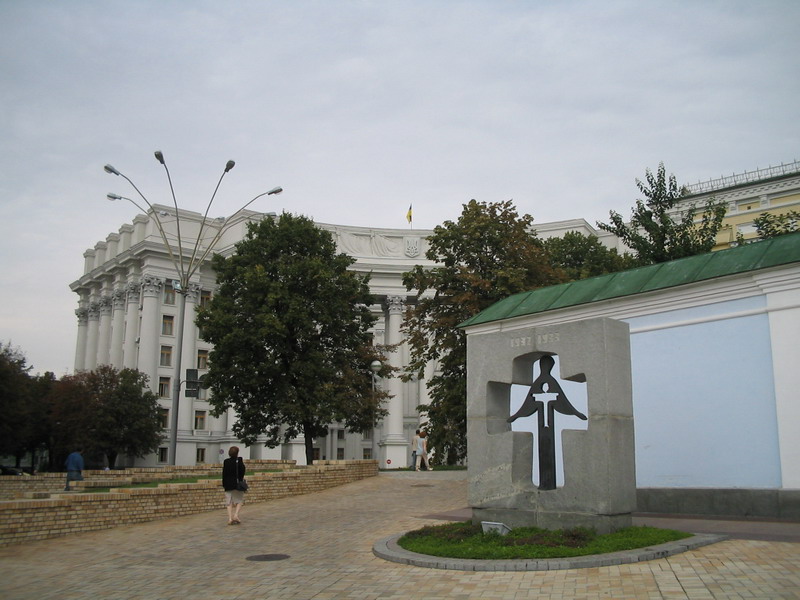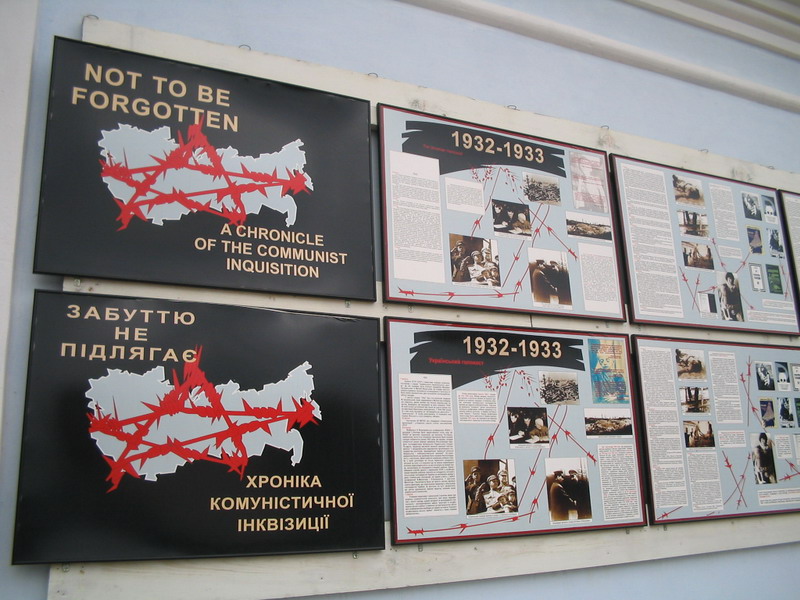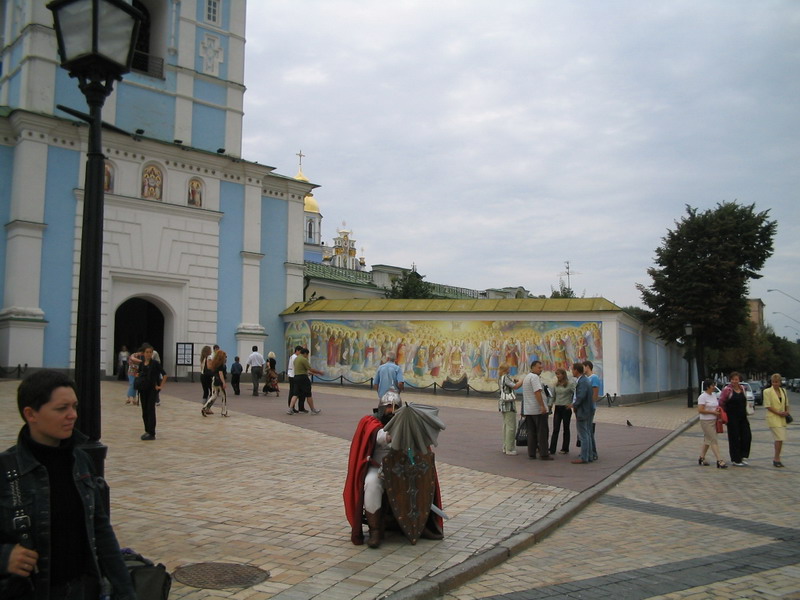 Now this is cute. As I walked closer to this costumed fellow, I wondered why he had an umbrella...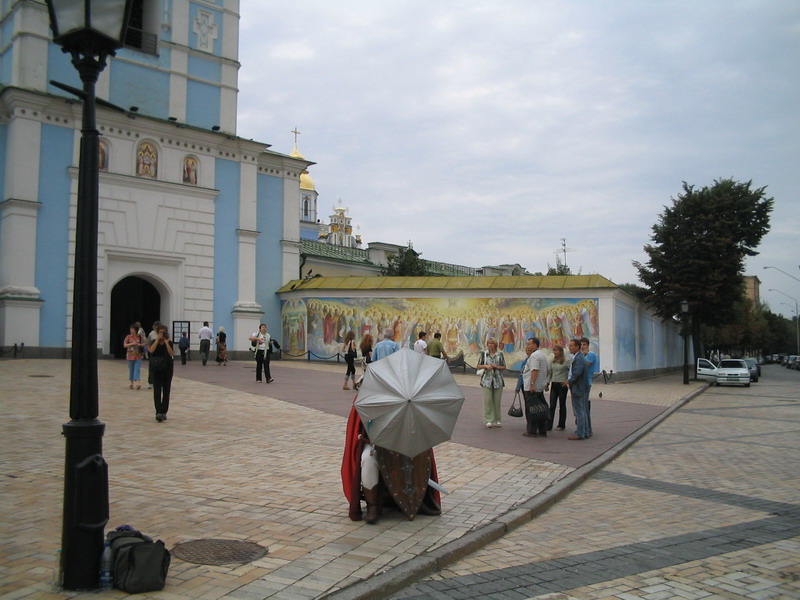 ... it's to keep cheapskates like me from taking free photos.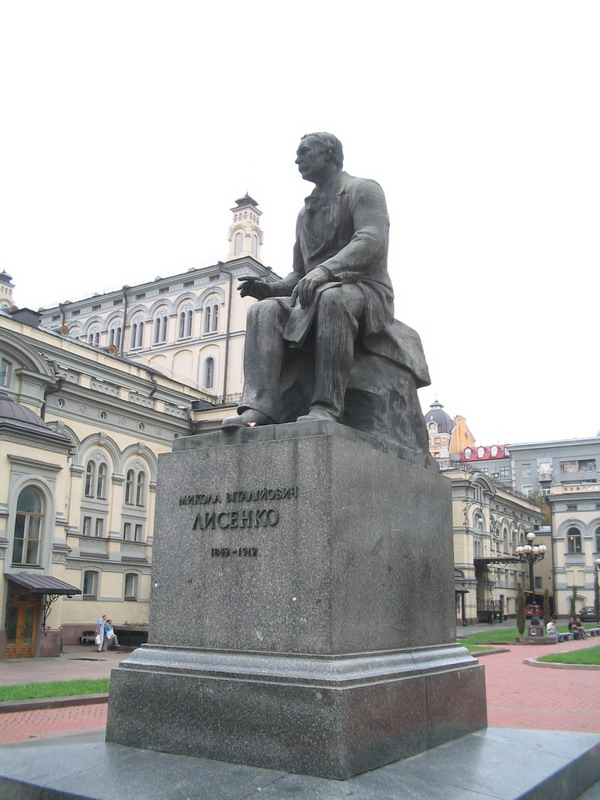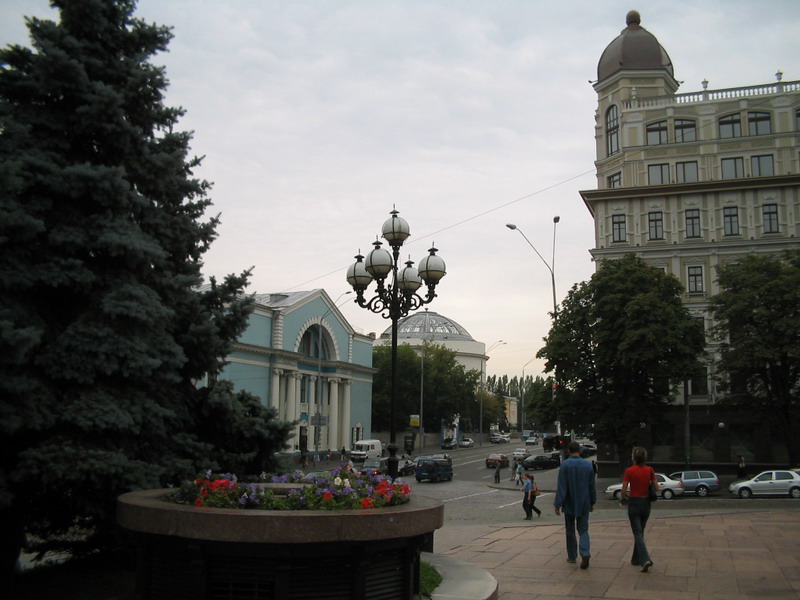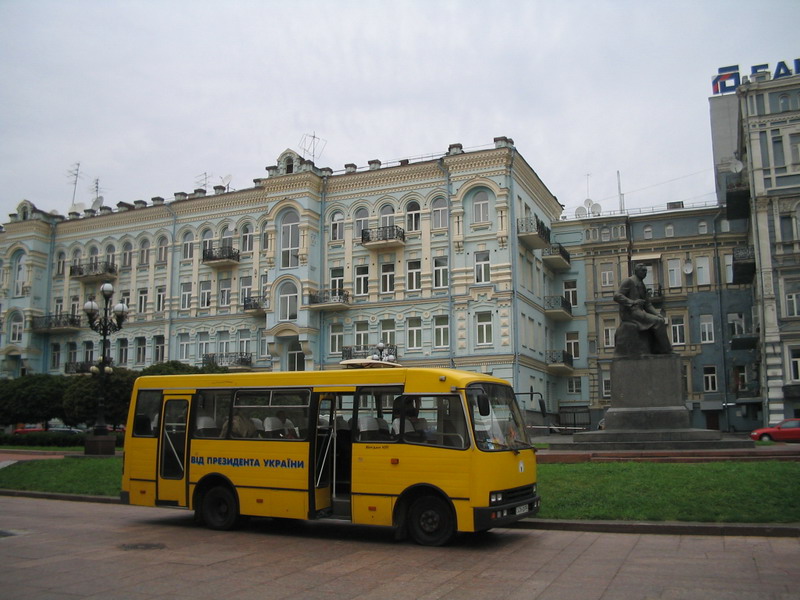 At last! Time to go home!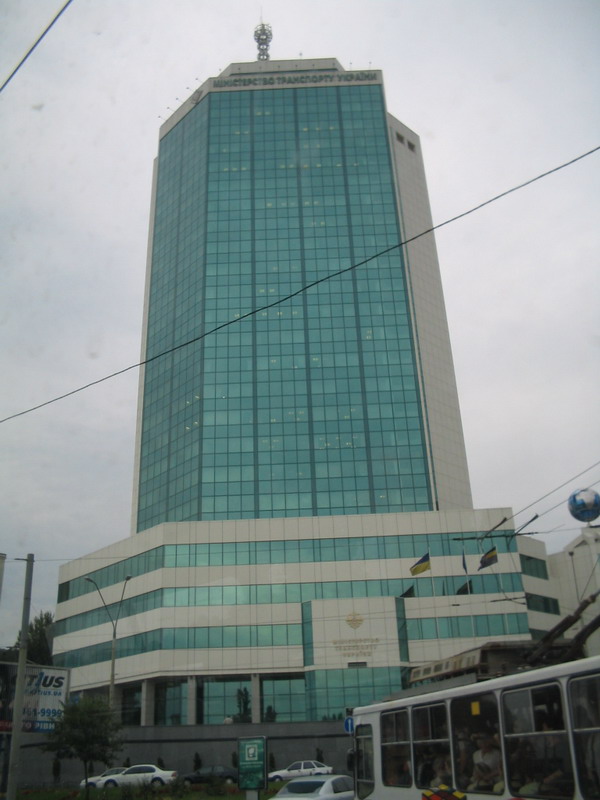 The Ukraine Ministry of Transport.