return to Ukraine Canada Corps exchange, and other travels
PS21 - Kyiv III
January 7th, 2006: last post from Ukraine
January 8th, 2006: in transit, Warsaw to Kyiv to Canada
"Eduard dropped us off at a metro station and we made our way to the market hill, as I was in search of an embroidered tablecloth for my mother. It was Ukrainian Christmas Eve..."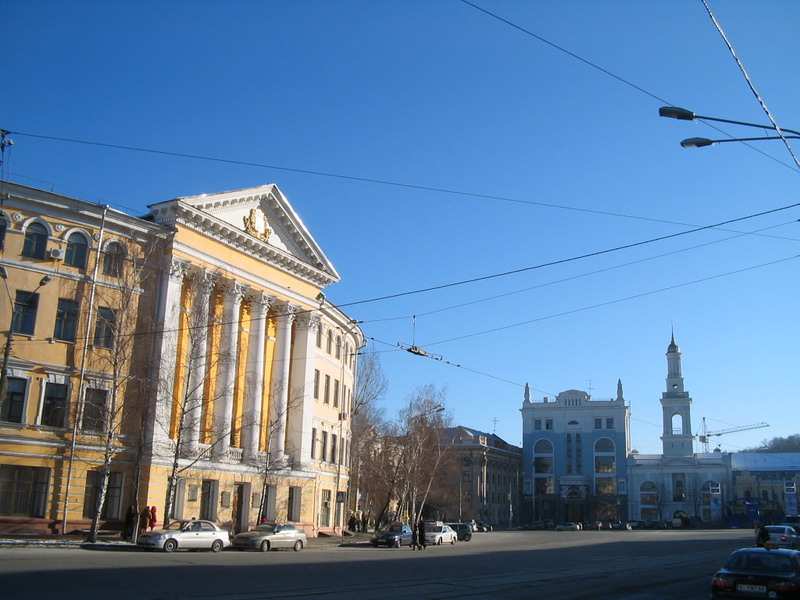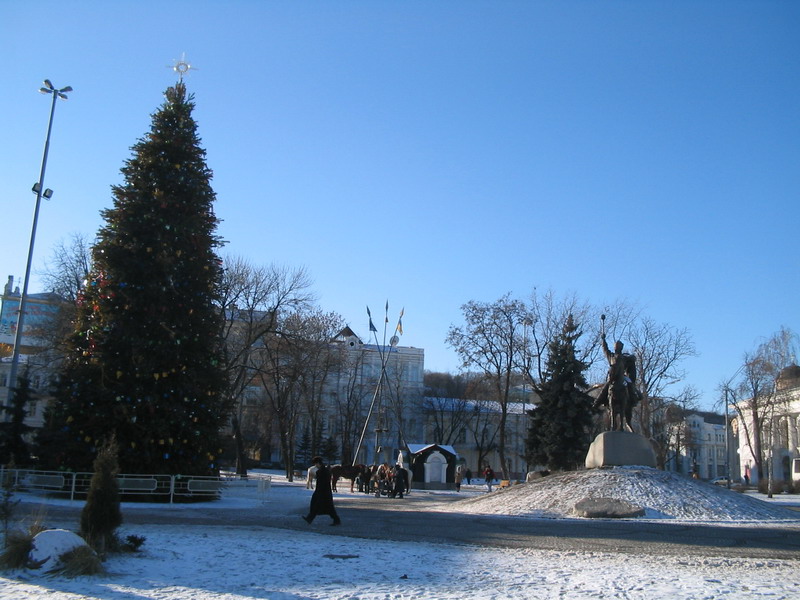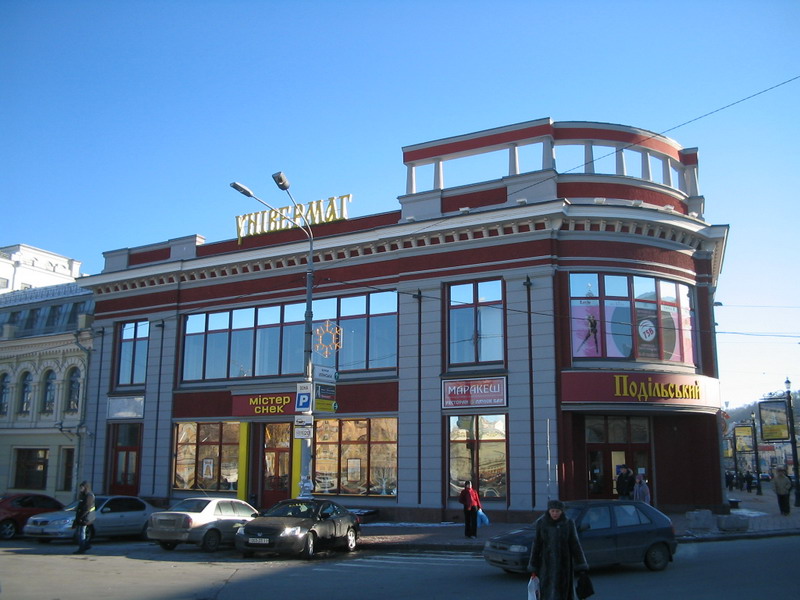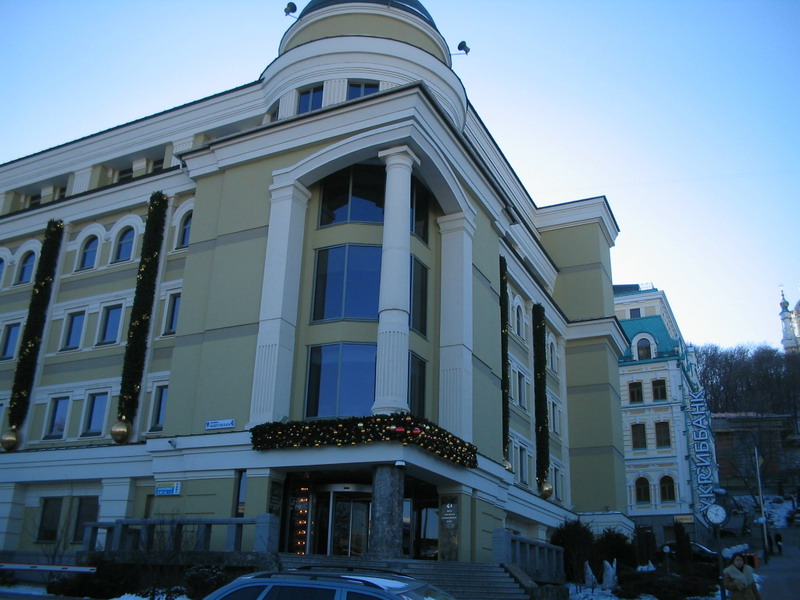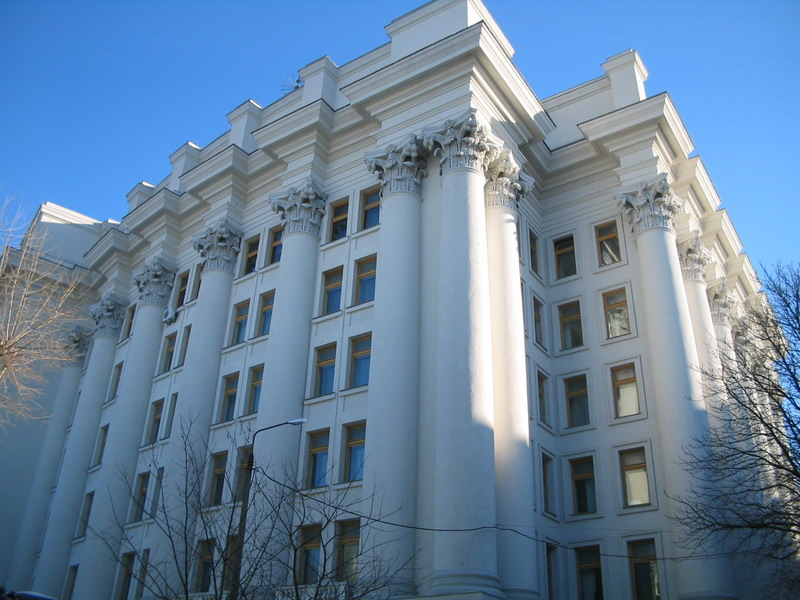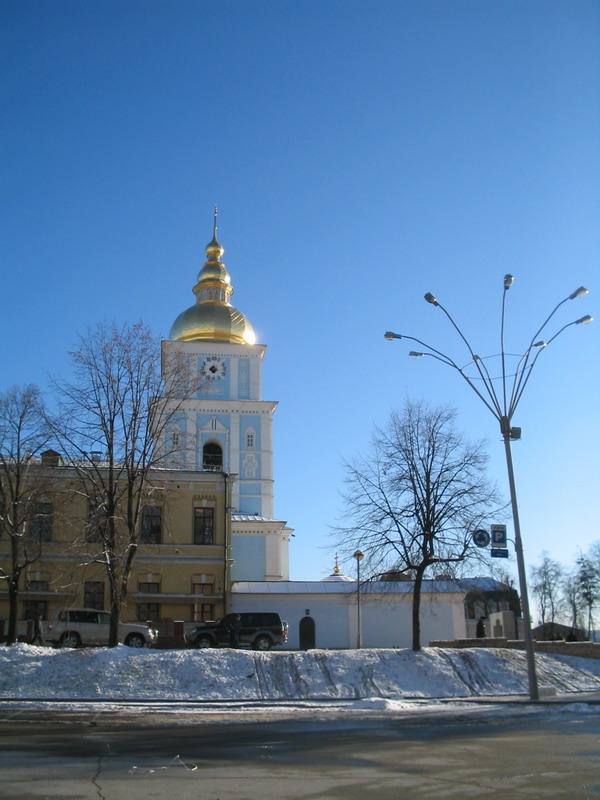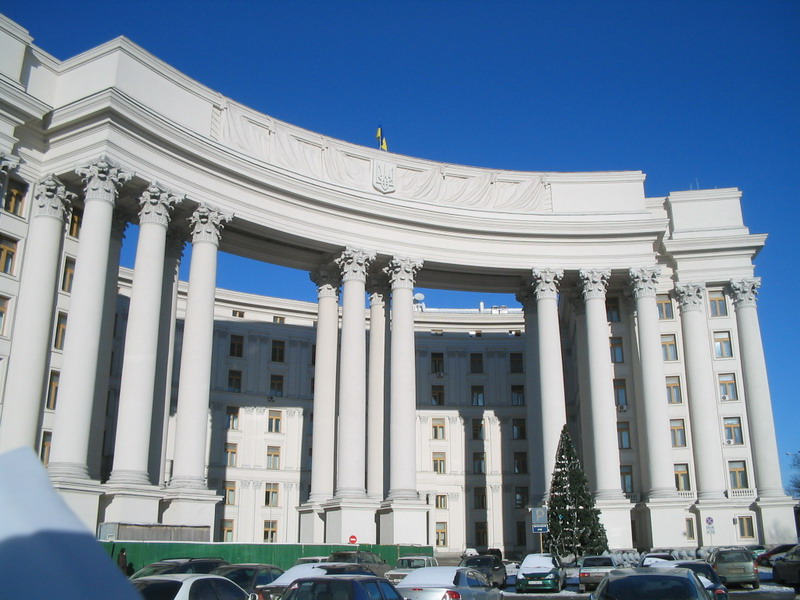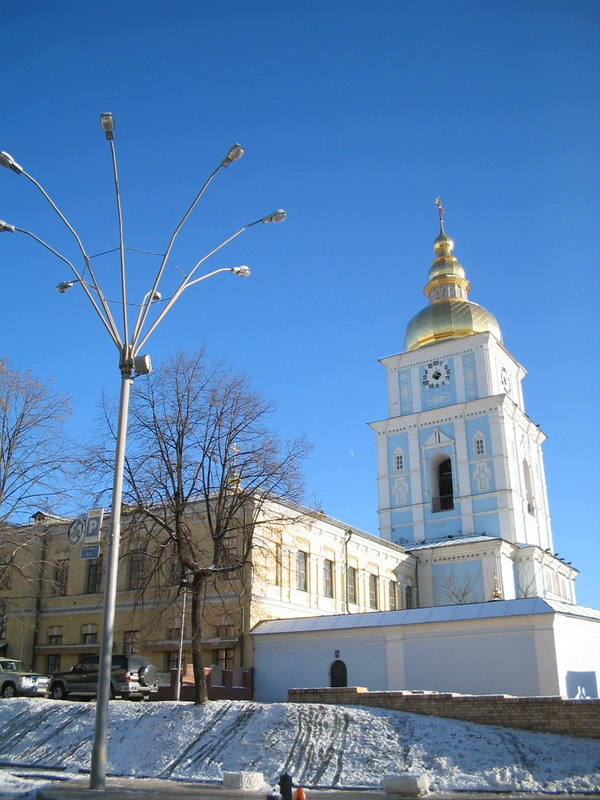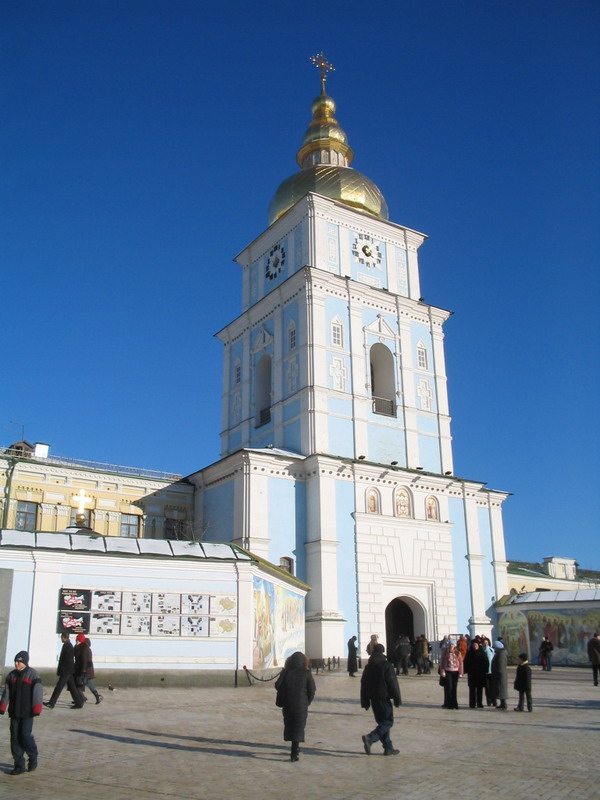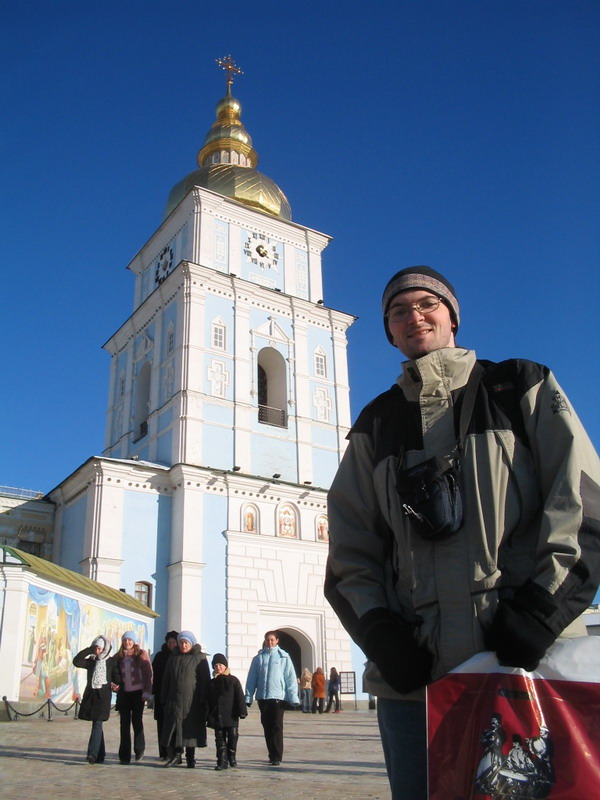 In front of St. Michael's Golden-Domed Monastery, Kyiv.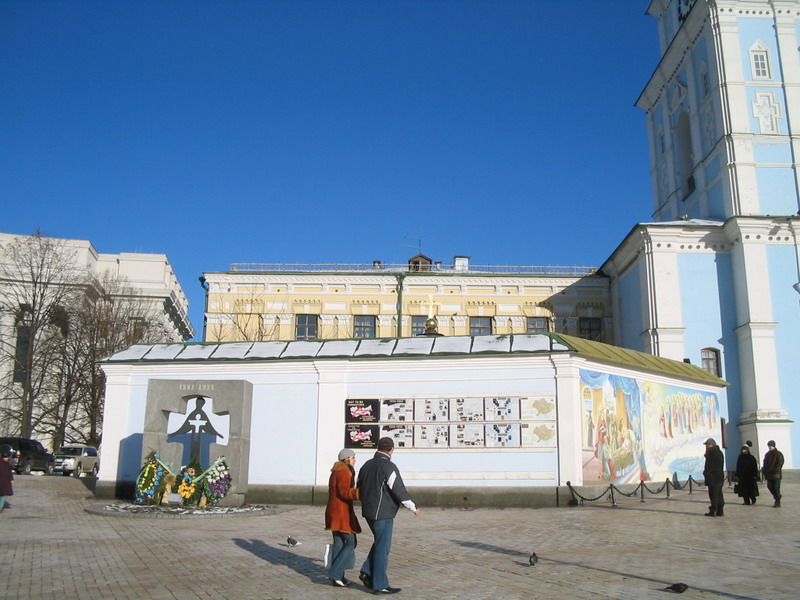 Monument to the victims of the Holodomor, Kyiv.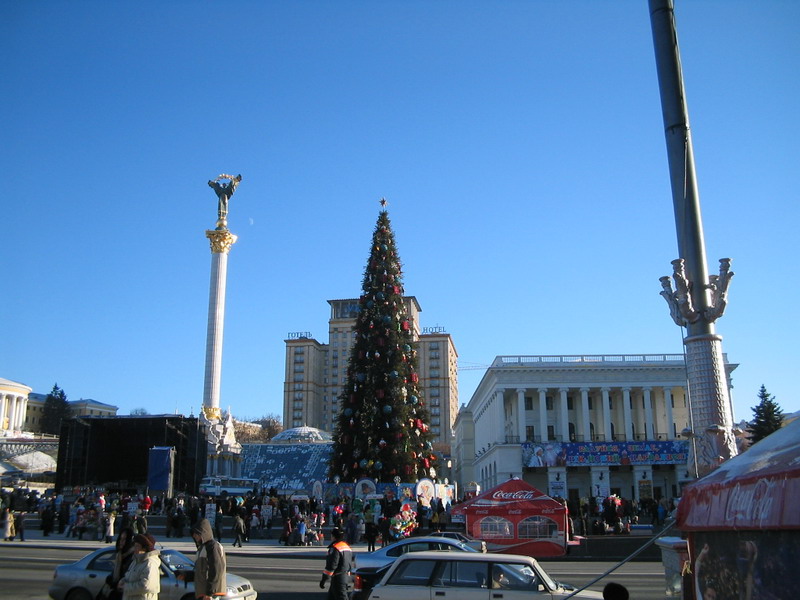 Independence Square...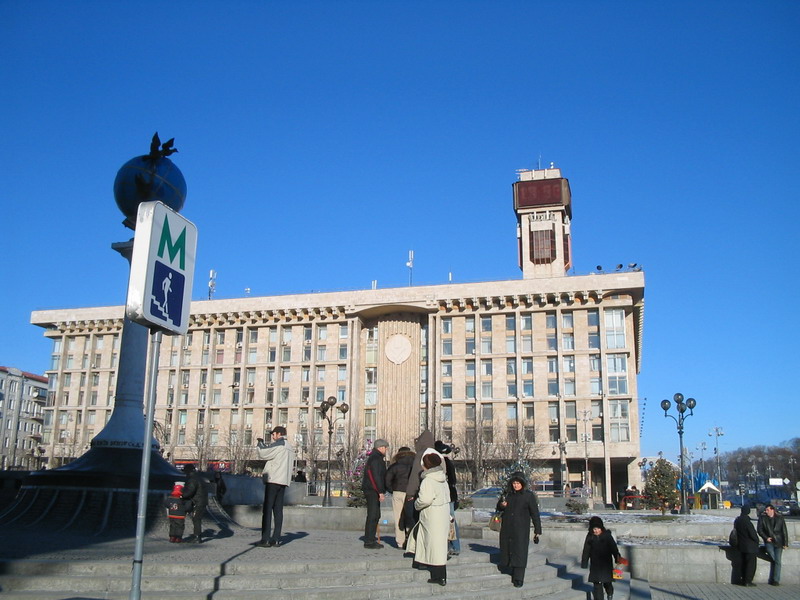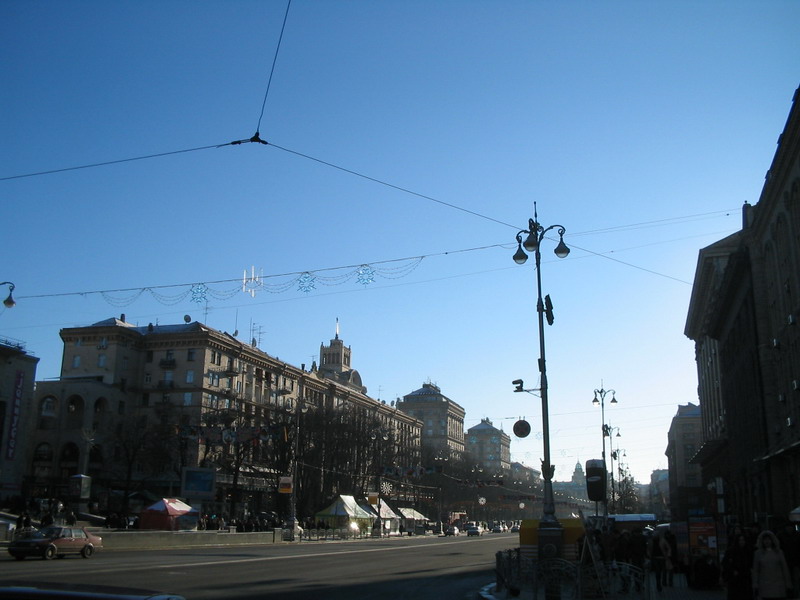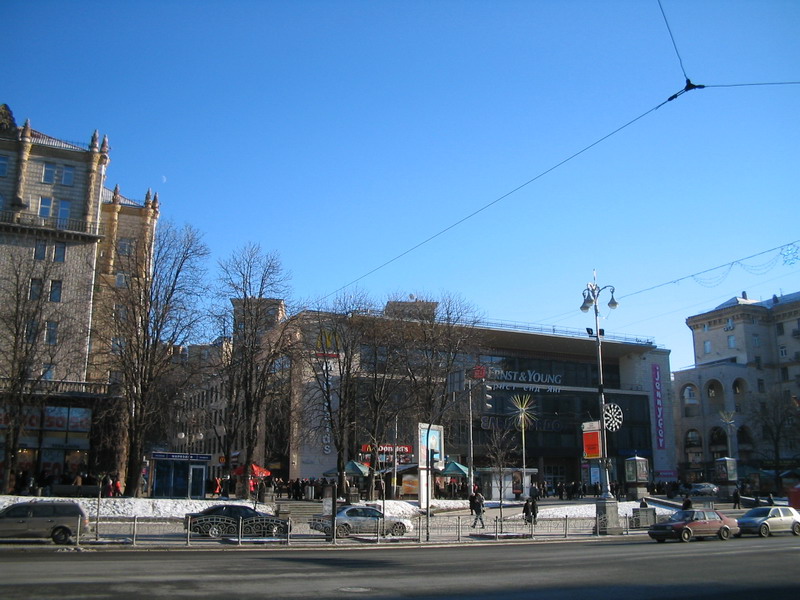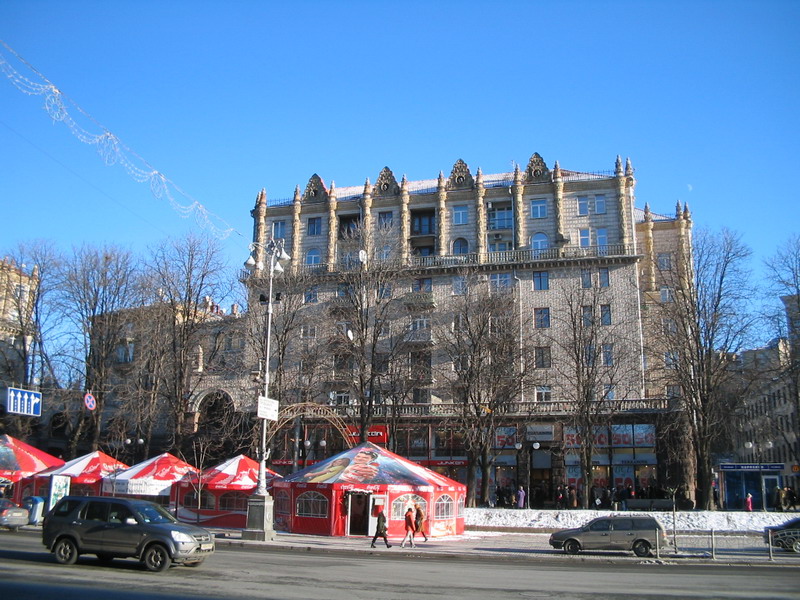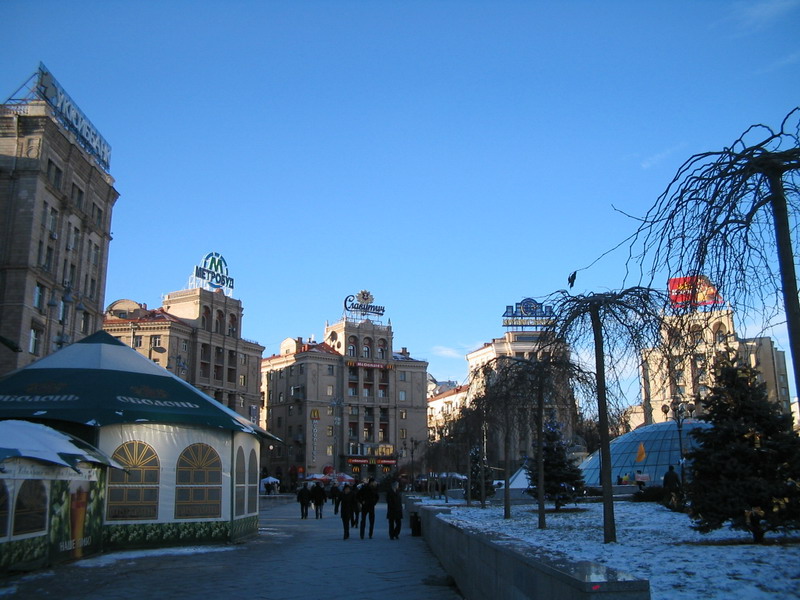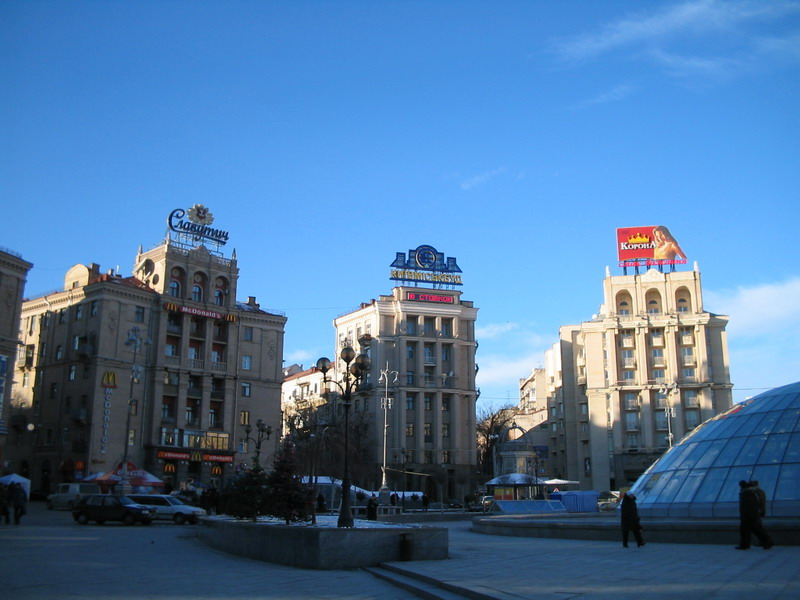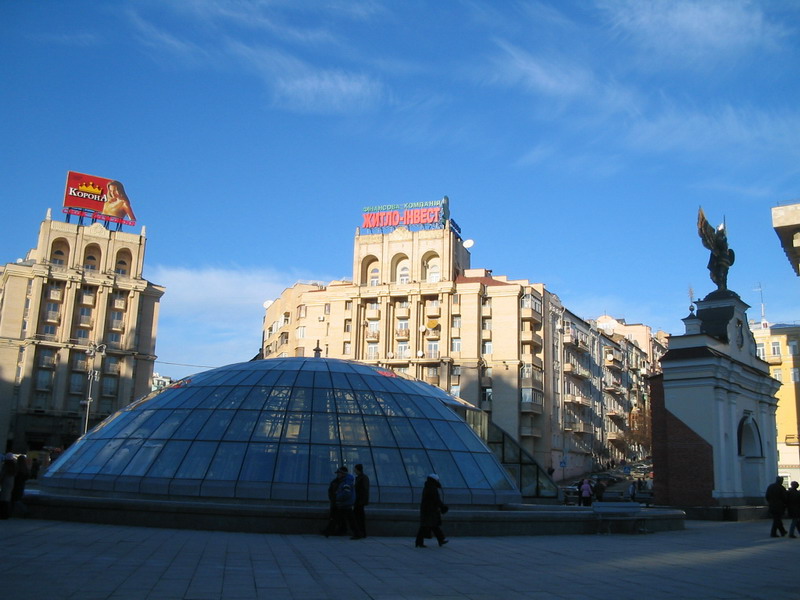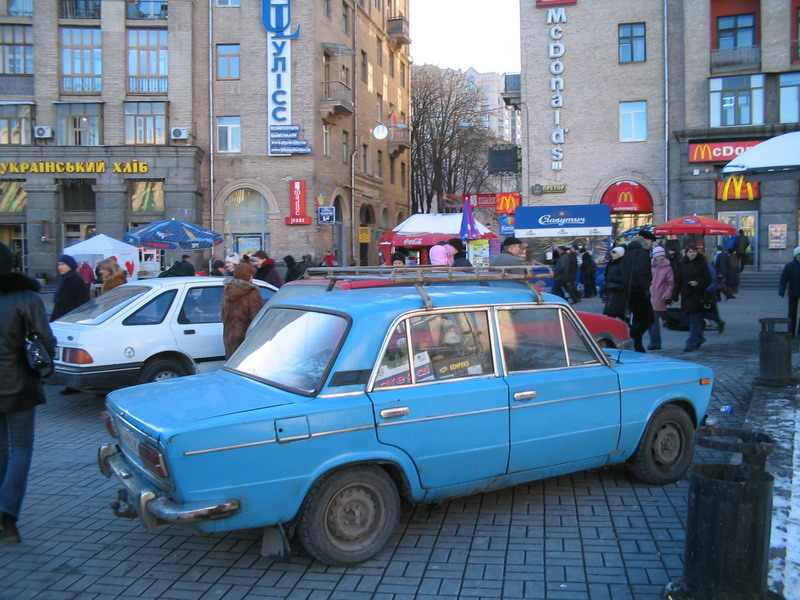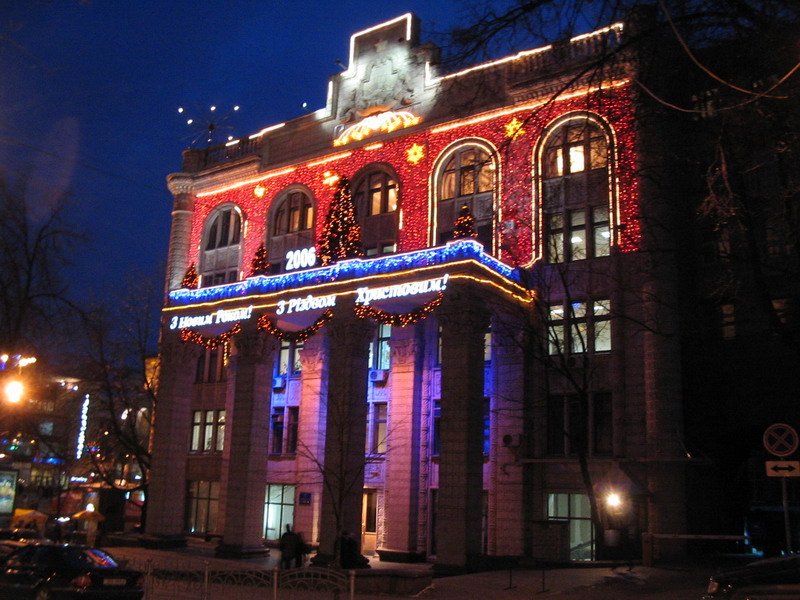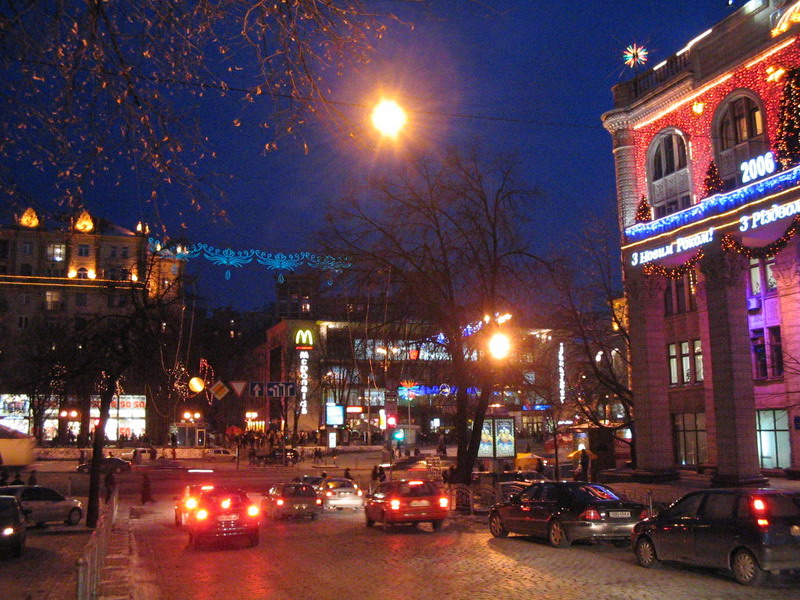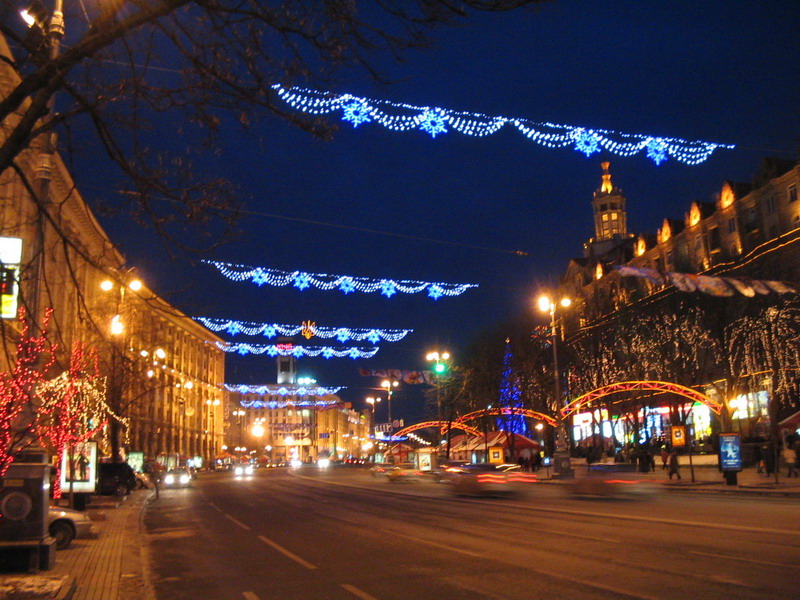 Khreshchatyk Street at night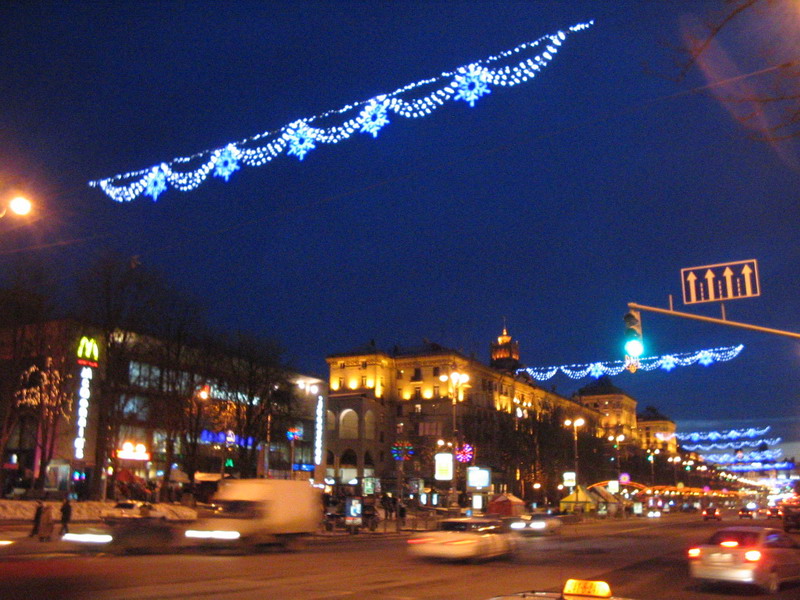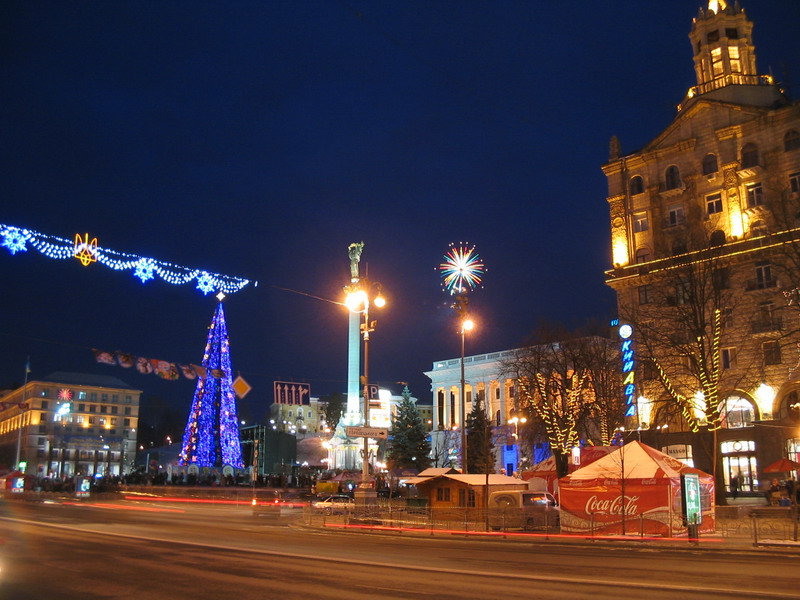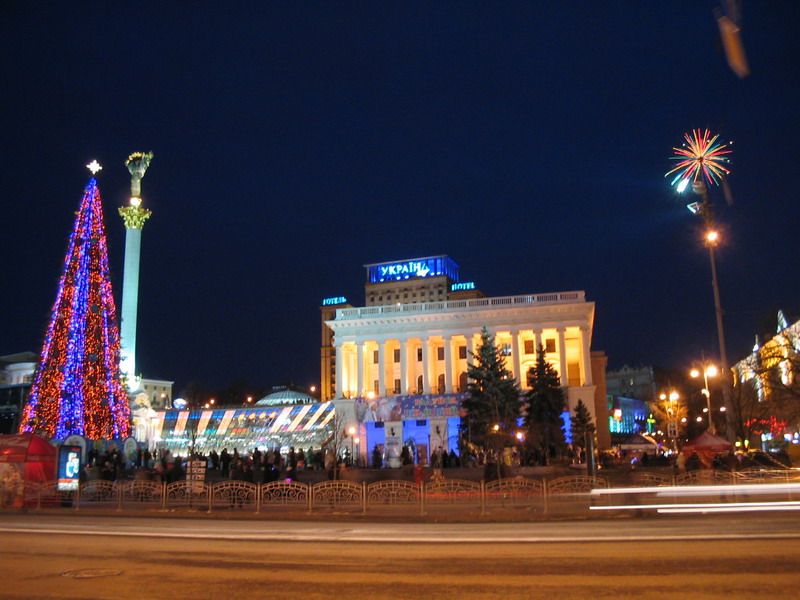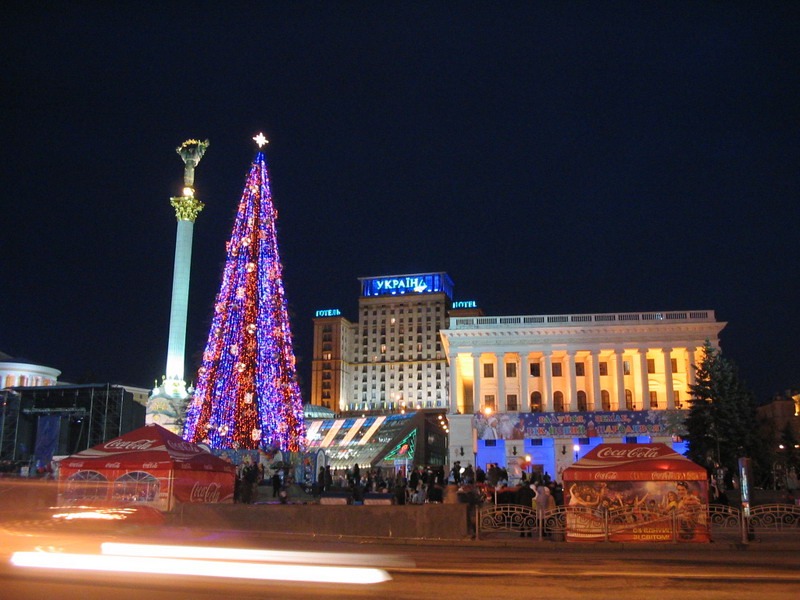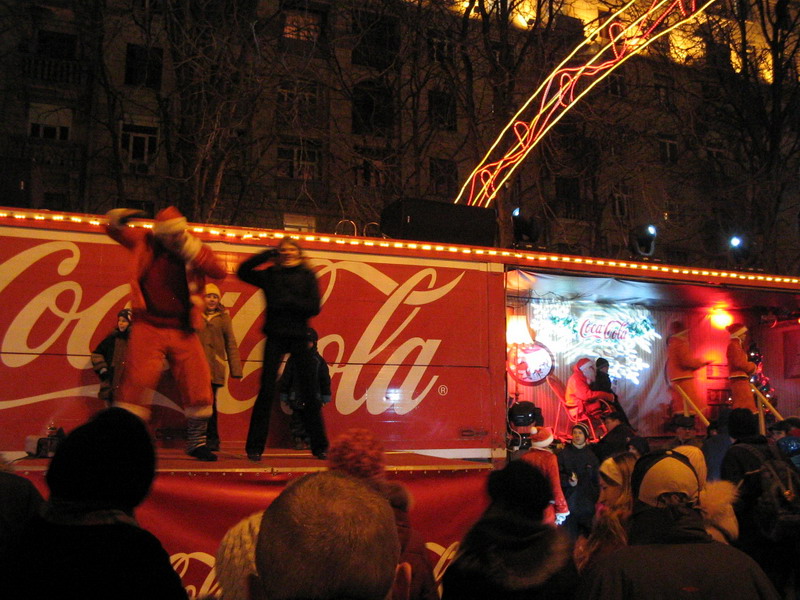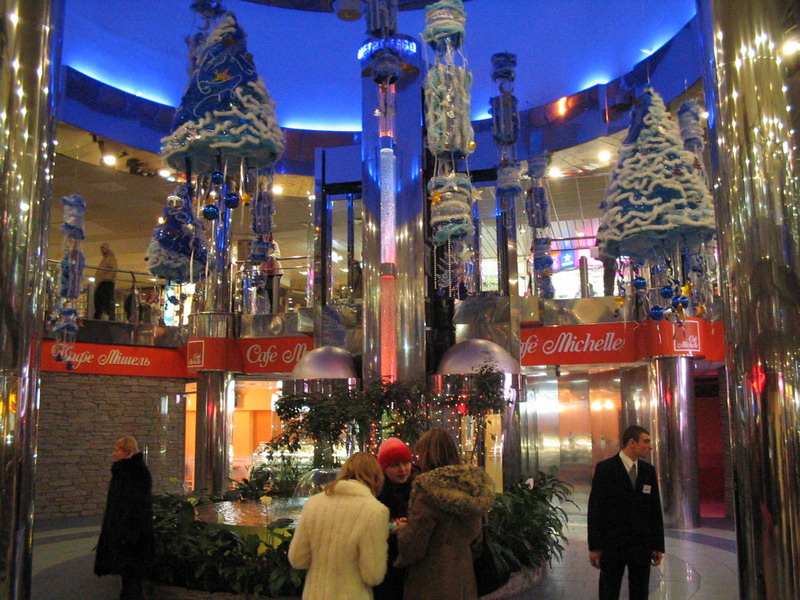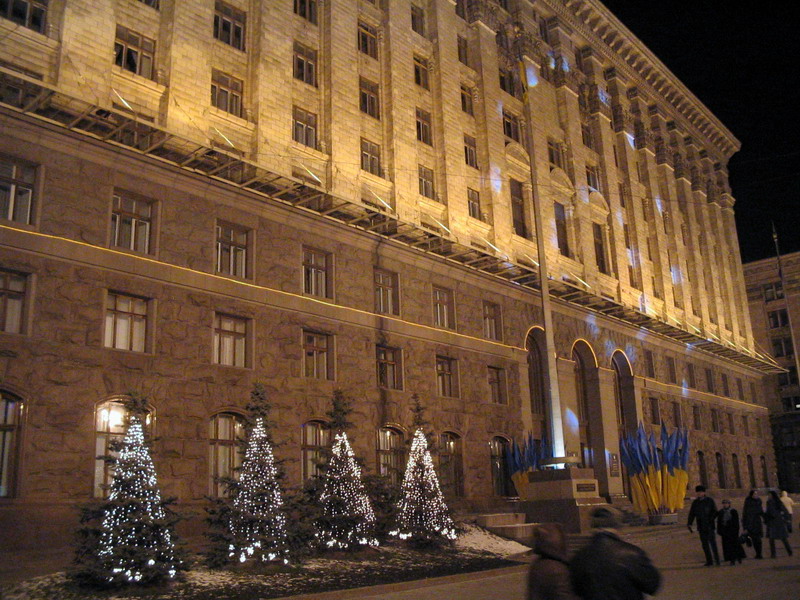 The Kyivrada, where the Kyiv City Council sits.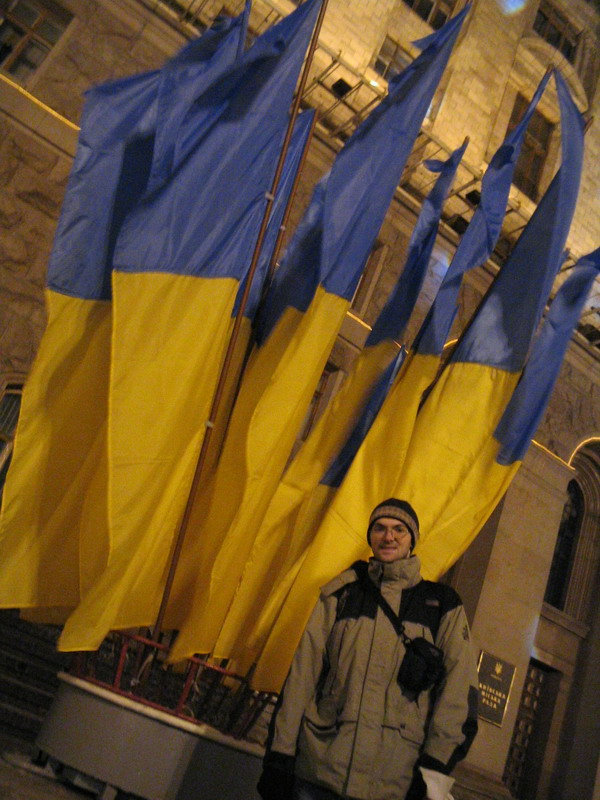 from the journal:
We finished off our time in the capital with a stop at McDonald's (which was a mistake if the buffet place wasn't) right by the Khreshchatyk Metro Station. Actually, let's say "on top of," since the station is about 300m underground and boasts the world's tallest escalators. Anyway, McDonald's was fun. I don't know how they have such good service; I ordered a Big Mac combo and they were handing me the laden tray as I was handing them bills. Maybe it's because there were a sea of people working behind the counter. Anyway, it's a really great McDonald's; the only problem is finding a place to sit. The washrooms are equally interesting; you get a special code on your receipt to punch into the keypad by the door. They probably change the code daily.
While Lee was up getting his food, we had a family of strangers come join us, but we had a huge table, so it wasn't a big deal. The funny part was when the security guard noticed them drinking beer and told them to put it away.
At long last we took the metro, crossed the Dnipro for the last time, and found a tram to take us back to our old, faithful hotel. Clean, safe, and cheap. It's the only game in town as far as CWY programs go. I don't even know the name of the place.
When I started to get ready for bed is when the trouble started.
I was cold. I couldn't stop trembling no matter what I did. I got under the covers hoping it would pass, but I ended up piling on three more blankets and I wore my sweater, and I still had chills. But after a while it died down. Lee watched a Christmas special on TV – I was alert for a festive "Where's the vodka?" song. It looked funny. I tried as hard as I could to laugh, but it didn't come out right.
The chills abated more or less, but they just gave way to nausea. Deep, deep nausea. It even woke me and prevented me from sleeping more. Before long my body couldn't take it anymore and I involuntarily rushed to the toilet. As I was depositing everything I'd ate and then some, I couldn't help but think, "This is really going to complicate my departure."
The only good thing about vomiting is the tremendous sense of relief you feel afterwards. It's among the greatest sensations I've ever felt. I was like, "YES! I AM A SURHIV-HOR! BYE-BYE UKRAINE! MUAH-HA-HA!" I trembled my way back into bed and slept.
Repeat.
Repeat. By now it looks like I'm spitting in colour. Pitiful.
Morning came all too soon. Eduard made the wake-up call at 4:00am sharp. I could barely make myself move. All I wanted to do was fall on the floor and have someone drag me to the airport. Somehow, though, I got my things together and we stuffed ourselves into the cab (poor Roch was buried in our things) and headed for the airport.
Boryspil International Airport is aptly named; it's not in Kyiv, it's in Boryspil, 30-40km from downtown Kyiv. When I was in the car, I didn't really want to get there. That would mean having to move again. We got our things into the airport. After getting my things arranged and handing out some things, I spent as much time as possible leaning against my cart and wishing for relief. I had been tempted to call Eduard back when we were in the hotel and tell him that I wouldn't be able to fly, but knowing how much of a hassle that would be (especially given our expiring tickets), I decided to attempt to ride it all out.
We went through the various stages, we met Shelley and her folks, we had our goodbyes… and after getting through passport control, I only wanted to rest. I found a chair on the departures level. I was extremely thirsty, but I had to send Roch to get water for me because I was too sickly to move. Departure time ticked nearer. I made a phone post. Roch asked me if I wanted to go to the washroom and suggested that might be a good idea, but I was too stubborn to let the food poisoning win.
At long last, we boarded. Naturally, it was tarmac boarding. It was –16°C. I started shaking again. It took what seemed like five minutes to get off the bus and up the steps into the (nice and warm) Airbus A320.
Somehow, we all got seated, and I leaned over and closed my eyes. But then they sealed up the cabin for takeoff. Something in the air changed. I started to sweat all over. And then…
Well, and then my pants were wet and the stewardesses had come running. Somebody passed me a bag for the last few hurls. I nearly filled it. It was fortunate that I hadn't eaten anything that morning; that probably made the mess less unsightly. There was nothing but liquid.
Oh, relief, sweet relief. Everything would be okay now. The Head Stewardess asked me if I was travelling alone. I pointed to my friends behind me. But it soon became apparent that they weren't going to allow me to travel. Worse, they wouldn't even speak to me directly:
"What is his name?"
"My name is William Math-"
"Please, sir!"
… even though I was really feeling fine just then. I would have protested being taken off the plane, but I knew from watching reality TV that resistance would be futile. Shelley phoned Eduard and appraised him of the situation – he was already almost two hours out of town, but willing to come back. A few of us asked if I would still be able to fly to Canada even with our expiring tickets. The cabin crew said they didn't know, but that I should see a doctor. So I went without much fuss.
I was escorted back onto the tarmac bus and asked what my luggage looked like. I answered. A few minutes passed, and I was asked to come to the cargo doors to identify my luggage. So apparently I'm too sick to fly but I'm not too sick to stand in front of the cargo doors in –16ºC weather watching the baggage handlers swear at each other in Russian. I didn't blame them for being upset, though. This was becoming a huge inconvenience for everyone. It was likely that a lot of people were going to miss their connecting flights out of Munich.
At long last my things were found and I was put back on the bus. It would be almost an hour before I'd see someone from the airline (Lufthansa) again. I got back into the airport at the arriving passenger's passport control area, at the exact place I stood lo those six months ago when we had freshly arrived in Ukraine. Wow. This time, the passport control counters were closed – no planes were arriving at this time. So a bunch of airport and customs officials (all women) stood around me for 15 minutes arguing about what to do with me. I was only apprised of a few major things, such as, "Follow her," or "Come with me." One lady once said to me, "Follow that gir- woman," and I smiled to the indicated woman who was really rather lovely (and not girlish) and said, "Of course, woman!" which probably wasn't wise because she didn't smile, just thinking I didn't understand, so she repeated, "Follow me, please!!"
They took me upstairs to the departures level and stuck me in the staff entrance. After another 30 minutes there, they put an annulment stamp over my exit stamp, and voila! I never exited Ukraine. (Imagine the complications if I hadn't gone to Poland! On our original visas, I was supposed to leave the country the day before at the latest!) Now I was told to go to the Lufthansa counter. My luggage would be waiting at the arrivals area.
So I went downstairs to the check-in area, and the Lufthansa counter was closed. So now what? I decided to sit down for a few minutes, chat with Eduard on my phone (thank God for our cell phones; we'd have been up the creek without them), and get a good idea of what to do next. But then I saw a customs official hauling my luggage up the escalator. So I followed him. "Uh… excuse me? Moya! Moya "luggage!" I followed him to a small, crowded office. Someone else noticed me, "Is this yours?" Yes. "Please take it downstairs." This was amusing; now I was going with two other people in the same direction, but now I'm hauling a backpack, handcase, and two suitcases, and none reached out a finger to help me. But I guess it's not their job. They did find me an elevator. They just stood and watched while I detached from my things and reached for the button, and then they got in the elevator with me and expected me to push the button for the first floor, but the lady in the duo gave up on that and pushed it herself.
So here I was, downstairs again. I was pointed to the Lufthansa ticket office. It was closed, but after a moment a bona fide Lufthansa agent came up and started handling me. She only had a partial understanding of what happened, so I had to explain everything again. She examined my ticket in the computer. It would ordinarily be $250 to go on a different date (such as tomorrow). Unfortunately, since my ticket was expiring today, I would have to buy a new ticket to go tomorrow. Unfortunately, since my ticket was non-transferrable, I couldn't just go through Frankfurt or Paris today, not even on standby. Unfortunately, there wasn't another flight or combination of flights to Munich that would get me there in time for the flight to Toronto (and if there were, I'd have to pay for them). And, since my ticket was non-refundable after departure, well… "I'm sorry sir, but there's nothing that can be done."
What?
Oh, for cry- I- what?
She told me that I would need to buy a new ticket, and that a refund might be worth trying for, if I were to go to a doctor, get a medical statement, and then take it up with the people who issued the ticket. But this would have to be done in Toronto, and so I'd need to buy a ticket to get there first.
Before much longer I was sitting alone by a window waiting for the counter to open for business (which would be at 10:30). Eduard was getting frustrated with me, wondering why I didn't argue with her. As a rule, I don't argue with people – I know that it's impossible to really win an argument, and I have such a short temper that in my case they're best avoided at all costs. But many of the people I associate with don't share my philosophy.
A man came and sat beside me. He winked comically. Eventually we got to speaking, because he spoke English! In fact, he had a very thick Cockney accent, and I asked him if he was from London. Close, he lived in Essex now. His name was John. He had been working in the former Soviet Union a few score ago and he married his Ukrainian interpreter, now he was going home from visiting his wife's family.
It was really nice to have someone to speak with then. We had some diverging viewpoints – he couldn't understand why I liked Poland so much, for one thing. But we agreed that Ukrainian girls were really quite something. I can't accurately transcribe some of the things he said, but somehow I understood almost everything. He was definitely on Eduard's side as far as my friendly, humble approach with the Lufthansa agent went:
I walked back to him from a brief encounter with said agent. He was already rolling his eyes, "'Excuse me, please, are you opening early!?' What th' 'ell 'as that? Ya gotta say, 'Y' openin' up now?!'" True, true. He told me that in Ukraine I needed to take a much tougher stance, especially as I was just a problem to those employees and agents, nothing more.
Eduard came sooner than I expected and had his own discussion with the ticket agent. I had high hopes, because they could have it out in Russian. But he did no better than I. I suggested that we ask if there was anybody higher up that we could appeal to, but the lady only said that she was the highest person there, so no. The only thing we could do is buy another ticket, at the low, low price of $3,500. ("Why didn't you just go to the washroom?!" he asked in a rare moment of frustration. Yes, if I had only gone to the washroom and stuck my finger in my throat, none of this would be happening. Of course, if I had said I was too sick to fly, then it would have happened anyway. There would have been difficulty with almost any path I chose, had I really been able to choose.)
Anyway, Eduard was too savvy to fall for that garbage (namely the $3,500 quote). After some discussion, deliberation (and, finally, a visit to the airport doctor's office which was almost impossible to find* - we were prescribed and subsequently purchased a whole bag full of pills, which helped me immensely), and attempts to contact Vlad, we purchased a discounted ticket to Toronto on AeroSvit out of program funds. The price? A not-bad US$540. The once-weekly (non-stop!) flight was happily leaving early tomorrow afternoon!
(* - The signage at Boryspil leaves something to be desired. I saw a symbol for the washroom, but it was just a sign without any arrows. You could go two or three different ways from the sign, and five minutes later I found the proper way. At another time I was following the sign for "Disabled toilets" because I reasoned that would be a good way to refill my water bottle (this was before I met John and we started babysitting each other's stuff) without having to abandon my luggage cart (as there'd be no steps and a wide door). So I followed the direction, but then ended up at a dead-end with only telephone booths, a fire exit, and stairs leading up to some mystery area. The first-aid / medical area was equally hard to find; first Eduard and I were aimed in the general direction of the rental car counters, and then a custodian told us to look for a steel door. A small steel door. Eduard found it, perking up, "There it is! Ambulance!" "Ambulance?" For me, that wasn't an intuitive connection. But in Ukraine, the word "ambulance" has many meanings, in much the same way a Ukrainian would think that the English verb "to go" has many different meanings.)
Eduard left me at the airport hotel. By now it was almost four in the afternoon – wow, twelve hours of this. As for the hotel… well, it was lovely. It was clean, comfortable, the people were friendly, there was all the hot water you could possibly want, breakfast was included… all for about $60. Again, I wasn't paying for it, but I don't want to be responsible for the program going broke just because I didn't go stick my finger in my throat.
The first thing I did was call Uncle Bill and tell him what was happening and that I'd be coming tomorrow, not today. Then I went to sleep, meaning to take a nap and go for supper later. I slept like a baby; when I woke up, it was 3am. I called my mother and went to sleep again, getting my wake-up call at 8am. I don't have the words to explain how good a night's sleep I had. I felt like a brand new person that next morning. I was on Cloud 15. And now I was finally, finally going back to Canada, for real this time.
Said morning was blissfully uneventful. I had a nice breakfast (although I had to skip all the greasy things as per doctor's orders), the first food I'd had in a day and a half. I told the hotel staff that I'd had one of the best sleeps I ever had. I missed the shuttle van, but with the airport only 250-300m away, it was possible to simply lug my stuff in that direction. And getting through the airport was easy, by now I was an old pro! I had boundless energy; I even went into the duty free and picked up some champagne to burn off my last Hryvnias!
And then we flew.