next
Essay #1: Souris
(formerly Perfect Works #1: Souris)
DISCLAIMER: It has been called to my attention that I might be thought to be speaking on behalf of Souris in an official capacity... NOT TRUE!! Although I do include factual information to give the short story some ambience, if you are looking for a complete source of official information, I recommend you visit the following websites:
- Town of Souris, Prince Edward Island (official town website with great photography)
- Souris, PEI - Port Information Package (information about the town's seaport)
- Brudnell Municipal Profile (extended historical, demographical, and census information)
Now that we have all that junk behind us, we'll get on with the presentation. For everyone's information, I have decided that the Perfect Works classification should only be used for completely fictional settings, plus I ran out of gas on the planned three short stories. =)
Contents
Map of Souris (enlarged by 154% compared to scale in the legend) - Map legend
Link to the town website (great photographs, source of most of the photos here) - Port of Souris
Extended information and data
The real-life Souris, part I
Disturbed Dreams
The real-life Souris, part II
Craig's Trial (this was supposed to be longer)
The real-life Souris, part III
Another Love Story (cancelled)
Parting thoughts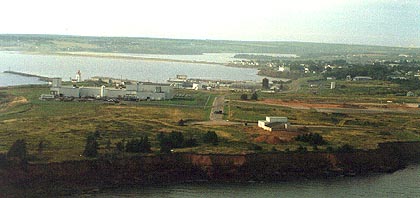 Souris (approx. main town pop. - 1,293) is a really neat small town up the east coast of Prince Edward Island in the county of Kings, almost a full 100 kilometres east of Charlottetown, the last battalion of civilization before East Point, and the fifth largest community in PEI. People in Souris tend to be really sensitive about this, as there is a larger town, Montague, nearly 50 kilometres to the southwest, that bugs the heck out of them. Montague has three grocery stores; Souris has but two. Montague is thinking of becoming a city; the mayor of Souris (Gus Clinton) had to erect a homemade sign at the end of the Confederation Bridge to attract visitors. (This was done for a very good reason, for the Department of Transportation neglected to put a sign up down there with the town's name, direction, and distance on it... i.e.: Charlottetown, 45 km - and in PEI, Souris is regarded as a major centre.) But the visitors who do take the time to come up here (less than two hours, even from Borden-Carleton) are in for a treat. And it's not just Souris, the entire far eastern end of PEI is definitely the most beautiful part of the island in my opinion, and for a fact it is the least congested, although the Red Point and Basin Head Provincial Parks can get a little stuffy at the height of the daytime. (Basin Head is also a better, longer beach, more accessible, less crowded and better serviced than anything in the National Park in my opinion.)
The problem in getting tourists to visit this area is that most of them land in the corridor between Summerside and Charlottetown, especially around a "community" called Cavendish. Needless to say, the tourist traps in this area are beyond count, although there are a few good places to visit around that area, namely the National Park, Green Gables, the two biggest private amusement parks Rainbow Valley and Sandspit, and the picturesque communities on the southern shore such as Victoria by the Sea. However, the Eastern Kings tourism industry has made leaps and bounds over the last couple of years, so they are now able to almost get their fair share of the tourist dollars.
Souris also boasts a small shopping centre dubbed the "Main Street Mall". During the day, it is visited by locals to do their shopping, and also by many tourists passing through on their way further up the east coast. During the night, it is visited by local teenagers to do their talking and socializing and drag racing. (I am not saying that they shouldn't be there, and the noise doesn't keep me up that often, and all in all they're fairly nice people, but I do find the topic both interesting and amusing. And if you think I'm exaggerating about the hilarious nonsense going on in that parking lot all night, think again!)
Clairanne was tossing and turning in her bed that mid-summer evening.
I can't believe I ate so much ice cream on that date..., she thought. I know I'm not supposed to have dairy, but I couldn't help myself... Ugh...
Try as she might, hours passed, and she still couldn't get to sleep. In addition to her severe indigestion, she was too warm. Not hot, but too warm. The nights in PEI were never really hot anyway, but it was one of those nights where you couldn't be hot enough to just toss off the excess blankets and trappings and fall asleep immediately, nor was it cool enough to curl up tight inside the blankets and fall asleep immediately. The thought made her sink into despair.
Well, at least I'm not thinking about Alex ag- Dammit. <sigh> The memory of Alex, a cherished childhood friend, still made her wish he was still alive.
"I wonder why Clairanne isn't down here with us tonight?", came the voice of a male fellow teenager.
Clairanne's house was located on Main Street up the east side of Souris. Across the street from her front yard lay the Main Street Mall, which was normally frequented by her friends and peers into the long hours of the morning. Tonight, however, she chose to stay home after her mediocre date with Steve and go to bed because she was very very tired.
"Oh, she's probably out screwing Steve right now...", sounded another voice.
Heyyy! That's not fair!
"Oh, be nice, Lewis. She's not like that."
"Whatever..."
"So... Hey! Norman's back!"
VROOOOOOOOOOOOMMMM ... SQUeeeeeeeeeeeeeeAL ... ERR.
"Hey Norman, what's happenin'?"
"Oh, not a hell of a lot."
"Anything goin' on down the street?"
"Nothin'."
"Aw, crap."
"Hey, Norm, you wanna have a quick race down to the beach?"
"Yeah, sure, okay. No cops out tonight."
CLICK. SLAM. CHHHHHH CHHHH- VROOOOOOOMMM... SQUeeeeeeeeeeeeeeAL ... VROOOOOOOOOOOOOOOOOOOOOOOOOMMMMMMMMMM... SQUeeeeeeeeeeeeeeAL ... VROOOOOOOOOOOOOOOOOOOOOOOOOMMMMMMMMMM...
"Yeah, lookit 'em go!"
"Right on!"
The location of her bedroom within her house had a way of infuriating her. The lone window to the left of her bed did indeed face out onto the street, but that was on the west side of her house, so all she could see of the Main Street Mall was the new expansion to the IGA and not much else. All the action was well out of her view, except on some nights when her friends chased each other around on foot. She could hear everything and see nothing, and on those nights that she went to bed relatively early, if it wasn't the noise keeping her awake, it was her own curiosity. She would often spring up and crawl over her bed to the window and look to see what a strange noise was, or to see who was dragging down the street into the town. But tonight she was much to tired to care about that idiot Norman and instead drifted off into an uneasy slumber as the sounds of the second car drifted into silence...
* * *
"Alex!"
She ran up the mysterious colourful corridor, not quite sure what was going on, but sure she had to run faster. Faster.
"Alex!"
Suddenly, the corridor came to an abrupt end. There was no light. She plopped down and began to cry.
"Alleeexxx... Nooo... This isn't fair!", she moaned, her head in her hands.
Then a light came on.
Huh?
"Clairanne?"
"Alex?"
"Clairanne, are you okay?"
"Yes... is it really you?"
Shake. Shake.
"'Really me'? I don't get it."
Clairanne awakened from her dream next to Alex. She gasped.
"Wha- What's going on?"
"Huh?"
"I- I thought you were dead, Alex."
"Dead?", he laughed. "I'm not dead!"
"Oh, that's wonderful, Alex!", Clairanne beamed and threw herself into his arms.
"Well, I don't get it, but..."
"Oh, I'm just so glad you're here, Alex. I've never been so happy to see you. I'm just glad you're here..."
SQUeeeeeeeeeeeeeeAL
"Hey Vinny, I think you're gonna wear out those tires!"
"Wha- What's going on?", Clairanne stammered.
* * *
"Whaddyer mean 'I'm gonna wear out my tires'?!", the man shouted. "At least I can spin my wheels, not like you with your sorry stupid little Chevette!"
Oh, fuck. Another dream.
With effort, she slipped back to sleep again.
* * *
The familiar TSN theme music played back on the television.
"Available in over 3,500 communities across Canada, we're Canada's number-one cable channel and sports network! Trying to Sleep Sports Network. Hear it. Dream it. TSSN."
"Hi, it's Jim again, here with your tuesday night TSSN line up! You know we've got great programming here, but now you can check out the specifics!"
TUESDAY NIGHT - AMATEUR DRAG RACING
0005h - Gathering in the Parking Lot.
0017h - Main Street Race I
0030h - Talking About Clairanne
0100h - Tire Squealing Special
0132h - Main Street Race II
0144h - Main Street Race III
0158h - Making Fun of Norman
0201h - Making Fun of Lewis' Chevette
0215h - Drive-by Horn Honking Special
0216h - Chase the Horn Honkers Race
0225h - Main Street Race IV
0300h - Tire Squealing Special
0305h - Yelling to Clairanne's Window to See If She Wakes Up
0310h - Main Street Race V
0320h - Ganging Up to Harass One of the Women and Chasing Her to the Other Side of the Parking Lot
0334h - Checking Out the Scene Downtown
0335h - Making Fun of Lewis' Chevette
0342h - Main Street Race VI
0350h - Main Street Race VII - The Final Showdown
0401h - Departures
0406h - Deciding That There's Nothing Happening Elsewhere, We Return
0415h - Tire Squealing Special
0425h - Main Street Race VIII - Yes, Again!
0438h - Engine Revving Special
0450h - Running Out of Fuel, SIGN-OFF
"And that's our line up for tonight! Next up on TSSN: Making Fun of Lewis' Chevette! Hear it. Dream it. TSSN."
...
"Yeah, well your Chevette is a piece of crap! You know how they say Fords have problems climbing hills? Well your Chevette couldn't climb over a speed bump!"
Laughter.
"Oh- Oh, yeah? Well how 'bout this: Your car's so ugly, you couldn't trade it in for a wet dog!"
"Huh?" Confusion. Laughter aimed at the Chevette owner.
"Hey- heyyy! That's not fair! C'mon, you guys!"
...
...
...
The Wheel of Dreams turned. Clairanne's consciousness travelled through the abyss, which formed into a swirling vortex. She was in another dream.
In her nightgown, she ran down Knights Avenue towards the Port. Snow covered the ground. It was a cold overcast February morning.
I have to... have to get there...
She ran faster and faster. But as she was passing the Souris Hospital, she slipped in the slush and landed on her back. She wasn't hurt, but she was soaked all over in freezing brown muddy slush, and her nightgown clung like a wet rag. She felt terrible. But she couldn't stop. She kept going, kept running downhill.
The cold and wet was starting to make her body go numb as she reached the bottom of the narrow street and took a right onto the thoroughfare Breakwater Street. She ran further downhill towards the entrance, passing a black Government of Canada sign that proudly announced she was entering the Port of Souris.
Which pier? Left or right? She chose left, and ran that way past numerous storage sheds, and past the empty lanes that held cars waiting to board the Magdalen Islands ferry in the summer months. Left took her out onto a long wharf.
"Wait! Wait!", she shouted as she ran past the numerous fishing boats lined up on the wharf. Now this didn't occur to her, but the entire harbour was covered with ice, because it was February after all. Yet the boats were still there. This didn't strike her as odd in the least.
Finally she came to a small boat on her left dubbed the "Peppery Cat". In it she saw Alex, standing square in the middle of the deck, staring at her. Alive.
"Alex, don't go out there! Don't go out and die!"
He looked at her gravely. "But I have to. It's my destiny."
"Destiny?"
"You might not understand it now, dearest Clairanne, but we all have a purpose in life. Did you know that although you and I are going to die, that existence really does go on forever? It's the only constant, the only thing that's eternal. This whole universe could be destroyed, but we'd still keep on existing. Isn't that fascinating?"
"I don't care about the future! I'm the one who has to live the rest of my life without you! It isn't fair!"
"You won't have to go on forever without me. I'm quite certain that you're on your last life in this third dimension as well. It won't be that long."
"It's still too long! And we wouldn't be mortal wherever it is you're planning on taking us! Isn't it important to explore our relationship here?"
"Perhaps, but I'm afraid it's not an option."
"No!"
"I'm sorry, but I really have to go. I've been delayed too long already. I'm sorry. ... I love you."
"I love you too, Alex." Tears formed in her eyes.
"Thank you. I- I have to go now. Bye."
He made a weak waving gesture that she returned. Then, slowly, the boat began to sink into the water. Soon, the entire deck was under water, but Alex simply stood up as straight as he could as if he was going down a cargo lift onto another level. Eventually his face disappeared, and soon after that, the last antennae of the Peppery Cat disappeared from view.
It was impossible for Clairanne to even see the dim outline of the sinking boat after a time. It just kept on sinking and sinking, going much deeper than what would be physically possible given the depth of Souris Harbour. Then, the ice simply grew over the opening the sinking boat had left, leaving no trace anything had ever happened.
This isn't fair.
Clairanne eventually turned around and headed back to Breakwater Street. But instead of heading home, she decided to keep walking towards the center of town. She took a left, then a right onto Washington Street.
Washington Street was a small road with some businesses on the town side and some homes near the cliffedge. She was desperately cold at this point, but she did make it as far as a tiny church not much bigger than a broom closet at most cathedrals. A sign said "St. Alban's Anglican Church". But what interested her were the gravestones laid out in the churchyard. She found one near the front of the yard and knelt down in front of it to cry.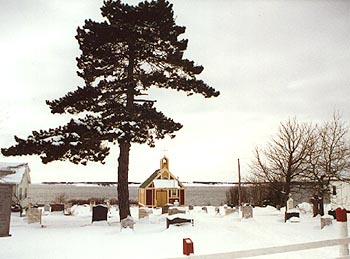 The simple yet elegant headstone said simply, "Alex Jacobs, born 1982, died 2000. Died in the Gulf of St. Lawrence aboard the Peppery Cat in a severe storm. We will remember him.". Clairanne was too weak to read the scripture quotations below the initial inscription.
She sat and stared for several minutes, not caring that she was hypothermic enough to be on the point of coma. Suddenly, she heard a crowd laughing. She awoke.
* * *
"Hey look, Lewis has four on the floor! His feet and his girlfriends!" Everyone else in the parking lot laughed.
"Heyyy! That's not fair!"
Clairanne simply rolled over again and went to sleep. She had no more dreams.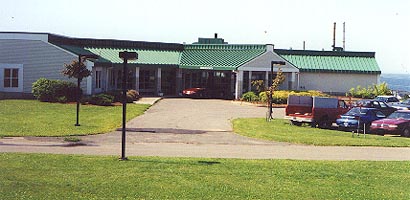 Souris is a beautiful town. Just the right size, and everyone loves it the way it is. But the locals will not only boast about intangibles like beauty, most of them will also take the opportunity to tell you how the town water is the second best in Canada... second only to Chilliwack, BC. Someone did a study, and I believe they're right, for the town water really is very good.
Souris is also home to the Souris Cinema, an independent movie house with cheaper tickets and concessions than any theatre chain. The proprietor is also a friendly chap and he's always happy to answer questions. The Cinema is located on the corner of Connelly Street and Church Avenue, very close to St. Alban's Church where the last story ended, actually.
Speaking of churches, there are four in Souris: the Lighthouse Baptist Church, St. Alban's Anglican Church, St. James United Church, and of course the gargantuan St. Mary's Roman Catholic Church. What is important information for the next story is that none of them are affiliated with The Church of Jesus Christ of Latter-Day Saints, which drives the point home that my three short stories are fictional.
QUICK DISCLAIMER: In terms of accuracy pertaining to The Church of Jesus Christ of Latter-Day Saints, this story is absolutely absurd. There's no way in hell (pardon my English) that any sane Mormon family would send their teenage daughter to some dirty guy in the USA, and besides, most Canadian and even some Utah Mormons frown upon the practice of polygamy. But if you know me, you know I'm not one to write stories that have a chance of being able to happen in real life! And I apologize to any Mormons who happen to read this. It was a dumb idea, and I'm not sure why I wrote it up.
Craig stepped outside his Cash Avenue home, slung up his knapsack, and began walking towards Souris High.
It was a bright and sunny mid-May morning, perfect weather for a stroll, even if it was just to his school. Actually, he tried to savor the moment as much as he could, since he'd be graduating in couple of weeks, and who knows where his life would take him then? And there was another reason he needed to savor every moment he could.
The argument held the previous night at his girlfriend Angela's house had not gone terribly well. In his mind he could still remember every detail far too vividly.
"Dammit, Craig!", shouted Angela's father. "I'm not going to let some teenage punk like you tear apart our family!"
"Dad,", began Angela, "he's not a punk, he's a high honours stu-".
"I don't give a damn what grades he gets! Anything this monster accomplishes is tainted by the Devil!"
"Hey! That's not fair!", shouted Craig. "My accomplishments are my own!"
Suddenly Angela's father turned his eyes celingward. "Almighty God, please do not allow the words of this Devil to taint the sanctity of my household-"
"HEY!! I am not the spawn of Satan, no matter what you think!"
"See?", Angela's father pointed to Craig. "How can you not call a raging tantrum like that the work of Satan?"
Craig growled under his breath. He was not getting through to this jack-ass.
Turning to Craig, the father continued his spiel. "And that's why I want you out of my house and away from my daughter. Come back when you become a Christian!"
And that's why he was still heavy in his steps despite the sunny day. And in a few days, he'd probably never see Angela again. For that matter, he probably wouldn't want to see her... it would be far too painful for him.
At length, he reached the school. He noticed Angela in the parking lot, and he waved to her. She didn't notice him.
Inside, he changed his footwear and sought out his locker. On the way he was jostled by a few guys who took the opportunity to belittle him by saying things like: "Hey Craig, your girlfriend's so unsatisfied with you that she'd rather compete with three other women for a balding fat guy!". It aggravated him, to say the least. Mostly because it was true. He found his locker and began sorting through his belongings.
His friend Brooke, a petite woman with short curly brown hair, seemed to notice he was feeling grumpy. "You'll figure something out.", she told him.
"Thanks, but it'll take some doing."
"Some doing? What did you have in mind?"
"Well, for the moment I'm just going to try verbal persuasion. Not in front of her father, of course."
"It didn't go well last night?"
"To say the least, yes." He shut his locker.
"Well, maybe you should get your parents to talk to him."
"And have them find out I'm an agnostic? No thanks. My mother would kill me."
"Wow, you really do have a problem with religion... or lack thereof."
"Tell me about it. Well, I'd better get to class. See you around."
"Bye."
They parted company, and Craig headed back into the Lobby and up the stairs onto the Mezzanine.
At lunch time, Craig approached Angela in the rear courtyard.
"You're not supposed to talk to me, you know.", she said with her back turned to him as he came closer.
"Your father's not here, so what does it matter?"
"Not at all, I guess. What do you have to say now? I'm not changing my mind."
"And I'm not giving up. I love you."
"And I love you too, but it doesn't matter, Craig. What's at stake is my eternal life."
"Eternal life? Look, nothing is eternal... someone once told me existence was eternal and I think that he was right, even though the poor guy was lost at sea the next day, and either way, how could you narrow your fate down to just two possibilities? I mean, who on this planet really deserves a full-term stay in Heaven as a third-dimensional being, and who would really want that? And on the other side, who deserves to spend eternity in Hell except for someone who had just spent an eternity tormenting others without reprieve?"
"How can you say those things?", she asked quietly.
"What do you mean?"
"How can you say things so against what you've been taught? Didn't your parents take you to church when you were little?"
"Yes."
"Well it sounds to me like you could use another dose of the Good Book..."
"Oh right, a Book. And that's what it is, the Book is a book. The mythology of one age becomes the religion of another. It's scary how somebody's writing in the far, far past can run society in the far, far future, isn't it?"
"I can't believe you can say those things. You're starting to make me think my father is right."
"I'm sorry, but your father has got to be one of the most close-minded persons I've ever seen. He doesn't listen to anything I say!"
"That's because he thinks you're the Devil incarnate, Craig."
"Oh, well that's just great! I can't convince him to give me a chance because he's convinced that people who try to convince him to be given a chance are the Devil incarnate! And I'm not the Devil incarnate!"
"Of course not, I believe you. But I'm still going. I need to redeem myself of my sins."
"What 'sins'?! What have you done to harm anybody?"
"Well, I'm not perfect."
"Of course you aren't, and neither am I. But if you're saying that going to Utah to marry into the Hollowoars family is going to absolve you of sin... well Angela, I can't live with that! Wouldn't it be worse for you to go, since you'll put all your best friends into misery?"
"You can't look at it that way, though, because I am on a mission from God."
Craig took a turn to sarcasm. "Oh, sorry, I forgot. What did He do, send you a letter with your orders?"
"In a matter of speaking, yes."
"Well look, let me put it this way. You say that going to Utah will absolve you of your sins. Well, why don't I absolve you of your sins instead? You stay here, and I'll do double time in Hell for you."
Angela just gasped.
"Well, what do you say?"
"I can't believe you're suggesting such a thing! You can't do that!"
"Why not?! Jesus did it!"
"HOW DARE YOU COMPARE YOURSELF TO JESUS CHRIST?!?!"
"Heh? How? I'll tell you how: The love of my life is about to go away to marry some Hollowoar in Utah for absolutely no reason except to follow some twisted and sick interpretation of her religion's two testaments of Jesus Christ, that's how!"
Angela just stalked off, ignoring anything else Craig tried to add to that.
"Hi, I'd like to pick up some flowers for my girlfriend.", Craig told the female cashier at the Daisy A Day Flowers in the Main Street Mall.
"Oh, how sweet of you! What's the occasion?"
"Um, well she's about to move to Utah and become the third concurrent wife of Joe Hollowoar, and I'd like to charm her into not going and staying here with me."
"Oh... Well, I don't know that one off the top of my head, but let me get out my book." The cashier walked behind the counter and pulled out a thick reference book titled 'Flowers For All Occasions'. "Okay... let me see now... Ah! Here we go: 'Preventing Polygamy'! It recommends a beautiful arrangement of wildflowers that I can let you have for $12.99."
"I'll take it."
"Forget it, Craig, I'm not going to talk to you."
"I brought you some flowers..."
Reluctantly, she turned around to see what kind of crap Craig was trying to charm her with - and BROING! she perked right up, ran to him and took the flowers, which she immediately began to cradle back and forth in her arms. "Thank you, they're very nice."
"You still want to go to Utah?"
"Of course not. Let's go talk to my father."
"You WHAT?!"
"I changed my mind, I don't want to go to Utah."
"Now listen here young lady, Mr. Hollowoar is expecting a pretty eighteen-year-old wife and if he doesn't get what he wants, we could be excommunicated!"
"Well I'm sorry, but he'll have to find someone else. My life is far too valuable to throw away like that."
"Young lady, you had better smarten up right now, or else I will do it for you. And you are going to go to Mr. Hollowoar and beg to be allowed into his holy family, whether you like it or not! And... And where are you getting an attitude like 'my life is far too valuable'?! Is it him?!" He pointed to Craig, who frantically shook his head 'no'. "Don't you realize that you will be living in sin if you stay here for refusing the call of the Lord?"
"Maybe, but I don't care."
"You... How can you call yourself my daughter and say those things..." For the situation Angela's father was faced with, he remained remarkably calm. "Please leave my house, child, for I once had a daughter that looked like you and the memory is painful."
"What?!", screamed Craig and Angela in unison.
"She spent too much time with a child of the Devil, and it polluted her mind. Please leave."
Craig and Angela stood staring at Angela's house, Angela now just starting to wonder if being with Craig really was worth being excommunicated from her family. She didn't know the answer.
The real-life Souris, part III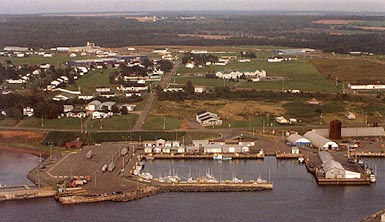 It should be noted that people in Souris don't walk or drive around thinking "My house is on Cash Avenue", or "The High School is on Longworth Street". For one thing, no one in Souris really cares what the street names are, and secondly, most of them are illegible unless you look really closely. I'm probably the only one in Souris right now as I write this who pays any attention to them. The street names are listed just for clarification, and for comparison to an awesome street map.
Souris is also home to the CTMA ferry terminal, which runs the M.V. Madeleine back and forth to Îles de la Madeleine... a place I really recommend visiting because it's a really beautiful place I'm told, and it's like Québec sans Bloc Québecois and Language Police. =) But what's really curious is that few people from PEI (even Souris) have ever been to the Magdalen Islands. Although I suppose few people from Cape Tormentine or Caribou have ever been to PEI (unless they used to work for Marine Atlantic or are working for Northumberland and Bay Ferries Limited), so this isn't saying a lot. But one major difference should be noted: The communities of Borden-Carelton, Caribou, Wood Islands, and formerly Cape Tormentine center around the ferry or bridge terminals; it's their big claim to fame. But in Souris, although they value the terminal, for them it's kind of like having a small bus station: It's no big deal.
I hope you've enjoyed this brief look at the fascinating community of Souris, PEI. I publish this with some reluctance, and I'll probably get yelled at by someone anyway, but all and all I'm just glad I didn't try to put it out as a Perfect Works title. But now I'm not sure what my first Perfect Works title will be now... perhaps I'll do something about my fictional CPA2; that might make good browsing. But for now, I'm signing off. As always, thank you for reading, and thanks for giving my new site a chance.