return to Ukraine Canada Corps exchange, and other travels
PS21 - Ostroh Academy
September 3rd, 2005: (update about work, language lessons, and a letter to my sponors)
September 6th: Serendipity
September 16th: (experiences teaching English)
November 20th: (tales from Ostroh and the Academy)
Video:
August 31st, 2005: Commencement Ceremonies
December 15th: French Expositon
The National University of Ostroh Academy is reputed to be the oldest university in Eastern Europe. Most of us had our work placements there, and mine was at the English Language Resource Centre, a small auxillary libary of the Foreign Languages department.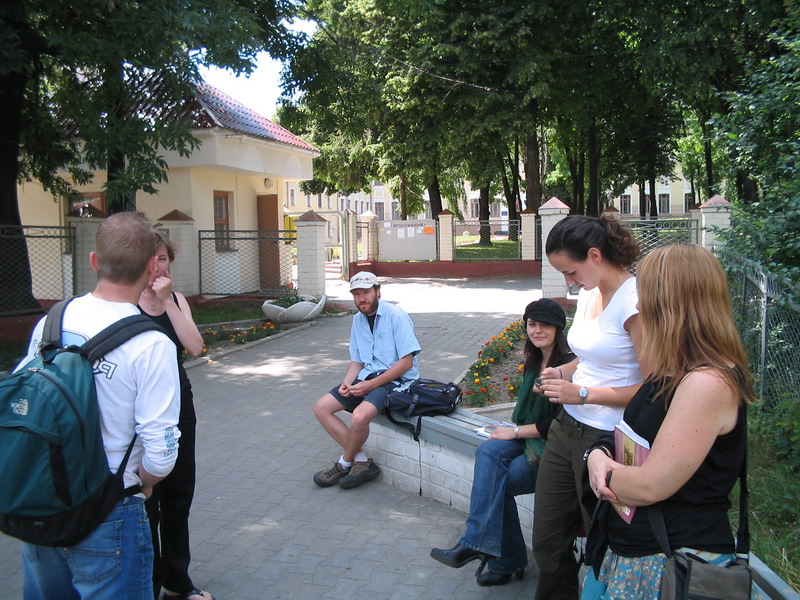 Here we are in our beloved smoking area...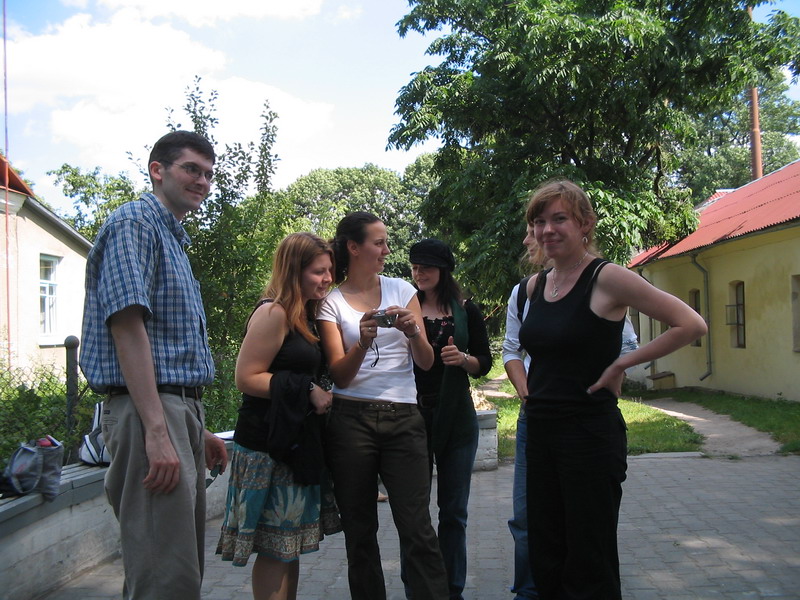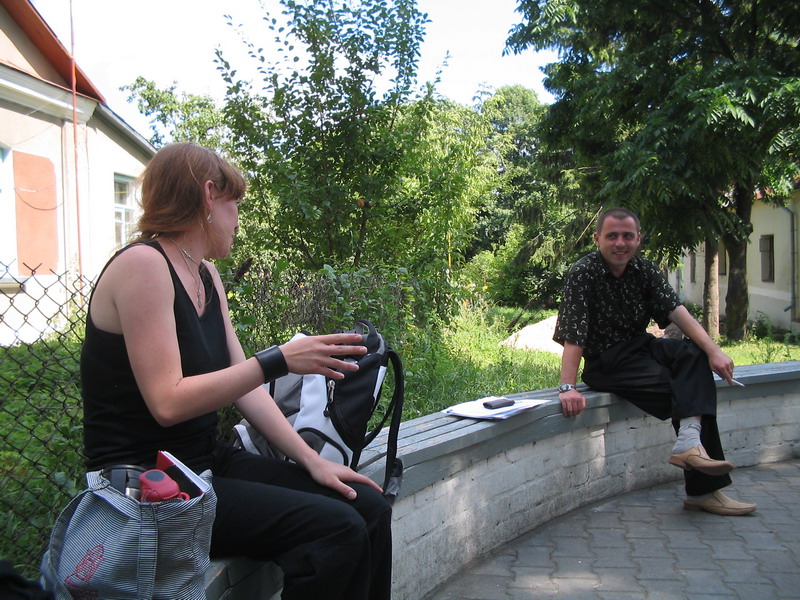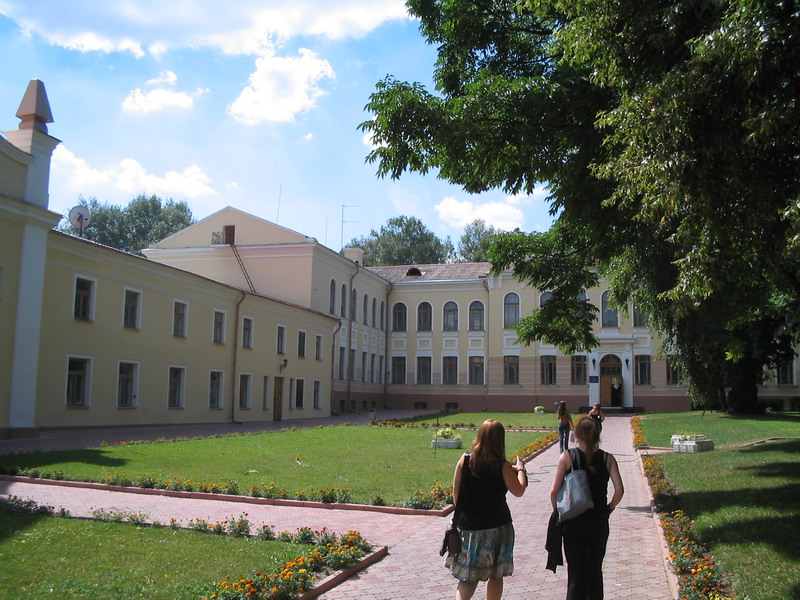 Now it's time to go back to our Ukrainian language class!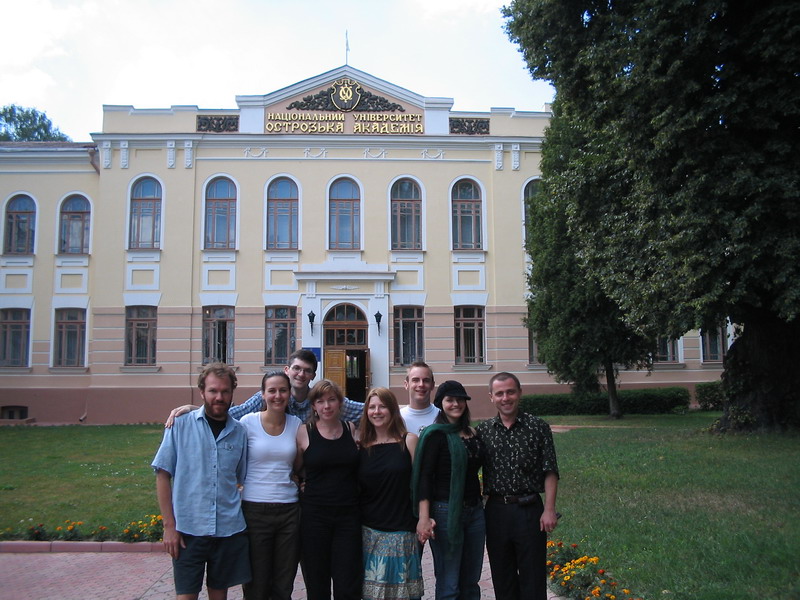 Group photo: Roch, Lindsay, Will, Sheryle, Amy, Lee, Shelley, Eduard.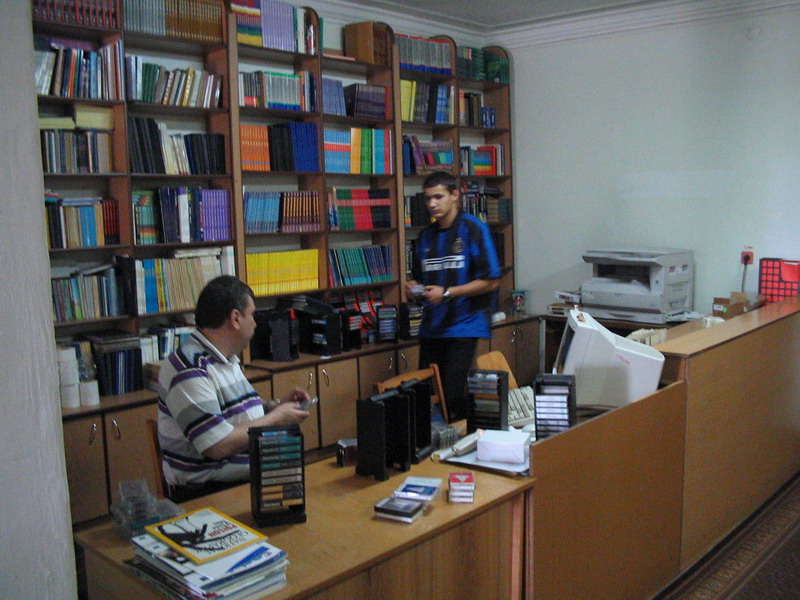 At work in the Resource Centre, with Prof. Andreyvich and Vania.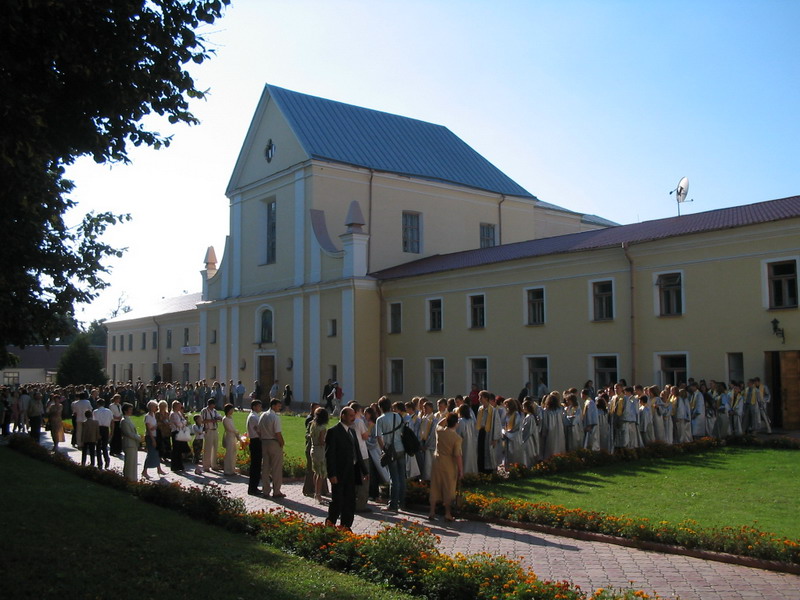 Commencement Day, 2005 (video)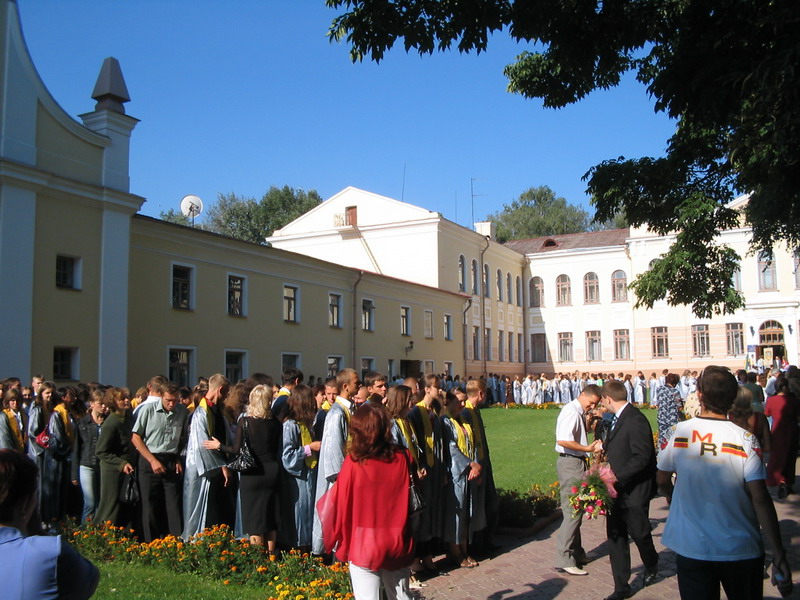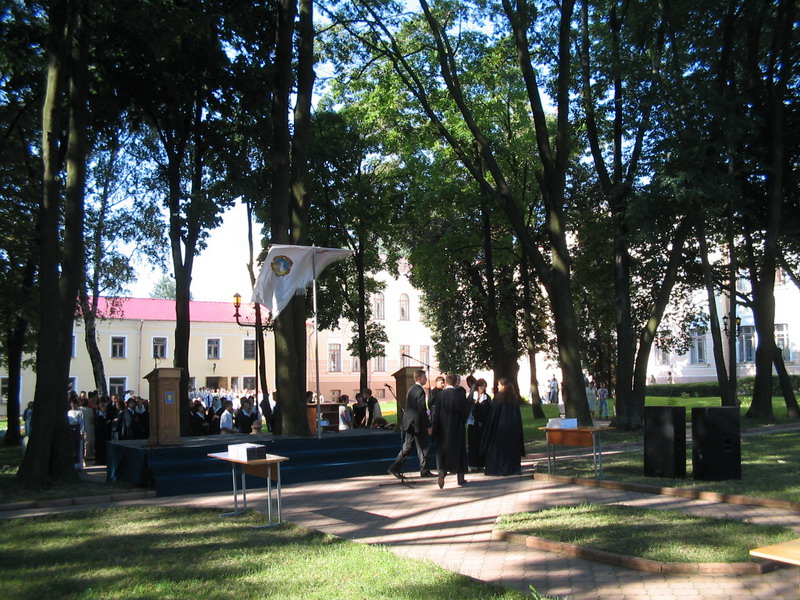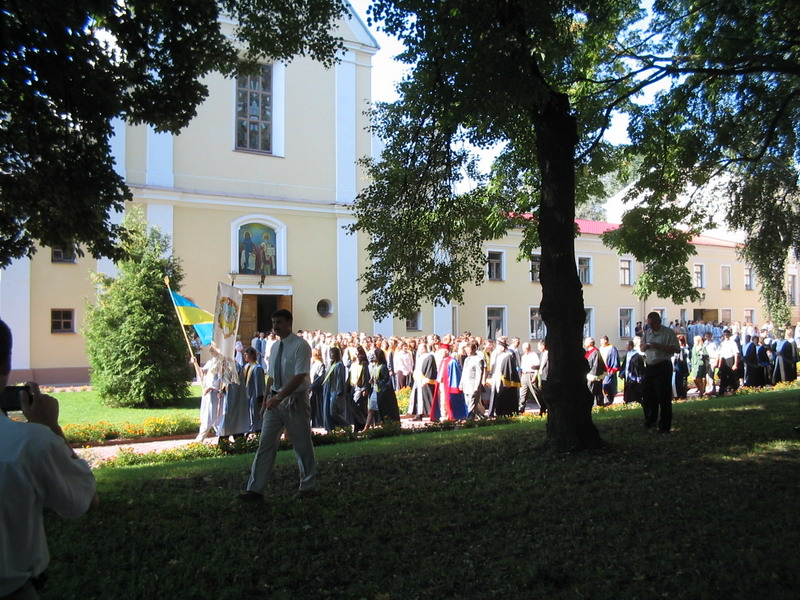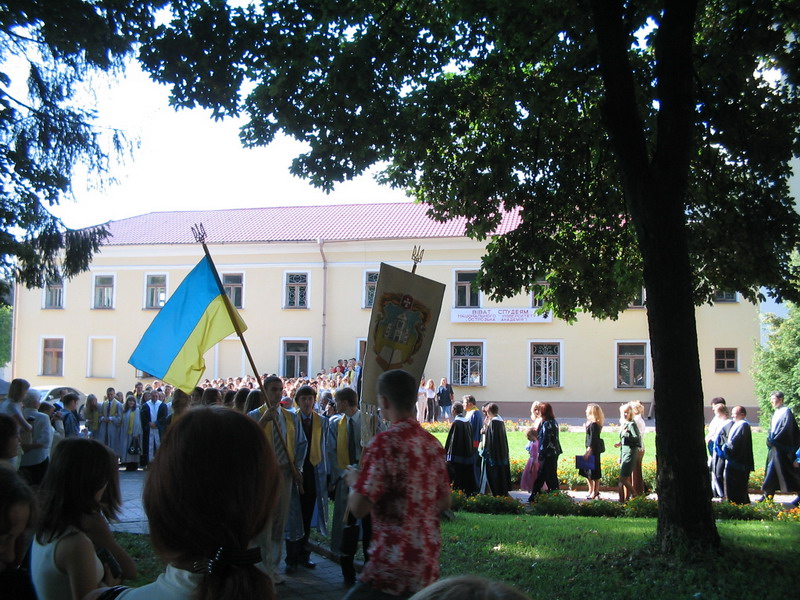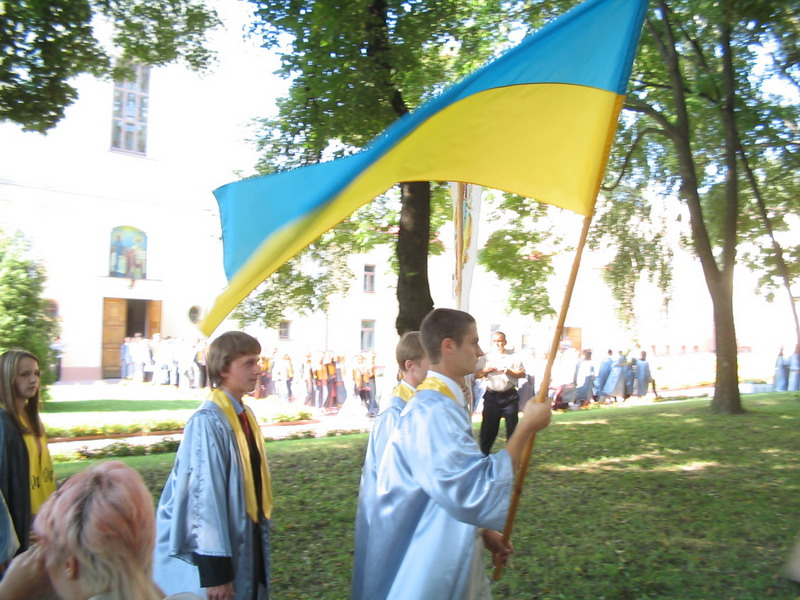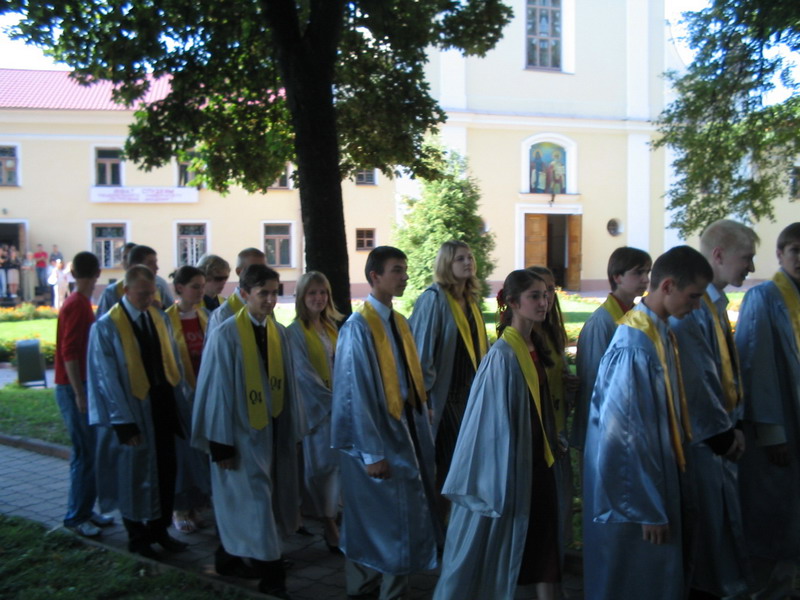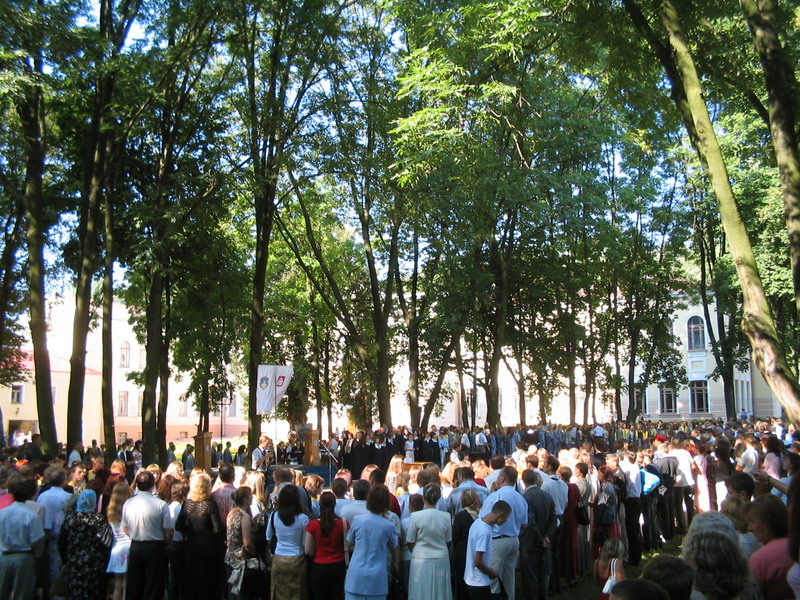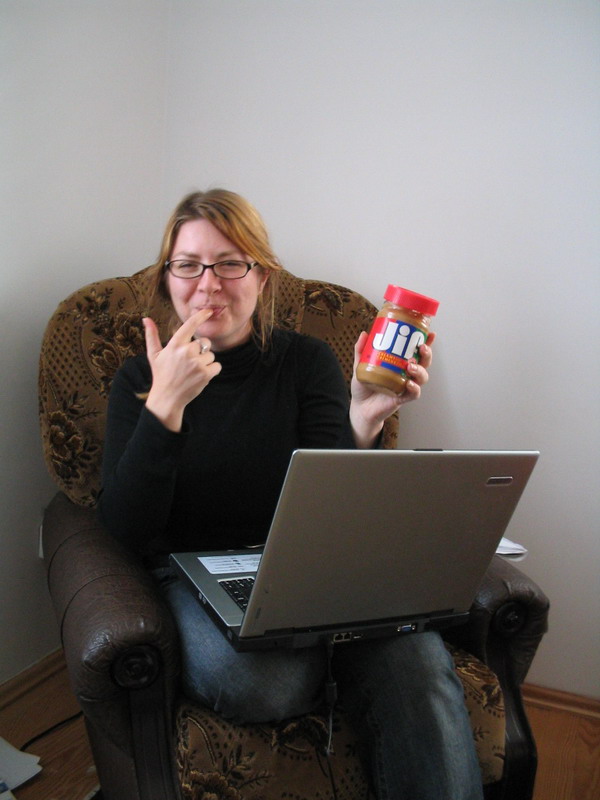 Vlad, one of the regional project managers from CWY, came to Ukraine on business, and he didn't forget about us! He brought each of us peanut butter and Halloween candy!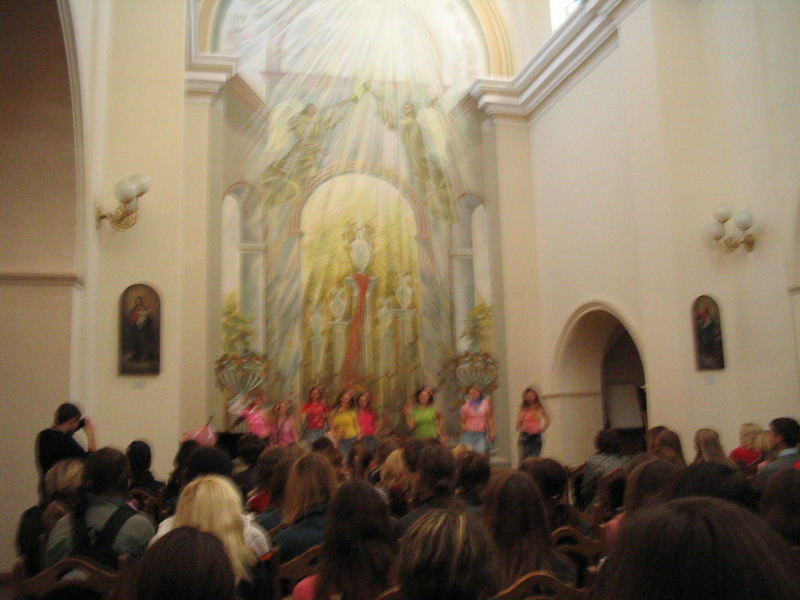 The Foreign Languages students held an English Exposition fairly early in the year, but I think I was sitting too far away to properly appreciate their hard work.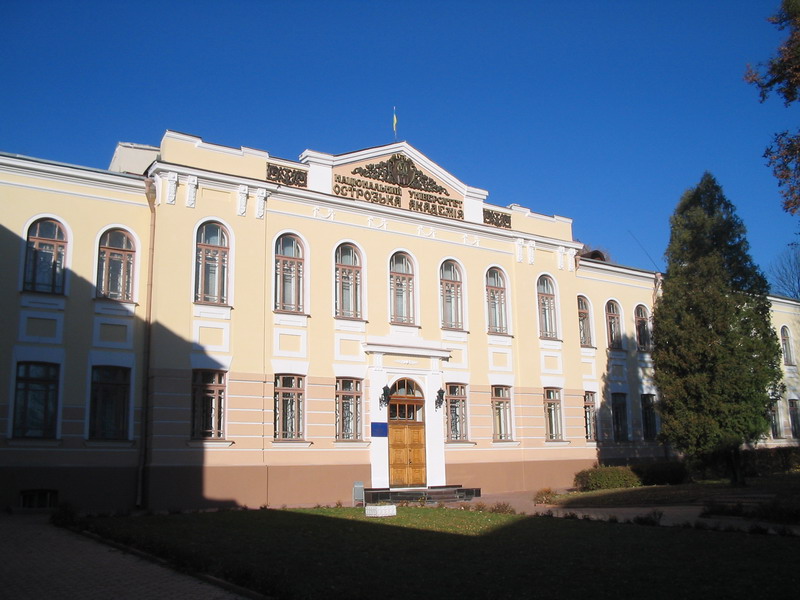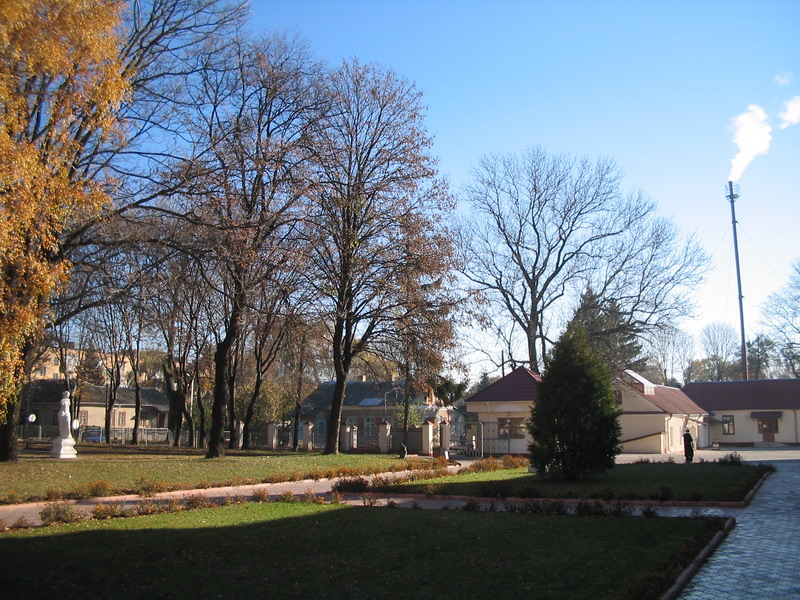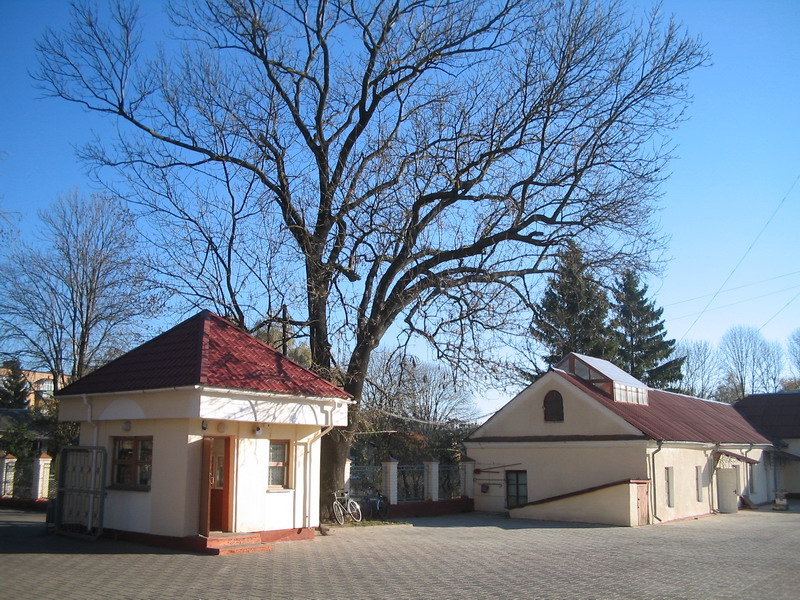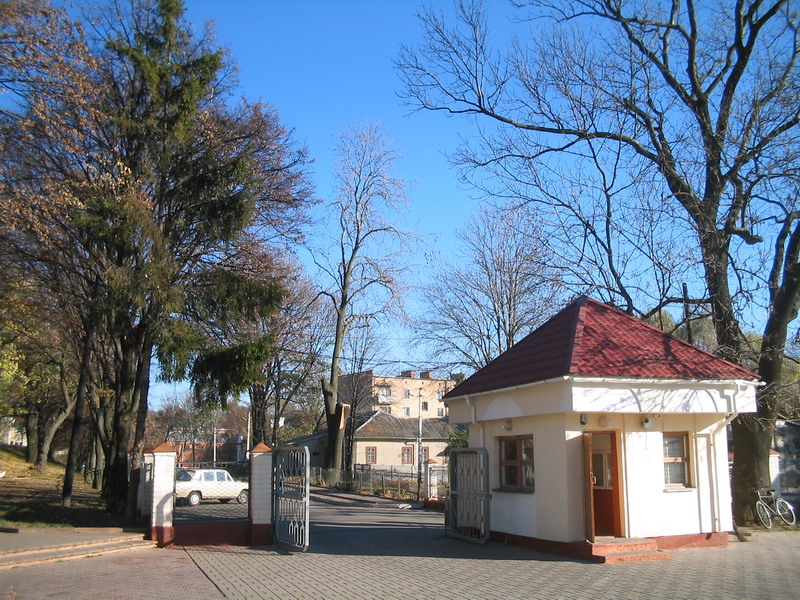 The main gate of Ostroh Academy.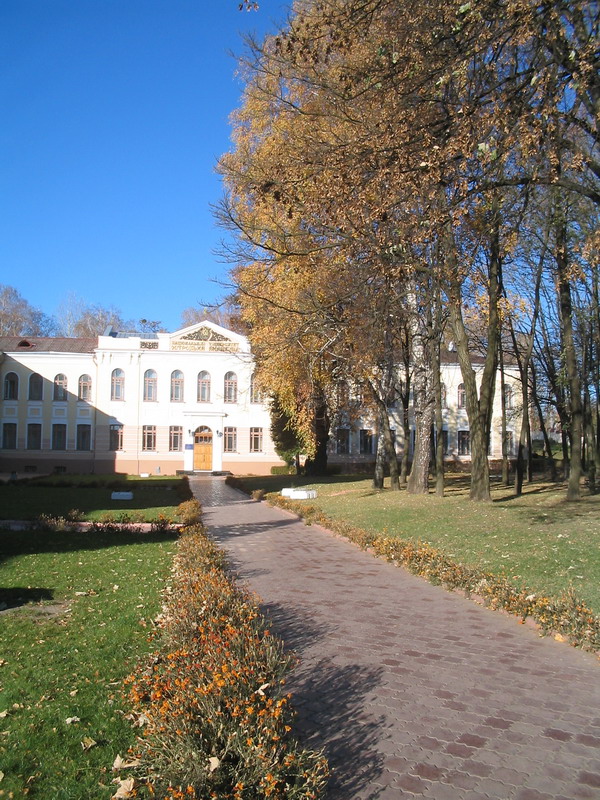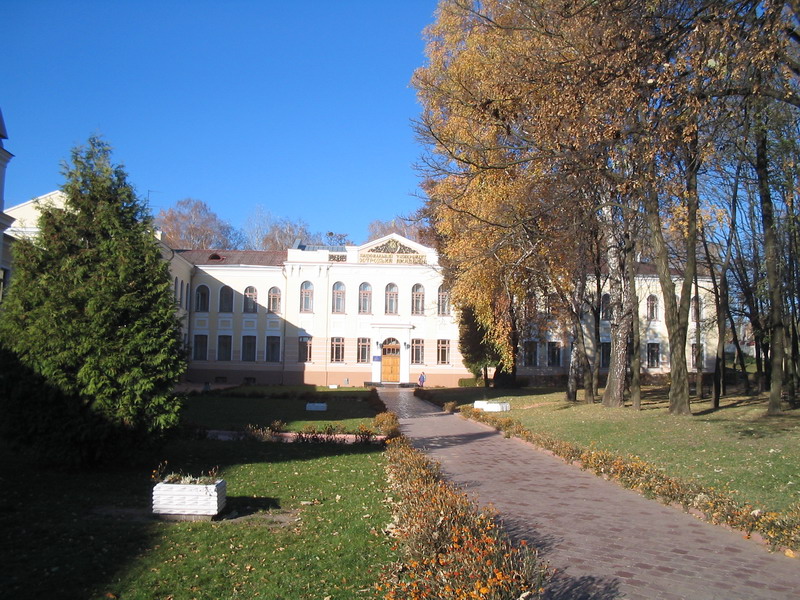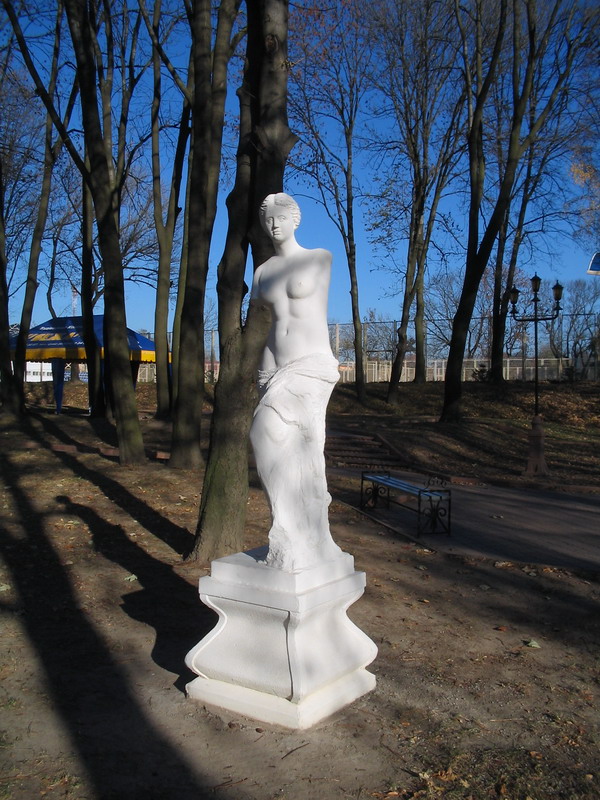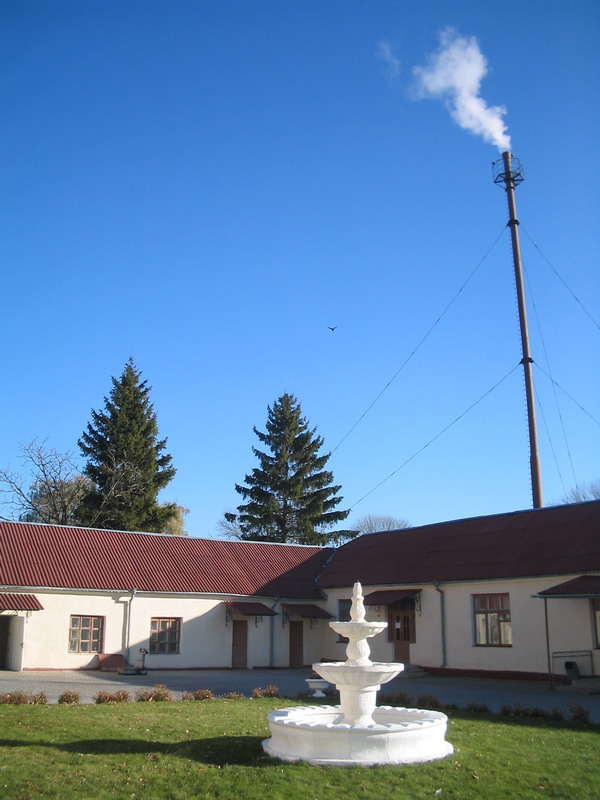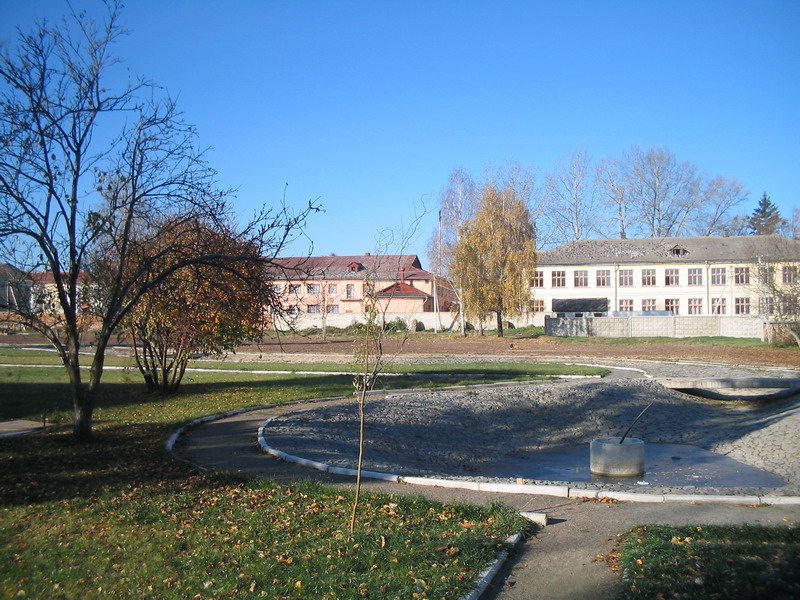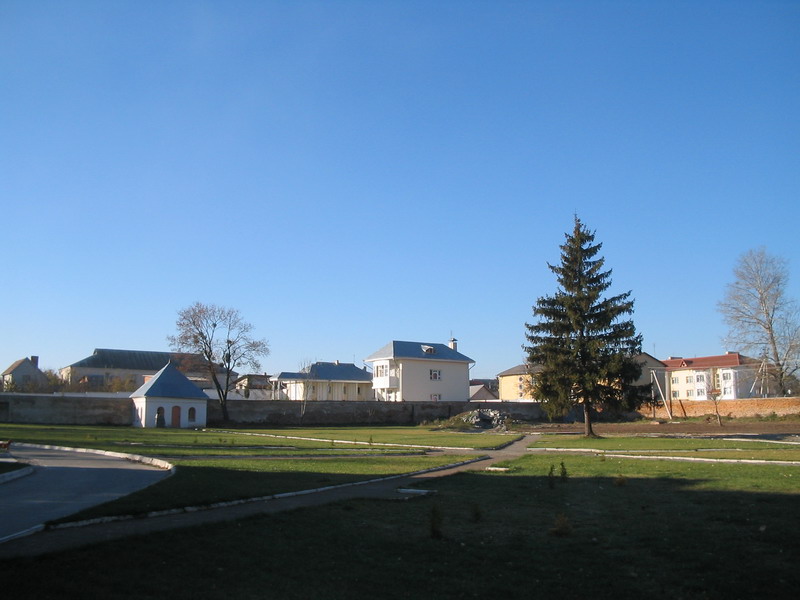 Background: A new subdivision containing many of the official executive and guest residences.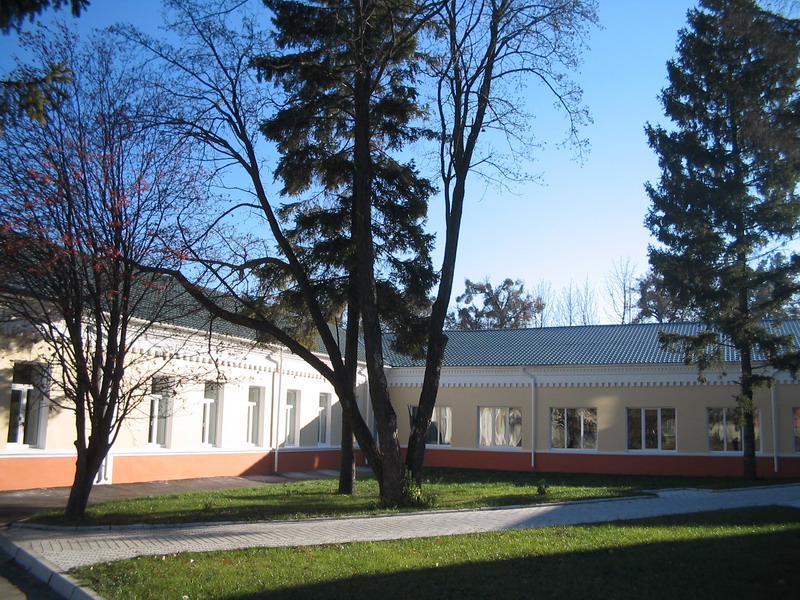 The new library...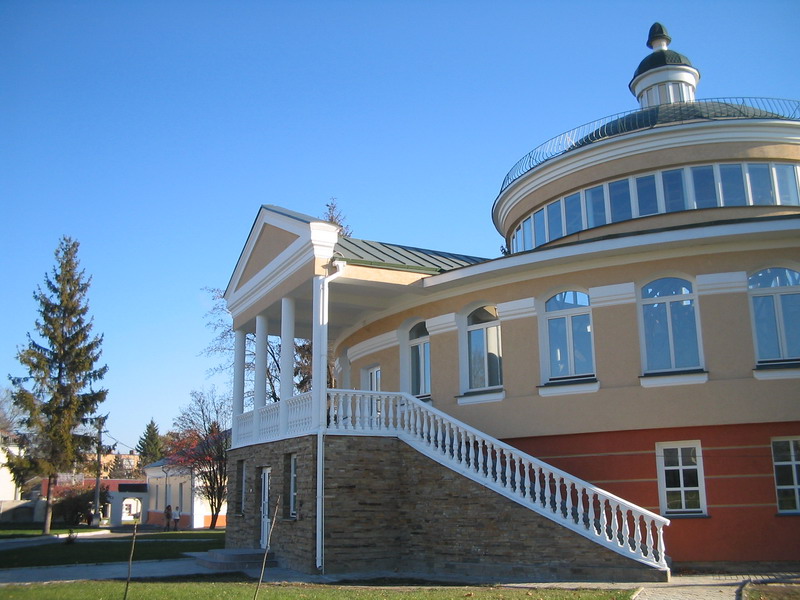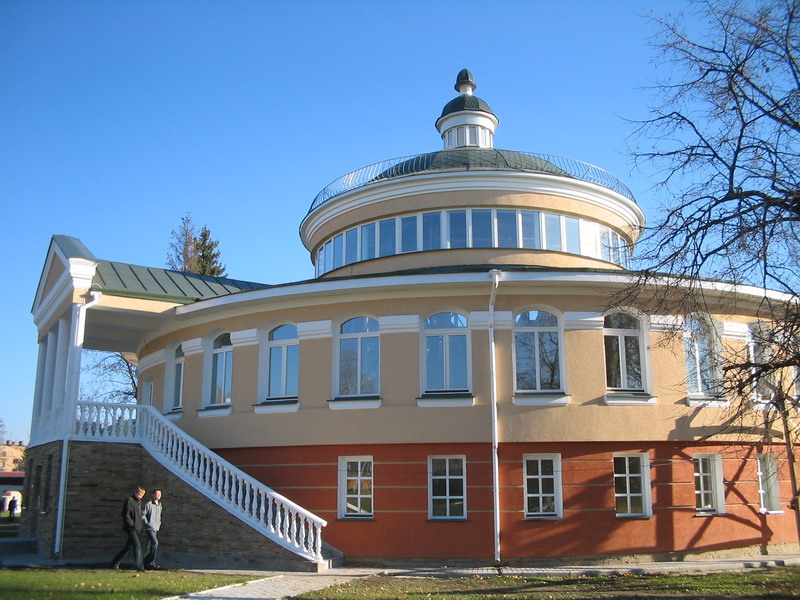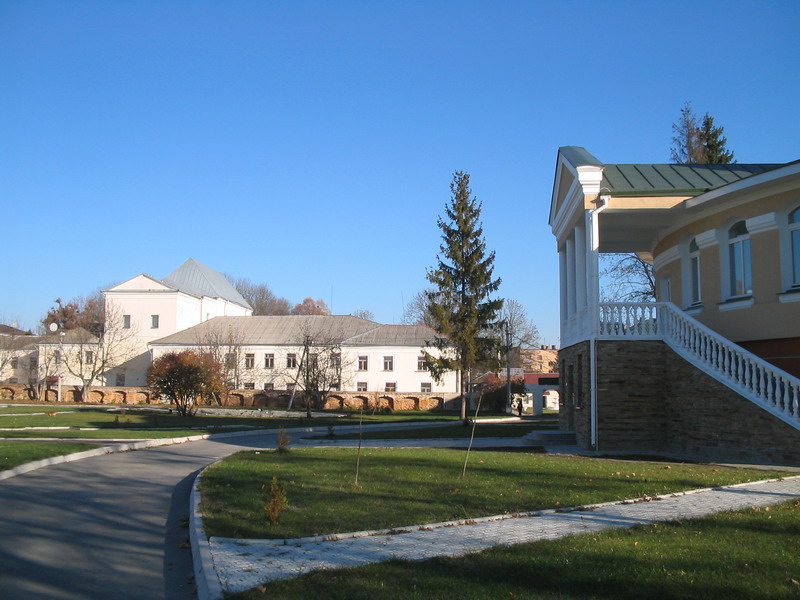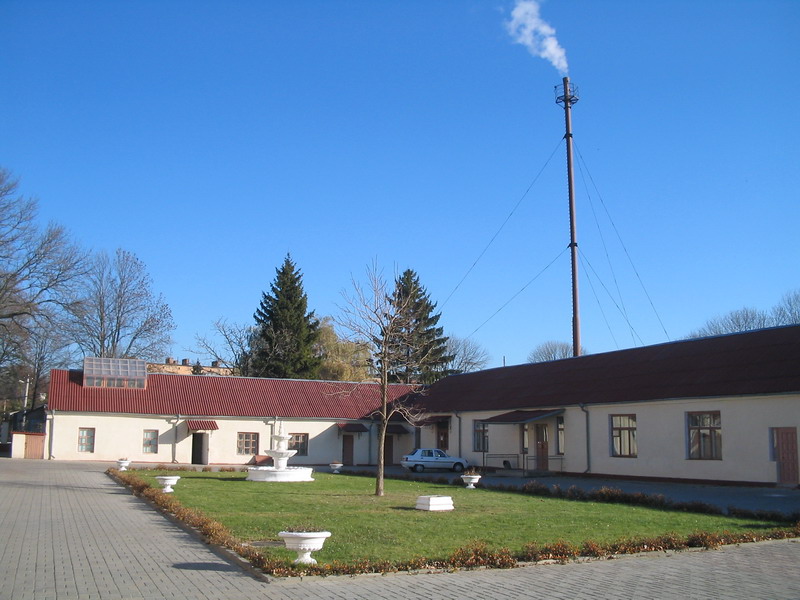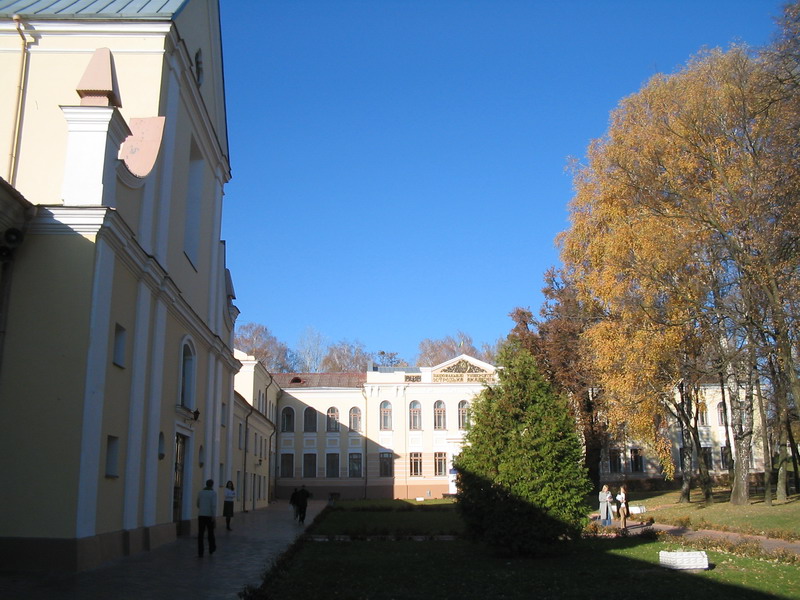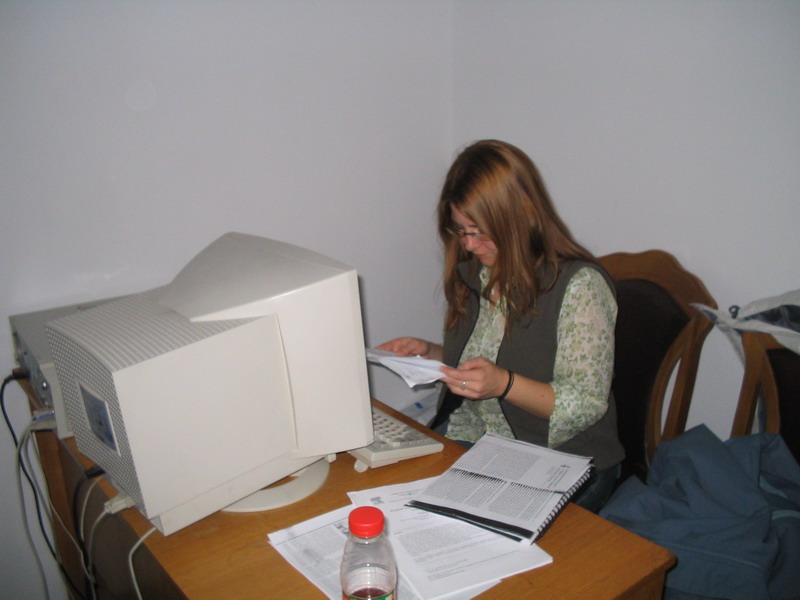 Amy working away!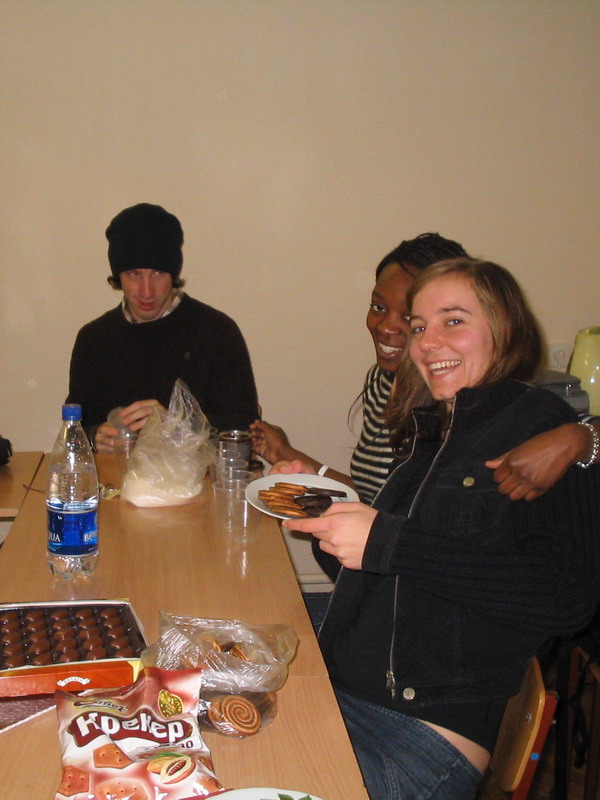 We got together with the NetCorps team on December 15th and held a joint EAD on e-Governance in Ukraine, which Lee orchestrated after a great deal of research and preparation. Here are Anka (foreground) and Chisomo.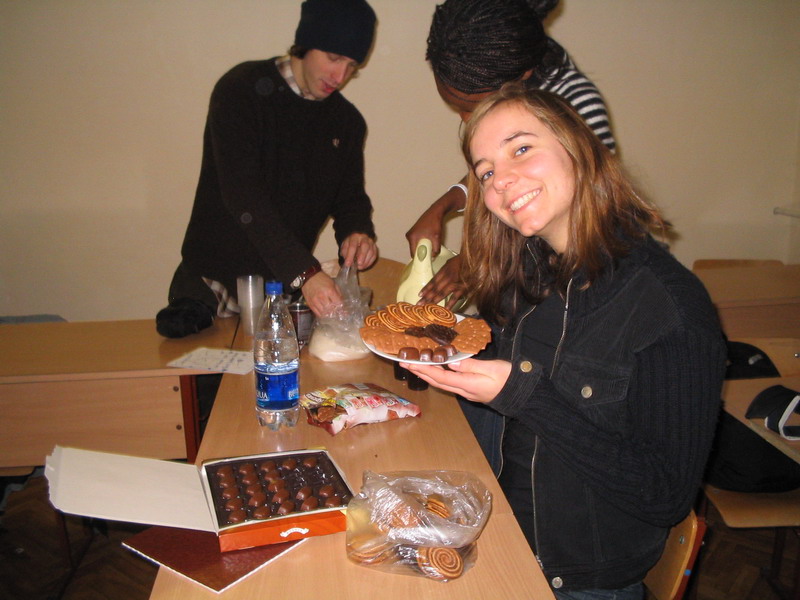 Ha-ha... Anka was pretty cool.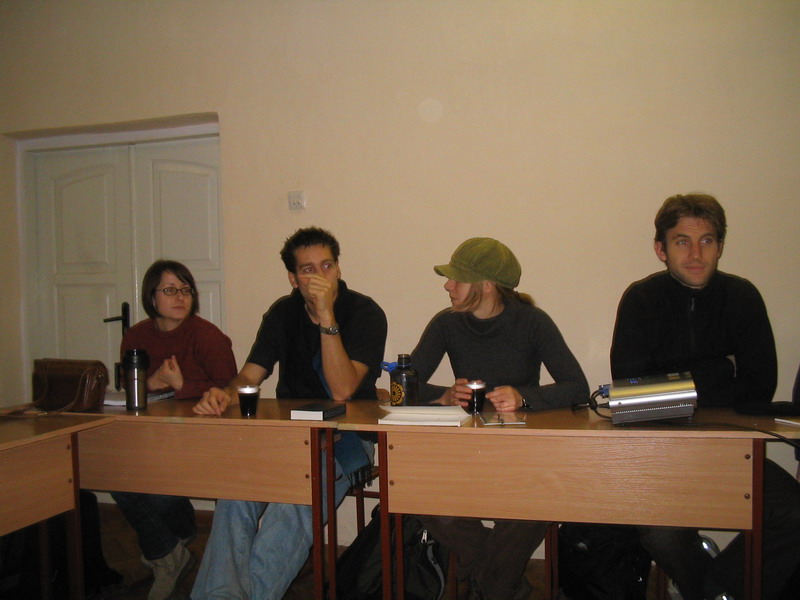 Some members of the NetCorps team, including De-Anna, Benoit, Ayefourget, and Liam.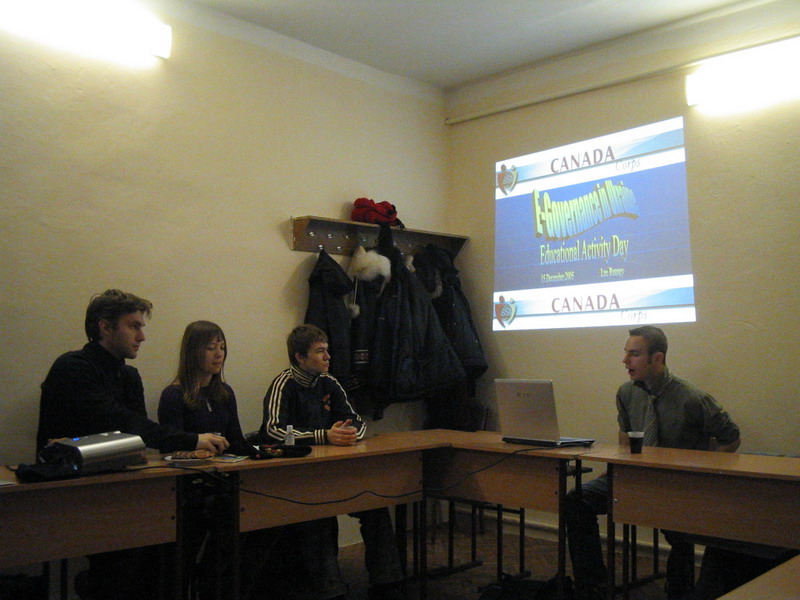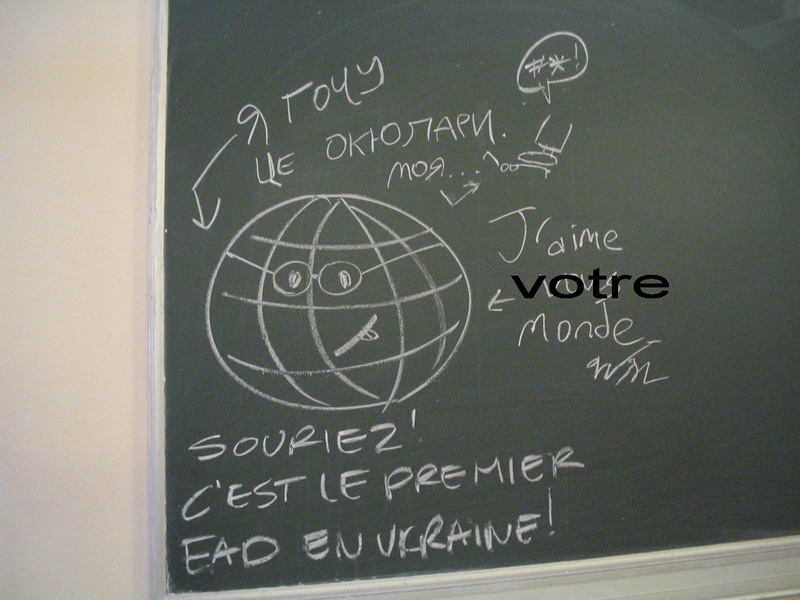 "Smile! It's the first Educational Activity Day in Ukraine!"
"I want those glasses. Mine..." (I stepped on my glasses late one night and was by that point wearing my backup pair, which I would continue to wear until I got back to Halifax two months later.)
"I like your world." (But the uneducated yahoo from PEI who wrote this actually said, "I like you world." Of course, I never make mistakes; please continue reading.)
Speaking of French, here are some shots from the French Expostion on December 15th (video). This is one of the events that helped motivate me to start learning French - not only were my Ukrainian friends totally kicking my ass in it, but they also said to me, "You're from Canada and you don't speak French?!" From what I can tell now after learning a little, they did really well (don't miss "Ave Maria" in the video), although their rendition of Les Champs-Élysées speaks mostly to their indefatigable spirit. =)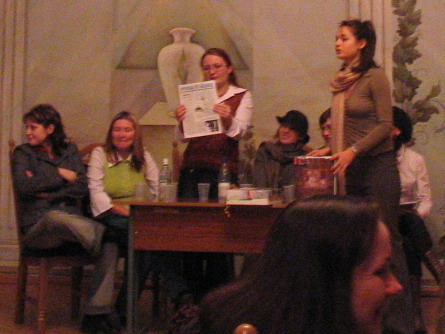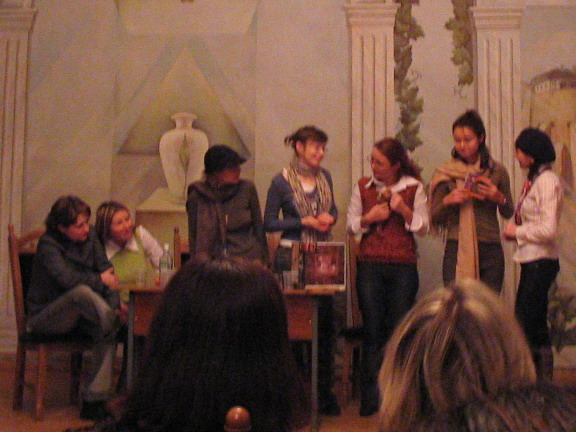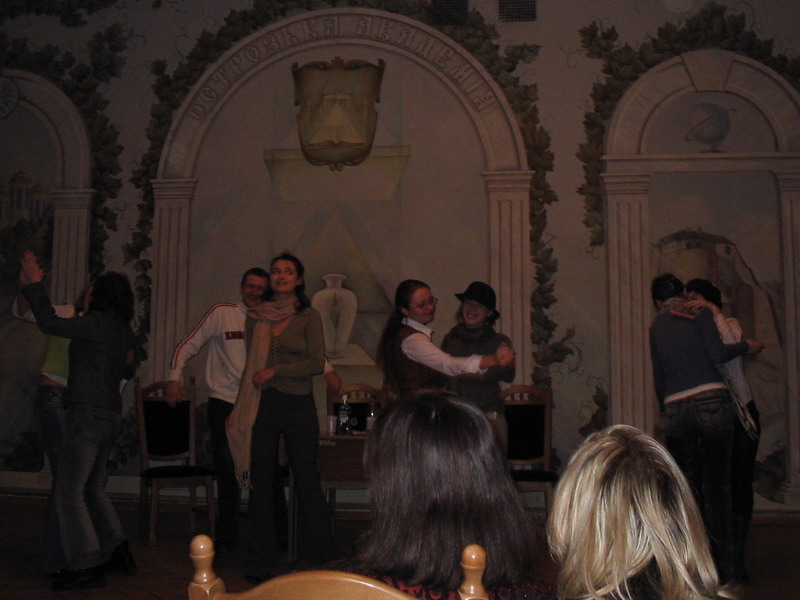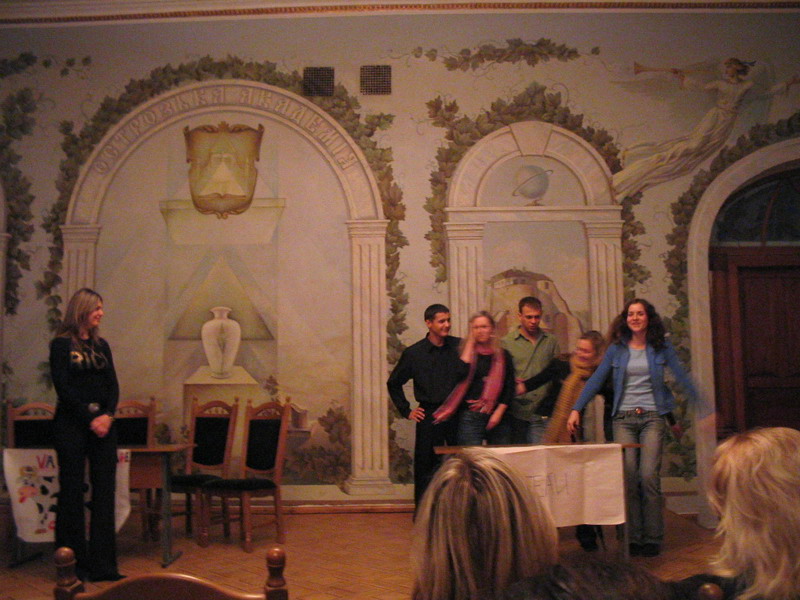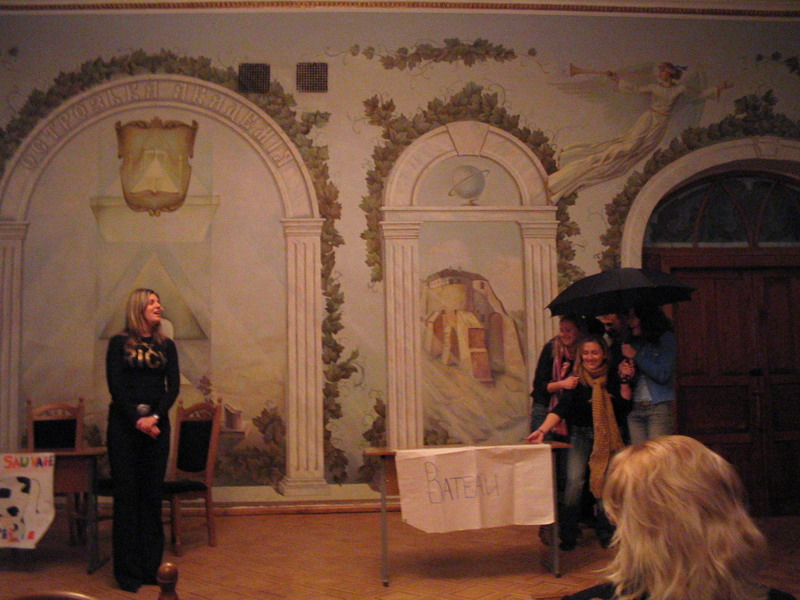 "Boat" (But if you're from Canada you knew that already.)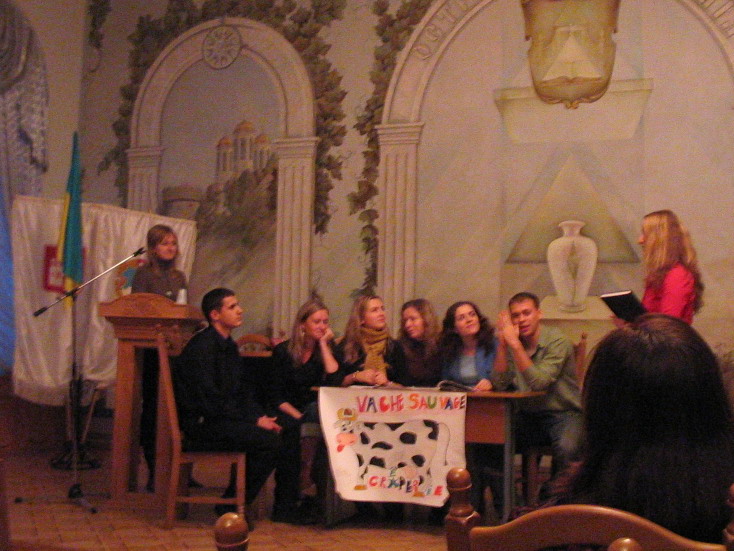 "Wild Cow Pancake Shop"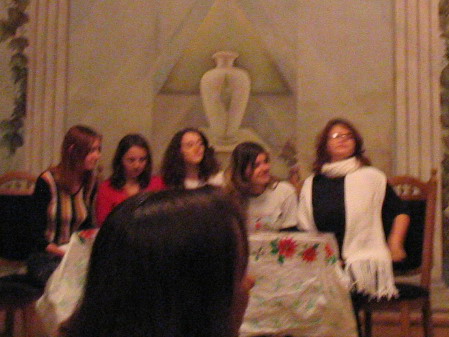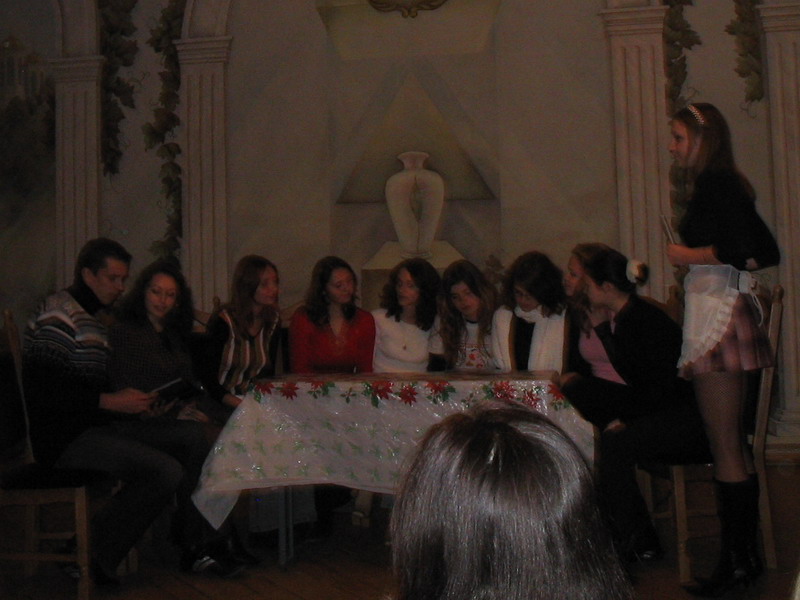 J'ai un observation à faire ici, mais ce n'est pas linguistique en nature. ;-)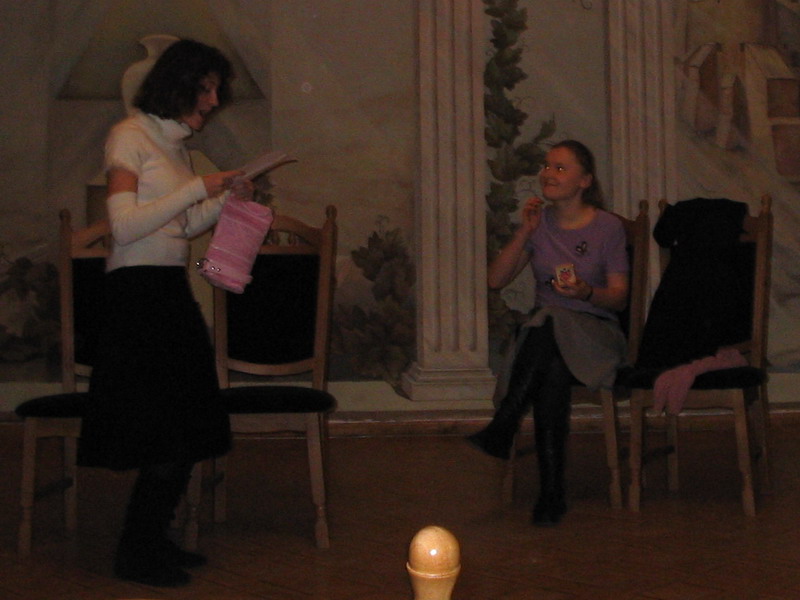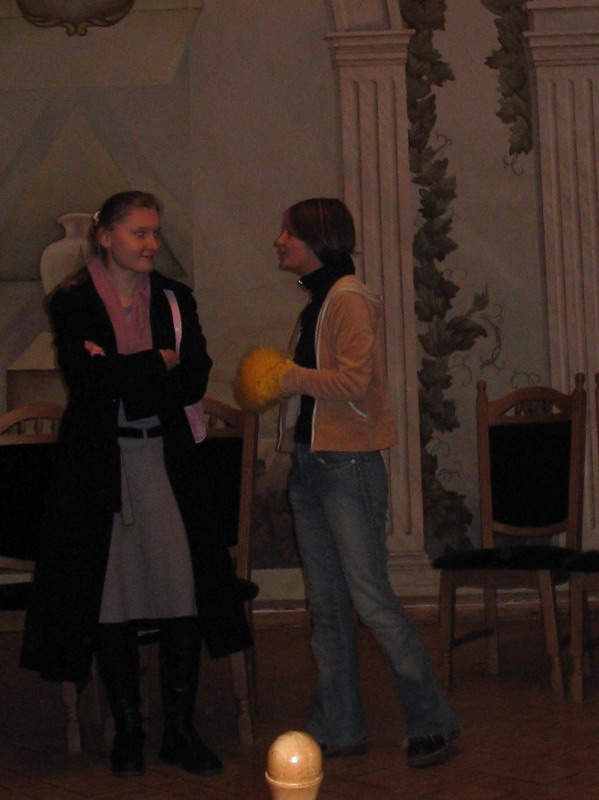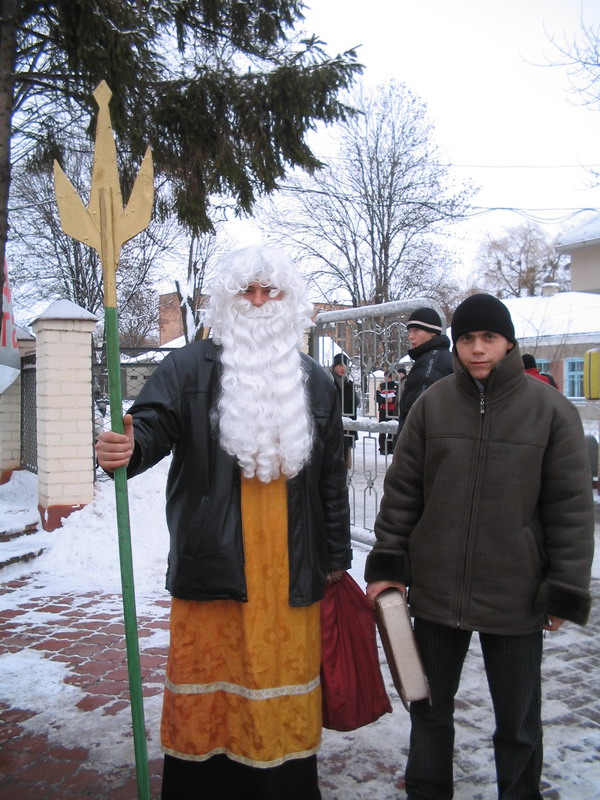 Saint Nicholas visits Ostroh Academy (December 19th).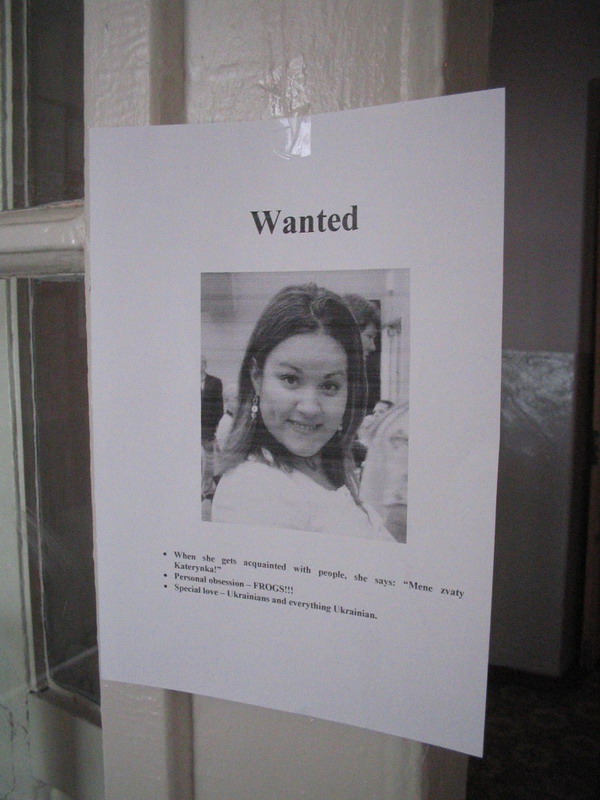 Sasha's girlfriend came back from Canada to visit!

That's my workplace right across the hall there (and through the doors)...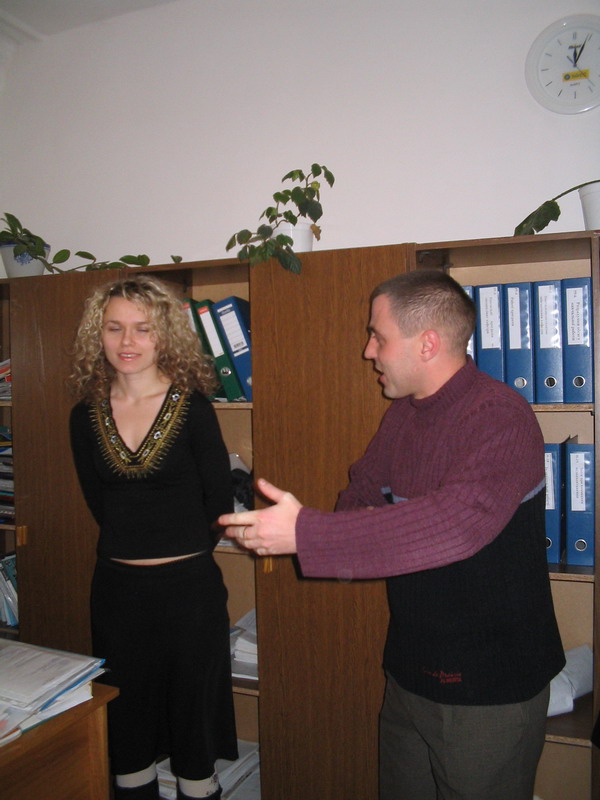 In Eduard's office, waiting to take a group photo with other professors and staff.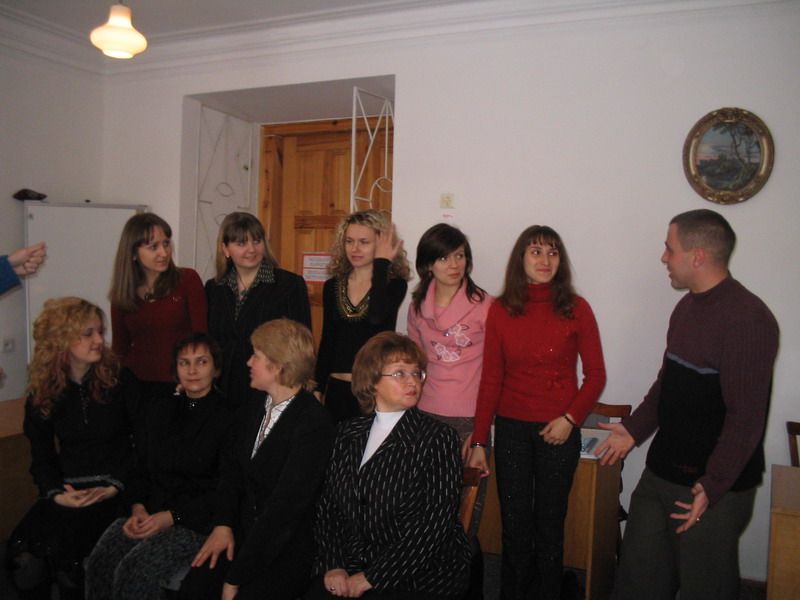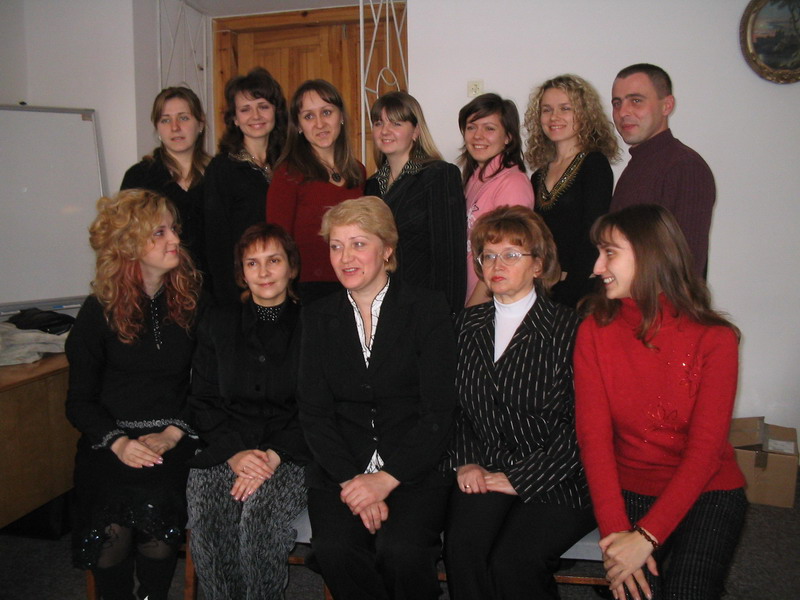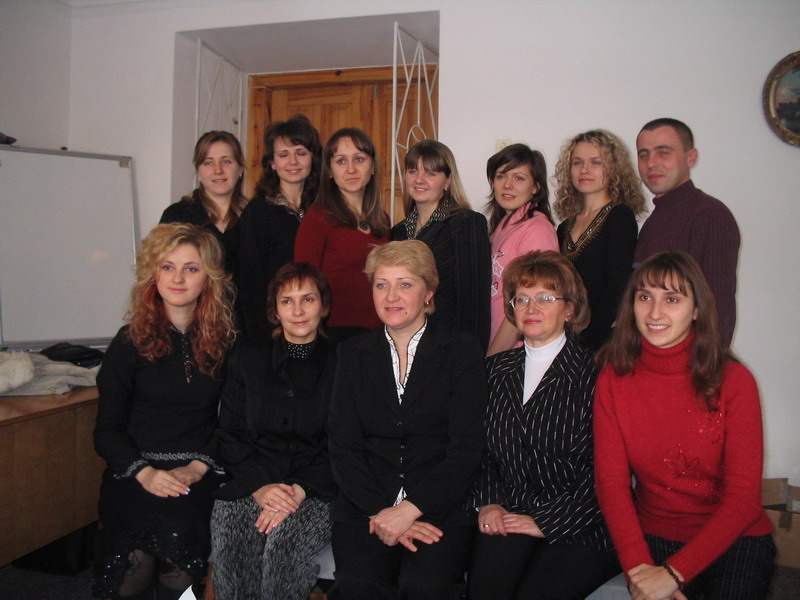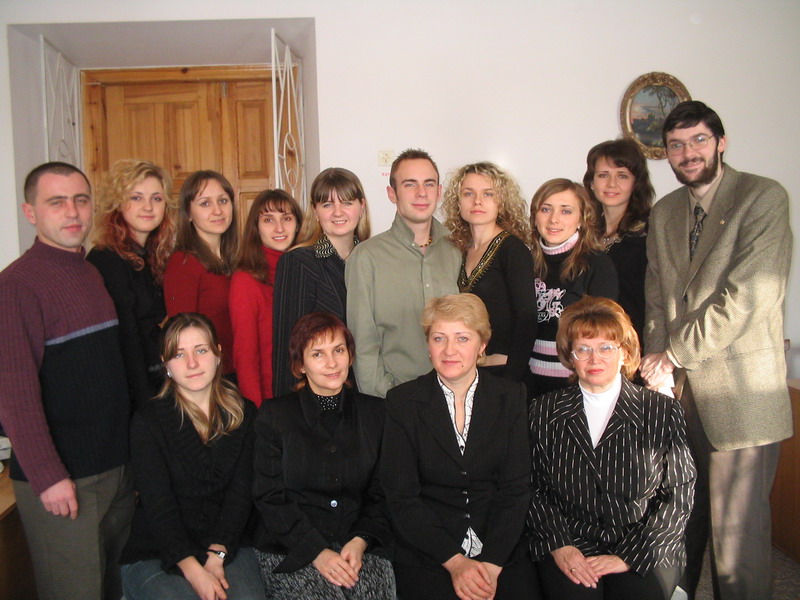 Yeah, I was kind of overdue for a shave.
return to Ukraine Canada Corps exchange, and other travels